Today I'm going to show you a VERY effective list of employer branding strategies for your job descriptions.
In fact, you'll find 30+ strategies, tips and examples in this post.
So if you're looking to build powerful, converting job postings you'll really enjoy this list.
Employer Branding on Job Descriptions vs Company Career Page
A lot of your candidates are coming from job boards like Indeed, Glassdoor and LinkedIn. This means they are bypassing your careers landing page and going straight to your job descriptions.
Companies tend to focus the bulk of their employer branding efforts on their careers page. Little to no EB efforts are carried over to their job descriptions where the conversions are made.
Why Is Employer Branding Important on Job Descriptions?
Employer branding is important on job descriptions because they are the pages where your primary call-to-action is to "apply".
You want to give candidates as much info as possible to make the decision of whether to apply or not.
Look at your job postings as a one-stop shop, where candidates don't have to leave your pages in search of extra information.
A List Employer Branding Strategies for Job Descriptions:
1. Job Page URL
This one seems simple but often gets lost in the shuffle when integrating with an applicant tracking system.
Here's an example of a branded job page URL vs. an ATS-based URL:

Ideally, you'd want company name and job title to make up the majority of your URL.
2. Job Page Branding
You want your job pages to look the same as any other page on your website.
This means keeping a consistent:
Header
Footer
Color Scheme
This helps reinforce your brand to candidates.
3. Mobile Optimization/Responsiveness
In the era of mobile traffic, responsive job pages are a must.
"78% of people in the US would apply to jobs on their mobile devices." – Indeed 
Here are some insightful articles on mobile optimization problems and resolutions: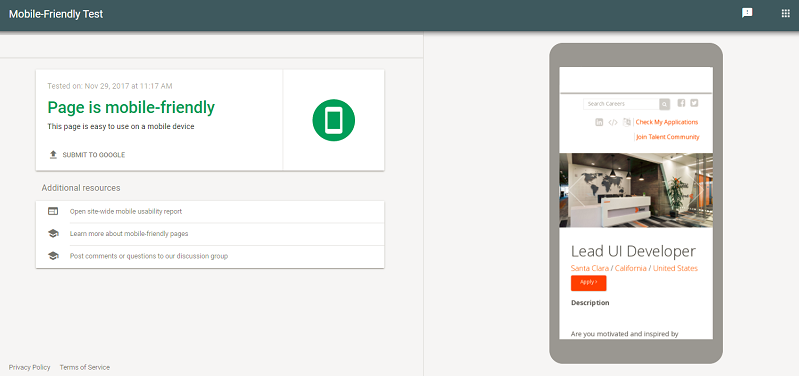 4. Job Description Text
It's easy to spend most or all your employer branding time on the visuals (logos, color scheme, pics, video, etc.).
But what about the countless words of text in your job postings?
Employer Brand-wise, there are 2 main areas where your text can boost your EB:
Bias
Readability
All of the following are proven ways to make your job posting text (and thus Employer Brand) more effective:
Job Description Length
Words per Sentence
Shorter Words
Write in a Conversational Way
Check out 7 Tips on How to Write the Most "Readable" Job Descriptions for details on each.
Better text = better employer brand.
5. Media
It's important to include media on your job postings.
Pictures and video boost engagement and time on page which are important metrics.
Great media content above the fold on your job page sets the tone for your job descriptions and catches the candidates' attention.
"The average web user spends 88% more time on a website that has video."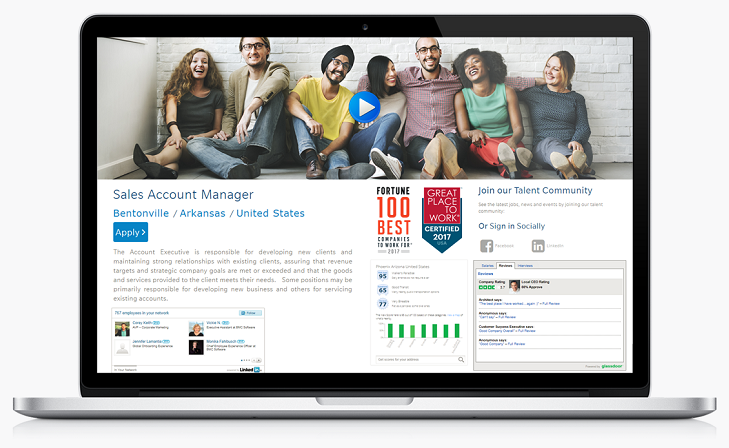 6. Company/Workplace Culture Information
There are a couple ways you can get this information into your job descriptions.
Media — Pictures and videos highlighting the workplace and articulating company culture
Company culture snippet within the job description
Embedded text box
Recruiting Widgets — Specifically employer ratings and reviews widgets (mentioned below)
"When making a decision on where to apply for a job, 84% of job seekers say the reputation of a company as an employer is important." –TalentNow

"75% of job seekers consider an employer's brand before even applying for a job." –LinkedIn Talent Solutions
It's good to provide employer ratings and reviews on your job postings. Any click you can save the candidate and keep them on your pages is a win.
Most employer ratings and reviews options are in the form of a widget.
For example, here's a Glassdoor widget that has features company rating, CEO rating, employee reviews and more.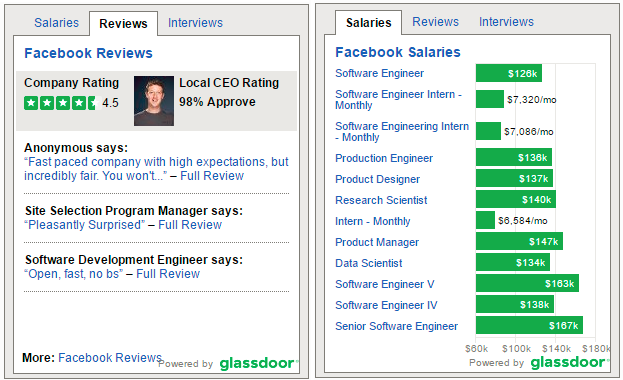 An alternative to Glassdoor is Comparably. Focused on company culture, diversity, gender and salary, Comparably is in the process of creating a recruiting widget for job postings.
8. Benefits
Another employer branding best practice for your job descriptions is including benefits details.
They can provide that extra push to convert a job seeker into an apply.
And also (you guessed it) saves the candidate extra clicks and research that would take them off of your pages.
"Benefits information about flexible working policies,parental leave, or healthcare is more significant for womenso be sure to include that in your job descriptions as well." – LinkedIn Gender Report
Here's a list of 20 awesome employee benefits.
9. Maps/Location Info
Help candidates find out exactly where the job is located. Showing location pinpointed on a map adds more context than just listing city and state.
"Less than 5% of Fortune 500 companies include a map on their JD." –Source
Add a map and location data to make your job descriptions stand out.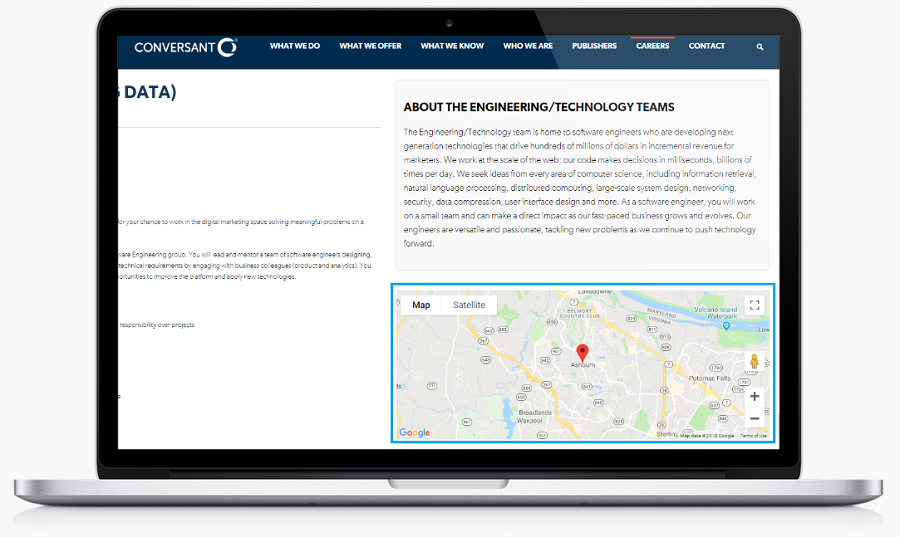 10. Commute Time
We haven't found a company that provides a widget for commute time. So you'll most likely need to develop a commute time widget in-house. We believe creating one is worth the trouble after considering these stats:
"Commute time was ranked 4th (43%) in top factors employees and job seekers looked for in job ads." –Source
"A convenient, easy commute ranked 2nd (47%) in what would make Americans more inclined to submit a job application." –Source
Here's an example of a commute time widget from Wendy's: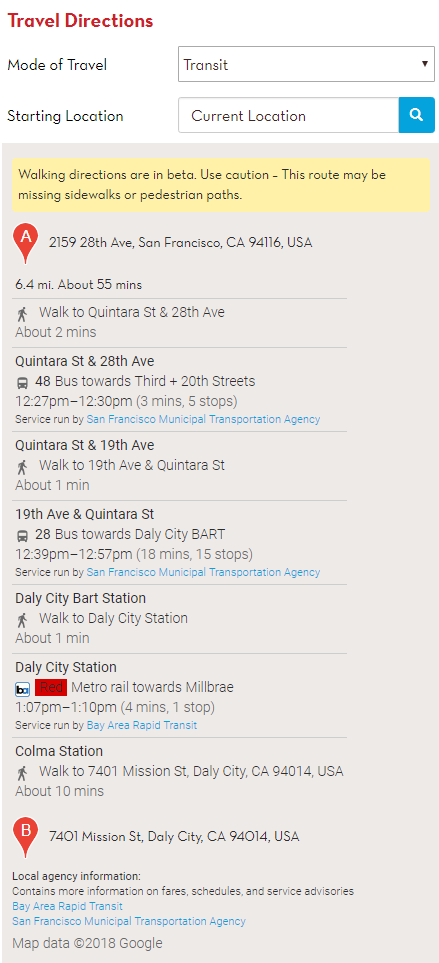 For more reasons and ways to implement commute time on your job postings CLICK HERE.
11. Employee Testimonials
If you're looking to add social proof to your job postings, employee testimonials are a great way. We usually see them on company career pages, but they should also be on every one of your job ads.
"Employees rank as the most trusted influencers when communicating about their company's engagement and integrity." –Source
Here's one way to get a testimonial on your job page (embedding a text box).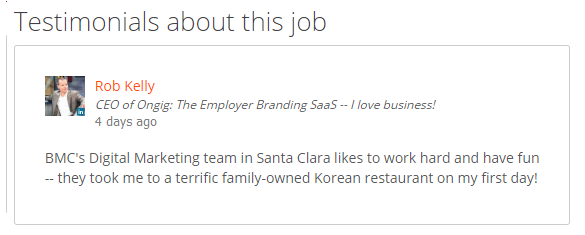 Need help with ideas on how to embed employee testimonials on your job postings? This is a great article.
12. Employer of Choice Awards
Looking for more social proof? If you've got them, flaunt them.
An employer of choice graphic can help close the candidate in the first few seconds of viewing a job description.
The process of becoming an employer of choice and earning an award may seem daunting. But it's usually a matter of registering, survey, and paying some money.
A couple of the most popular award companies are:
Fortune 100
Forbes
Top Employers Institute
Great Place to Work For
Glassdoor
Here's a Comprehensive List of Employer of Choice Awards.
13. Recommended Jobs
Give candidates more than just a one and done experience.
A recommended jobs recruiting widget presents jobs similar to the department, location and skills of the job page the candidate is currently on.
Here's an example of a recommended jobs widget for a software engineer job: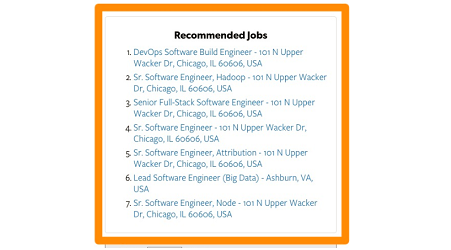 14. Optimized Social Sharing
Make sure your jobs are optimized for sharing to social media platforms like Facebook, Twitter and LinkedIn.
When we say optimized we mean:
An engaging thumbnail image or video
Job Title and location
1-2 sentences of well-written copy
Link to the job page
These elements should automatically be grabbed by simply copy and pasting the job link into your post/status update.
Here's an example of a non-optimized social share job ad (left) vs. an optimized social share job ad (right).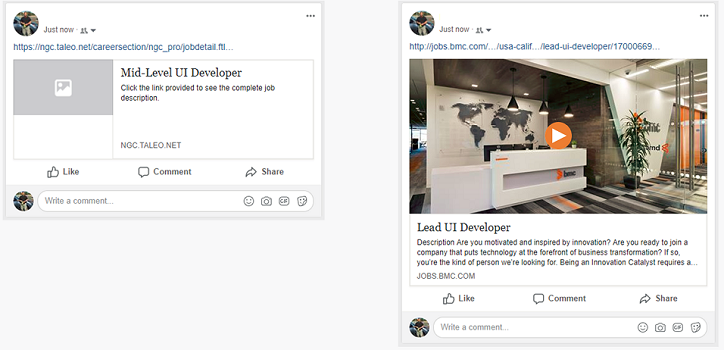 15. Walk Score
Walk Score is a location-based widget that provides detailed information on a specific location.
3 scores are included on the widget:
Walk Score: Measures the walkability of any location.
Transit Score: How well a location is served by public transit.
Bike Score: How good an area is for biking.
View Walk Score's methodology.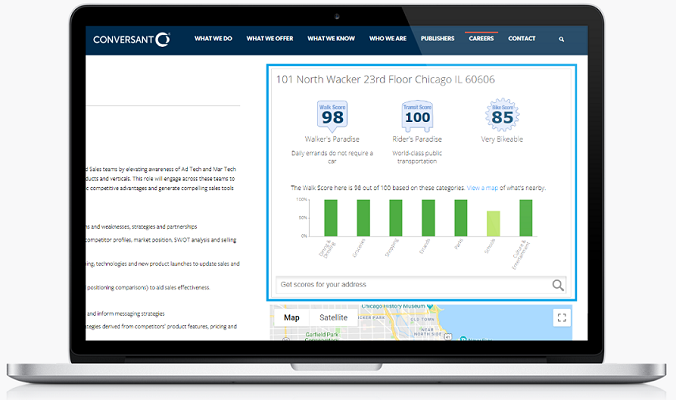 16. Career Blog Content
Content is a proven channel for lead generation and can be applied to recruiting.
It's a great way to provide valuable content to candidates and increase your chances of converting the apply.
If candidates are interested in your company they want to learn more and a career blog is a perfect way.
Some recommended topics include early career advice, day in the life, employee spotlights and the recruitment process.
Just having these types of links available lend more credibility and transparency to your job postings.
Tenable is an example of a great career blog.
Here are 5 Tips for Creating a Company Career Blog That Recruits For You.
17. Employee Value Proposition (EVP)
Your EVP shouldn't just be on your company career page. Like many of the other items we touched on, they should be on every one of your job descriptions.
Often known as one of the most important steps in an employer branding strategy, the EVP should answer questions like:
Why should the candidate work for your company rather than another?
What's in it for the candidate?
Why is your company a great place to work at?
What can you offer candidates that other companies can't?
A couple awesome resources for planning and crafting an EVP:
18. Diversity Statement
Diversity and Inclusion are most likely at the top of your HR priorities. That means including a diversity statement on your job descriptions is a must. I'm not talking about an EEOC filled with legal jargon.
I'm talking about a compelling statement from the heart of your company.
Here are 10 Examples of Awesome Diversity Statements and what makes them awesome.
Why I Wrote This
Job descriptions are an integral part of your recruiting process.
Ongig provides job page overlays that integrate with your applicant tracking system. Job page overlays allow you to take back control of your job pages.