How good is your diversity statement? I asked my team to send me some of the best diversity statement samples they could find.
They reviewed the Fortune 100 Best Workplaces for Diversity list and also Googled "Most Diverse Companies."
They gave me a list of 30 diversity statements they found. I whittled that down to 10 that I believe are either excellent overall or at least have an idea or two for you to consider. Editor's Note of December 7, 2022: Since we first published this we found another 15+ awesome diversity statements so our list is now more than 25!
I ran the diversity statements through Ongig's Text Analyzer software to analyze them for masculine versus feminine words, offensive words, positive and negative words and overall readability. You can also try these 5 Diversity tools to write more inclusive content.
Table of Contents
How to Write a Diversity Statement
Here are the most popular questions people ask when researching "how to write a diversity statement?". These tips should give you guidance on crafting your own diversity statement.
What to look for in a Diversity Statement?
The best diversity statements include:
the company's mission
a commitment to diversity
mention of specific underrepresented groups
positive and inclusive language
unique information or benefits for diverse groups
How long should a diversity statement be?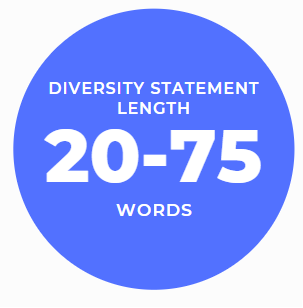 The best companies use 20 to 75 words for their main diversity statement (e.g. typically the first paragraph opening up their diversity page or the words used for their diversity section in their job descriptions or a "workplace diversity statement" that might be plastered on your office walls).
If you have an entire page dedicated to your diversity statement, then you can elaborate way beyond 75 words to support your main statement.
To see some examples of companies that dedicate an entire page to Diversity and Inclusion, check out 5+ Impressive Diversity Pages (and Why!).
Should I use a headline in my diversity statement?
The best diversity statements have a headline (other than just "Diversity Statement") because it helps you stand out. Check out T-Mobile's headline and sub-headline — they are so compelling that the candidate might already have been won over before the lengthier diversity statement below it.
Diversity Statement Grade level readability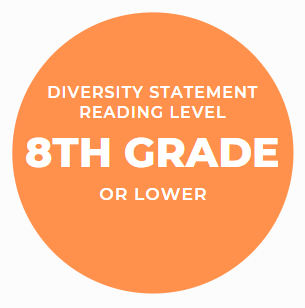 Most employers write to candidates at the 11th grade reading level but the best employers write at the 8th grade or lower (see my article on Why I Write my Job Postings at the 8th Grade Level (or Lower!).
A good rule of thumb is:
"the lower the grade level the better."
Check out Oath's low (good!) grade level readability below. Busy candidates appreciate the time you save them by writing in simple, plain English.
If you want to score your own job descriptions for readability, check out 5 Free Tools to Write Better Job Descriptions.
Words per sentence
The best diversity statements have short sentences because the longer your sentences the lower the retention. Eight words or less per sentence can equate to 100% comprehension; retention slips to 90% at 14 words per sentence, and 43-word sentences lower retention to 10% (see The Public Relations Society of America (PRSA)).
Here's a (before & after) diversity statement, written to keep the sentences short:
Before — "

Inclusion is how we unleash the power of diversity. We

strive

each day to foster a sense of belonging and empowerment in our diverse workplace, create relevant marketing for our diverse customers, listen before engaging in our diverse communities and work as a team alongside our diverse suppliers. "

After — "Inclusion is how we unleash the power of diversity. We strive to foster belonging and empowerment at work. We create relevant marketing for our diverse customers. We listen and engage with our diverse communities. And we value teamwork with our diverse suppliers.

"
You'll notice that the diversity statement samples keep their sentences around 8 words. Here are 3 examples:
T-Mobile — 8 words per sentence
Genetech — 8.9 words per sentence
Hubspot — 6-word headline
Use of positive words
There are libraries of words proven to evoke positive versus negative feelings by readers. Your diversity statements should be chock full of positive words like:
inclusive
celebrate
grow
freedom
commitment
experience
better
empower
foster
purpose
spirit
best
give
learn
improve
welcome
comfortable
authentic
create
guiding
Mentioning your mission
This can be useful as long as you tie it in well to your diversity statement (like Google does).
Some companies combine their diversity statement with a mission statement. Here are a few examples of companies with great diversity mission statements:
Ford Foundation's Diversity, Equity & Inclusion Mission Statement
At the Ford Foundation, diversity, equity, and inclusion are at the core of who we are. Our commitment to these values is unwavering – across all of our work around the world. They are central to our mission and to our impact. We know that having varied perspectives helps generate better ideas to solve the complex problems of a changing—and increasingly diverse—world.
Amazon's Diversity & Inclusion Mission Statement
Amazon's mission is to be the earth's most customer-centric company, and this mission is central to our work in diversity and inclusion.
Diverse and inclusive teams have a positive impact on our products and services, and help us better serve customers, selling partners, content creators, employees, and community stakeholders from every background. We are constantly learning and iterating, whether through central programs, or work within our business teams, through programs that are local, regional, and global.
Uber's Diversity & Inclusion Mission Statement
At Uber, our mission is to ignite opportunity by setting the world in motion. We see direct parallels between how we ignite opportunity through our company and how we ignite it within our company. But we also know that a solely data-driven approach will never be sufficient, because D&I is more than a box to check or a target to hit. The numbers matter, but they're only a starting point; a commitment to diversity and inclusion has to run much deeper. That's why we've set an audacious goal: to make Uber the most diverse, equitable, and inclusive workplace on the planet. And we're not just setting high expectations for our own good. We're aiming sky-high because we know from experience that reducing and eliminating inequity is hard to do if all you shoot for is incremental change.
Specifics usually help
The more specific you are the more candidates will trust you. Giving examples of your employee resource groups (like Stanley Black & Decker) is a great example of that.
Note: Another way to make a diversity statement is through diversity videos. Check out this article for inspiration: Best Diversity and Inclusion Videos.
Here's an example of a diversity statement that Ongig has recommended to our clients for use at the bottom of their job descriptions (feel free to riff on it or just copy it!):
Ongig D&I Statement
We embrace diversity and equality in a serious way. We are committed to building a team with a variety of backgrounds, skills and views.. The more inclusive we are, the better our work will be. Creating a culture of Equality isn't just the right thing to do, it's also the smart thing.
25+ Diversity Statement Samples
Ok, here are 25+ diversity statements that were either effective overall or have individual great nuggets to borrow from (which we highlight).
Headline = Uniqueness is powerful.
Sub-Headline = Be yourself. We like it that way.
Diversity fuels the Un-carrier spirit. Our commitment to inclusion across race, gender, age, religion, identity, and experience drives us forward every day.
Headline/Sub-Headline — "Uniqueness is powerful" and "Be yourself. We like it that way." is a nice one-two punch that draws the candidate in.
Length = 23 words (one of the shortest we've seen!)
7.7th grade reading level (Excellent!)
Words per sentence = 8 (Outstanding)
Positive words (powerful, spirit, commitment, experience)
Great, engaging feature image:
Headline = A Culture of Creativity is life at GoDaddy
A Culture of Creativity is life at GoDaddy. We hire the best, give them first-class training and set them loose. If you're driven to perform, you'll fit right in. We approach our work fearlessly, learn quickly, improve constantly, and celebrate our wins at every turn. Everyone is welcome—as an inclusive workplace, our employees are comfortable bringing their authentic whole selves to work. Be you.
Great headline — Nice use of alliteration (the "Kuh" sound of the two words: "Culture" and "Creativity")
Length = 58 words (Short and sweet!)
6.7th grade reading level (Superb)
Positive words — they use a lot (best, give, fit, learn, improve, welcome, comfortable, authentic, whole)
Nice opener — Opening with "We hire the best…" is solid
"Everyone is welcome" is a simple and powerful phrase that is rarely used so they stand out again with just 3 words.
Headline = It takes all kinds
Diversity. Inclusion. They're more than just words for us. They're the hard-and-fast principles guiding how we build our teams, cultivate leaders and create a company that's the right fit for every person inside of it. We have a global, multicultural following—we want to reflect that inside our walls.
Headline — short and sweet
Length — 55 words (succinct!)
5.7th grade reading level (Outstanding — the best (i.e. lowest) we found!)
Words per sentence = 9.2 words (succinct)
Conversational opening — Notice that they opened up with two one-word sentences ("Diversity. Inclusion. They're more than just words…" The candidate feels like they're in a conversation with Oath.
Positive words (build, create, guiding, right)
Headline = We're On a Journey
We are inclusive. We celebrate multiple approaches and points of view. We believe diversity drives innovation. So we're building a culture where difference is valued. We take a holistic approach. We're always growing our network of people, programs and tools all designed to help employees grow and manage their careers. We foster both a top-down and grassroots approach. This gives us the freedom to address the broadest set of initiatives.
Length = 71 words (nice and short)
7.1st grade reading level (Excellent!)
Words per sentence = 8.9 (punchy!)
Positive words (celebrate, innovation, holistic, grow, freedom)
Headline = Our accelerated approach to diversity and inclusion
Our accelerated approach to diversity and inclusion Google's mission is to organize the world's information and make it universally accessible and useful. When we say we want to build for everyone, we mean everyone. To do that well, we need a workforce that's more representative of the users we serve. That's why we've embraced a refreshed and accelerated approach to diversity and inclusion.
Length = 63 words (Above average short)
Tying their mission to diversity in the opening line is powerful
Specificity! — They link off to their "diversity report"
Short URL – diversity.google.com (this is better than being buried in a URL like google.com/about-us/diversity-inclusion
9.8th grade reading level (better than average)
Headline = We're greater when we're Equal
Sub-headline = Together, we can reach Equality for all.
Equality is a core value at Salesforce. We believe that businesses can be powerful platforms for social change and that our higher purpose is to drive Equality for all. Creating a culture of Equality isn't just the right thing to do, it's also the smart thing. Diverse companies are more innovative and better positioned to succeed in the Fourth Industrial Revolution.
We strive to create workplaces that reflect the communities we serve and where everyone feels empowered to bring their full, authentic selves to work. There is more work to be done, but with the help of our entire Ohana — our employees, customers, partners, and community — we can achieve #EqualityForAll.
Headline — Using the word "equal" instead of the usual "diversity" or "inclusiveness" makes Salesforce stand out. They use "Equality" as their theme throughout the diversity statement.
8.1st grade reading level (Excellent)
Length = 112 words
Progressive Close — They close with a #EqalityForAll hashtag which is a nice tech-savvy touch.
Headline = Diversity & Inclusion: Our Foundation for Innovation
At Comcast NBCUniversal, diversity and inclusion are part of our DNA. Together, we continue to build an inclusive culture that encourages, supports, and celebrates the diverse voices of our employees. It fuels our innovation and connects us closer to our customers and the communities we serve.
Length = 46 words (Short and Sweet)
10.40 grade reading level
Social Proof — Great use of their diversity awards right underneath their diversity statement.
Utilizes company color scheme:

Headline = Bring Your Whole Self to Work
We're passionate about creating an inclusive workplace that promotes and values diversity. Companies that are diverse in age, gender identity, race, sexual orientation, physical or mental ability, ethnicity, and perspective are proven to be better companies. More importantly, creating an environment where everyone, from any background, can do their best work is the right thing to do.
Length = 63 words (nice and short)
13.76 grade reading level
Compelling headline! — With just 6 words ("Bring Your Whole Self to Work"), they reveal a whole bunch.
Headline = Diversity & Inclusion
To be engaged, you must feel included and valued. We strive to build and nurture a culture where inclusiveness is a reflex, not an initiative. Where there is a deep sense of pride, passion and belonging that transcends any role, business unit, language or country and is unified in our shared commitment to excellence, innovation and social responsibility. We know through experience that different ideas, perspectives and backgrounds create a stronger and more creative work environment that delivers better results. To support an inclusive environment where employees feel empowered to share their experiences and ideas, we've encouraged the creation of a variety of Employee Resource Groups, including groups for Women, Veterans, LGTBQ (Pride & Allies), African Ancestry, Developing Professionals and more.
Specificity Rules! — They give examples of their Employee Resource Groups (in bold above). That shows that they are more than just talk.
An abundance of words that have proven to attract women (strive, nurture, inclusive, shared, commitment, creative)
Length = 120 words
14.33 grade reading level
Headline = Diversity is our heritage and our future. Be part of it.
At Schneider Electric, diversity is an integral part of our history, culture, and identity. Inclusion is the way we treat and perceive all differences. We want to create an inclusive culture where all forms of diversity are seen as real value for the company.
Length = 41 words (Short and sweet!)
8.1st grade level readability (Excellent!)
Getting words like history, culture and identity in the opening sentence is a strong start.
Highlight their headline in company colors:

Diversity Mission Statement Headline: Adobe for All
Sub-Headline: What we believe.
At Adobe, we believe that when people feel respected and included they can be more creative, innovative, and successful. While we have more work to do to advance diversity and inclusion, we're investing to move our company and industry forward.
Length = 43 words (Short and sweet!)
9.37 grade level readability (above average)
Using inclusive words like respected and included in the opening sentence.
Alliteration in the headline "Adobe for All" makes it memorable.

Diversity and Inclusion Statement Headline: Inclusion & Diversity at Aon
Sub-Headline: Our Inclusion Commitment
Whether related to accessibility, gender, ethnicity, age or sexual orientation, it's important to find intentional ways to grow in our understanding and support of others. Aon's commitment to fostering an inclusive culture is top on our agenda. We believe identifying ourselves as visible and voluntary allies is vital amidst the challenges we face, as it signifies an environment where all colleagues feels supported to bring their whole selves to work.
In support of this allyship, we encourage our leaders and colleagues to pledge 'I'm in.' This inclusion commitment gives each individual the opportunity to demonstrate their personal dedication to an inclusive culture, while visibly identifying their allyship to others. We also offer ongoing recommendations on how they may share, participate, discuss, act and continuously learn in support of their commitments.
Length = 133 words
15.32 grade level readability
Using the word "intentional" is meaningful. It makes people feel like they are focused on D&I, not just saying it.
Focusing on allyship and an "I'm in" mentality.
Values of Diversity Headline: None
Here at Atos, we want all of our employees to feel valued, appreciated, and free to be who they are at work. Our employee lifecycle processes are designed to prevent discrimination against our people regardless of gender identity or expression, sexual orientation, religion, ethnicity, age, neurodiversity, disability status, citizenship, or any other aspect which makes them unique.
Strong power verbs in the opening sentence ("valued", "appreciated", "free to be who they are")
They mention "neurodiversity" (a rare term in diversity statements — it is meant to be inclusive of people with autism, dyslexia, ADHD and other neurological differences)
Length = 57 words (nice and short)
19.13 grade level readability
Statement of Inclusion Headline: AT&T Diversity & Inclusion
Sub-Headline: AT&T is All of Us
At AT&T, we align diversity & inclusion to four pillars – our employees, the communities we serve, our customers and our suppliers.
Length = 28 words (Short and sweet!)
8.47 grade level readability (Excellent!)
Diversity and Inclusion Statement Headline: Diversity & Inclusion
BC Housing's Diversity & Inclusion Program is part of our People Strategy and reflects our vision of building an organization that attracts and leverages diversity in our staff, and strives for respect and inclusion throughout our workplace and in the communities we serve.
As a piece of our overarching People Strategy, the Diversity & Inclusion program has three main goals:
Attracting & Onboarding – create a workforce broadly reflective of the larger community.
Engaging & Developing – support employees in building the skills and capacity to work in an inclusive manner with one another and with the communities we serve.
Building the Culture – build a welcoming workplace in which employees recognize that their unique characteristics, skills and experiences are respected, valued and celebrated.
We recognize that an inclusive and diverse work environment respects the unique characteristics, skills and experiences of all employees. Our Diversity & Inclusion programming includes respectful workplace workshops for everyone.
We offer Understanding LGBTQ Communities training and Working Respectfully with Indigenous Peoples sessions. Our Employee Diversity & Inclusion Committee hosts great events like National Indigenous Day, Canadian Multicultural Day, Pink Shirt Day, Lunar New Year, Black History Month and much more.
Listing 3 goals of focus helps keep them focused and accountable.
Naming specific communities and events allows people to connect with them and their commitment to diversity.
Length = 186 words
15.12 grade level readability
Diversity and Inclusion Statement Headline: Diversity and Inclusion
Sub-Headline: A bright idea can come from anyone.
The more diversity we have in our team, the more unique perspectives and bright ideas we share. At Bright.md we are driven by the value of excellence. In healthcare, excellence means everyone deserves the best care, regardless of their race, color, gender identity, religion, national origin, ancestry, citizenship, physical abilities, age, sexual orientation, veteran status, or criminal history. We embrace employees and candidates from these underrepresented groups to help make this vision a reality.
Read Bright.md's statement about Black Lives Matter.
Length = 82 words (above average).
10.58 grade level readability
100% gender neutral.
Using "excellence" as a comparison to being diverse in many ways.
Commitment to Diversity Statement Headline: Diversity, Equity, and Belonging Initiatives at Curology
Sub-Headline: We at Curology believe that everyone deserves to feel safe, invincible, and equipped to thrive.
This environment of psychological safety should begin at home, within the walls of our offices, and should extend to our entire community of Curology members. Our commitment to joining the #BlackLivesMatter movement begins by looking inward at our hiring practices, workplace policies, approach to marketing, and culture.
Length = 62 words (above average short).
15.17 grade level readability
Using "safety" and "at home" in the first sentence connects to personal needs.
Company Diversity Statement Headline: Diversity & Inclusion at Hilton
Sub-Headline: We are diverse by nature and inclusive by choice
Diversity is at the core of our Vision, Mission, and Values. We are committed to an inclusive workforce that fully represents many different cultures, backgrounds and viewpoints. Our global brands provide meeting places for people from all walks of life to connect, creating a welcoming environment for all.
Length = 57 words (Short and sweet!)
9.36 grade level readability (above average)
Focusing on diverse: cultures, backgrounds, & viewpoints.
Diversity and Inclusion Statement Headline: Diversity, Inclusion & Belonging
Sub-Headline: Our commitment to transparency and accountability
Indeed's mission is to help people get jobs. To achieve this, we put jobseekers and companies who use Indeed at the heart of everything we do. In 2019, we declared the kind of culture we want to have and the values that are important to us. These values are: put jobseekers first, pay for performance, innovation, data-driven, and inclusion & belonging – which translates to creating an environment where everyone can bring their authentic selves to work and make it easy for others to do the same.
Length = 86 words (Longer but powerful)
10.52 grade level readability
First sentence starts with wanting to help.
Focusing on the job seekers is the main theme.
Diversity Inclusion Statement Headline: Inclusion on-screen starts with inclusion in the office
Sub-Headline: Sowing the Seeds: Inclusion Takes Root at Netflix
Netflix's greatest impact is in storytelling. Stories like 13th, Disclosure, Selena, Da 5 Bloods, Special and The Half of It broaden representation, empathy and understanding. We create and connect these stories to people all around the globe – removing the barriers of language, device, ability or connectivity. Better representation on-screen starts with representation in the office. Our work has to be internal first, so it can impact what we do externally. We believe we'll do that better if our employees come from different backgrounds, and if we create an environment of inclusion and belonging for them.
Length = 95 words (Longer but powerful)
9.69 grade level readability (above average)
Connecting the on-screen with their internal culture and diversity.
Diversity Mission Statement Headline: THE SIMONS FOUNDATION'S DIVERSITY COMMITMENT
Many of the greatest ideas and discoveries come from a diverse mix of minds, backgrounds and experiences, and we are committed to cultivating an inclusive work environment. The Simons Foundation provides equal opportunities to all employees and applicants for employment without regard to race, religion, color, age, sex, national origin, sexual orientation, gender identity, genetic disposition, neurodiversity, disability, veteran status or any other protected category under federal, state and local law.
Strong power nouns in the opening sentence (ideas, discoveries) tied to a "diverse mix of minds"
They mention "neurodiversity", the term inclusive of people with autism, dyslexia, ADHD and other neurological differences)
Length = 71 words
23.35 grade level readability
Commitment to Diversity Headline: Diversity at Slack
Sub-Headline: Slack for Good has a mission to increase the number of historically underrepresented people in the technology industry.
Diversity, engagement and belonging remain at the center of Slack's values. We are committed to putting resources and attention toward improving the engagement, retention and promotion of the incredible talent we have—whether everyone is sharing an office or working together remotely, as we are now. The future of work must be inclusive, and during this unprecedented time when our customers are facing more challenges than ever before, our commitment to that vision is critical to our success and to theirs.
"Slack for Good" mission is creative.
Giving examples of how they support and promote and inclusive work environment.
Length = 80 words
15.50 grade level readability
Diversity Inclusion Statement Headline: United Way fights for the health, education, and financial stability of every person in every community.
Sub-Headline: Diversity, Equity & Inclusion Statement of Principle
We take the broadest possible view of diversity.
We value the visible and invisible qualities that make you who you are.
We welcome that every person brings a unique perspective and experience to advance our mission and progress our fight for the health, education, and financial stability of every person in every community.
We believe that each United Way community member, donor, volunteer, advocate, and employee must have equal access to solving community problems.
We strive to include diversity, equity, and inclusion practices at the center of our daily work.
We commit to using these practices for our business and our communities.
Join us in embracing diversity, equity and inclusion for every person in every community.
Conversational — Notice how United Way (a non-profit) has a DEI statement that uses "We" rather than just saying "United Way". This makes it more conversational.
One-Liner Bullets (instead of long text) — Most diversity statements are in sentence/paragraph form (which is ok). But United opts for one-liner bullets (even though there's no bullet) which can be more readable for many. Again, it reads a bit more like a conversation.
Length = 116 words
13.46 grade level readability
Diversity and Inclusion Statement Headline: Inclusion, Equity, and Diversity
"WID is committed to maintaining a culture of diversity and equity in fundraising and related professions. As a membership body, our strength is in our promise to be inclusive, with intentional strategies to welcome and uplift historically marginalized identities and people within our field."
Length = 44 words (Short and sweet!)
16.32 grade level readability
About Us — WID lists their DEI Statement as part of their "Core Values" section on their About Us page. I believe that's a strong alternative to listing it on a "Diversity" page as most companies do.
Making it a "Value" — Calling DEI a "value" is another differentiator. WID President Yolanda Johnson gives this advice to organizations re: DEI statements: "Making DEI a core value helps to ensure that change will come from within the organization and will help protect these efforts from claims that it is not a priority." (source: How We Are Creating Diversity, Equity, and Inclusion From the Inside Out
Diversity and Inclusion Statement Headline: At Workday, we VIBE™.
Sub-Headline: Value inclusion, belonging, and equity for all.
Our approach to diversity is simple—it's about embracing everyone. From building a culture where all employees can bring their best selves to work to deploying diversity initiatives that support everyone, we're doing what it takes to build an inclusive world for all.
Length = 49 words (Short and sweet!)
11.54 grade level readability
Statement of Diversity:
Options Community Services (OCS) provides services in one of the most diverse cities in the world. The diversity of our community takes many forms. It includes differences related to race, ethnicity, national origin, gender identity, gender expression and presentation, sexual orientation, religion, age, ability and socioeconomic status. We see diversity as an asset to our organization and communities and strive to be reflective of the communities that we serve. We commit ourselves to promoting better understanding and appreciation of our human diversity; a commitment which is best realized through our individual and collective effort.
OCS is professionally and personally committed to celebrating the rich diversity of people who receive, live and work in our services and resources. We believe that it is critical that our services empower freedom of thought and opinion in an environment of mutual respect. All of our programs, activities, and interactions are enriched by accepting each other as we are and by celebrating our uniqueness as well as our commonality. We are guided by the principle that celebrating diversity enriches and empowers the lives of all people.
Length = 181 words (longer but meaningful)
12.4 grade level readability
Using words like "asset," "commitment," and "celebrate" show their support for inclusion and diversity.
Diversity Statement PDFs
If you're looking for a diversity statement sample PDF, here are 3 examples of companies using PDFs to get their message across about diversity:
I hope you found some inspiration above to help you have the best diversity statement in your market.
And, here are some ideas for a "diversity personal statement" if you need one for a master's degree or resume:
Diversity Statement Bonus Tips
If you like this article, you might enjoy some of Ongig's other blogs with tips on how to create inclusion statements, diversity commitments, and diversity goals. Here's a list to check out:
Diversity Essay Samples
"For a long time, the experiences and characteristics that set me apart were the things I felt compelled to suppress. As I learned to embrace my upbringing, my sexuality, and my role as a father, I saw the value of each. Now, I appreciate the invaluable perspective on life that being a single, African, gay father, raised by a single mother, has given me.

I was born in the Philippines and immigrated to the United States when I was six years old. Because my mother did not receive higher education, I relied on the guidance of mentors to navigate academia. Experiencing the benefits of mentorship encouraged me to pay it forward. I took an active role in a nonprofit organization called Natural Productions. Here, I mentored children living in underserved communities that have experienced abuse and violence at home – as I have. I provided the children mentorship, encouragement, homework assistance, and dance instruction to help them rise above the poverty and hardship they were born into. My commitment to mentorship continues in law school. I currently serve as a resource and mentor to incoming minority students to help them succeed through the rigors of law school.

When I was nineteen I had a baby with my childhood sweetheart. Although some view having a child at that age as a barrier to success, I envisioned it as motivation. The task of caring for another person was daunting, and I was scared of making a mistake. Despite my age, I adapted and the desire to provide for my daughter motivated me to attend college, start a career in financial services, and later attend law school. The moment I laid eyes on my daughter, I wanted her to embrace every aspect of who she would become. The best way to teach her was by example.

Coming to terms with being gay was a tumultuous and liberating experience. I encountered reactions from my family and friends that were unsupportive and agonizing. Yet, I quickly learned to develop a thick skin, compartmentalize my feelings, and focus on being a father. I provide intellectual diversity and a commitment to community.

During the 2008 financial crisis, I almost became homeless, but used my expertise to avoid foreclosure. Compelled to assist my community, I used my mortgage experience to provide guidance on the loan modification process with the hope that homeowners in default would save their homes. During my externship last summer, I learned about the significant number of minorities affected by the crisis.

Consequently, I would like to help close the disproportionate wealth gap plaguing our society by spearheading the firm's efforts of collaborating with local organizations to empower minorities by providing financial literacy programs.

Diversity extends far beyond visible differences. To me, it represents a sense of belonging to a community and, with that, a fresh point of view. I will utilize my unique experiences as tools for creative problem solving with a diverse perspective that benefits both the client and your firm."

source: American University Washington College of Law — Diversity Statement Resource Guide
10.14 grade level readability (above average, especially for a law school essay!)
Using personal life stories helps the reader connect to the writer and their story about the pursuit of diversity in law firms.
Tying goals to real problems (e.g., the wealth gap) and giving solutions makes this a strong essay.
Why I wrote this article?
Our focus at Ongig is to boost your quality candidate applications including diversity. Ongig's Text Analyzer helps analyze the text of any job-related pages. Please click the demo request button on this page f you think we can help you.