Do you want to know how to write a job description? We are confident this report can help guide you. Writing job descriptions is clearly a skill talent leaders want to know about.
Did you know that the #1 searched HR term on Google is (source: ahrefs.com):
"how to write a job description"
The Ongig team put together this "How to Write a Job Description – Best Practices" Guide after analyzing millions of JDs. We also hand-write JDs for many Fortune 500 companies.
In this report, we use "job descriptions" as an umbrella term. We cover both external job descriptions (commonly called job postings/job ads) and internal job descriptions.
Here's what you'll find in this report:
5 tips to use BEFORE you write your job description
Here are a few tips to think about BEFORE you start writing a job description:
Put the important stuff first — think about what might catch your reader's attention and start with that.
Consider using 1st or 2nd person vs. 3rd person — it's more conversational to say "we" or "you" than "the [Company]" or "the [Job Title]."
Use active voice instead of passive voice — for example, "Tesla changes the way we drive cars" v. "People will drive cars differently because of Tesla."
Write about the candidate early and often — write about the candidate early on, so you hook them in. Phrases that should be sprinkled throughout might include:

You'll be working on…(or you'll be running…)
You are…

Can you…
Your expertise…
How you'll make your mark…
Note: Avoid the pitfall many companies make when they start their job descriptions with "About Us" (which is about the company, NOT the candidate)

Cut down on "fluff" — candidates are overloaded with content daily. Keep your job descriptions simple. Your sentences should be punchy (8 to 13 words is ideal). Your bulleted lists should be in the 3 to 7 range. And most of your paragraphs should be 3 or fewer sentences.
If you're writing job descriptions at scale (100+ per year), you might consider using one of The Top 7 Augmented Writing Tools for Job Descriptions. Check out the below screenshot of Ongig's Text Analyzer analyzing a Customer Success Manager job description. The red highlights extra-long sentences, yellow highlights long sentences, and purple highlights long lists.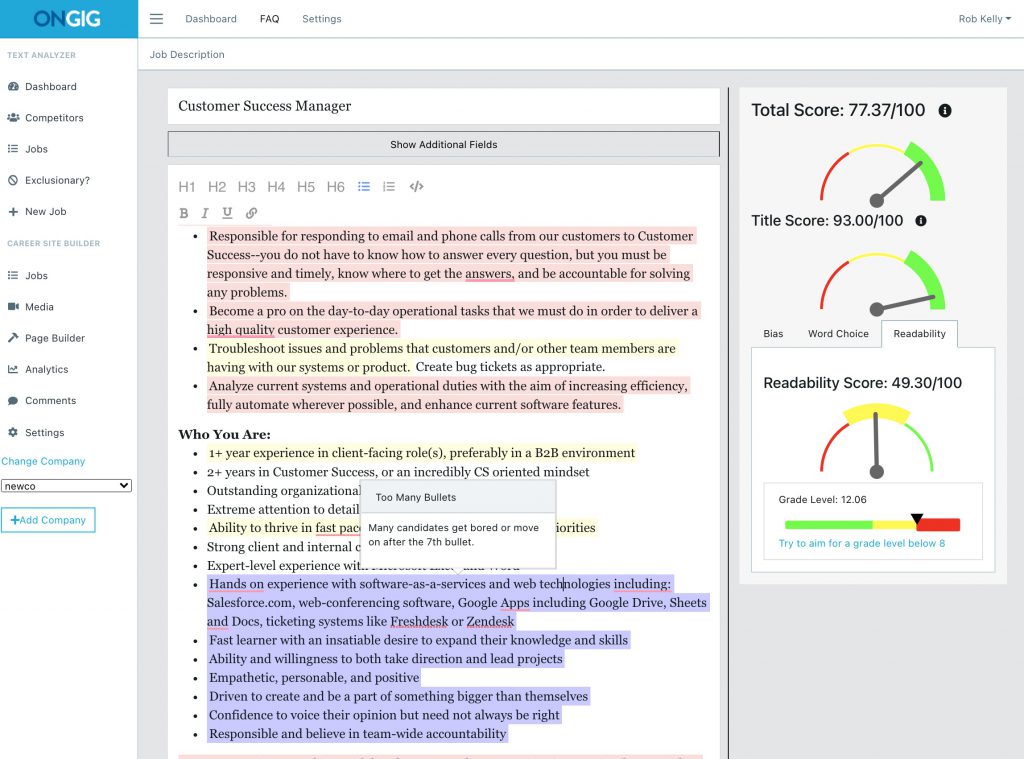 How to write the job title for your job description (2 tips)
To write a great job description requires writing a great job title. That's because job titles are the first thing candidates see on a job description. It's also a key part of what they search for on Google.
1. Make your job titles searchable
Use a title that candidates search for on Google. Ongig's Text Analyzer software scores job titles on the number of words or syllables and helps answer what candidates are searching for.
Here's an example of SEO-optimized job title suggestions for a Marketing Specialist job description:

"Marketing Coordinator" and "Marketing Analyst" jobs are searched more per month on Google than Marketing Specialist, according to Ongig's research (with the help of search engine optimization tools like Google Keyword Planner and ahrefs.com).
So, choosing one of these 2 job titles to write your marketing job descriptions might be a better choice.
Here's another example. The below job description is for a "Human Resources Generalist." There are 4 job titles searched more than "Human Resources Generalist."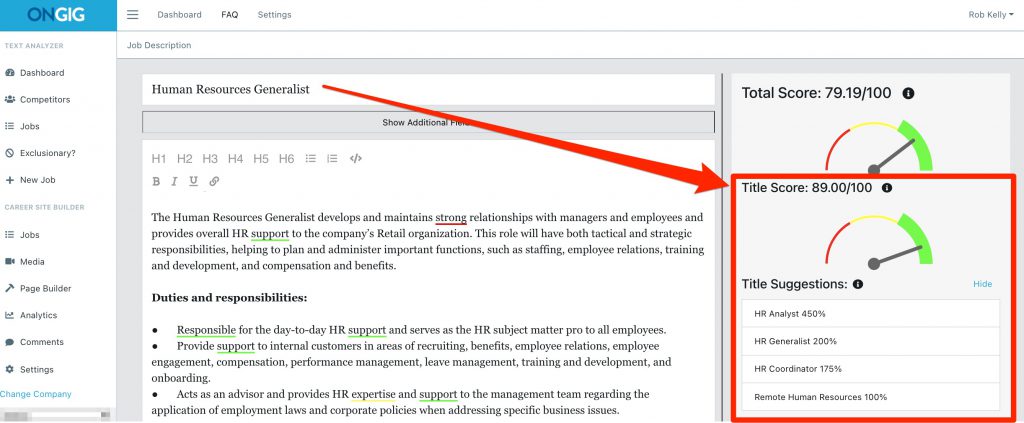 Here's another example of a job title suggestion for a Senior Network Engineer. Our research says Network Engineer is searched on Google 7,000+ percent more than Senior Network Engineer.

Using job title suggestions to write job descriptions impacts the number of candidates you reach.
2. Keep job titles simple
Use 1 to 3 words and less than 20 syllables in your job titles. Short and punchy job titles perform better than long, cryptic ones.
Look at these two examples. The first title, 'Principal Software Development Engineer,' scores 63 out of 100. But if you use a simpler title like 'Software Engineer,' it gets a perfect score of 100 out of 100. You can also use the title 'Web Developer' to make it even better for search engines.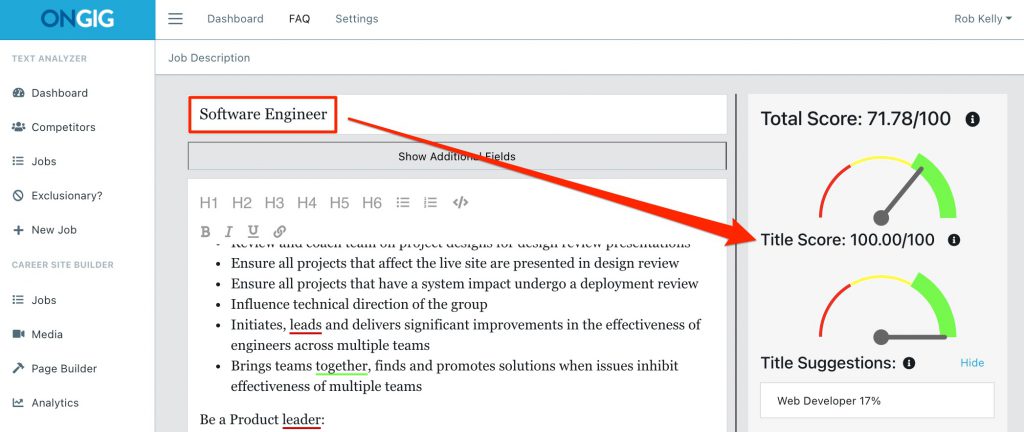 Appcast.io did an analysis from 400k+ job seekers and found that the hot spot for job titles is between 50-60 characters. The analysis showed that titles between 50-60 characters do better than other titles by 30-40%.
Caution: Don't Try to Be Clever
You might want to use a creative or funny job title in a job description because it's fun. But studies show that people usually don't search for these fancy titles when looking for jobs.
"People won't find your job ad if you use a "creative" job title like "web design wizard," because they don't search using that title."

source: Glassdoor
What to use for the "Location" Field in Job Descriptions [Physical or Remote]
Because of COVID-19, where you can work have changed a lot. So, many companies now let employees work from home. And some also plan to keep this arrangement even after the pandemic.
Apple is downsizing their office space, and CEO Tim Cook told Business Insider the company would not "return to the way we were."
Other companies will still have office space but might have a more hybrid approach to "location" in their job descriptions.
The Best Language to Use to Describe Location
Here's a few examples of location language to use instead of just [City, State]:
"Remote," "Virtual," "Distributed," "Work at Home," etc. (these are examples to use to write a job description that can be done anywhere). Fun fact: Elastic Co. was one of the first major companies to use the term "Distributed."
"Remote/[Name of Hub City]" — writing job descriptions for a position with a "hub" office, e.g., Remote/Austin, means that the position is virtual, but the headquarters or hub is in Austin, TX. Workday is rumored to be using this model (e.g., you can work remotely, but you must be near one of their offices/hubs).
"Remote, Contiguous U.S." — Instagram uses this when writing job descriptions to show candidates they can work in the 48 adjoining U.S. states on the continent of North America that are south of Canada and north of Mexico, plus the District of Columbia. It excludes Alaska and Hawaii and off-shore U.S. territories like Puerto Rico.
If your company is still hiring for "in office" roles, you can stick to writing job descriptions with a simple city and state.
The 6 Main Sections to Consider for the Structure of Your Job Description
To write a job description, it helps to have an outline/structure.
Here are 6 sections to consider in order of where we recommend you place them:
1. Job description summary
A job description summary starts off by giving candidates a clear idea of the role without going into too many details yet.
Curology's job description summary for a Communications Director (below) does this well:

Notice how Curology uses language like:
You will have the chance to define how our brand connects…
You will use your knowledge of the editorial space…
Here are some tips for how to create a job description summary:
Catch candidates attention with 1 or 2 high-impact benefits (e.g., creating software that will save lives)
Engage candidates with a question (e.g., "How would you like to work in a place where your contributions and ideas are valued?")
Keep it short but meaningful — CIO Magazine says you should keep your JD summary/overview to between 1 to 4 sentences, and it should:
"…include a description of the job's major function, how it contributes to larger company objectives, and why it's important not just to the company, but to society as a whole.
2. Job responsibilities
If you can create a good job description, you know you have to be clear about what you want from the new employee. The list of job duties can be long, but it doesn't have to be.
Here are a few writing job descriptions best practices for this section:
Highlight 2-4 primary responsibilities. You can share the longer list of day-to-day tasks once you make a hire. Try picking the top things this person will do.
Break tasks into categories like "administrative", "technical", and "customer interactions"
Lululemon also does this well in their job description for an Expeditor:
Key Responsibilities and Accountabilities

Under the direction of the Expeditor Leader, you will:

Receive/Process stock received from warehouse, involving: unpack, count, fold, size and place on the floor, overflow stock placed in back room and stored areas

Assist in preparing the store for the day including: replenishing garment styles and other merchandise by color, size, and quantity requirements; folding, sizing, and organizing product

Ensure stock replenishment in work areas

Complete other additional projects as required or by request, under the direction of the Expeditor Leader
You'll find more tips about improving this section, and the next one, in our blog 7 Things that Will Go Extinct in Job Descriptions.
3. Requirements and qualifications
Requirements and qualifications also tends to be an extra-long section in job descriptions. Here are a couple of tips on how to write a job description without too many requirements:
If you don't really need years of experience, don't make it a must-have for the job. Some companies are also hiring people based on their skills for the job, without focusing on the number of years they've worked.
Did you know that many female candidates will not apply unless they meet 100% of the requirements? Be clear on the "must-haves" qualifications versus the "nice to haves". "Must-haves" might be proficiency in a software solution, or a specific certification required to perform a job. "Nice to haves" might be previous experience in a similar role or industry.
Job Requirements Examples: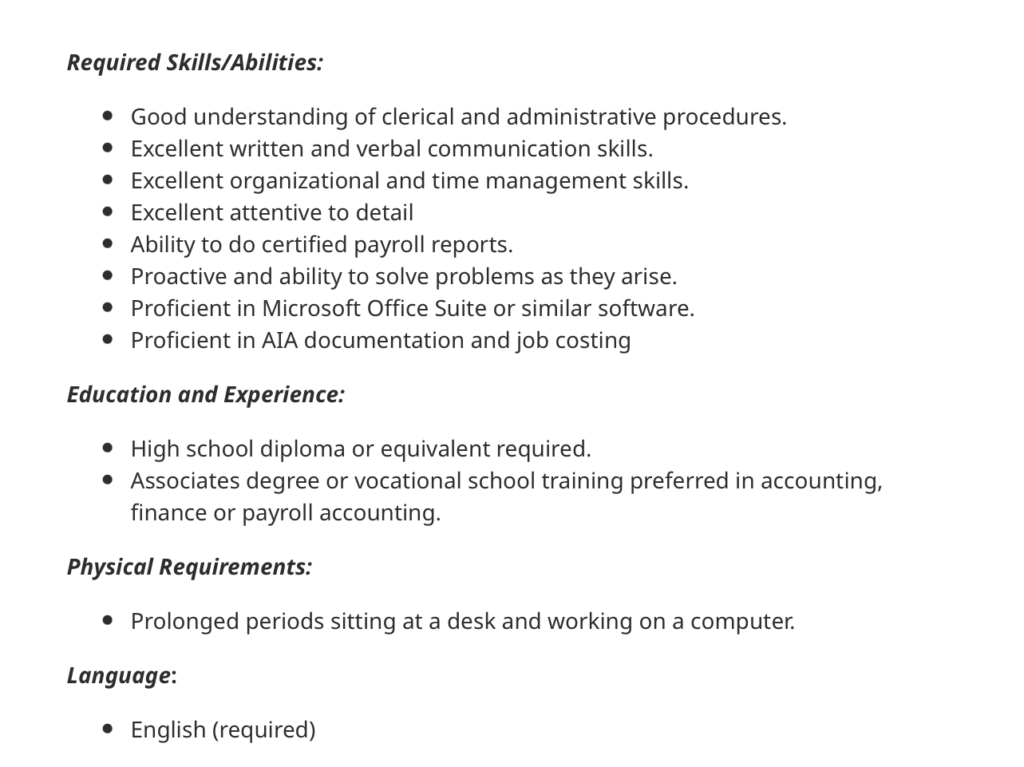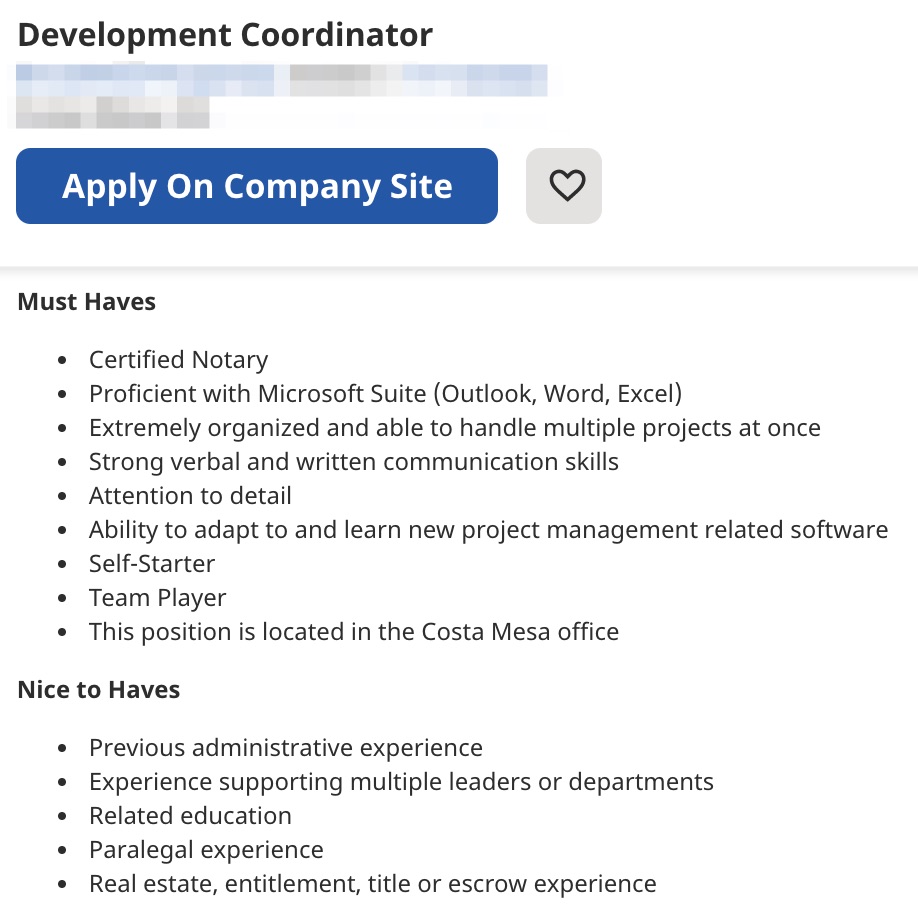 The Impact of using data to inform word choice
In different jobs and places, certain words work better than others. For example, in sales jobs, using "collaborate" is better than "interface" to attract people. But in manufacturing jobs, "teamwork" is more effective than "collaborate". Also, in California, saying "demonstrated ability to take initiative" helps hire people faster, but in Illinois, it slows things down. So, this shows that word choices matter and can have different outcomes based on the job and location.
The way we speak affects how people understand us. And language changes over time, so what was wrong or not good to say a few months ago might be okay now. Also, different jobs and places like certain words and phrases for no clear reason. So, people looking for jobs need to keep up with these changes and use words that fit with what's popular in their industry.
Before 2019, job ads with lots of 'you' statements worked well. But things have changed. Now, job ads with more 'we' statements are doing better. In fact, ads with three or more times as many 'we' statements than 'you' statements get filled eight days faster on average. This shows that today's job seekers care more about a company's culture and values when looking for a job.
4. Benefits, salary, and perks
Job seekers always want to know what's in it for them. Listing benefits and salary information is important. You can list these all in one section or break them into different sections if you prefer.
Linkedin's blog, This Job Description Heatmap Shows You What Candidates Really Care About (and What They Ignore), shows salary and benefits as the "hottest" and "most helpful" parts of a JD: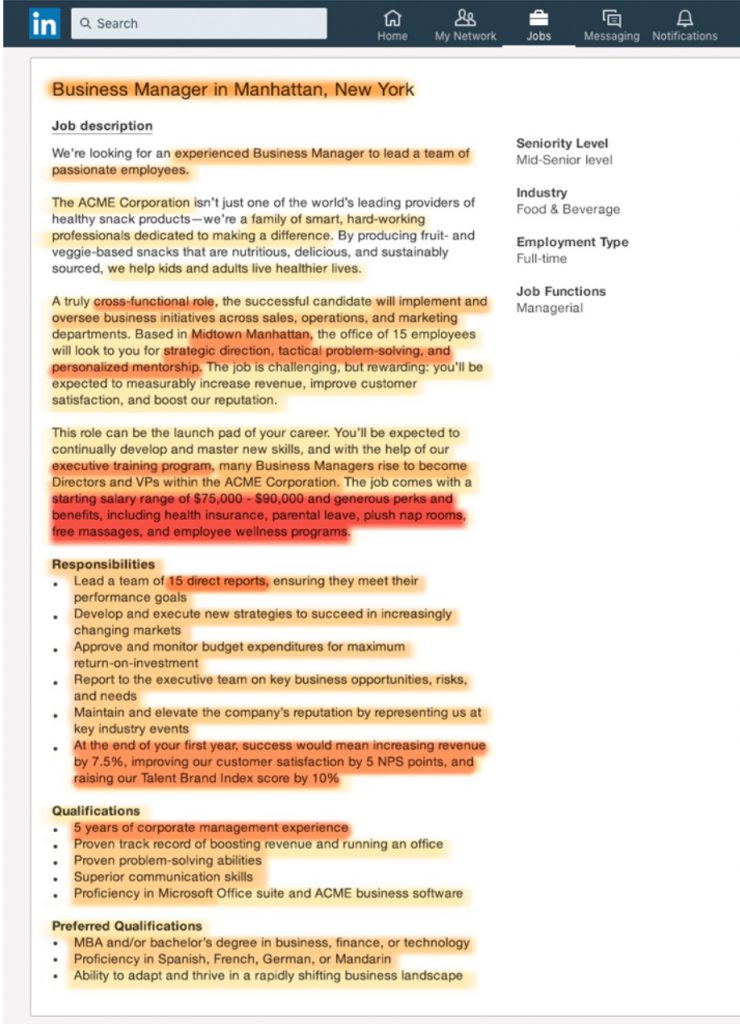 Here's what we recommend you include, no matter how you organize it:
salary range, even if it is not 100% set (include commission % for sales roles)
vacation policies (unlimited days or number of weeks per year)
retirement plan offerings (401k matching)
medical packages (health, vision, or dental plans)
fee reimbursements (phone, gym memberships, or healthcare expenses)
parental leave (exact time off available for new parents)
wellness opportunities (yoga classes, on-site gym, or group sports teams)
free training you provide
Spotify knows how to write up a job description with perks while making it fun. The job description below for a Latinx Culture Editor lists the perks of the job in a catchy way: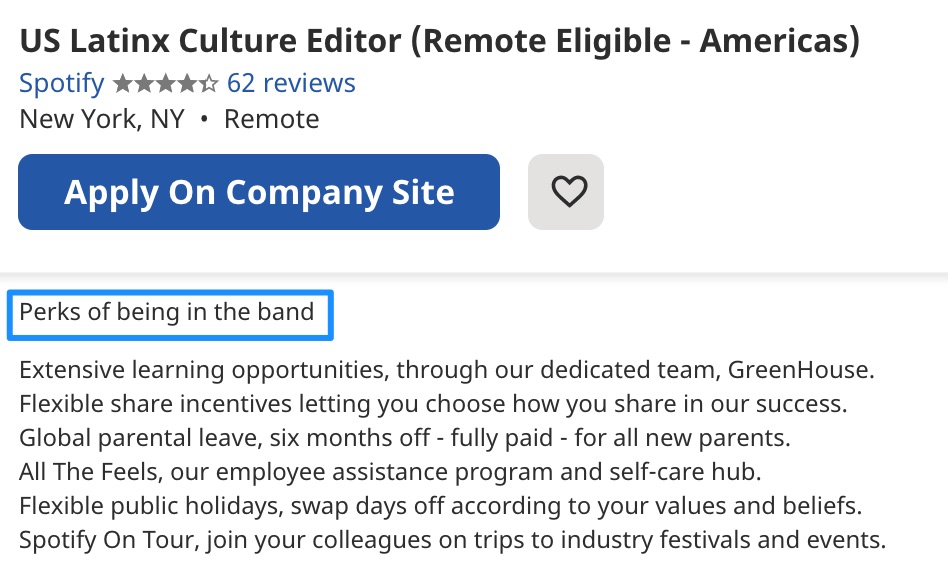 How to get the right people to apply for your job
To attract the right people for a job, it's important to use positive words that show the job is a chance for people to learn and grow. So, these words, like 'opportunity to grow' or 'persevere,' encourage more applicants and also help fill job positions faster. On the other hand, words like 'high performer' or 'natural ability' can make the job seem less appealing and slow down hiring. Thus, it takes longer to fill the role.
Using phrases that highlight growth and improvement in job ads also works well. They bring in more applicants and make the hiring process faster. So, avoiding phrases that suggest skills are fixed and cannot be changed is also a good idea. Technology can also help figure out the best words to use. But overall, focusing on growth words in JDs creates a positive environment. And it also attracts candidates who want to learn and grow on the job.
How punctuation affects your job description
The way we use punctuation in job ads really matters. Before, too many exclamation points made a job ad seem unprofessional. But lots of questions engaged candidates more. Now, things have changed. Using more exclamation points is better. People like it because it shows excitement. Questions are viewed with doubt. This change might be because we communicate a lot through emails now. And emails are often informal and enthusiastic, so people respond better to exclamation points.
According to the latest data, bulleted content should account for around 25% of your JD. This balance has been found to be effective in increasing the number of applicants. It is noteworthy that this represents a decline from a few years ago, when job descriptions with nearly 40% bullet points were considered most effective.
Also, it's important to keep sentences short in job ads. Short sentences keep people interested and help them understand better. Long sentences with too many words can be confusing and make readers lose interest. Good job ads usually have sentences with 13 to 18 words. So, avoid using too many words or very long sentences to make the job ad work well.
5. About Us (or "Mission Statement")
This part of job descriptions is where you talk about your company and what it's like to work there. It's called the 'About Us' section. Here, you talk about your company culture and also share interesting details about what it is like to work in your team.
Here are a few tips on how to write a job description "About Us" section:
introduce your employer brand and industry
include the company location and/or the location of the role
write a description about the team
talk about the company's mission or vision
list fun facts or awards you've received as a company
Here is an About Us from the "About Peloton" section at the end of their job descriptions:
"Peloton is the largest interactive fitness platform in the world with a loyal community of more than 2.6 million Members. The company pioneered connected, technology-enabled fitness, and the streaming of immersive, instructor-led boutique classes for its Members anytime, anywhere. Peloton makes fitness entertaining, approachable, effective, and convenient, while fostering social connections that encourage its Members to be the best versions of themselves.

An innovator at the nexus of fitness, technology, and media, Peloton has reinvented the fitness industry by developing a first-of-its-kind subscription platform that seamlessly combines the best equipment, proprietary networked software, and world-class streaming digital fitness and wellness content, creating a product that its Members love.

The brand's immersive content is accessible through the Peloton Bike, Peloton Tread, and Peloton App, which allows access to a full slate of fitness classes across disciplines, on any iOS or Android device, Fire TV, Roku, Chromecast and Android TV. Founded in 2012 and headquartered in New York City, Peloton has a growing number of retail showrooms across the US, UK, Canada and Germany. For more information, visit www.onepeloton.com."
Consider Using "Mission" over "About Us"
Research proves that candidates like companies with a clear mission. So, your mission statement can replace your About Us section. It's a more modern approach compared to an About Us section without a mission.
Here's an example of how Impossible Foods writes their mission statement in JDs. You can see how it could easily replace an About Us:
"Impossible Foods is addressing the most catastrophic threats facing humanity: climate change and biodiversity collapse. A global transition to a plant-based food system will turn back the clock on atmospheric CO2 levels, restore natural ecosystems and reverse meltdown in wildlife biomass.


The easiest — if not only — way to make our civilization sustainable is to eliminate livestock, the most dangerous technology on Earth. But humans won't give up meat. So we need to make meat better — more delicious and more nutritious, without animals as the underlying production technology. That means that making meat sustainably is the most important and urgent problem for the global scientific community.
Impossible Foods' mission is to completely replace the use of animals as a food-production technology by offering consumers everything they currently value about animal products — and making products that are vastly superior to their animal analogues."
Rival Inc. also includes their mission statement when writing job descriptions:
"Our Mission
Thrive Global's mission is to end the stress and burnout epidemic by offering companies and individuals sustainable, science-based solutions to enhance well-being, performance, and purpose, and create a healthier relationship with technology. Recent science has shown that the pervasive belief that burnout is the price we must pay for success is a delusion. We know, instead, that when we prioritize our well-being, our decision-making, creativity, and productivity improve dramatically. Thrive Global is committed to accelerating the culture shift that allows people to reclaim their lives and move from merely surviving to thriving."
6. EEO and Diversity Statement
Many JD templates include a standard EEO statement, but some companies go further at the end of their job descriptions with Diversity statements.
Diversity statements are often on a company website or careers page, but they're important in job descriptions too.
Check out SAP's simple diversity commitment:
"To harness the power of innovation, SAP invests in the development of its diverse employees. We aspire to leverage the qualities and appreciate the unique competencies that each person brings to the company."
Hewlett Packard Enterprise (HPE) uses a longer hybrid EEO statement and diversity message:

The six sections we talked about in a job description are just ideas. You can also mix them up or change the order. But bear in mind that it's best to talk about the job first and the company later.
Embracing Inclusivity in Job Postings
Using clear language about helping people in job ads helps companies hire better. It's not just about saying everyone is treated the same; it's also about mentioning they'll help people with special needs. This shows they really want to include everyone and make the workplace easy to use.
When companies are clear, it tells people with disabilities they can apply without worrying. So, it makes them feel better about applying. It also shows everyone the company cares about having different kinds of people and making a helpful workplace. This can also make the company more attractive, bring in skilled workers, and create a diverse and happy workplace.
Writing Job Descriptions — AFTER You Write
Ok. You've written your JD. What next?
The first step is to use inclusive language in JDs. This means using words that don't exclude or offend people based on their race, age, sexual orientation, disability, or other biases.
Remove potential bias from job descriptions
Text Analyzer has found that most JDs have exclusionary words. So, common examples include"he/she," "blacklisting," "digital native," "culture fit," and "recent graduates."
After you've written all the sections in your JDs, you should (if you can afford it) run your job descriptions through a Text Analyzer to flag "exclusionary words". Make sure that you use a Text Analyzer that explains why the term might be exclusionary and also offers inclusive synonyms.
Here's an example of Ongig's Text Analyzer at work. The database engineer job description below flags the phrase "brown bag sessions" and explains why it might be exclusionary. It then also presents "lunch and learns" as a more inclusive synonym.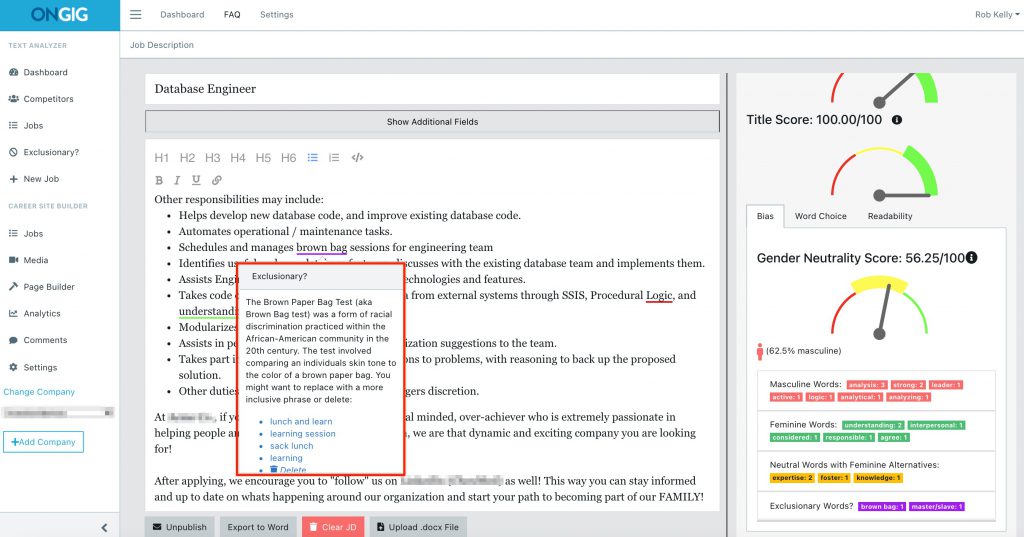 Improve readability in job descriptions
Using simple language is crucial. It means not using short forms or complicated words that confuse people. Also, long sentences can be hard to understand. So, by keeping things clear and straightforward, more people can easily understand what the job is about. This way, job descriptions become clear and also accessible for everyone.
Here's another example of Text Analyzer at work with this R&D Engineer job description below: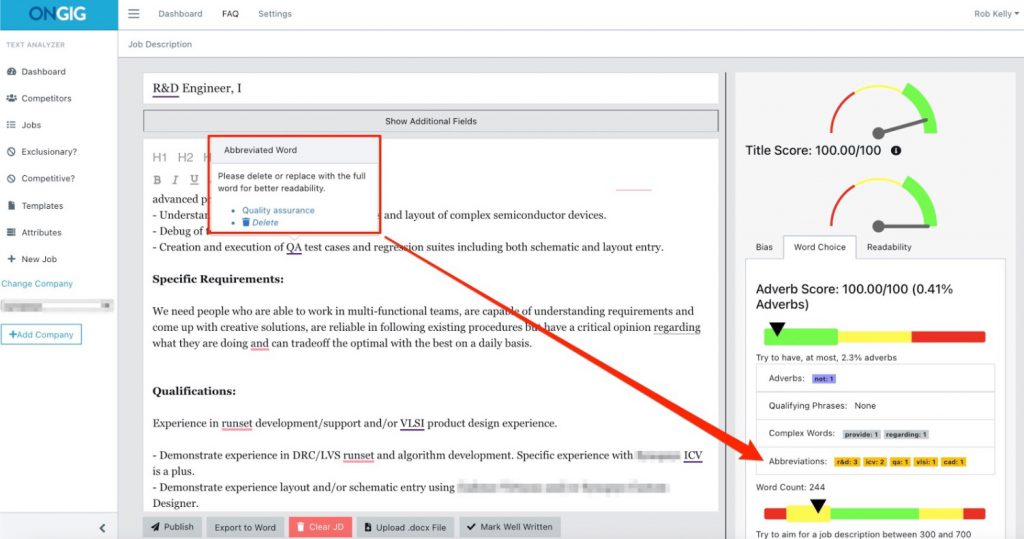 5 Examples of the structure of a job description
Job descriptions can come in different styles. It's like using different templates or examples. For example, what you write for a sales job might look different from what you write for a tech job. Companies often use specific formats for different types of jobs. So, this helps to clearly explain what each job involves and also what they're looking for in a candidate.
Job Description Templates
Here are some samples of job description templates used by leading companies:
Disney (Product Manager, Hulu) Job Description Example
This job description below is an example of a job at a large business unit (Hulu) within a larger parent company (Walt Disney Company).
Ongig's Analysis
Disney chose to write the job description above using a structure of 5 main sections:
Job Summary
What to Bring
Nice-to-Haves
About Hulu
About The Walt Disney Company
Instagram (Executive Assistant) Job Description Example
The job description below is an example from Instagram who's parent company is Facebook.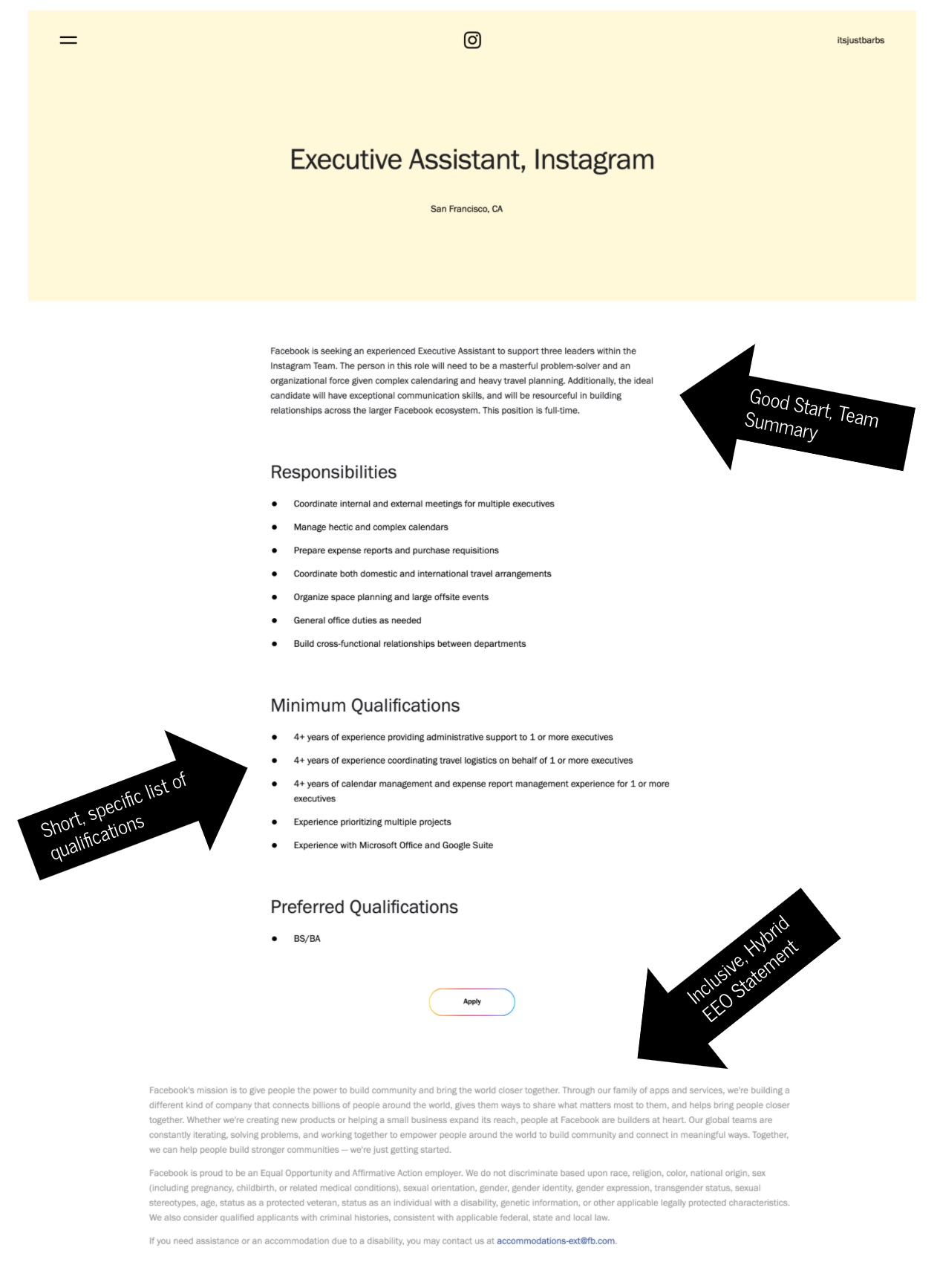 Ongig's Analysis
Instagram's job description template uses these 5 main sections:
Job and Team Summary

Summary
Who you'll work with

Responsibilities
Minimum Qualifications
Preferred Qualifications
Facebook's mission and EEO statement
Bark (Designer) Job Description Example
Here's a job description example from Bark, a subscription-based company for dog products.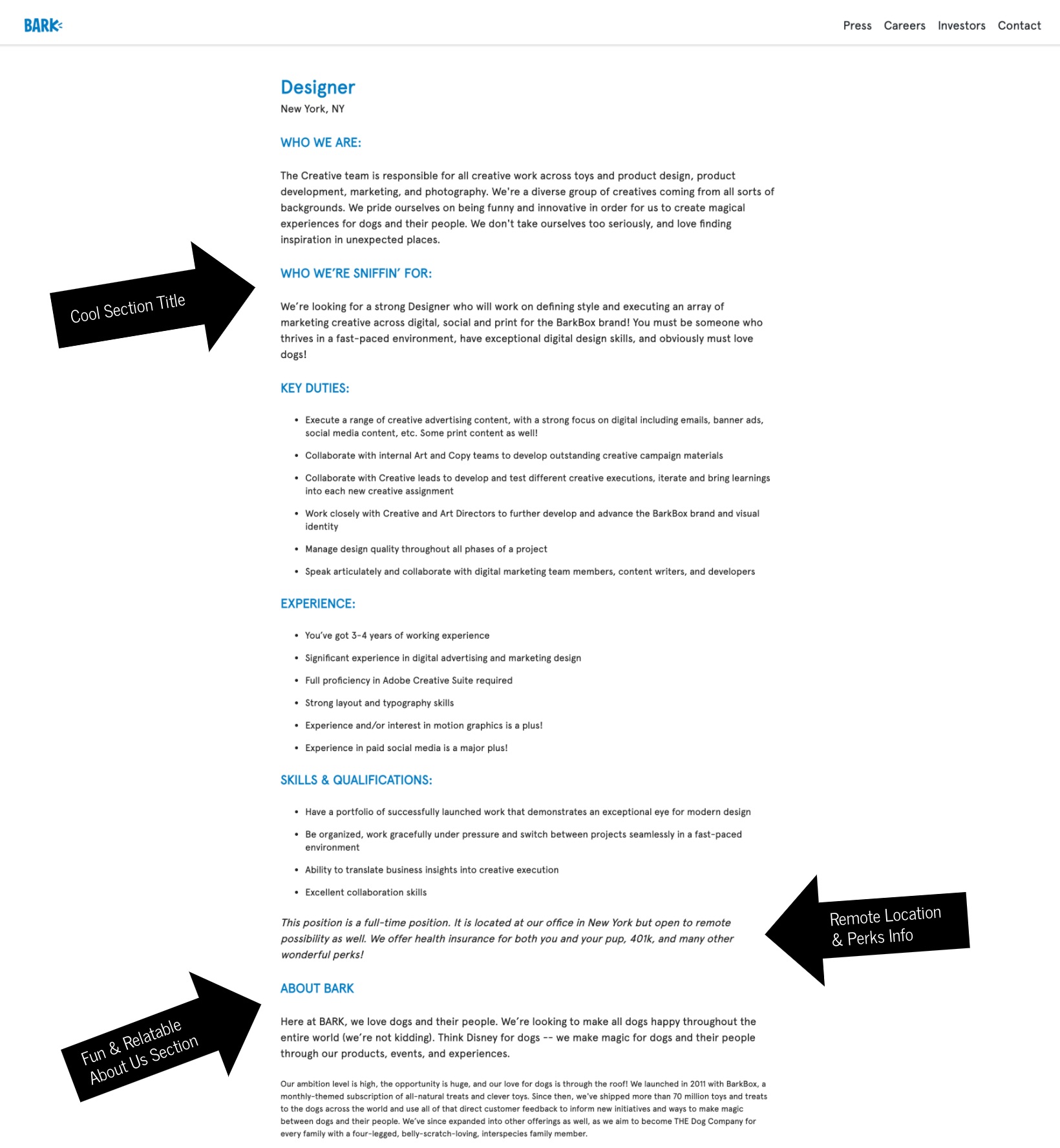 Ongig's Analysis
Bark's job description template uses these 6 main sections:
Who We Are
Who We're Sniffin' For
Key Duties
Experience
Skills & Qualifications

Includes location and benefits info

About Bark
Netflix (Support Solutions Engineer) Job Description Example
This job description below is for Netflix's Technology Services team.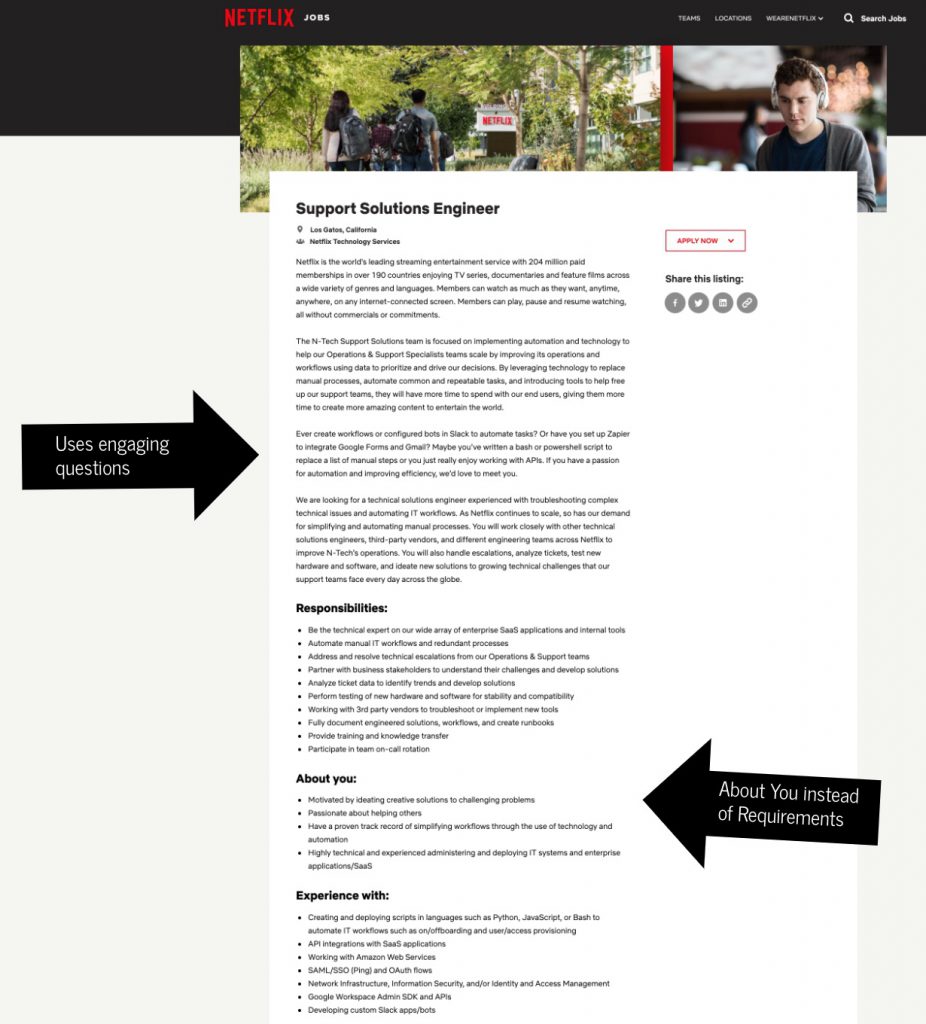 Ongig's Analysis
Netflix's engineer job description template uses these 6 main sections:
About the company
About the team
Position Summary
Responsibilities
About you
Experience with
Centene Corporation (RN – Care Manager) Job Description Example
This job description example below is for a registered nurse in North Carolina with multiple locations.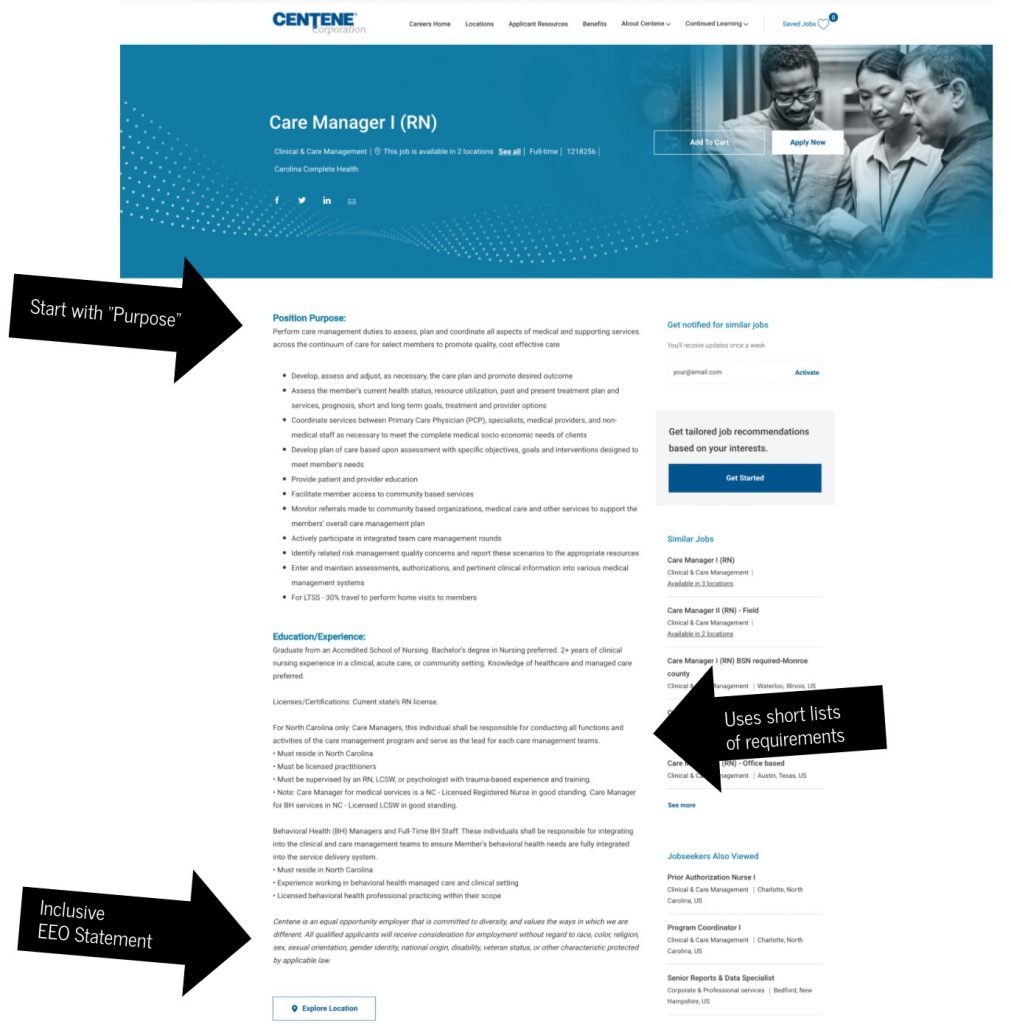 Ongig's Analysis
Centene Corporation's WellCare RN job description template uses these 4 main sections:
Position Purpose
Education/Experience

North Carolina specifics
Location/region

Licenses/Certifications
EEO Statement
Write job descriptions at scale
If you're writing a large volume of job descriptions (many dozens to thousands per year), you're likely going to want a different template for different departments or jobs. So, this way, you don't have to reinvent the wheel each time.
The Text Analyzer template builder feature allows you to create and store your best job description content in the tool too!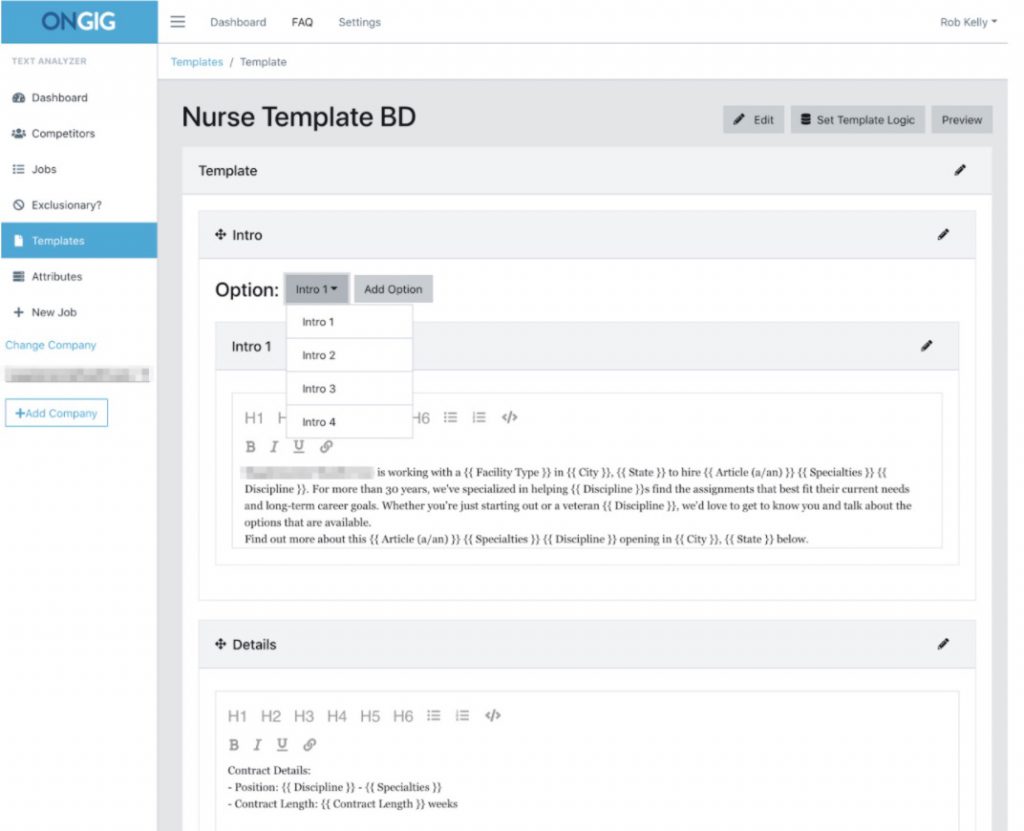 How to write a LinkedIn job description
Writing LinkedIn job descriptions is different than writing JDs for your career page or other job boards. These are some things you should know about how to write a job description on LinkedIn.
You can use the same information but structure it based on LinkedIn's job description templates.
For example, if you write a LinkedIn job description, you can leave out the About Us section, salary info, and your # of employees because it's already listed based on your company profile.
But, to write a job description on LinkedIn, you still need to include:
the job title
info about the candidate (e.g., "About You" or "What you'll do")
a job description summary
a list of perks
the EEO or diversity statement
Our blog on How to Write LinkedIn Job Descriptions goes into more detail about how you can fine-tune your company's "About Us" section. It also shows how the salary range is estimated and how the employee count is populated.
Job description template — SHRM
Internal JDs, SHRM's article on How to Develop a Job Description is another good resource for how to write a job description template. In this article, SHRM describes a job description as a:
"useful, plain-language tool that explains the tasks, duties, function and responsibilities of a position"
The article mentions that JDs give employees a clear resource to use as a guide for job performance, which is also used by a supervisor as a success measuring tool. So in this instance, writing "job descriptions" is more for internal use than for advertising a job.
Here's a summary of SHRM's steps for writing job descriptions for internal use:
Performing a job analysis
Establishing the essential functions
Organizing the data concisely
Adding a disclaimer
Adding signature lines for approval
finalizing the job description
Writing Job Descriptions Best Practices
Let's summarize how to write a position description:
Remember the 5 tips for job description best practices:

Put the important stuff first
Use 1st or 2nd person grammar
Use an active voice
Write about the candidate early on and often
Make it succinct and to the point

Consider using a JD tool, like Text Analyzer
Make your title searchable and simple (and don't try to be clever)
Be specific with the job location (physical and remote) – remember there are more choices than ever
Include 6 main sections in your job description

JD Summary
Job Responsibilities
Requirements and Qualifications
Benefits, Salary and Perks
About Us (or "Mission Statement")
EEO and Diversity Statment

After writing, check for bias and readability
Why I wrote this?
Ongig's mission is to make job descriptions better online, whether they're on your company's site, job boards, or LinkedIn. We aim to change how job info is shown, making it interesting for job seekers. So, by improving job descriptions, we help companies connect with the right candidates. Our goal is to create job posts that are not just informative but also exciting, benefiting both employers and job seekers in finding the right fit. Check out our Text Analyzer job description writing software if you'd like to learn more.
Shout-Outs