The push against systemic racism, sexism, elitism, & some new diversity and pay range regulations is causing a shift in how job descriptions are written.
Because of this shift, there are 7 things in job descriptions that we predict might become extinct.
Our Chief Ongigitizer, Rob Kelly, went on the record in a podcast with RecTech Media to discuss some of these JD items and how they might soon make an exit.
The RecTech Podcast, hosted by Chris Russell, is an audio interview show featuring interviews with industry execs, vendors, and recruiters about how they use technology to hire talent. Interviews are published each Monday. You can listen in here: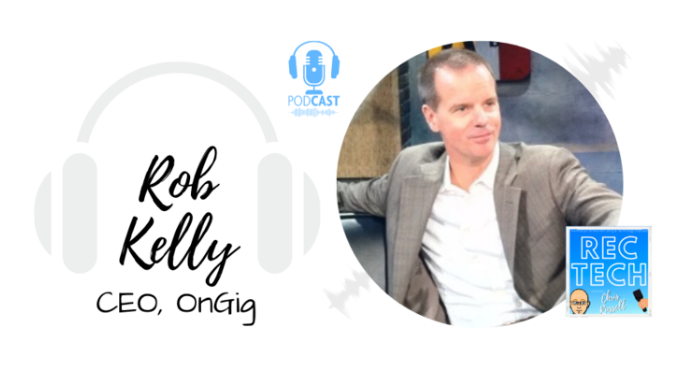 Now for a quick summary of the 7 things Rob thinks might go extinct in job descriptions:
1. "He/She" (+ "Maternity" too) Language
Ten years ago, using "he/she" type language was considered inclusive. But not so much anymore.
Check out this real job ad below (I pasted it from Indeed into Ongig's Text Analyzer software). When I searched Indeed, there 62,667 instances of "he/she" and 32,446 instances of "he or she" in job descriptions.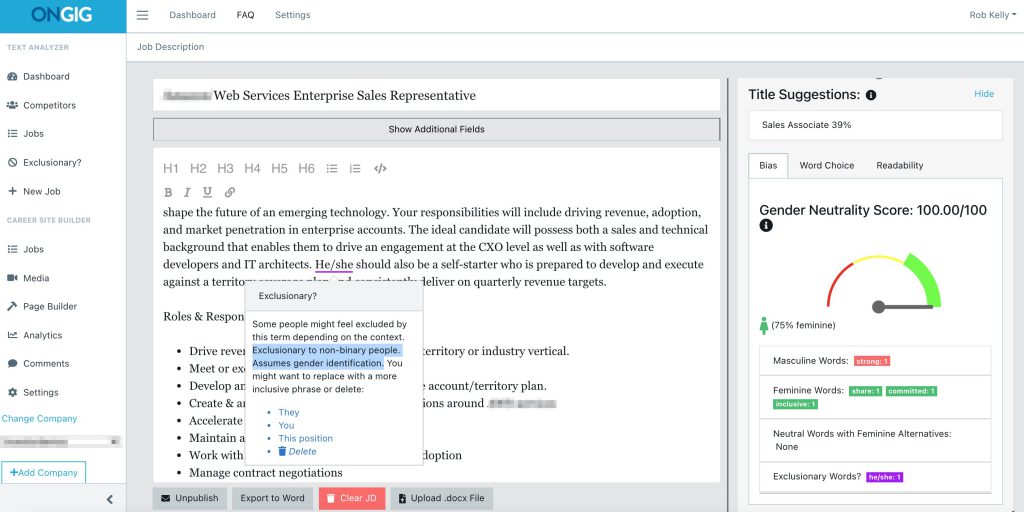 You'll see that Ongig flags "He/she" and recommends the more inclusive "you" or "they" or "the position".
The reason? Gender non-binary or genderqueer people (and many of their friends and colleagues) do not identify with the masculine or feminine gender. So, using more inclusive personal pronouns promotes inclusion, starting with your job descriptions.
Another form of gendered language commonly used is "maternity leave" or "paternity leave." When I searched Indeed, there 38,164 instances of "maternity" and 14,324 instances of "maternity leave" in job descriptions.
These will be replaced with "paid time off" instead. "Paid time off" or parental time off" is more inclusive to people who don't identify with a gender.
2. Asking for Elite Schools
Not everyone has a degree from an elite school, but some job descriptions list this as a requirement. If you do a quick search on LinkedIn or Indeed, you will find phrases like:
"MBA from a top business school"
"Degree from a top 25 engineering school"
"Ivy League Graduates Only"
Google is taking heat for downplaying Historically Black Colleges and Universities (HBCUs), says a recent Washington Post article. Google's recruiting budget for hiring engineers is based on a college ranking system.
Under this ranking system, Stanford University and MIT are considered "elite," state schools like Georgia Tech are their 1 or 2, and HBCUs are considered "long tail" schools.
We did find language that is the opposite in a job posting from HiOperator that says:
"To us, the ability to hustle and persevere outweighs any degree that you may have (even if it's from an Ivy League)."
For companies that are hiring more diverse employees, asking for elite schools is becoming extinct.
3. Years of Experience
Many companies are moving away from "years of experience" and opting for more "skills-based" language in job descriptions. We think the image below from Chris Mulhall at Whiteboard Talent is a great visualization of why "years of experience" will go extinct: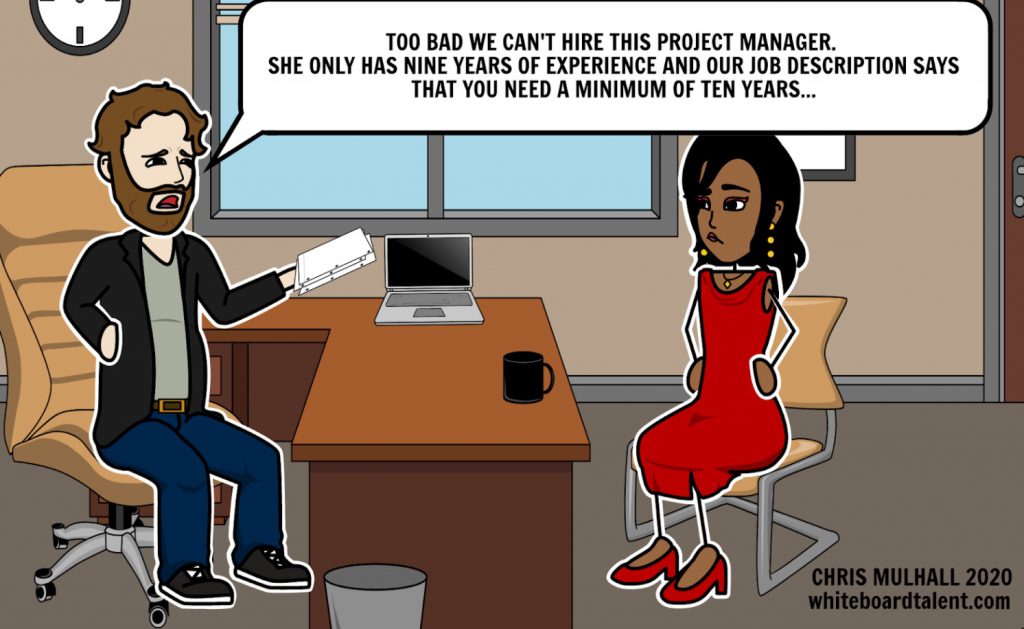 Here are 4 reasons companies are moving away from years of experience:
Being Exact Can Hurt You — candidates might not apply if they are not in your range of exact years of experience. Some women, for example, are found to only apply if they meet 100% of a job's requirements. Some candidates on the autism spectrum take things literally (if you ask for 5 years of experience and they have 4 years and 11 months, they might not apply!).
Skills Over Years — having 15 years of experience using specific software or programs doesn't always mean the candidate is a pro at using it. Facebook founder Mark Zuckerberg says it's best to look for raw intelligence over experience. When he spoke at the Stanford Technology Ventures Program in 2005, he said:
"You can hire someone who's a software engineer who's been doing it for 10 years…that's cool…but if you find someone whose raw intelligence exceeds theirs but has 10 years less experience…they could probably adapt and learn way quicker and in a short amount of time do a lot of things the (the more experienced person could never do)."

source: The Know-It-Alls: The Rise of Silicon Valley as a Political Powerhouse and Social Wrecking Ball (Noam Cohen).
Not All Experience is Measured Equally — Companies operate differently, meaning someone who works for 2 years in a fast-paced, high-output role might have the same level of experience as someone who works in a slower-paced environment 5 years. An article from Whiteboard Talent about removing years of experience in job descriptions says:
"Not all "years of experience" are weighted equally. At a high-growth organization, it can feel like you're learning in dog years. The breadth and depth of experience gained in one year is comparable to working seven years at a more stagnant company."

source: Chris Mulhall, whiteboardtalent.com
You Might Get Sued — Using "years of experience" in job descriptions might also put your company at risk for age discrimination depending on the context. Companies like CareFusion have been sued for age discrimination after using a "years of experience" cap of 3-7 years in their job postings.
Legal action around this subject is still a bit of a grey area, but we think it's better to be safe. You might want to start replacing "years of experience" with a required set of skills.
4. Starting with "About Us"
Starting with "About Us" in job descriptions is becoming a thing of the past. The best writing starts off with speaking to your customer (the candidate) and what's in it for them.
Here are a few examples of companies who give the candidate background on their company but do it after talking about the person they want for the job.
Walmart, starts their job descriptions with "What you'll do" before diving into the requirements and "About Walmart" sections.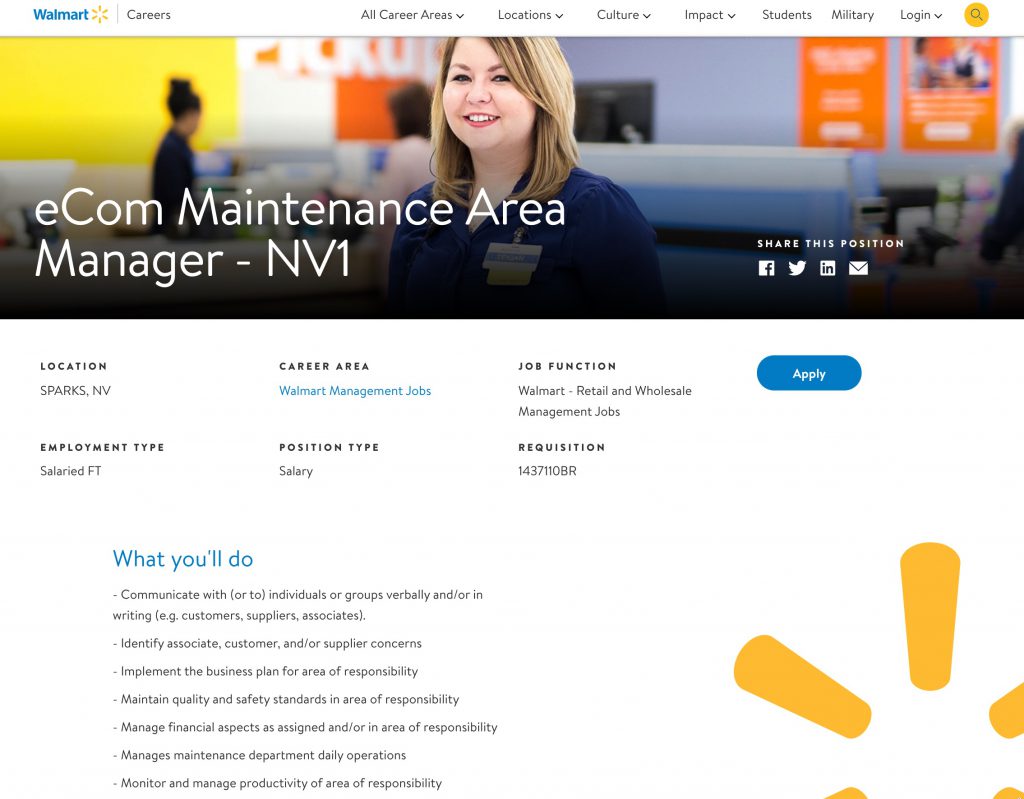 Massage Envy, asks a question first, "Can you bring out the best in everyone you meet?". Then, they go into the details of the role.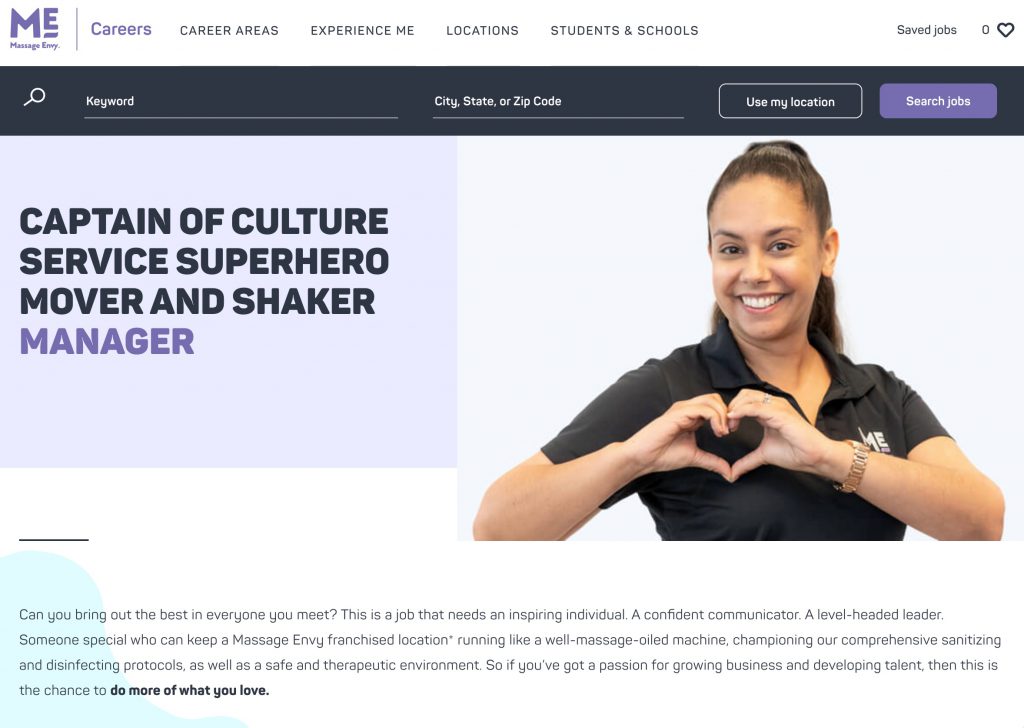 CarMax's job description for a Senior Front End Developer starts with "Your expertise shapes our digital business" and a "You are" section before their "We are" section.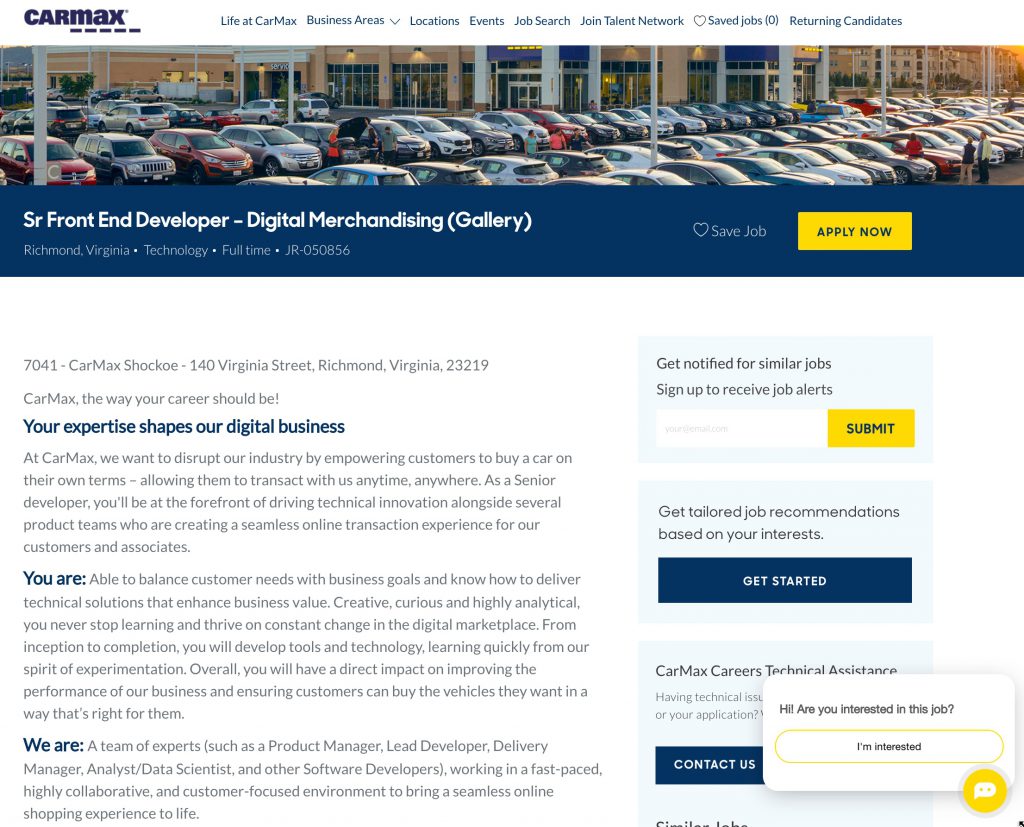 5. Job Location
This one isn't so much about something (job location) going extinct as it is about it radically changing. The COVID-19 pandemic caused many companies to switch to remote work. Some, like Apple, are sticking with the new virtual format going forward and downsizing office space.
Tim Cook, Apple's CEO, told Business Insider in September 2020 that they would not "return to the way we were."
Even before the pandemic, companies have always mentioned "job location" in their job descriptions. But with the push toward more "remote" employees, that language is changing. Here are a few examples of the language being used instead of just [City, State]:
Remote, Virtual, Distributed, Work at Home, etc. (these are terms used to say that the job can be done anywhere). Elastic Co. was one of the first major companies to use the term "Distributed"
Remote/[Name of Hub City] — e.g., Remote/Austin means that the position is virtual, but the headquarters or hub is in Austin, TX)
Remote, Contiguous US — e.g Instagram uses this to express that the team member can work in the 48 adjoining U.S. states on the continent of North America that are south of Canada and north of Mexico, plus the District of Columbia. The term excludes the states of Alaska and Hawaii, and all off-shore U.S. territories and possessions, such as Puerto Rico.
This also affects how job postings are listed on career sites. You might start finding the same position posted in various cities because the location is flexible. This is a major headache for talent acquisition teams as many applicant tracking systems were built with City/State as required fields.
6. EEO Statements
EEO is another example of something that will radically change. The best employers will no longer end their job postings with just "EEO." It's not enough in this new world of inclusion.
Instead of "We are an Equal Employment Opportunity ("EEO") Employer," you'll see more of a hybrid diversity statement such as this from Hewlett Packard Enterprise (HPE):

ArsenalBio also uses this hybrid EEO diversity statement in their JDs:
"We are committed to hiring the best talent. A diverse workforce engenders richness of thought, creativity and discovery. We invite individuals who embrace intellectual achievement to bring their unique personal and professional journeys and together we will build transformative cell therapies for cancer patients. We are an equal opportunity employer and value diversity at our company. We do not discriminate on the basis of race, religion, color, national origin, gender, sexual orientation, age, marital status, veteran status, or disability status."
7. Requirements and Responsibilities
Requirements and responsibilities is another section of JDs changing in a big way. Especially if you're trying to hire A-Players.
Gone are the days of listing 20+ tasks a candidate is required to do in a job. If you want to attract A-Players, you want to share what's in it for the candidate.
A-player candidates want to know:
Who they'll be working with
What they will learn
What they can achieve
Including information about the team dynamic is huge. Answering these questions carries more weight than a list of daily tasks:
Who will your manager be?
How many people are on the team?
How will you interact with your manager and team?
Are you remotely distributed?
Tying the job responsibilities to action and real people is a powerful thing.
Answering "what they will learn" and "what they will achieve" can be as simple as sharing:
Output/Creations — More details on the output/things they will be helping create (e.g., products, technologies, sales #s, marketing campaigns, SEC filings, etc.)
Mission — The company's (or team's) mission/goal (e.g., Phenom People's mission is to connect 1 bil. people to jobs — that's going to get an A-Player excited
Training opportunities — do they get any training as part of benefits? Give an example or 2. Even simple "lunch and learn" sessions help a candidate grow.
In the RecTech podcast, Rob gives a shout-out to Peter Weddle who recently blogged about this same topic in his post, Reinventing the Job Posting. Peter, said:
"High performers are totally uninterested in "Requirements" and "Responsibilities." In their view, those are words and concepts only an employer could love. What they care about in considering a job opening is "what's in it for them." They want to know what they will get to do, what they will get to learn, what they will get to accomplish, with whom they will get to work, and how they will be recognized and rewarded. "
For more tips on writing job descriptions, check out How to Write a Job Description — Best Practices & Examples.
Why I Wrote This
Job descriptions play a big role in the recruitment of diverse and qualified candidates. Ongig's Text Analyzer helps employers create job descriptions that are less boring, and more inclusive.
Shout-Outs