Here are 5 of the best tools to write more inclusive job descriptions to attract a more diverse team.
Ongig's Text Analyzer software eliminates bias and improves ad copy. When you're writing job descriptions, best practices to make them diverse include replacing gender-coded words and other types of bias (e.g., race, age, disability, etc.)
We created Text Analyzer after rewriting thousands of job descriptions for some of the largest brands in the world. Ongig's software has also been improving branding and engagement (video, pictures, maps, chat, etc.) for job descriptions since 2011.
Text Analyzer has a super-easy interface that acts as a bias decoder Some have called it:
"a diversity job ad proofing tool."
First, you get a dashboard of Total Score and Gender Bias Scores which is filterable by team, location, recruiter and hiring manager. You even see how you compare to your top competitors. Then you dive into each piece of job description language with easy recommendations on how to easily improve your scores.
Text Analyzer's early focus in 2017 was being a gender bias tool to flag gender coding in job descriptions: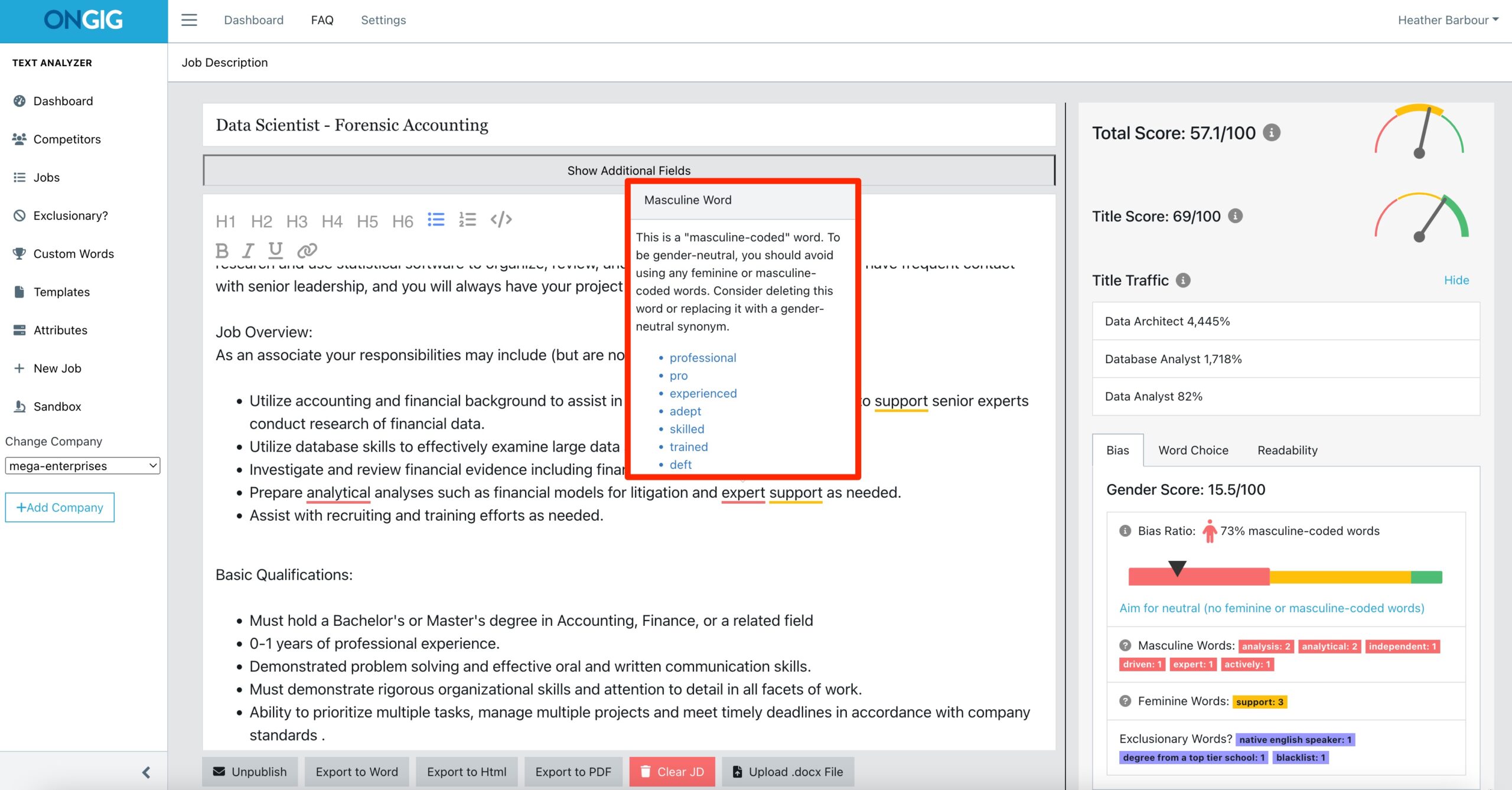 But we quickly found that employers wanted to write more inclusive job descriptions beyond gender and "manly terms". To have diverse friendly job descriptions, you also need to eliminate bias re:
race
country of birth
age
disability
sexual preference
neurodiversity
former felons
veterans
What is gender coding?
"Gender Coding are the signals that individuals manifest externally and that indicate their sexuality or relative masculinity or femininity."

source: Springer Link
Fast forward to today: here's a more recent Text Analyzer screenshot showing an example of the phrase "Brown Bag sessions" and how that might offend people of color: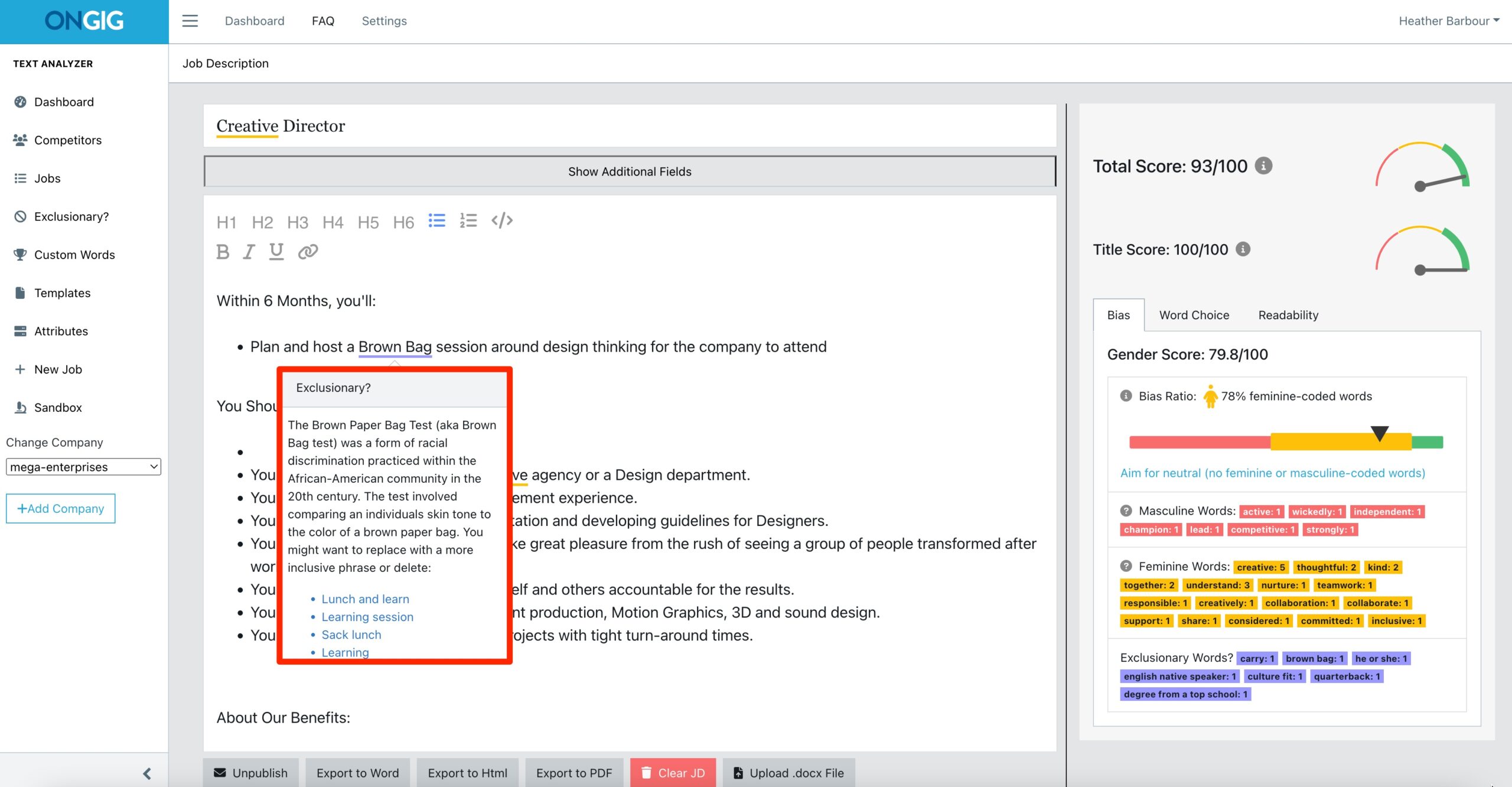 Employers we speak with who've compared Ongig vs. Textio, tell us that Ongig goes much deeper as job description bias tool (whereas Textio focuses more of its features on augmented writing). There are hundreds of terms on the software's biased words list with inclusive replacements.
Beyond bias, Text Analyzer provides makes your content more readable including proper length of sentences, paragraphs and the entire job description. Check out below how the tool flags an unnecessarily complex phrase along with a punchier suggestion to swap right in: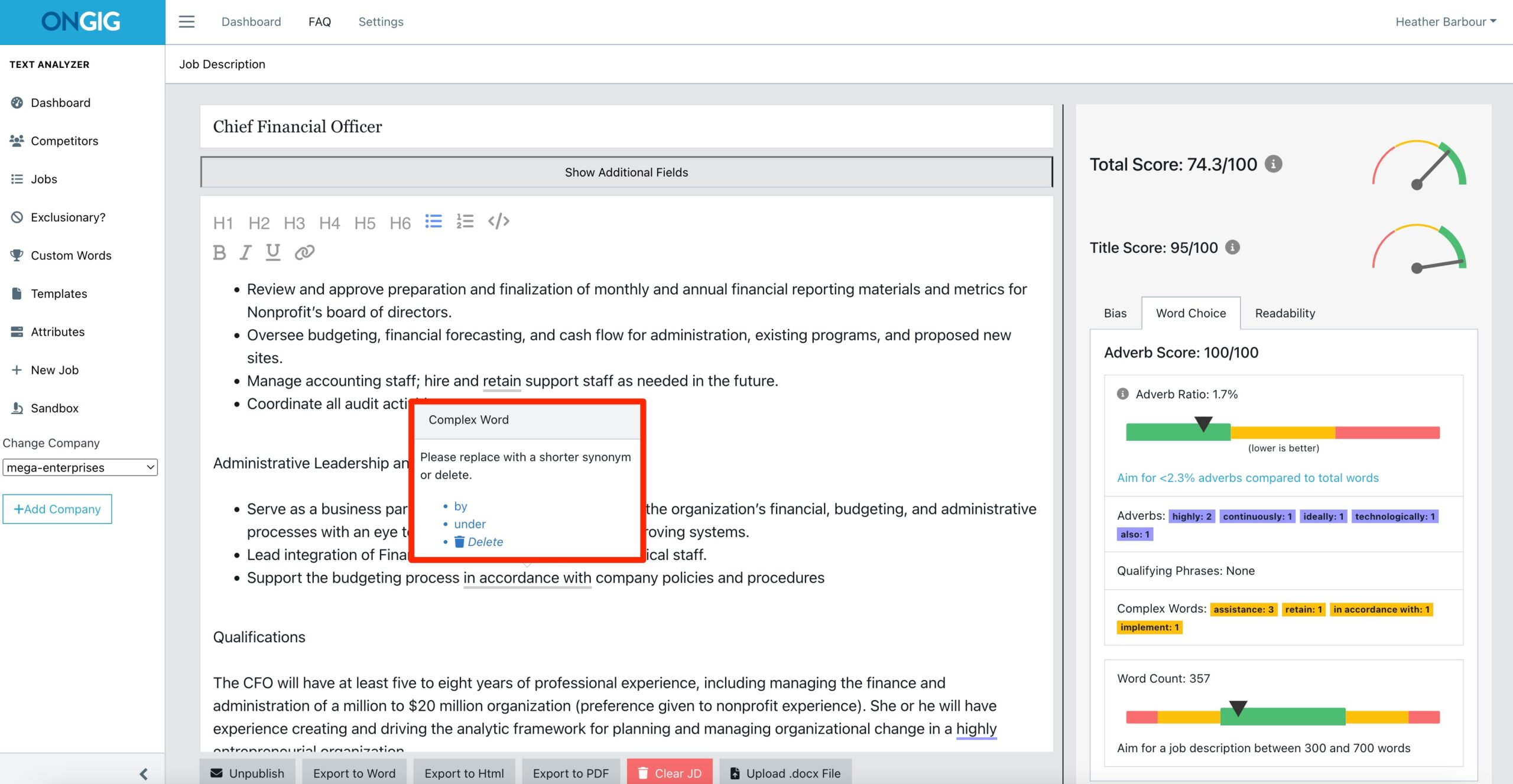 Text Analyzer also scans your job descriptions using AI to find missing sections candidates care about (e.g., salary, benefits, mission statement, diversity statement, etc.). Here's a snapshot of the "Section Finder" in action: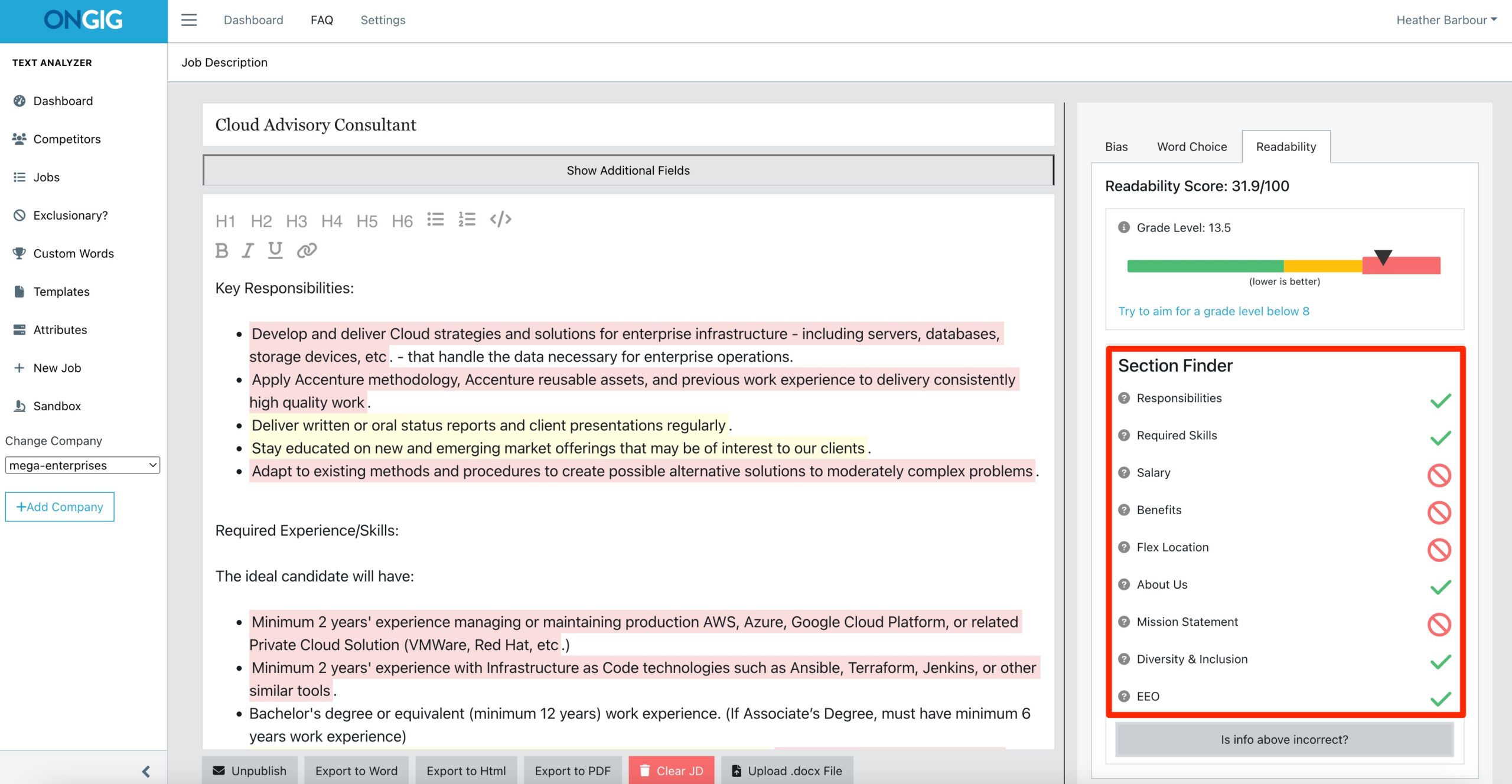 Another alternative is Textio (aka "text io"). It's an online writing platform made by job posting outcomes from recent job openings. These outcomes allow Textio to analyze your job description language and provide a score of how it stacks up in terms of diversity, neutrality, and overall success. Feedback is given in the way of color-coded words with suggestions for improvement.
Textio uses gender writing analysis to flag and offer replacements for "manly terms". You can see the scale in the bottom right below showing "masculine tone":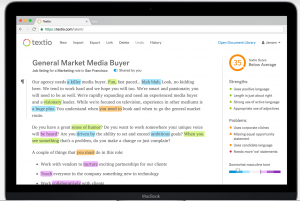 Note: Here's a list of 7 Textio Competitors.
Gender Decoder is a simple (and free) job description tool alternative for gender writing analysis. It was created by Kat Matfield based on a study that looked at the psychology of how different words attracted males and females to certain jobs (aka gender coding in JDs). The tool compares your text to feminine and masculine word listings created from the study using a list of gender words.
For small businesses, Gender Decoder is a good free alternative to Textio and Ongig if you care just about flagging gender-biased words. Here's an example of its gender checker results: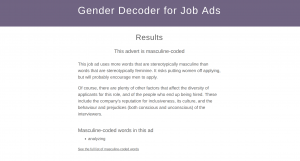 Another alternative is Talvista (formerly Unitive and then Talent Sonar). It's an online platform created to streamline the hiring process for hiring managers and recruiters. I found its interface — with a step-by-step progression — very user-friendly.
In particular, the integrated job description builder lets you type new or paste existing job description content into predetermined sections. The tool reviews text for word choice, positive or negative language, and has a gender decoder feature, giving alternative options to the user. We haven't heard anything about how this product compares to Textio or Ongig. But, you notice below the tool uses text gender analysis by flagging feminine words in green and masculine words in red (similar to the other tools).
Here's a screenshot of Talvista's "genderchecker" in action: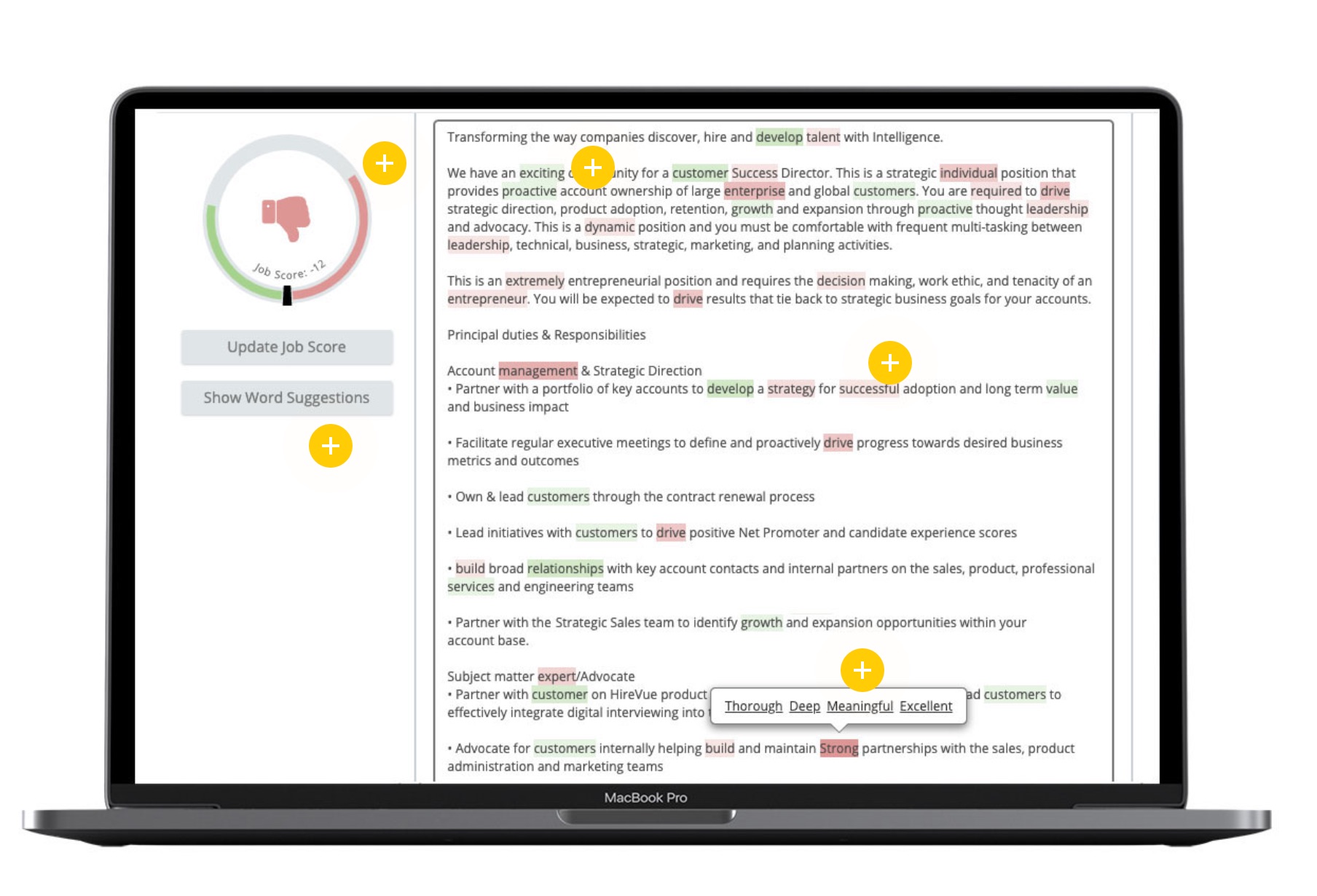 A top goal for heads of recruiting is diversity and inclusion — job description software is an easy place to start. This tool is not exactly made for JDs, but it's "disarming bullies one word at a time." The Polite Type is a free open source tool that auto-rewrites hurtful words (e.g., "kike" or "negro") and replaces them with more inclusive words (e.g., "jewish person" or "Black person"). This software is not a gender analyzer, but more focuses on other types of bias and words used in bullying.
Here's another example of the tool in action: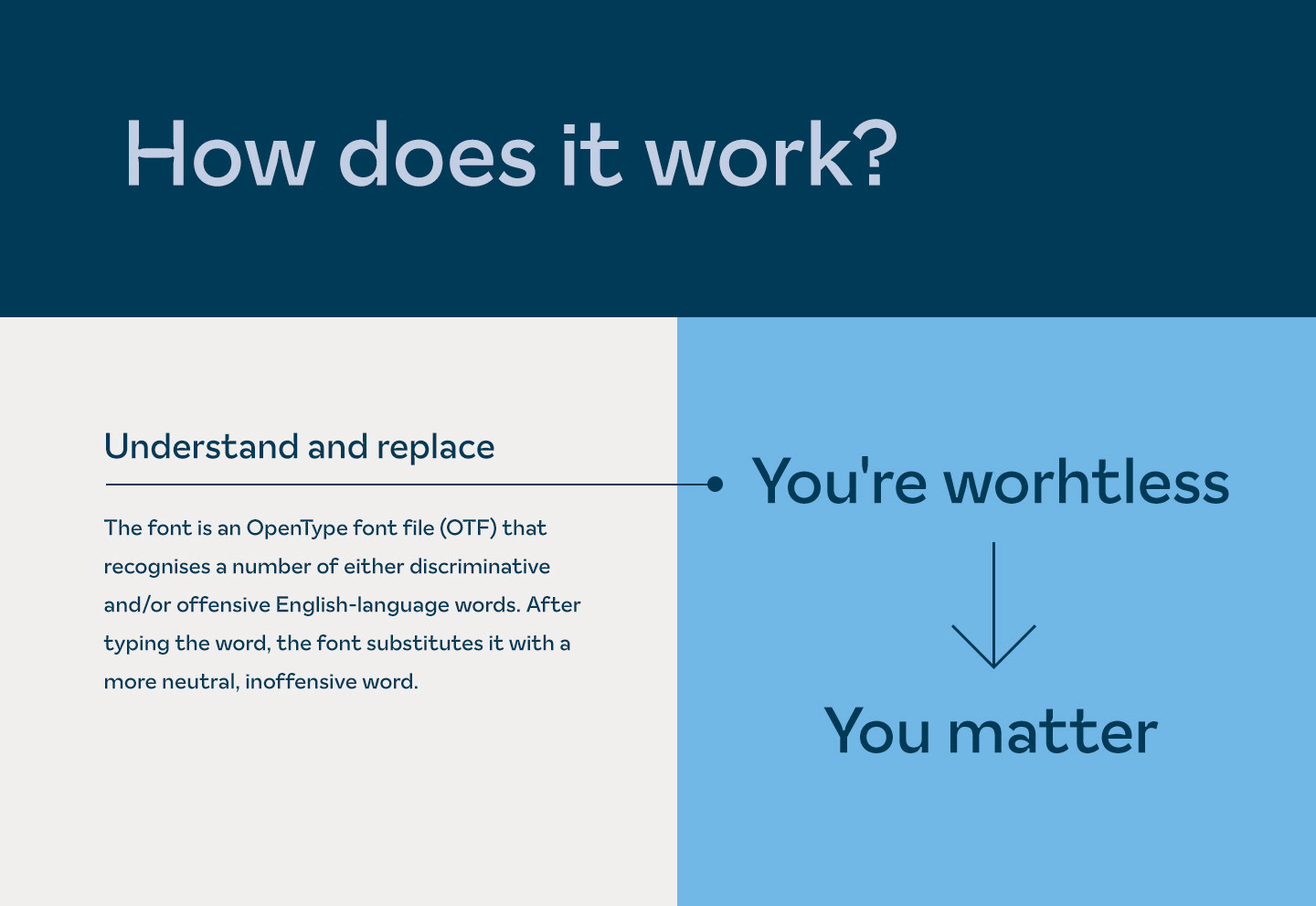 The terms for this tool are co-created with high-school-aged teenagers and kids from diverse backgrounds in Finland, in partnership with The Children and Youth Foundation.
I hope the above tools for writing more inclusive job descriptions is helpful to you! For more tips on writing job descriptions, check out How to Write a Job Description — Best Practices & Examples.
Why I wrote this?
Ongig is on a mission to help you create the most attractive, engaging and effective job descriptions in your industry (if not the world!). Ongig's Text Analyzer software transforms job descriptions to free you up your recruiters and hiring managers. And if you don't want to rewrite your job descriptions yourself, one alternative for you is to have Ongig's pro copywriting team rewrite job descriptions for you. Click the demo request button above if you'd like to learn more about Text Analyzer.