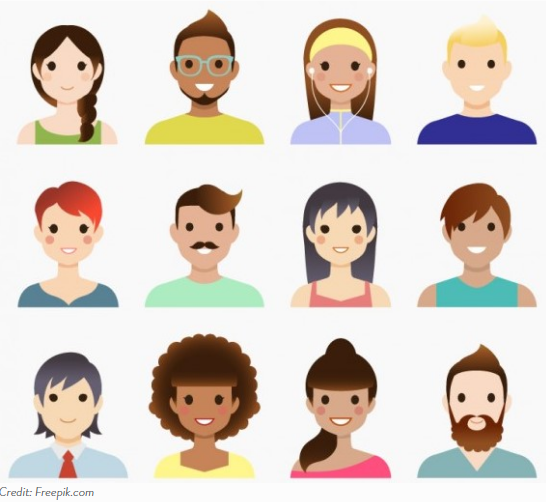 In a society flooded with job applicants and a low unemployment rate, I look for any edge I can get when writing job descriptions.  I have a policy to write my job descriptions at least as well as a candidate writes their resume!
But reorganizing and updating an outdated, stiff job description is no easy task. Even if you see yourself as a pretty decent writer, the pressure is on!
Note: Check out our free Job Descriptions Guide — it tells you everything we know about JDs. And, for more tips on writing job descriptions, check out How to Write a Job Description — Best Practices & Examples. 
One way to get your creative juices flowing is to visualize the perfect candidate for the job in relation to the core job duties –Not just their work ethic or how fast they can complete a task necessarily, but more on a personality level.
What personality trait matches this job duty?
Us copywriters call this a "persona".
3 Easy Steps for Leveraging "Personas"
Step #1 – Break it down using the core job duties.
These are the most essential duties that the person will perform. Let's say I'm hiring a customer service representative with two core job duties of:
Listening to customer's concerns
Finding solutions to address the concerns
Step #2 – Assign character traits to each core job duty. 
Look at each core job duty. What traits would a person need to possess to master that duty? These correspond to my core job duties above:
Patient, friendly
Resourceful, big-thinker
Step #3 – Sprinkle character traits throughout job description.
Now try mentioning the traits (patient, friendly, big-thinker, etc.) in your description to make it more personal. That helps applicants picture themselves in the role and helps them decide if they should apply – or not.
Bonus Step!
To take it a step further and add some fun, create "corporate personas" for your different johs. In the above example, combining patient, friendly, and resourceful could be "The People Person." It's easier to talk about the "People Persona" you need than it is to rattle off the half-dozen or more traits you're looking for. This is just plain good marketing. Words matter and if you can use fewer of them, you'll save your team's and candidates' time.
Here at Ongig, we are on a mission to help you create the most attractive, engaging and effective job descriptions in your industry (if not the world!). So, we think about things like job personas all the time!
The Ongig Cloud software is our core solution and then we also have a Job Description Rewriting service done by our professional copywriting team. I'm very proud of both of those solutions. Click here for a demo if you are interested.