Augmented writing has taken off and employers have taken notice. You could hire a copywriter to write your job descriptions but wouldn't you rather give your ENTIRE hiring team (recruiters and hiring managers included) an augmented writing tool?
One of the biggest challenges is writing job descriptions that are gender-neutral and free of other bias.
This is where using an augmented writing tool helps so much.
What is Augmented Writing?
Augmented writing is technology that serves as a writing coach.
It helps improve writing by highlighting problem words and suggesting better words.
Augmented writing tools (which often use A.I.) are important for job descriptions because they notice things such as:
Ongig's Text Analyzer is an augmented writing tool focused on job descriptions. It's part of Ongig's mission to eliminate biased job descriptions.
Here's an example of gender bias: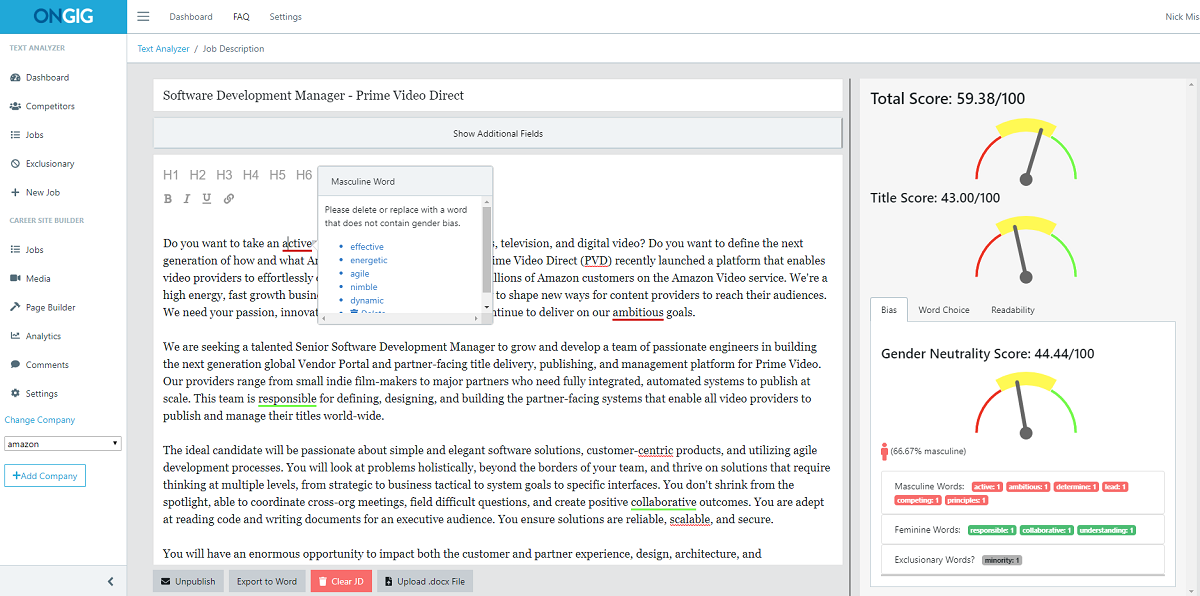 An augmented writing tool like Text Analyzer can also be used to identify racially charged phrases: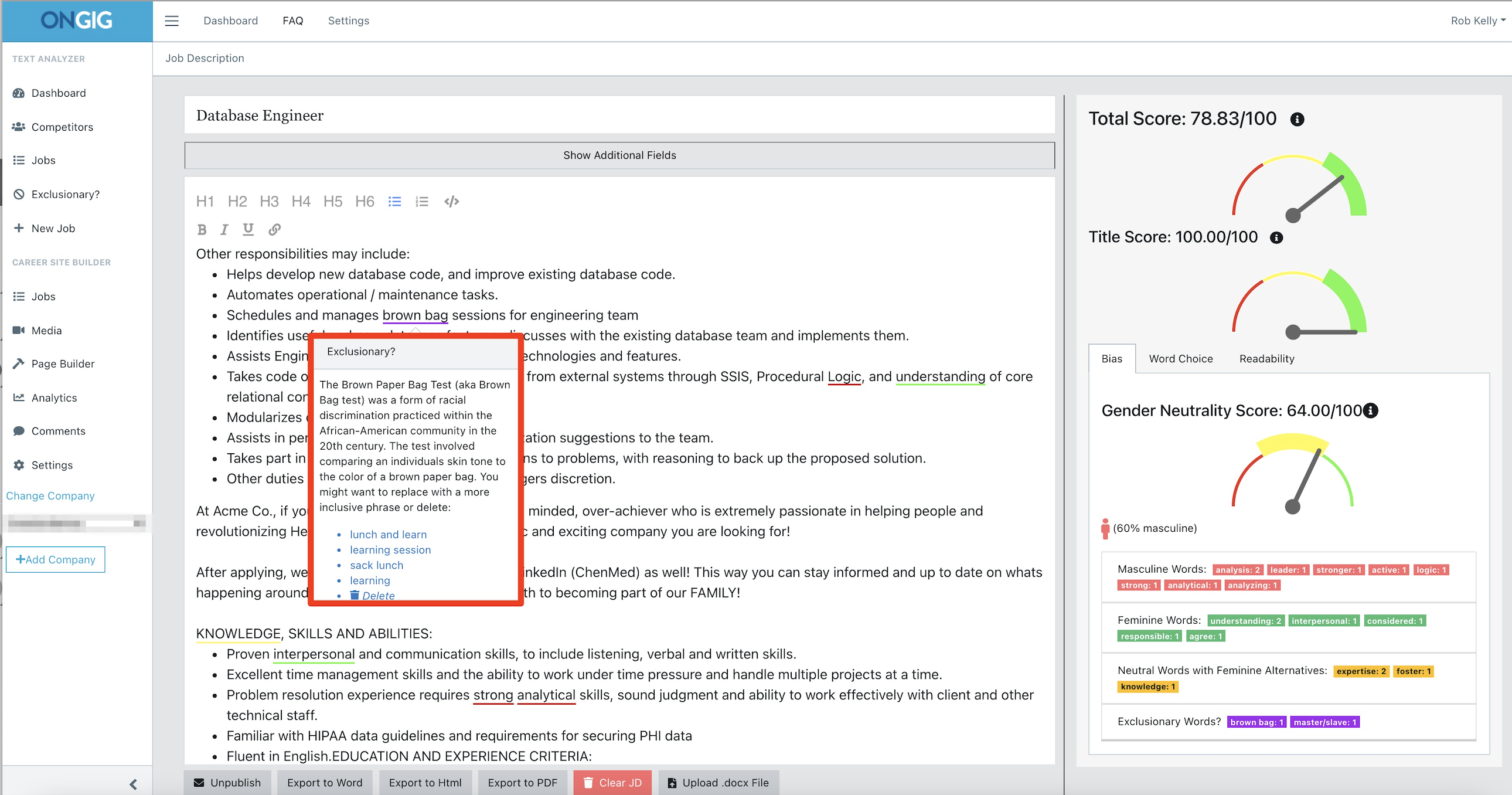 Text Analyzer flags LGBTQ+ bias too (e.g., personal pronouns):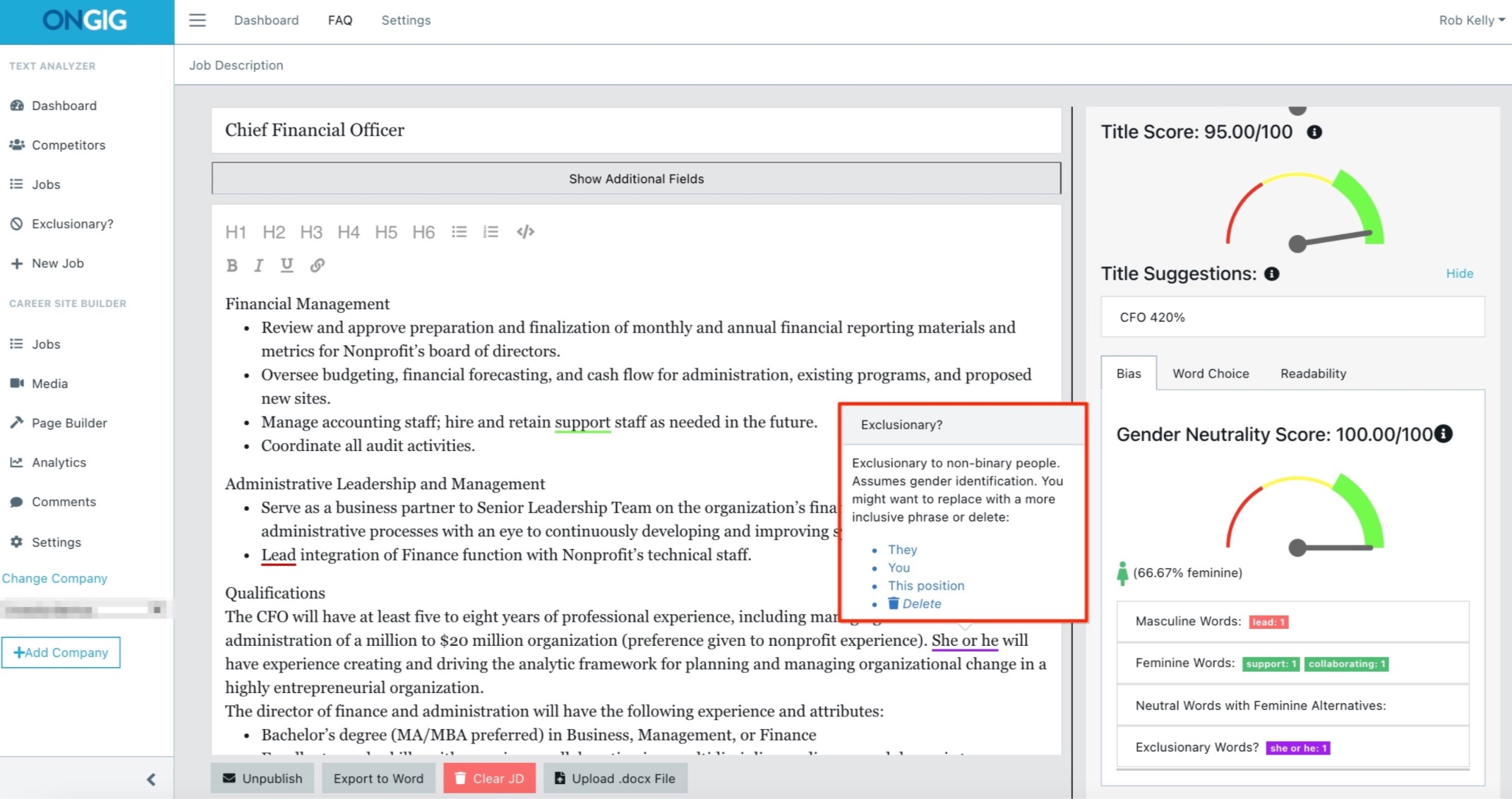 And here is an example of age bias flagged in the Text Analyzer augmented writing tool: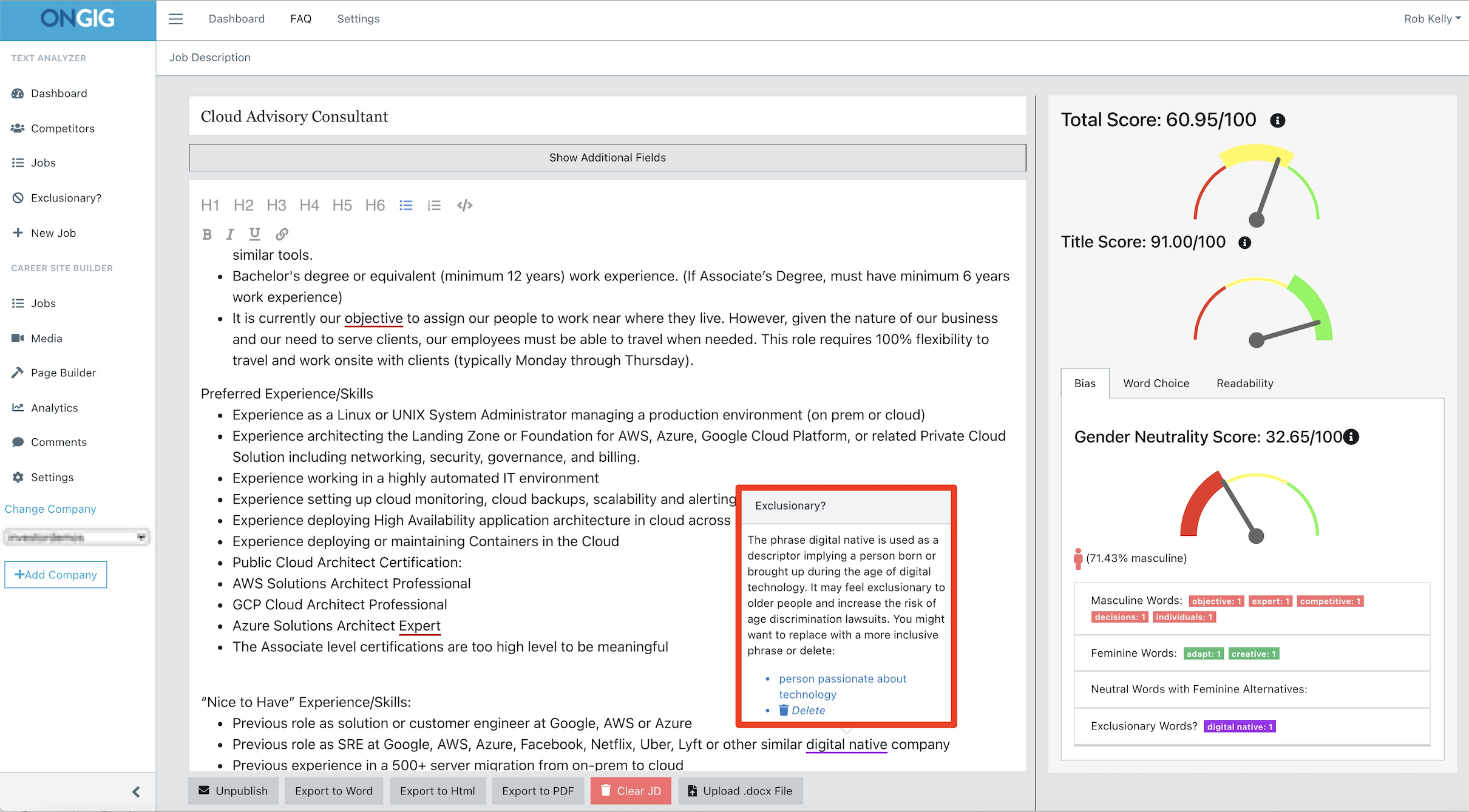 Ongig's Text Analyzer also flags complex words (e.g., legalese) that is unnecessary — it even gives you a punchier synonym to replace it!: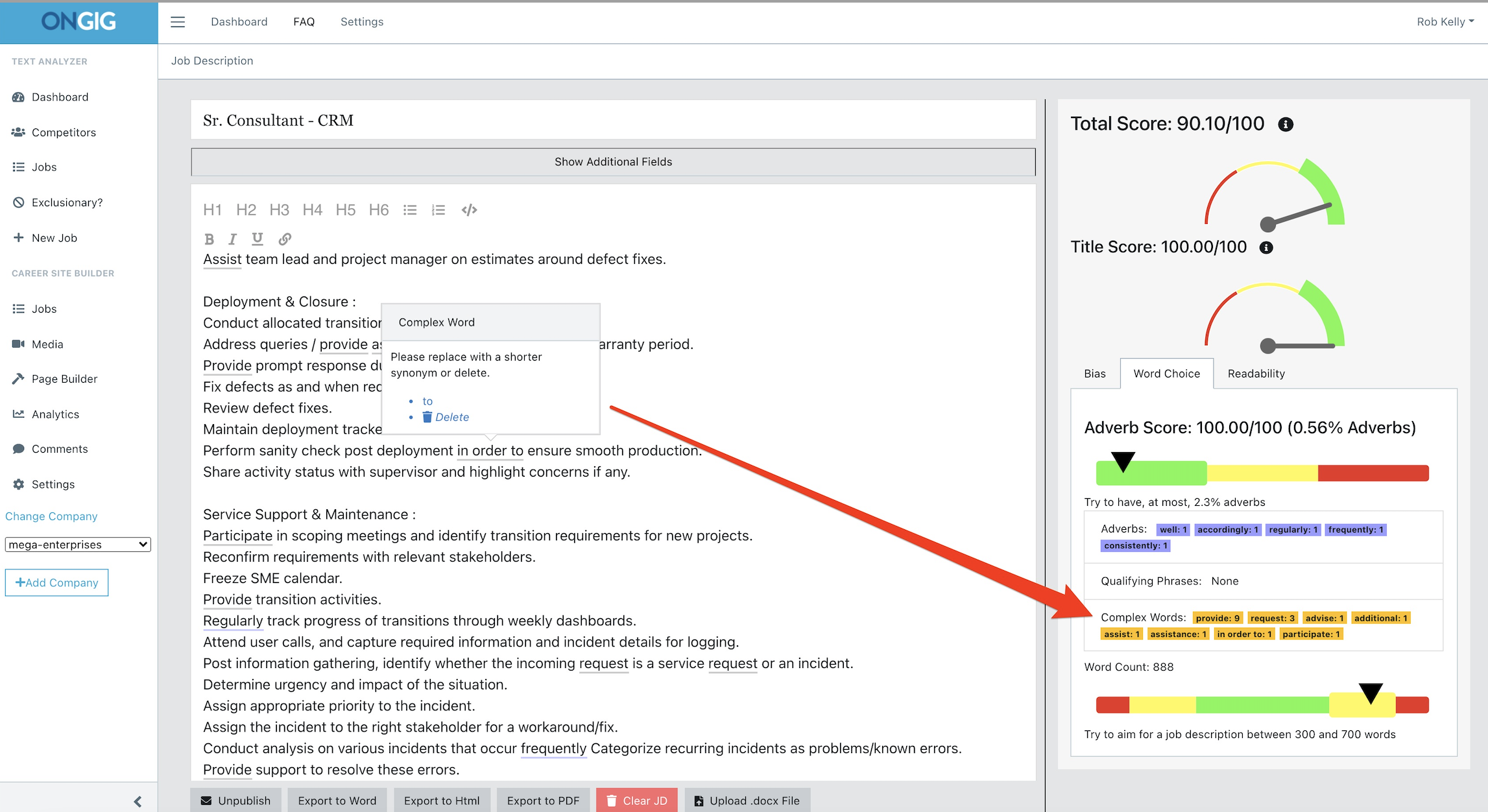 Here's an example of Text Analyzer flagging excessive use of bullets: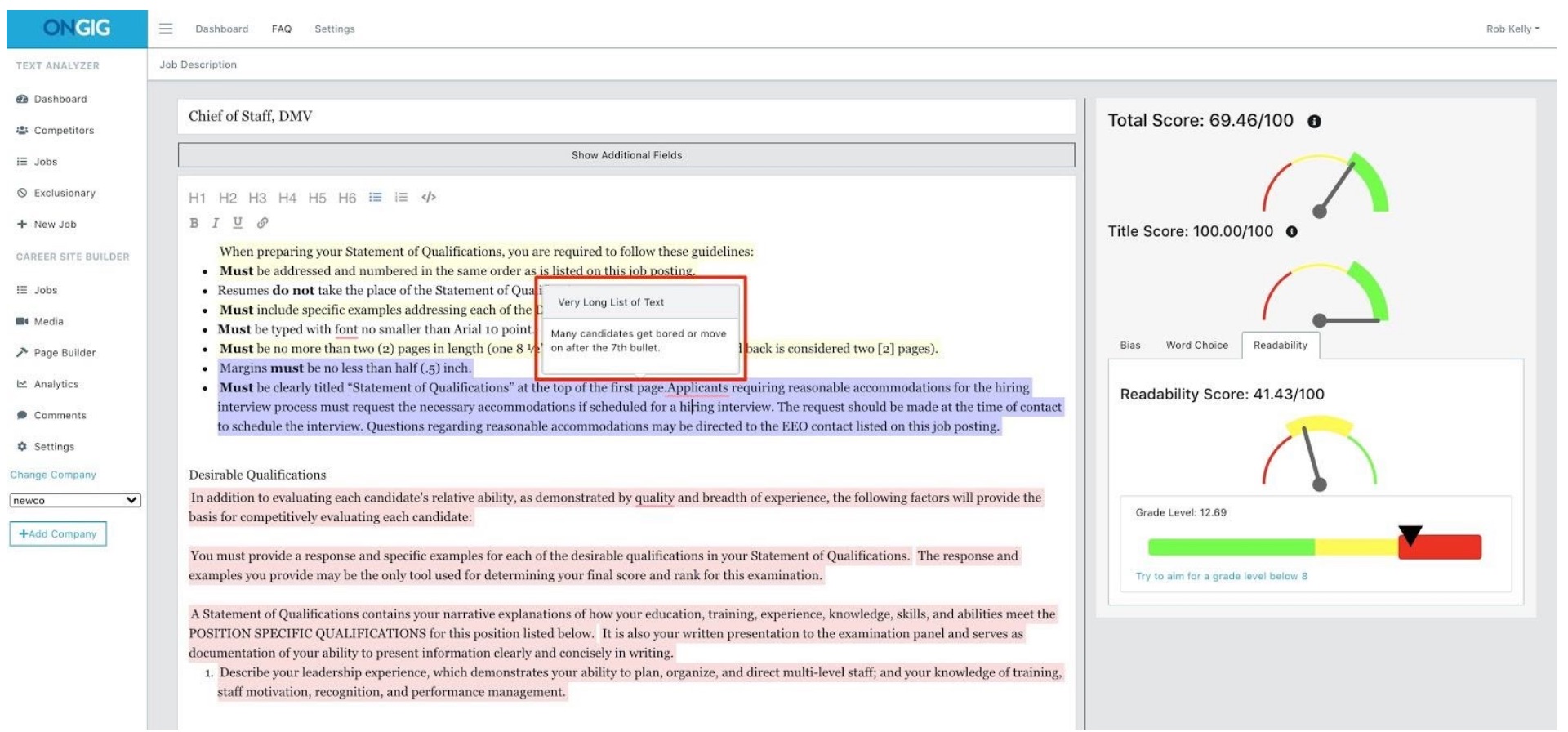 Ongig's AI Writing Software Features
Ongig offers many AI writing features. For example, Ongig's AI is behind Section Finder (see below), which is machine learning-based tech that makes educated guesses on which sections you use in a job description. It's been proven that more candidates apply to jobs based on certain sections (e.g. Benefits, Salary, Diversity Statement, etc.).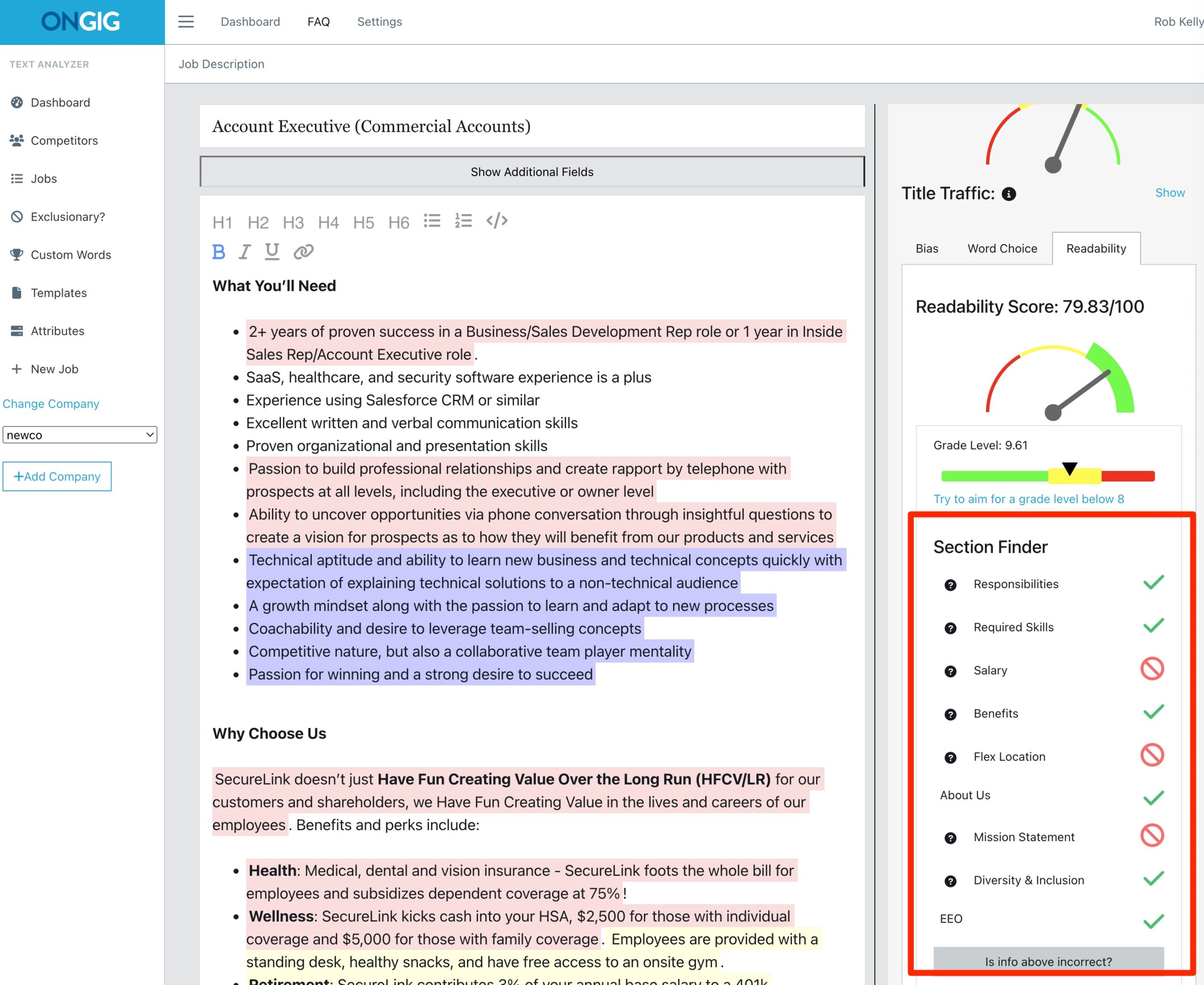 Text Analyzer's Key Features
Analyzes job descriptions in real-time
Gender Bias and Non-Gender Bias (including race, age, disability, LGBTQ and more)
Optimizes job description length and job titles
Has a "Paragraph Analyzer"
Highlights overuse of bullets or adverbs
Flags items that could get you sued or bad PR
AI Writing
Text Analyzer Pricing
Ongig's Text Analyzer's pricing begins at $999 per month and is based on job volume. There are free trials for companies that qualify. Request a demo to get exact pricing.
For more tips on writing job descriptions, check out our How to Write a Job Description — Best Practices & Examples.
Job Descriptions Optimized is Talvista's augmented writing product that leverages algorithms to write more effective job descriptions with real-time feedback.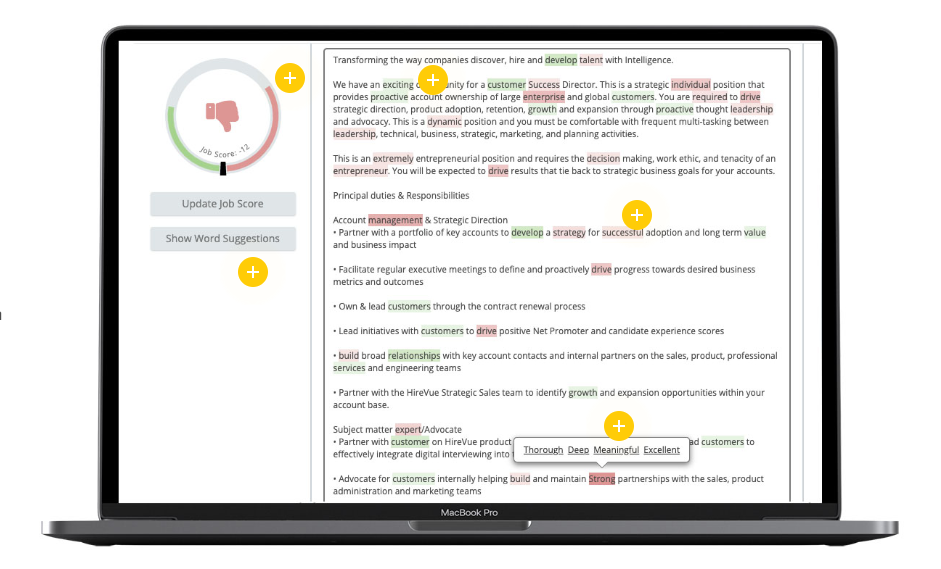 Talvista Job Descriptions Optimized Key Features
Analyzes job descriptions
Identifies problematic terms and phrases
Replaces those problematic terms with inclusive terms
Job score – Based on Talvista's job description best practices have been implemented.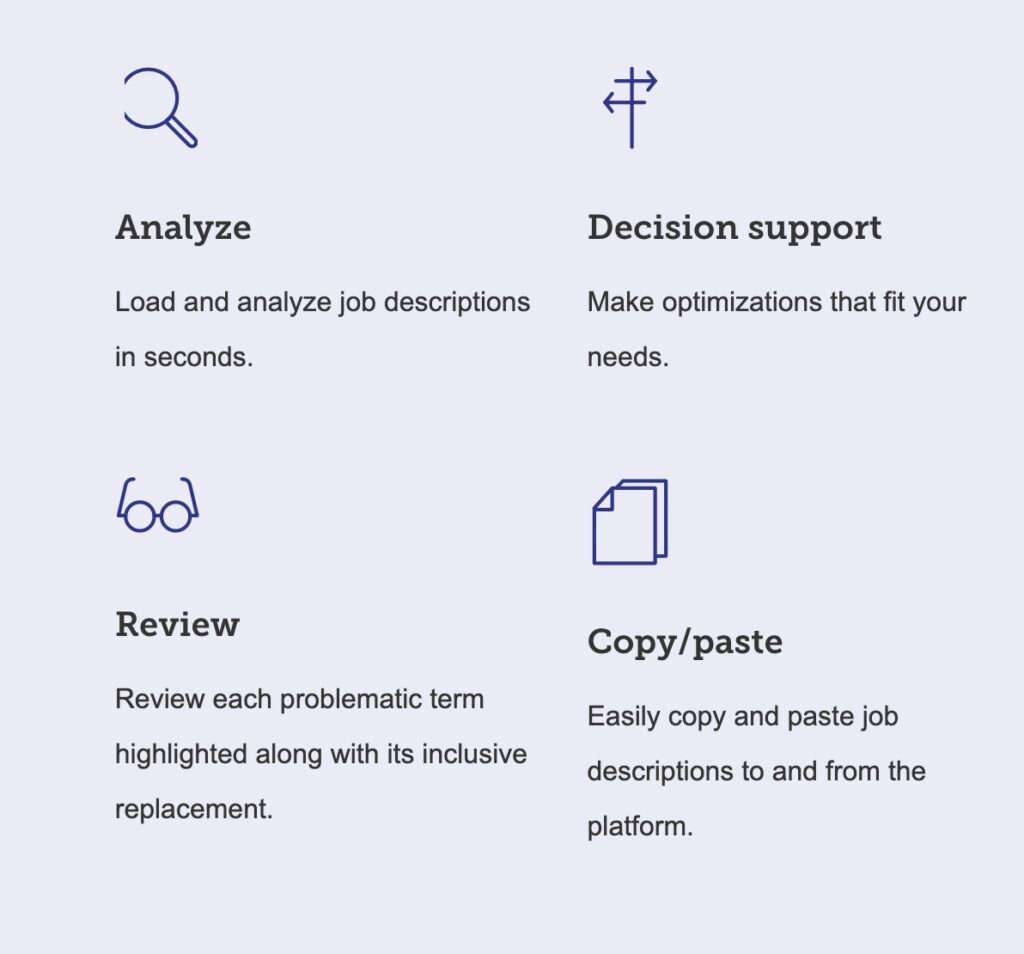 Talvista Pricing
Talvista's pricing starts at $5,000 annually based on a couple of factors including:
Hiring volume
# of users (recruiters or talent acquisition team)
Reach out to Talvista for further pricing details.
Textio is an augmented writing platform for different uses.
One of their goals is to give employers the words they need to attract the people they want to hire, using language that reflects the very best values and culture.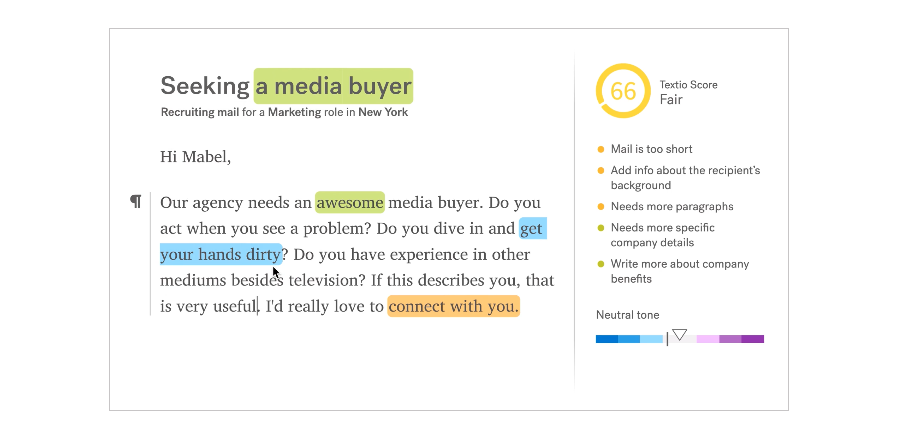 Textio Hire Key Features
Predicts how your writing will compete for talent
Suggests changes to get a more qualified and diverse candidate pool
Helps employers write new hiring content in a fraction of the time
Textio Score – Measures how your job description will perform in today's hiring market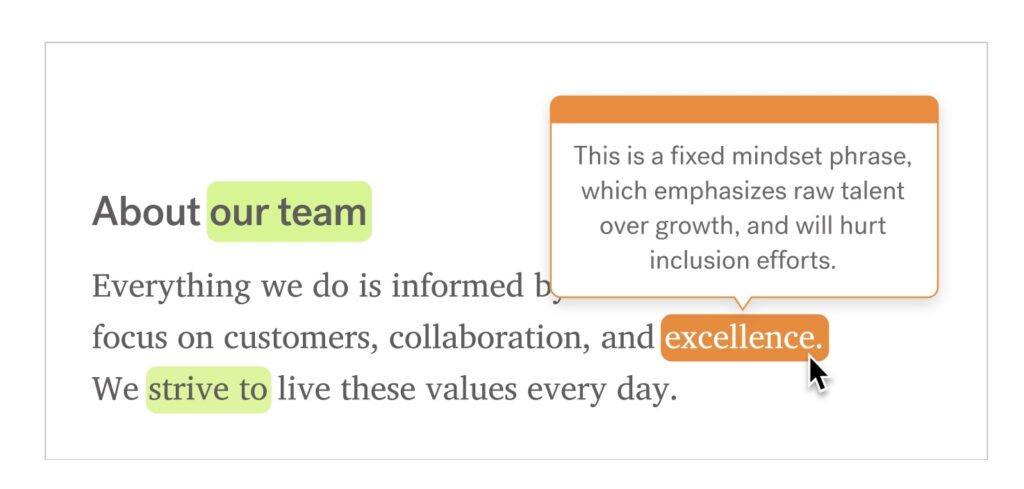 Textio Pricing
Textio's pricing is determined by the number of jobs you have open at the time you subscribe.
Editor's Note, March 31, 2021: TapRecruit got renamed "Datapeople" and it's unclear which brand they will keep for their augmented writing job description tool: "TapRecruit" or "Datapeople".
TapRecruit Smart Editor is job description software that specializes in augmented writing for job descriptions.
The goal is to help hiring teams write job descriptions that are thoughtful, concise, and welcoming to candidates from every background.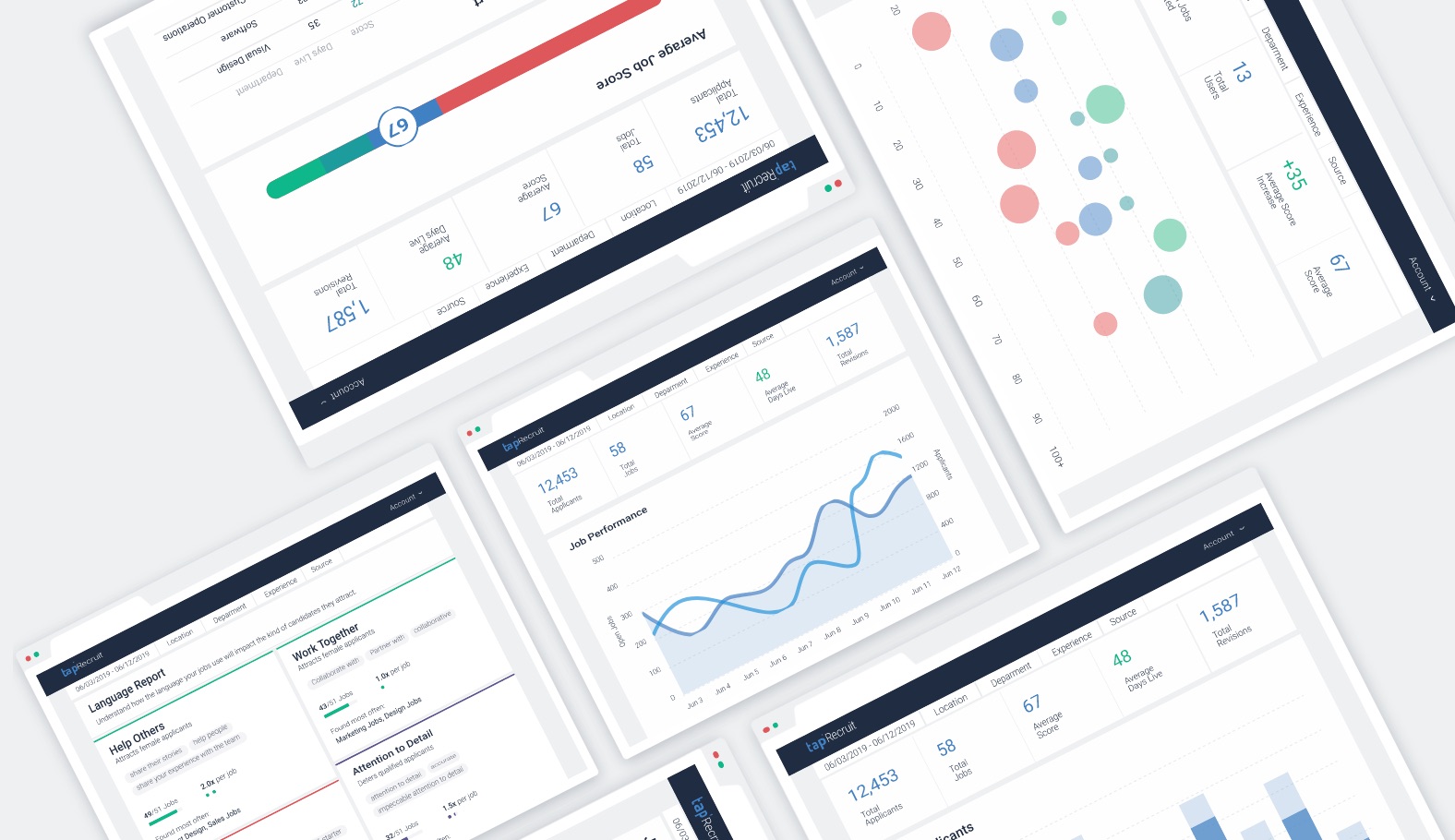 TapRecruit Smart Editor Key Features
Provides language guidance on job descriptions
Provides content guidance via augmented writing on job descriptions
Job description score – Based on job title, job description structure, and avoidance of language known to make a bad impression.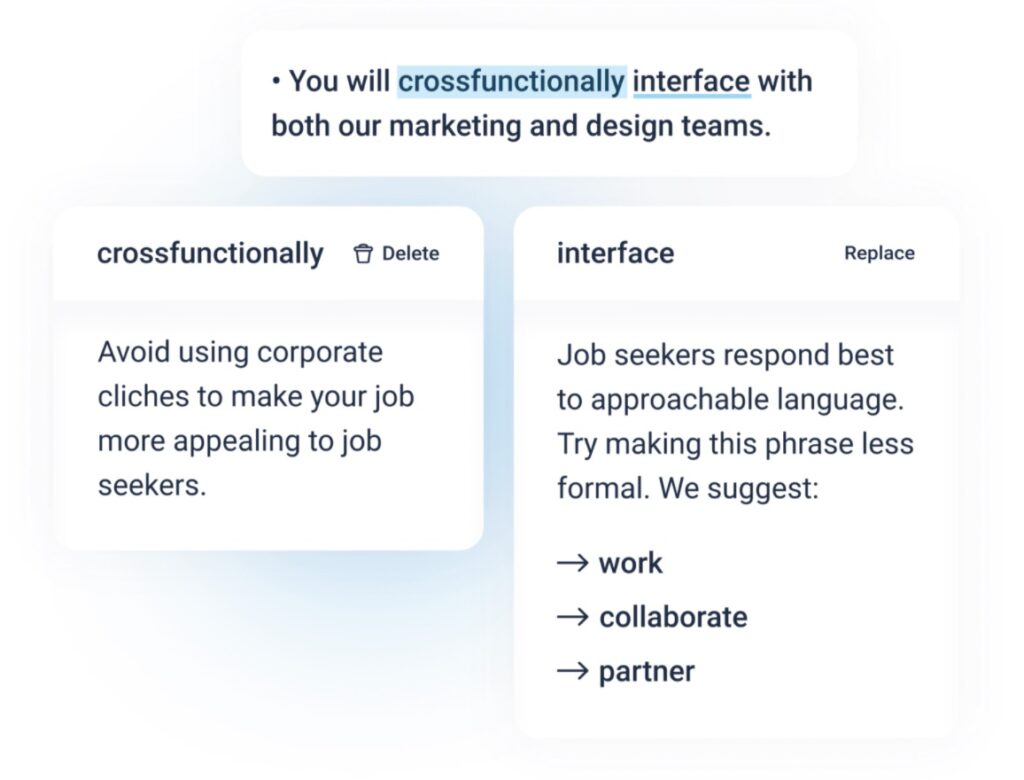 TapRecruit Pricing
Employers with 5 open jobs or fewer: Starting at $499/month; employers with 35 open jobs or fewer: Starting at $899/month; Employers with more than 35 open jobs equest a quote
Check out TapRecruit versus Ongig for a comparison of the 2 job description writing tools.
JobWriter is a new augmented writing tool.

JobWriter's Key Features
Scans postings
Highlights words that should be changed to make it entirely gender-neutral
Suggests alternatives
gives language ideas on a job by job basis

JobWriter Pricing
Reach out to Jobwriter for more pricing details.
Another newer augmented writing tool is Job Page Grader.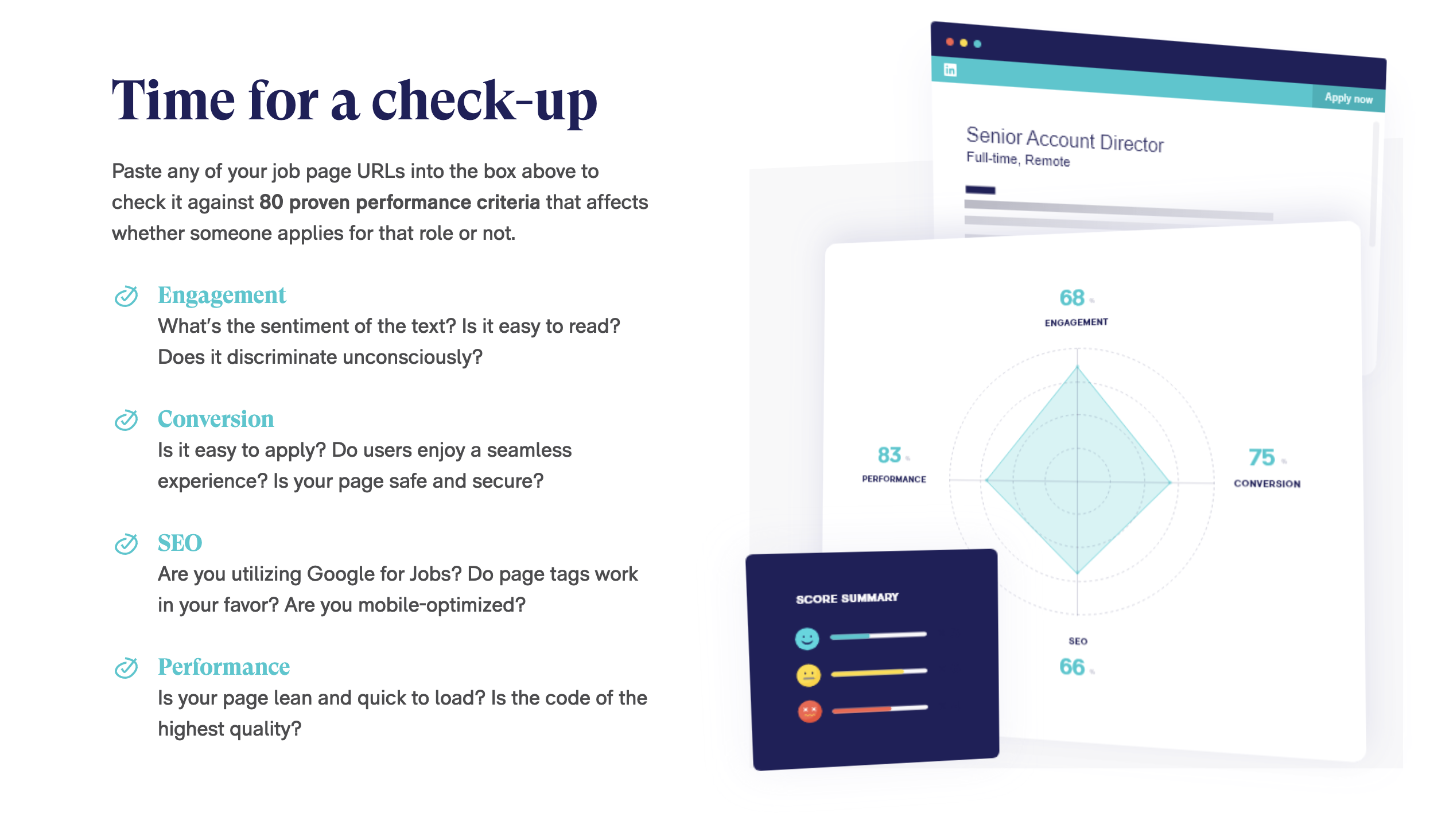 Job Page Grader's Key Features
Scans job description pages by URL
Scans for sentiment and readability
Identifies words with gender bias
Job Page Grader Pricing
The Job Page Grader augmented writing tool is free by copying and pasting your job posting URL and email into the website.
The Applied JD Analysis Tool is an augmented writing tool alternative out of the U.K. Applied (aka BeAppied) acts as a gender decoder for job ads.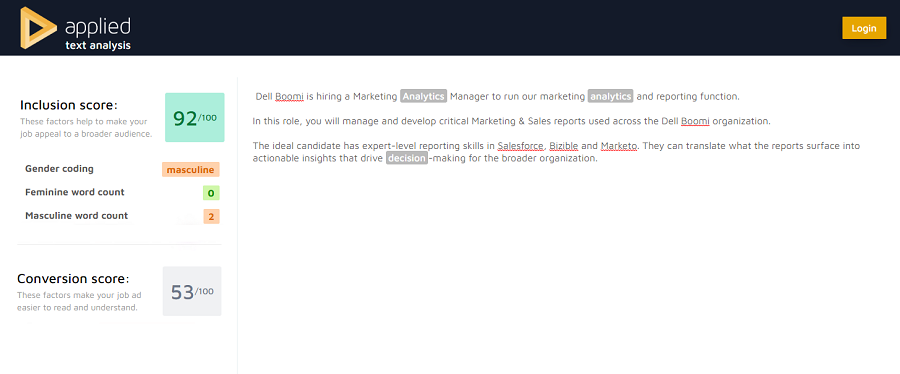 Applied JD Analysis Tool Key Features
Identifies any gendered language
Inclusion score – Based on how content appeals to a broader audience
Conversion score – Factors in readability and how understandable the text is
Flags corporate speak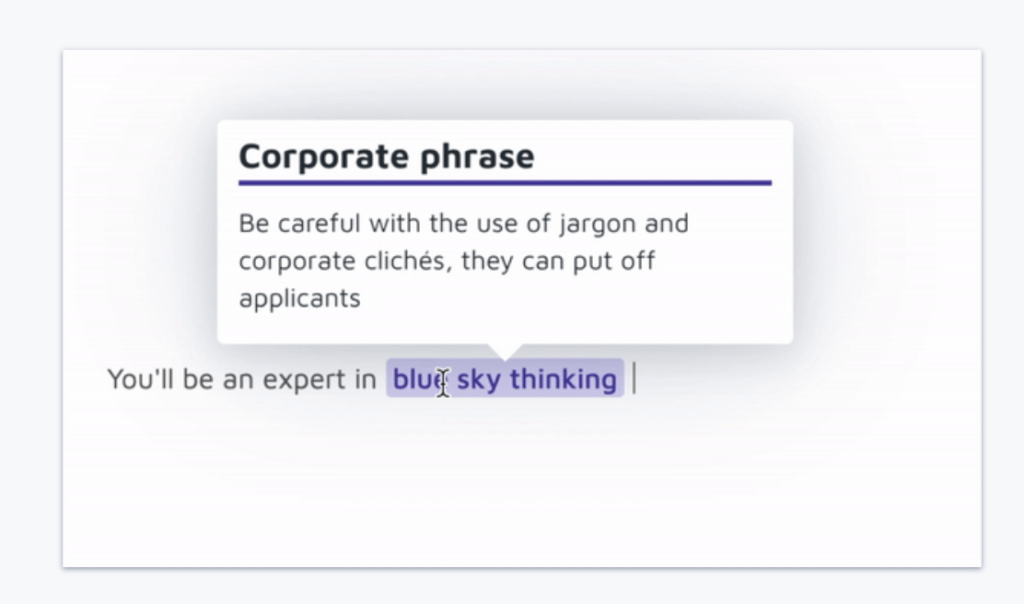 Applied Pricing
Applied JD Analysis Tool pricing starts at $299 Euros per month (Applied is a UK company). More pricing details are on their website.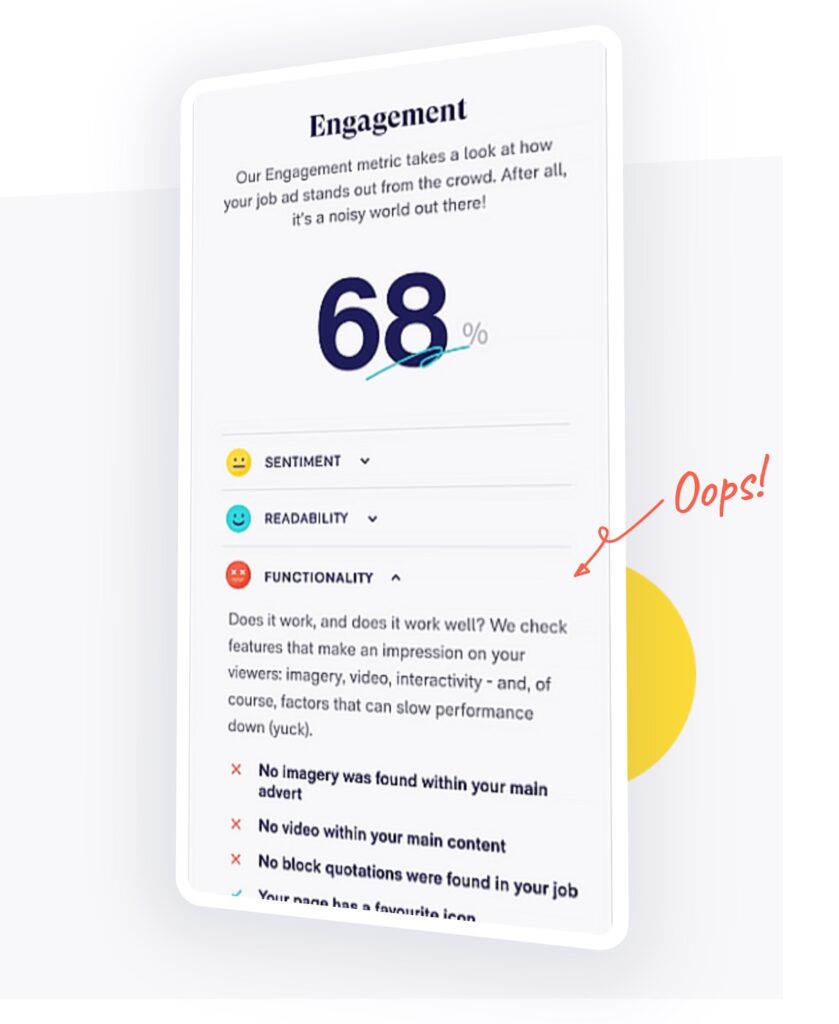 Other Augmented Writing Tools (not focused on job descriptions)
If you're looking to leverage augmented technology beyond recruiting/HR, there are a couple of great tools to consider:
Grammarly — This is the best known augmented writing tool for general writing. There are no features specific to recruiting. They have a free and paid version. The pricing for the premiums Grammarly starts at $19.98 per month. They have business pricing starting at $12.50 per month
HemingwayApp — This augmented writing tool is also aimed at general writing. It's free to use and since I don't see a pricing page, I assume there is not yet a premium version of it.
Neither Grammarly or HemingwayApp is a job description tool (so you won't see any features like job title analysis or flagging of words that are known to hurt job ad performance) but they can be helpful to your overall writing.
To wrap up, using augmented writing technology makes your job description writing punchier and, in some cases, more inclusive. And it can save your recruiters and hiring managers a bunch of time.
Why I wrote this
Ongig's mission is to eliminate boring and biased job content. Check out the Ongig Text Analyzer augmented writing platform to see more.