This is the complete guide to recruiting microsites.
If you want to:
Create a more targeted candidate experience
Drive more organic traffic
Turn more job seekers into applies
Then this is the guide for you.
Let's roll.
Recruiting Microsite Fundamentals
In this section, we're going to cover the basics of recruiting microsites.
What Are Recruiting Microsites?
Recruiting microsites are a way of attracting candidates and job seekers via targeted landing pages.
Common recruiting microsite themes are based on:
Department
Location
Initiatives/Programs (Interns, Diversity, etc.)
The #1 thing that makes recruiting microsites unique compared to other pages on your career site is that you can focus solely on one theme/topic.
The Difference Between Traditional Microsite and Recruiting Microsites
Your recruiting microsites don't need to follow the rules of a traditional microsite.
The concept is more like a landing page.
We call them microsites because they are a set of pages based on specific topics.
The big difference between recruiting and traditional is that they don't distance themselves from the overall corporate/career website experience.
Some common drawbacks of traditional microsites include:
Different design
Different navigation
Different messaging
Different domain/URL (read below)
With a recruiting microsite, you won't get hurt by these drawbacks.
In one case, a common recommendation for traditional microsites is to host on a completely different domain or subdomain.
With a company career site, you're most likely already hosting on a separate subdomain (i.e. jobs.[company].com or careers.[company].com).
So your recruiting microsite URLs would look like:
jobs.[company].com/[department]
jobs.[company].com/[location]
jobs.[company].com/[initiative]
Benefits of Having Recruiting Microsites on Your Career Site
Specific content focusing on a single department, location, or initiative
SEO boost
Effective landing pages for social media and ad campaigns
Great for experimenting and testing what content works
Another awesome benefit of microsites is you can create them based on your needs.
Opening a new office? Create a microsite for that location.
Need to hire a lot of salespeople? Create a sales recruiting microsite.
The possibilities are endless.
You're probably thinking, these benefits are nice and all, but:
"How do I get started with building a recruiting microsite?"
Well, here you go.
Building Your Recruiting Microsite
In this section I'm going to show you exactly how to build your recruiting microsite.
In fact:
These are the same exact microsite building techniques that our clients use to increase the candidate experience on their career site.
Add a Hero/Feature Media
If you're serious about creating an effective microsite you NEED a feature image or video.
(In other words: engaging media that engages candidates).
Here's an example of a Chicago recruiting microsite: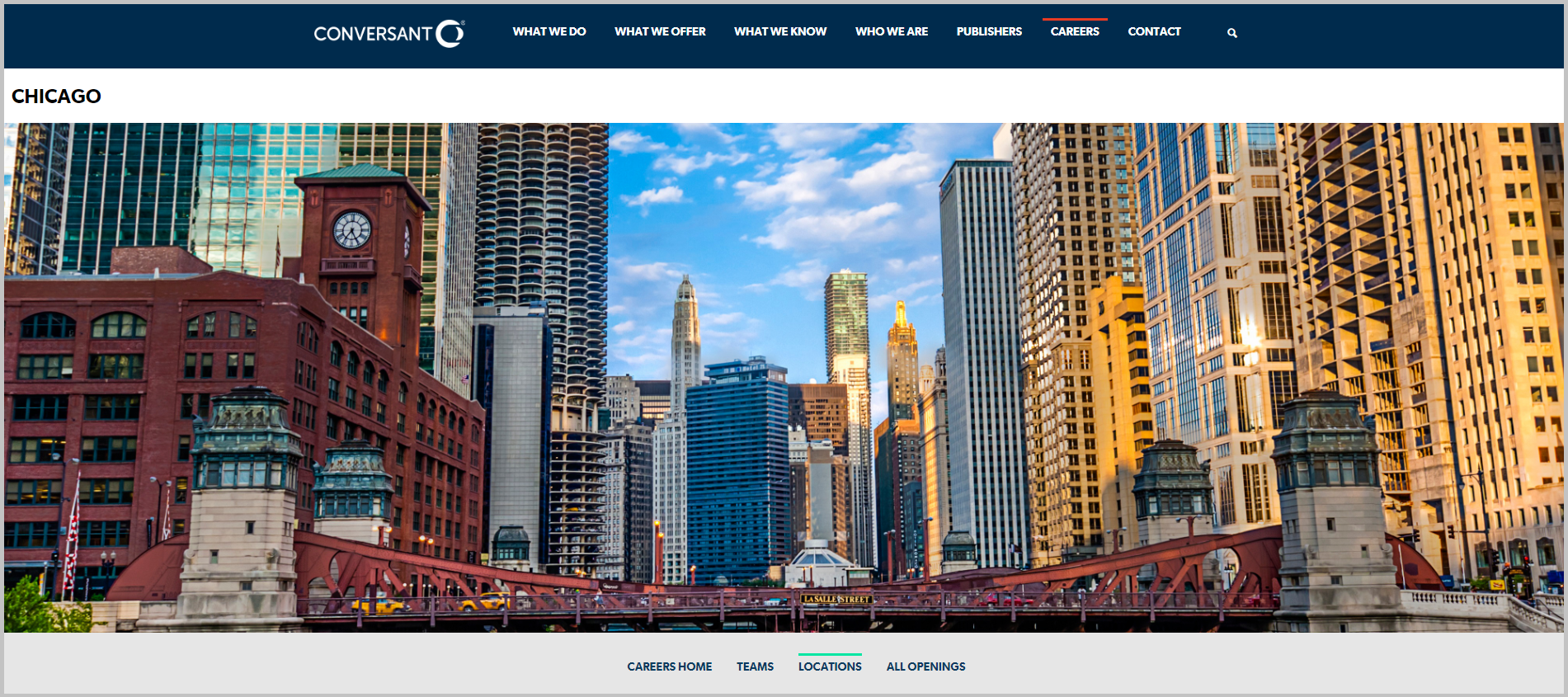 As you can see, this page is focuses on Chicago, which is relected in this beautiful downtown Chicago skyline.
It's completely focused on the location where Conversant's Chicago jobs are located.
Candidates who land on this page are expecting to see content relating to Chicago.
So this a great way to start the page.
Add a Complete Set of Jobs Based on the Microsite's Topic
You've got 2 options here.
Option 1:
Continuing on the Chicago example above.
You'll want to add all Chicago job listings like this: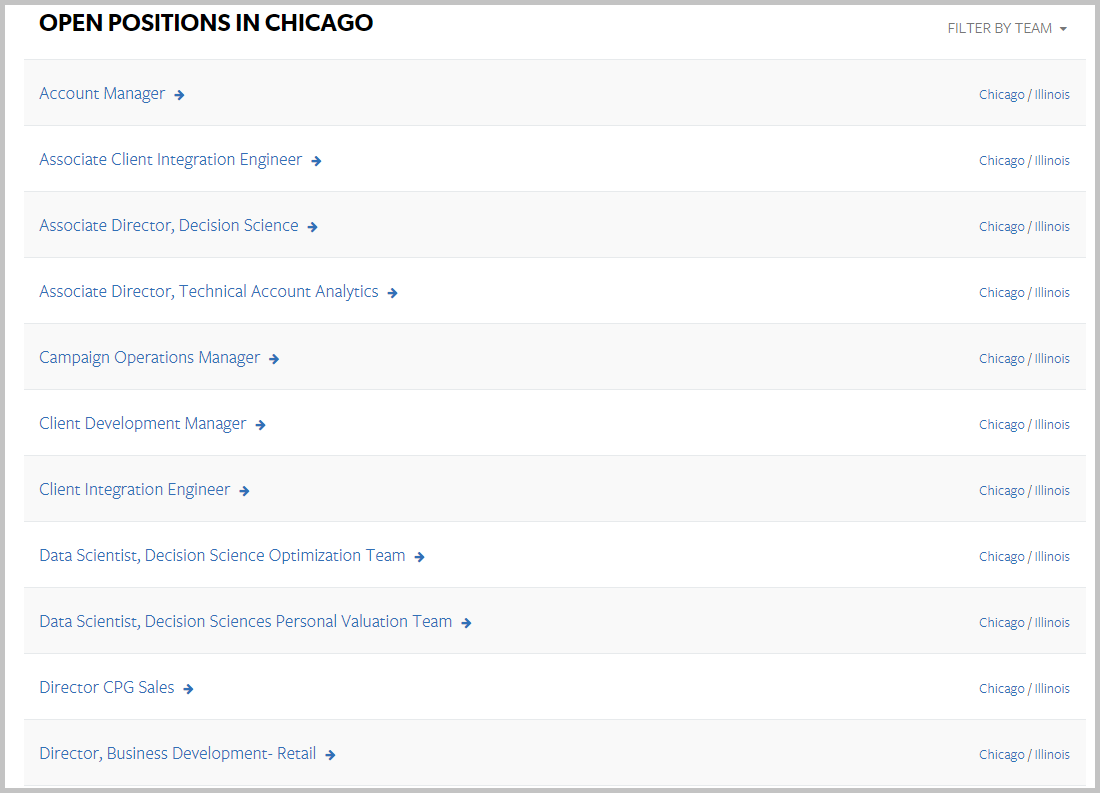 This makes the microsite more complete. It gives the candidates the ability to go to any job posting located in Chicago.
Option 2:
Don't add the list of jobs and just have a button that says "Apply now" or "Find [department/location/program] jobs".
This button will most likely link to your ATS page that will be pre-filtered with the specific set of jobs. Like this: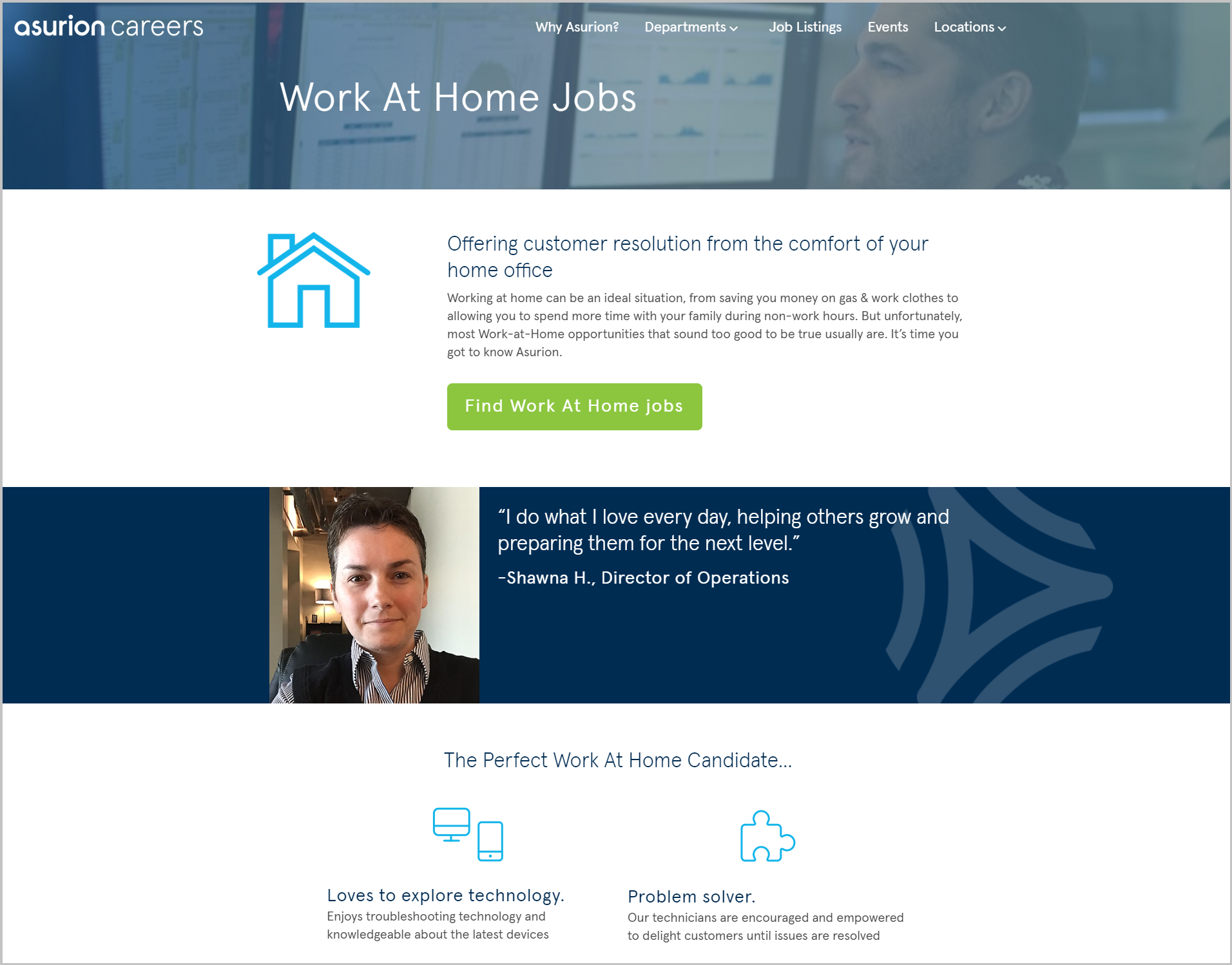 Clicking "find work at home jobs" sends you to a page that displays all work at home jobs.
Like this: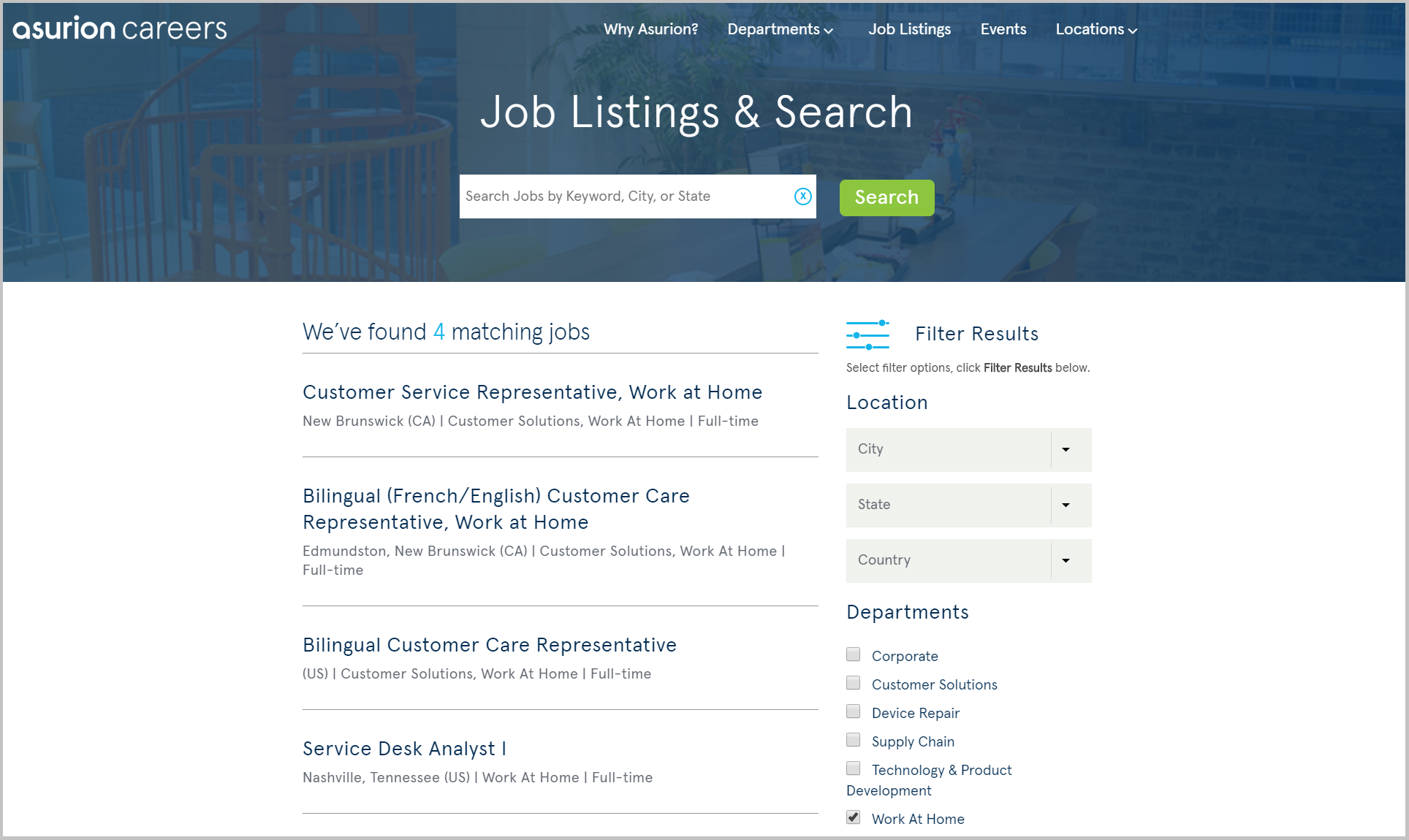 Filter By Team Dropdown
This feature would change based on the focus of your microsite.
You might have a ton of jobs related to the microsite.
So you'll want to add a "filter by team" dropdown. This gives candidates a way to make the set of jobs smaller and focused.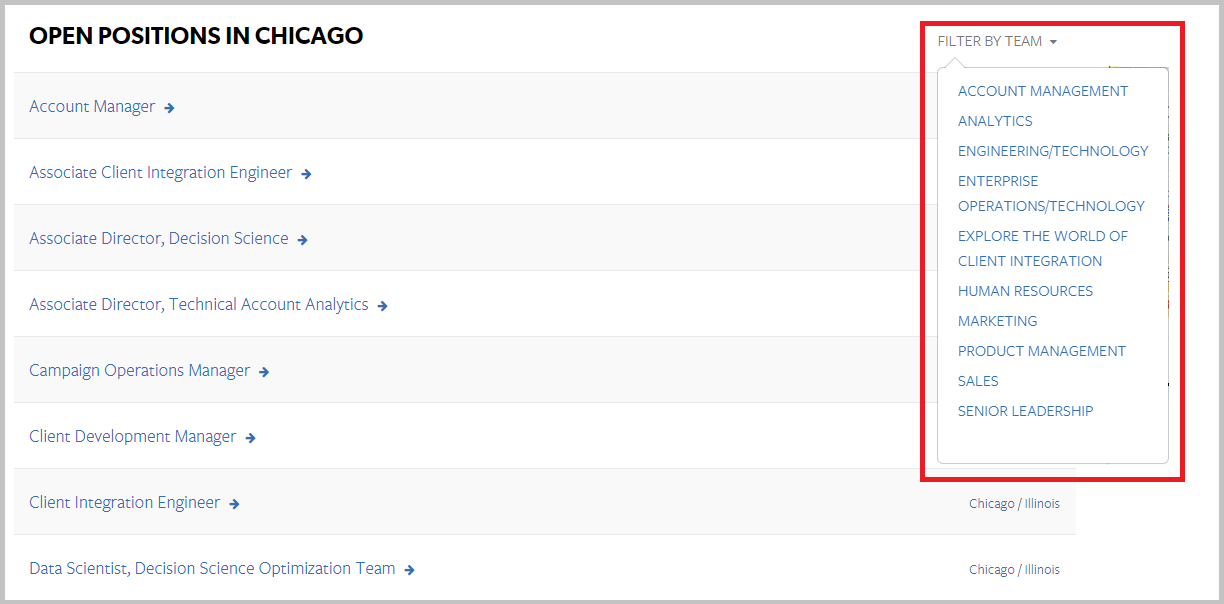 For a department-specific recruiting microsite, you'll want to add "filter by location".
You'll also want to "filter by location" for initiative/program-specific microsites.
Add Widgets
Want more engagement?
Use widgets like these to further articulate the focus your microsite: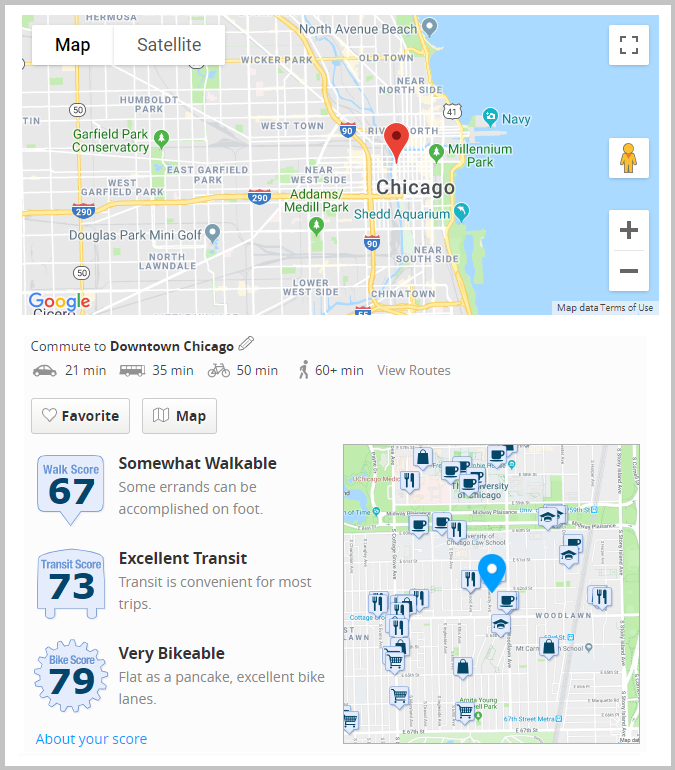 Maps, Walkscore, and other location content are important elements to add if it's a location-based microsite.
A new recruiting widget is catching our eye from Comparably.
It focuses on company culture, CEO, awards, and employee reviews. It's an awesome recruiting widget that can be used on any page of your career site.
Here's what it looks like: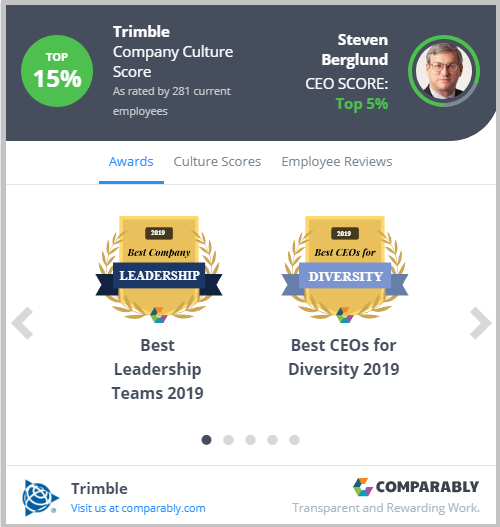 We've seen our clients raise their time on page just by incorporating a couple of these.
Additional Elements
FAQ: A great to optimize for SEO is to add an FAQ at the bottom of the page. Add some questions that candidates ask you all the time.
Maybe it's about salary, list the question and give a salary range.
Maybe it's about engineering in Chicago, list it and answer it.
Check out the bottom of Hilton's Work from Home recruiting microsite. They have a FAQ section focused on Work From Home positions: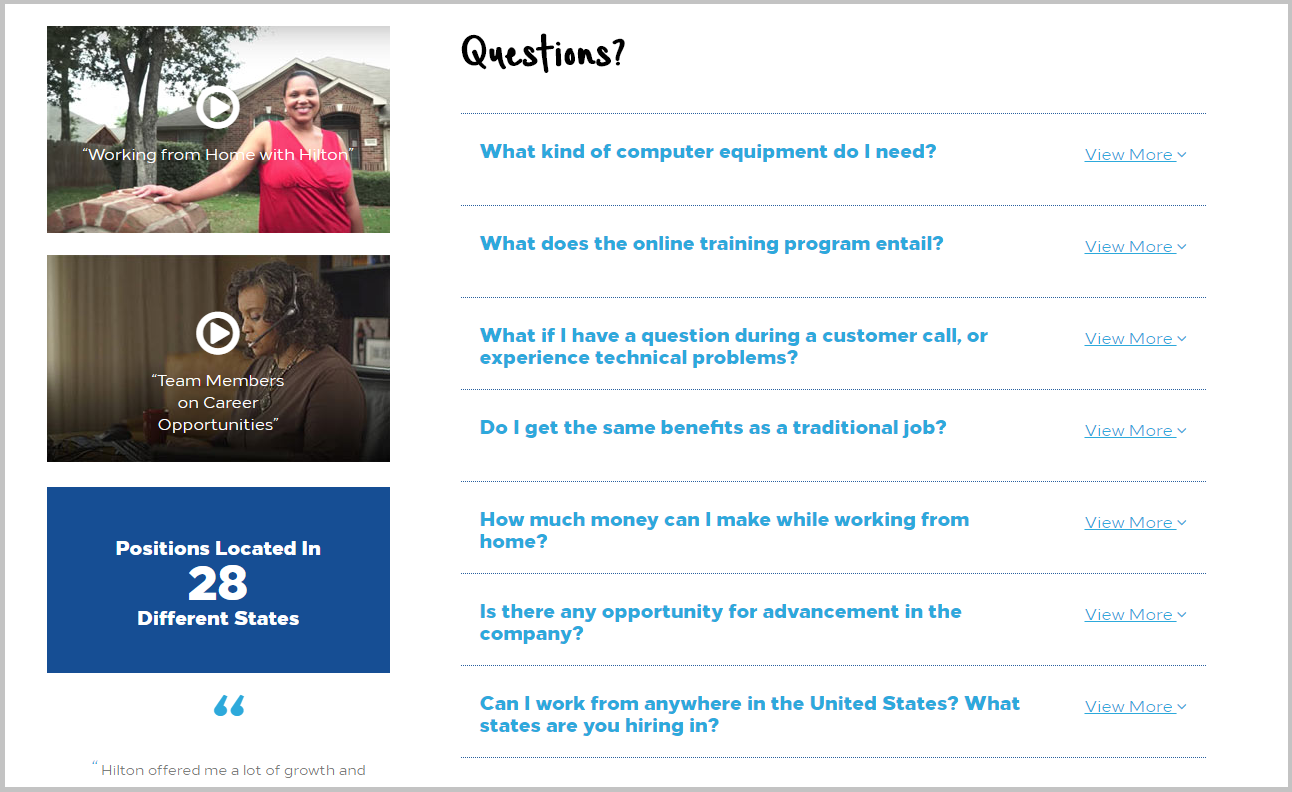 Benefits: One of the most sought after pieces of information for candidates is benefits.
It's smart to add these not just on microsites, but also your job postings.
Career/Blog Content: Add a list of resources/career content to your recruiting microsite.
You want the content to be relevant to the topic of the microsite.
You can also list your best overall posts (i.e. posts with the most pageviews or highest engagement).
Recruiting Microsite Examples
Now it's time to show you some microsite examples.
I'm going to share four specific examples of recruiting microsites.
These examples have great SERP for keywords and are made to attract, engage, and convert candidates.
Work At Home Recruiting Microsite (Working Solutions)
Attractive and engaging.
Notice the:
Prominent headline
Polaroid pictures with values
Great copy (i.e. "Be Your Own Boss")
Video'
Benefits
Employer of Choice awards for work at home (in the footer)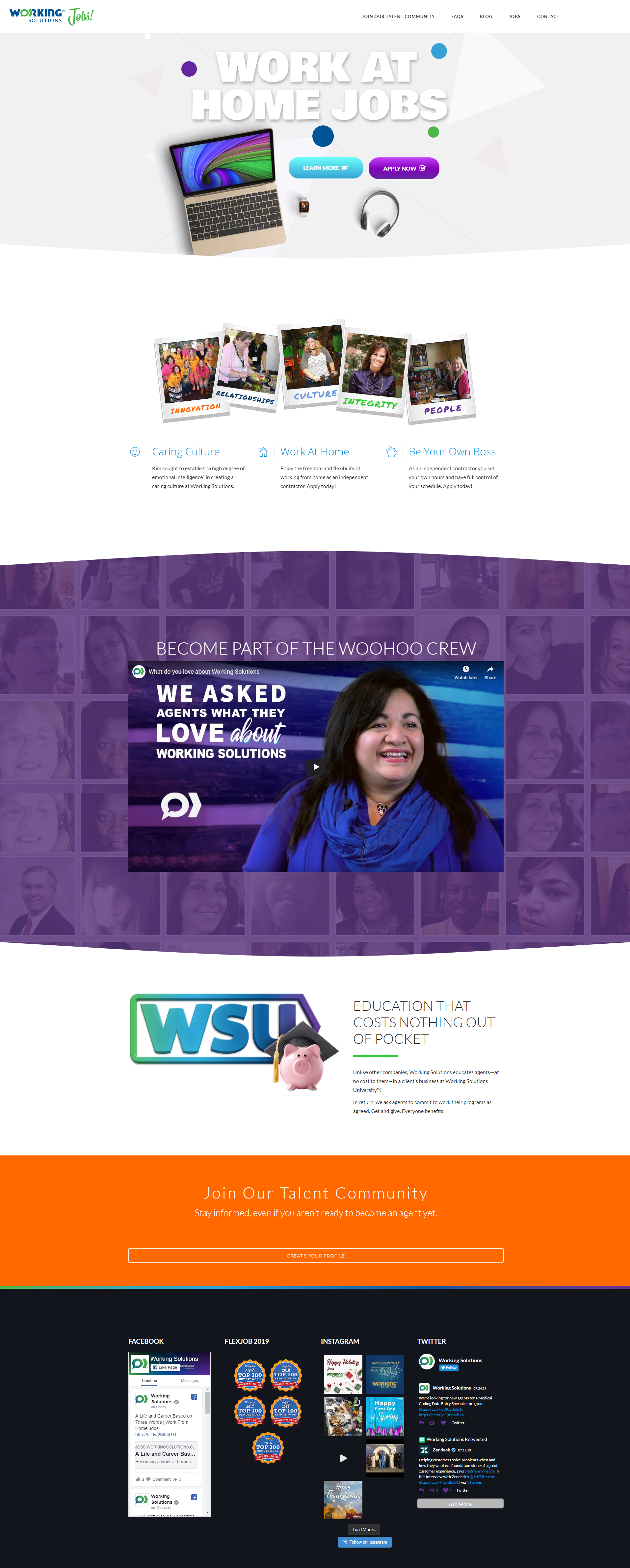 Sales Recruiting Microsite (Spectrum)
Brand-focused.
Notice the:
Focus on brand colors (blue background, white text).
Great headline and focus on bonus, pay, and commission
Day in the life of a Sales Rep video
Sales-focused copy
Job perks

San Francisco Recruiting Microsite (Google)
Simple and effective.
Notice the:
Feature images of the San Francisco office, Bay Bridge, and employees
Nice intro copy on San Francisco
Organization and segmentation of departments with job counts
Map
Location-specific blog content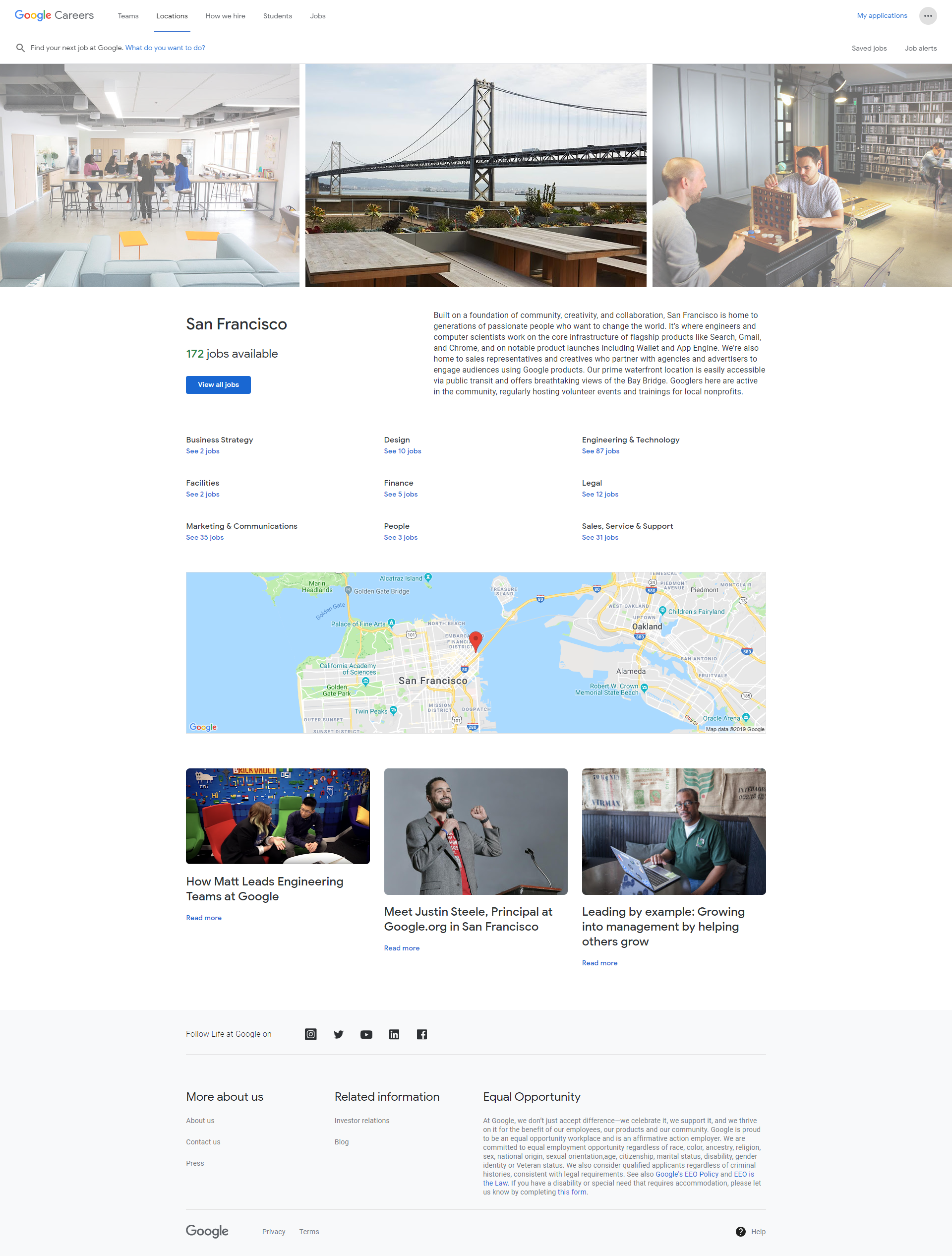 Diversity and Inclusion Recruiting Microsite (Dell)
Detailed and inviting.
Notice the:
Diverse hero image
Hashtag (#culturecode) a great way to engage through social media
Use of numbers (operating countries, global chapters, etc.)
Focus on multiple groups (Gender, LGBTQ, People with Disabilities)
Employer of Choice badges for diversity

More Recruiting Microsite Examples
Use Your Microsites as Landing Pages for Paid Advertising Campaigns
Social Media
An additional way to utilize your microsites is to use them for social media recruiting campaigns.
If you're running Facebook recruiting ads for certain positions or locations, follow these steps:
Create a microsite for a department/location
Create your facebook recruiting ad
Select your targeting options (demographics, behaviors, locations, etc.)
Make the microsite as the click-through URL of the ad
It makes for a very targeted ad experience.
Google Adwords
Similar to the Facebook ad process we mentioned above.
Using Google Adwords is an effective way to get your link to the top of Google search results, without having to do all of the SEO work.
Maybe it's hard to rank organically for the keywords you're targeting because:
The is keyword broad (i.e. "San Francisco jobs or Engineering jobs")
The competition for the target keyword is steep
You don't have enough time for the process of trying to rank on Google
Use Google Adwords, bid for your target keyword, show up near the top.
Use the recruiting microsite's URL as the click-through link.
In Conclusion…
I really hope you enjoyed my complete guide to recruiting microsites.
Ongig's software automatically generates recruiting microsites for you.
We make the hard part easy.
Next, all you need to is:
Create some kick-ass content
Add a couple of images or a video
Add some employer branding content (i.e. benefits, employer of choice awards, etc.)
And you're set.
Why I wrote this?
Ongig's mission is to transform jobs/careers pages. Our Candidate Experience Software provides instant/automated microsites for locations and functions/teams. You can also do custom microsites for interns, campus, diversity, etc. Click the demo request button on this page if you'd like to learn more.