How you write your LinkedIn job descriptions is different from writing JDs elsewhere.
Here are a few tips aimed to maximize your apply rate from the best candidates.
Which Job Description Sections NOT to Write
(LinkedIn already has them)
The first thing to know about how to write LinkedIn job descriptions is what NOT to include (because LinkedIn already populates them on the job description page).
LinkedIn includes an About Us section, salary info and your # of employees.
Here are examples of each from a PayPal job description on LinkedIn:
About Us
You'll see that LinkedIn already shows an About Us section for your company (assuming you have a company LinkedIn profile).
Here's one from a PayPal job description on LinkedIn: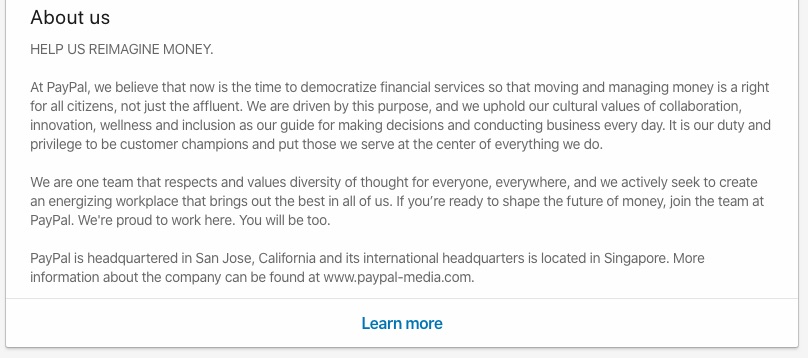 If you want to revamp your About Us section, check out our 15 Examples of an Awesome "About Us" Statement.
Salary
Linkedin also includes an estimated salary for most positions"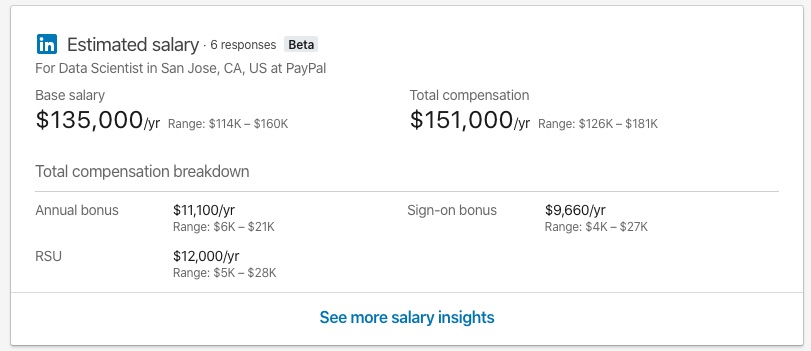 # of Employees
…and here's the employee count (based on the # of employees you have signed up for LinkedIn):
What SHOULD go in LinkedIn job descriptions?
Ok, so what SHOULD you focus on writing in your LinkedIn JD?
Dive Right Into The Role/Team
Because LinkedIn already has your About Us/background info taken care of, you can jump right into the role. Check out Twitter's approach with this Head of Data Scientist role: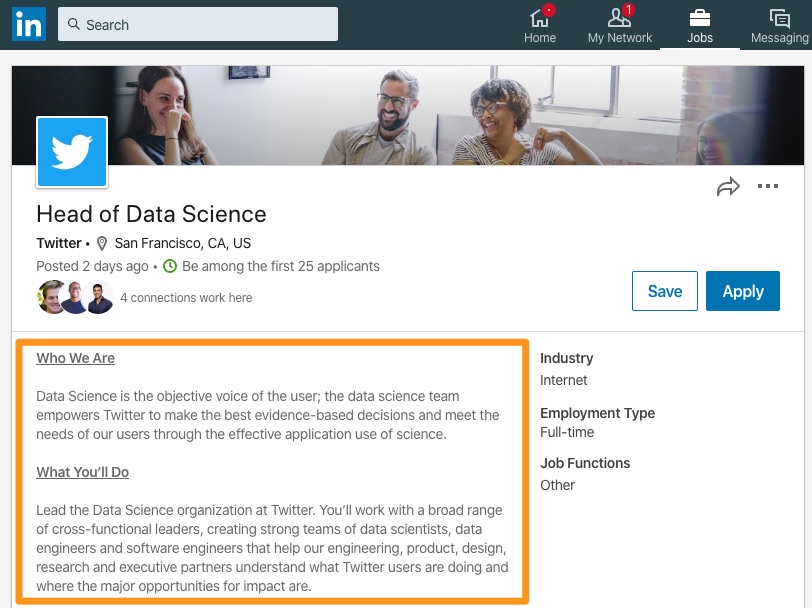 Do you notice how their first words are about the"Data Science" team at Twitter. If you are lucky enough to get a good candidate to land on your LinkedIn job description, you've only got a few seconds to draw them in.
…or check out what Groupon does below. They open with A) a benefit to the candidate (training) and a bit of challenge in the form of questions. Very conversational — that's effective.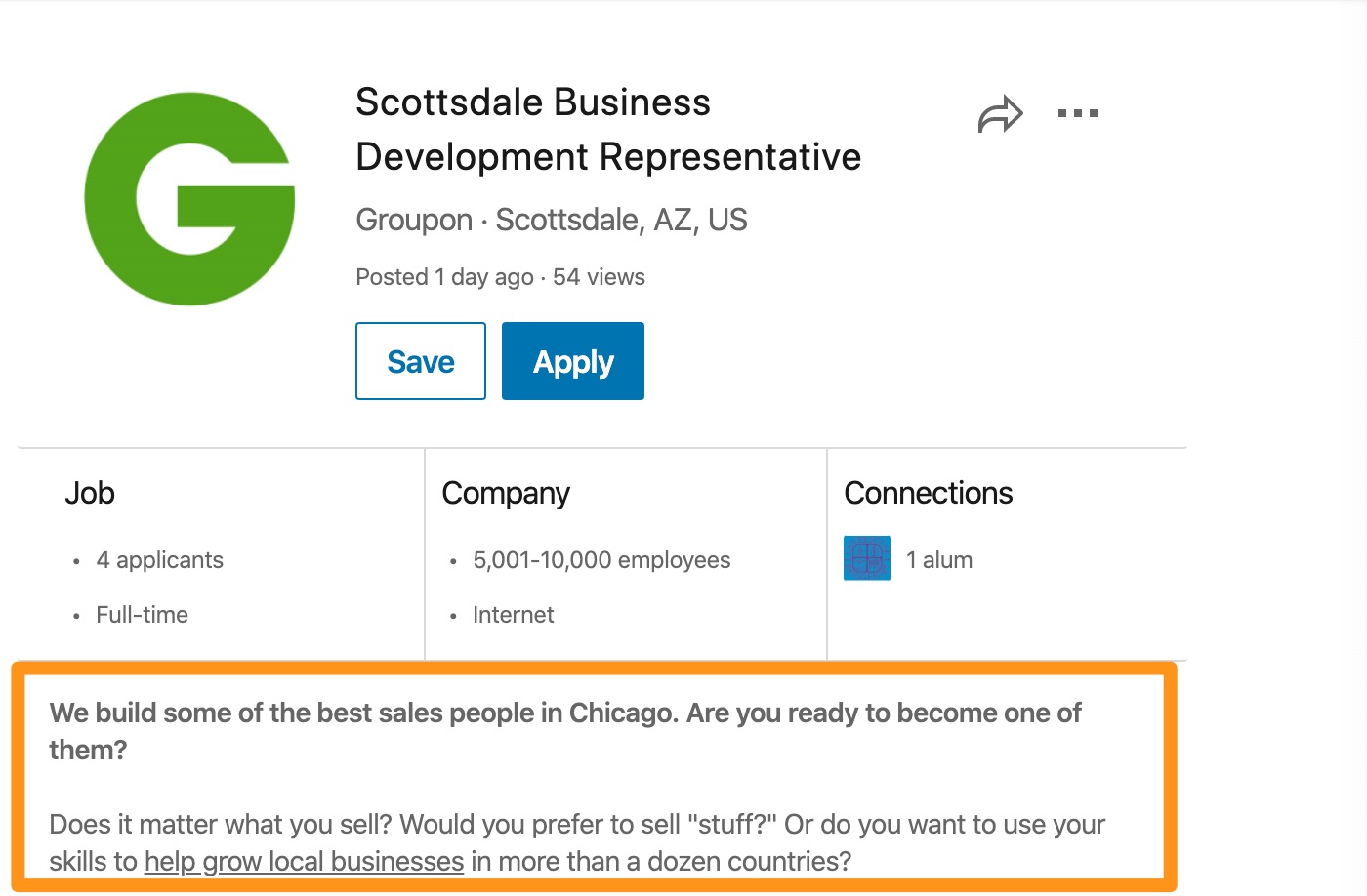 Tip: Talk about the candidate/the job/the team first (and not you the employer!). 
Responsibilities
For the responsibilities of the JD, I find that a conversational "What you do day-to-day" approach is most effective. Try to keep to under 8 bullets.
Here's a great example from Gusto: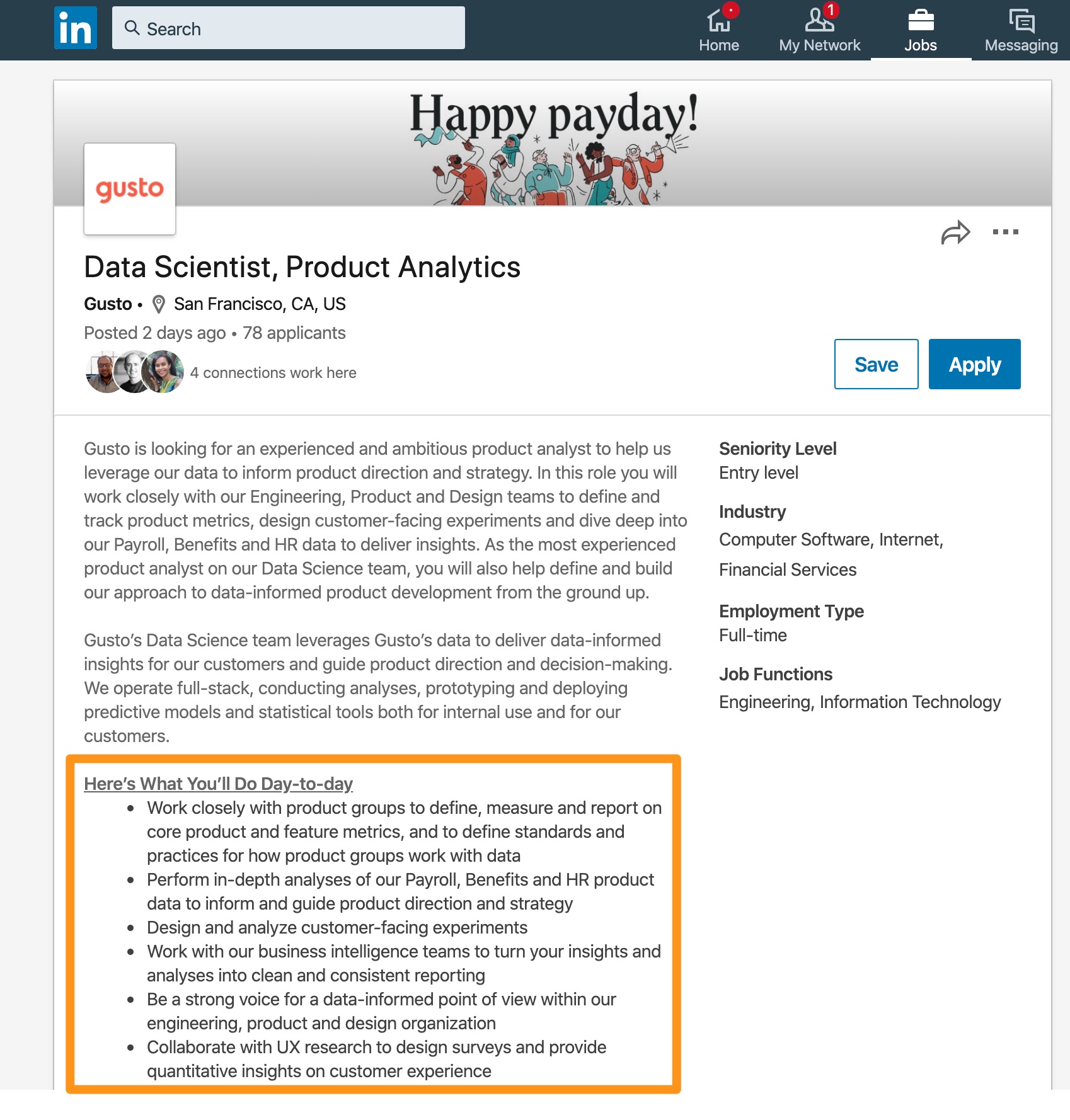 Requirements
For your Requirements section, also try to keep it conversational (e.g."We're looking for this:") with just a handful of bullets. Here's an example from Gusto: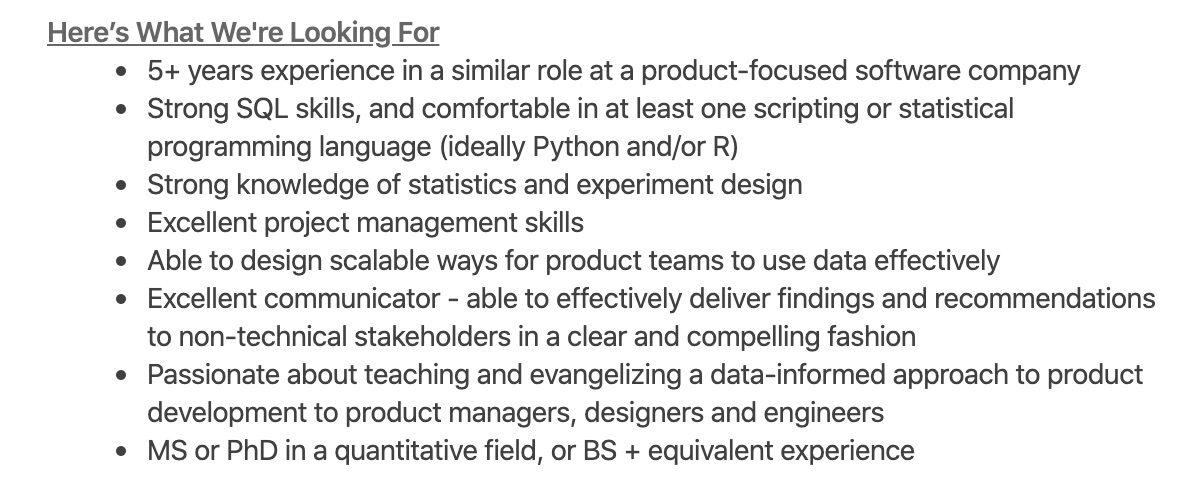 Benefits & Perks
As LinkedIn showed in this heatmap of a job posting, the benefits/perks section (and salary) are THE job description content to maximize apply rate.
Check out this from 10 Easy Ways to Boost a Job Ad's Apply Rate:
The more benefits you list (in your job ads) the higher your apply rate (7.4% for 0 benefits, 8% for 1+ benefits, 11.5% for 2+ benefits, 17.1% for 3+ benefits and 22.5% for 4+ benefits, according to Appcast).

But only about half of companies include a Benefits section in their job ads, according to an analysis we did in 7 Reasons Why Candidates Should Work for You.
LinkedIn doesn't yet show a boilerplate benefits/perks section for employers so you'll want to write that yourself.
A simple set of bullets of benefits will do. Here's Twitch's Perks section for their Data Scientist role on LinkedIn: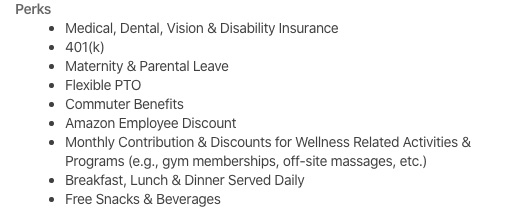 EEO & Diversity Statement
An effective way to end your LinkedIn job description is with an EEO statement (if you are public or work with the Government and some type of diversity statement. You can merge the two such as New Relic does in this recent LinkedIn job description:
"New Relic is an equal opportunity employer. We eagerly seek applicants of diverse background and hire without regard to race, color, gender identity, religion, national origin, ancestry, citizenship, physical abilities (or disability), age, sexual orientation, veteran status, or any other characteristic protected by law."
Check out 10 Samples of an Effective EEO Statement or 10 Examples of Awesome Diversity Statements for inspiration.
What tense should job descriptions be on LinkedIn?
The best tense/voice to speak in for LinkedIn job descriptions is present tense (like the highlighted text in the Lyft job below):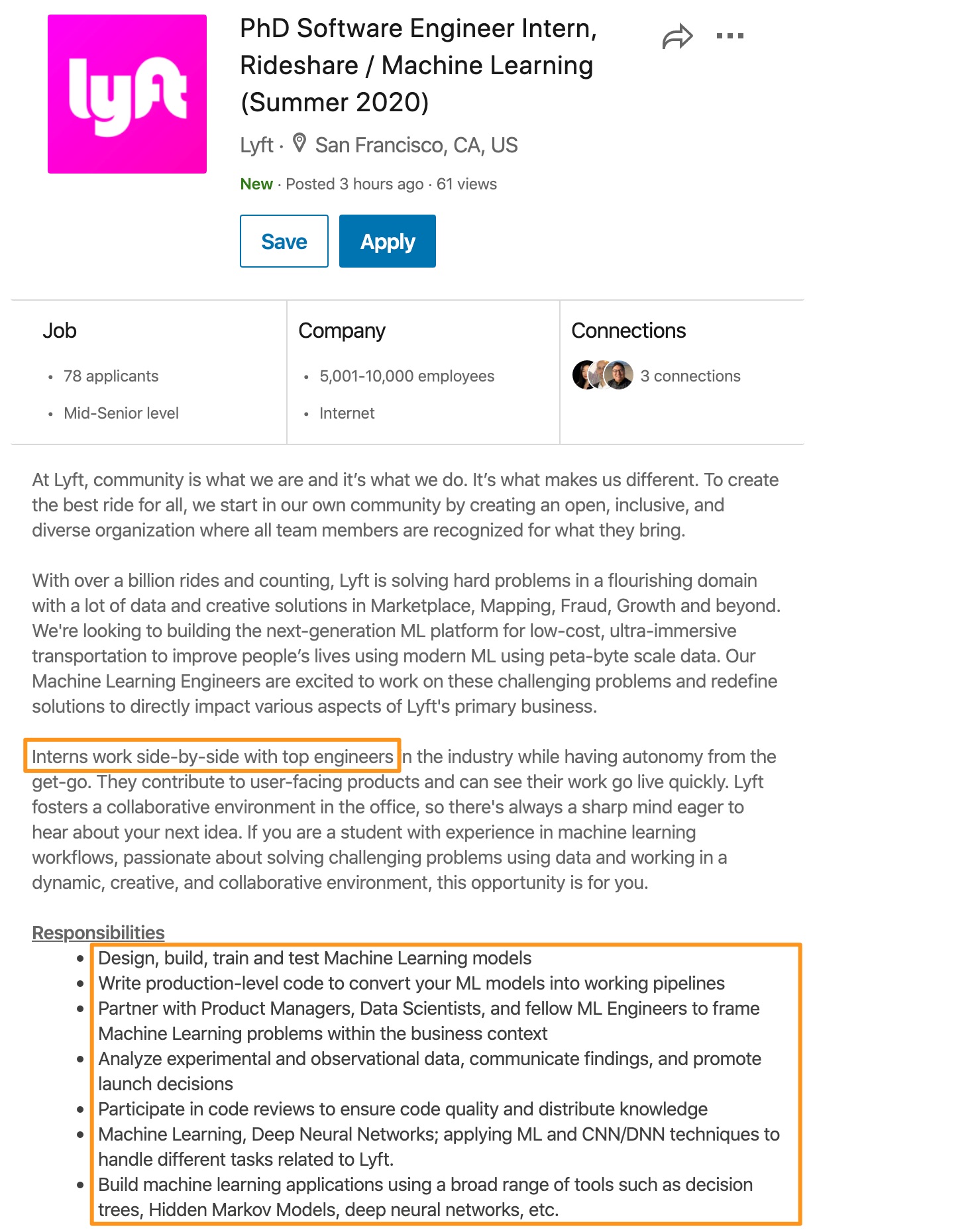 The more present tense your language is the more the candidate feels like it's a now opportunity.
Try to steer clear of past tense language such as:
"you have"
"[name of your company] has"
and future tense language
"you will"
[name of your company] will become"
How long should a LinkedIn job posting be?
LinkedIn has shared that
"Job posts with 150 words or less got candidates to apply 17.8% more frequently than job posts with 450 to 600 words."
They point out that being succinct is especially important if you're trying to reach modern candidates who are likely reading job postings on mobile devices.
For more tips on writing job descriptions, check out How to Write a Job Description — Best Practices & Examples.
Why I wrote this?
The Ongig team and I are on a mission to transform job descriptions wherever they may appear (LinkedIn, your career site, etc.). Check out our Text Analyzer job description writing software if you'd like to learn more.