Inclusion Statements appear on web pages, in job postings and, sometimes, in bigger reports (see PepsiCo below).
They have become vital copy to attract the best talent. After all, the best talent values inclusivity.
Below are 10+ examples of Inclusion Statements I hope you draw inspiration from.
Note: If you like this article, you might also check out these 4 diversity tools to help you write more inclusive content.
10 Inclusion Statement Examples
IBM
IBM's web site has an Overall Inclusion Statement and  Inclusion Statement for Employment.
Here's their overall Inclusion Statement: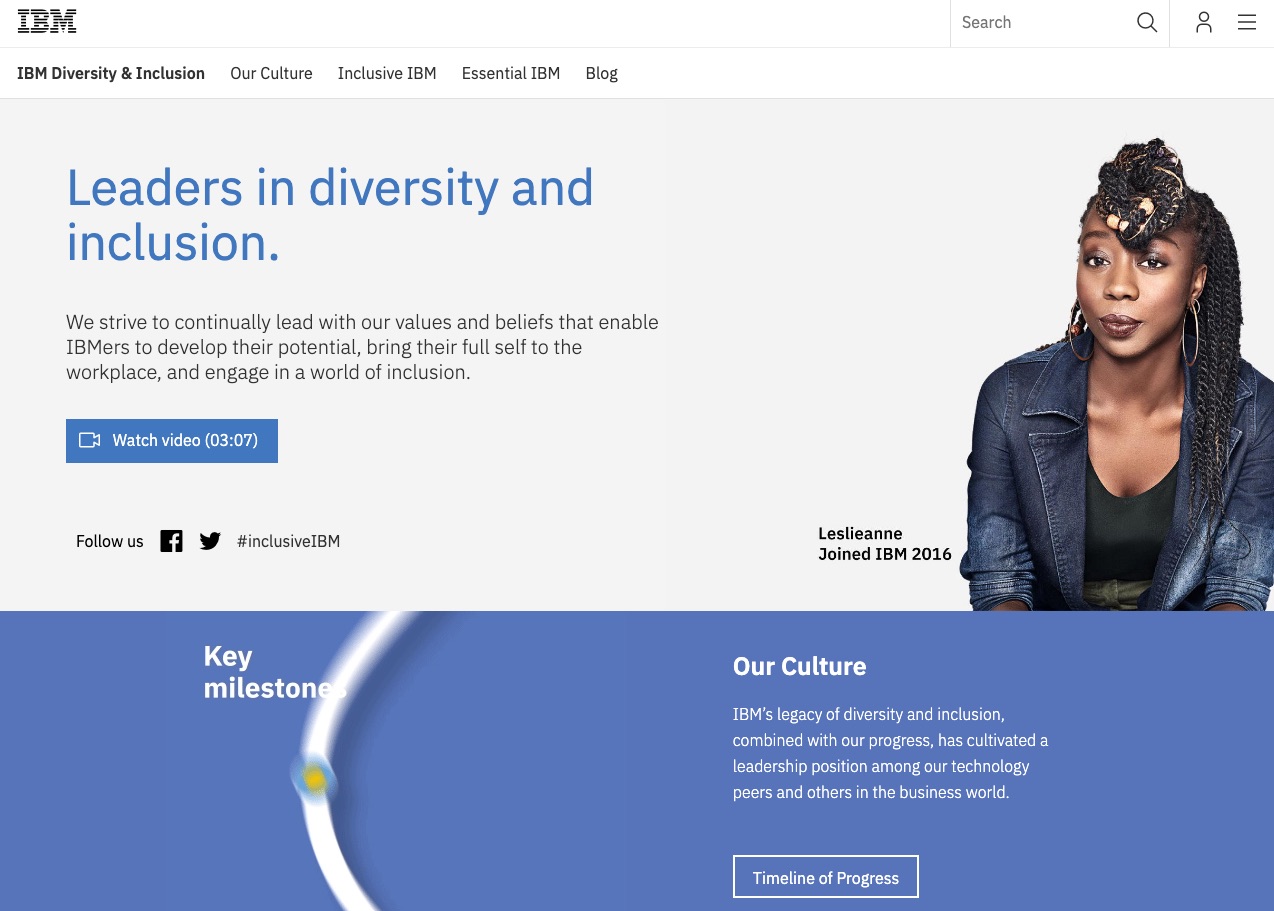 That's a short-and-sweet inclusivity statement that also ties in milestones of progress and stories of employees.
IBM also puts a combo EEO Inclusion statement on most job postings. Here it is:
Being You @ IBM

IBM is committed to creating a diverse environment and is proud to be an equal opportunity employer. All qualified applicants will receive consideration for employment without regard to race, color, religion, gender, gender identity or expression, sexual orientation, national origin, genetics, disability, age, or veteran status. IBM is also committed to compliance with all fair employment practices regarding citizenship and immigration status.
Highlights of the job posting EEO/Inclusion Statement:
Header — IBM uses a headline/header for their Inclusivity statement:  "Being You @ IBM". People (candidates included!) think in terms of headlines and this shows candidates that IBM took an extra step on inclusivity.
It's a combo EEO inclusion statement
It mentions citizenship and immigration (a progressive move by IBM)
Gusto
Gusto has an Inclusion Statement is in its About Us section of each job that reads:
Our customers come from all walks of life and so do we. We hire great people from a wide variety of backgrounds, not just because it's the right thing to do, but because it makes our company stronger. If you share our values and our enthusiasm for small businesses, you will find a home at Gusto.
Highlights:
It's short
First person/2nd person (you/we) is conversational
It sounds like it's written by a human (doesn't have mumbo jumbo words)
Gusto also has multiple pages on its site about Inclusivity such as its Special Report: Diversity and Inclusion with Gusto.
Apple
Apple's Inclusion Statement is the key paragraph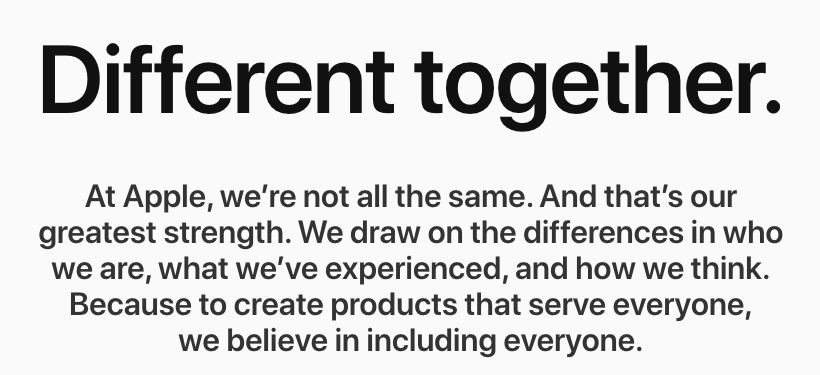 Highlights:
Headline ("Different together.") — Most readers respond to headlines. It helps remind them why they're reading.
Short (4 sentences)
No mumbo jumbo
Ties diverse employees to diverse products/customers
Compass
Compass Group offers an interesting combo EEO Inclusion Mission statement on its job postings:
At Compass, our mission is to help everyone find their place in the world. This means we continually celebrate the diverse community different individuals cultivate. As an equal opportunity employer, we stay true to our mission by ensuring that our place can be anyone's place.
Highlights:
It's short
It combines EEO, Inclusion Statement and Mission in 3 sentences
Compass also has a more in-depth Inclusion Statement page.
Coca-Cola Company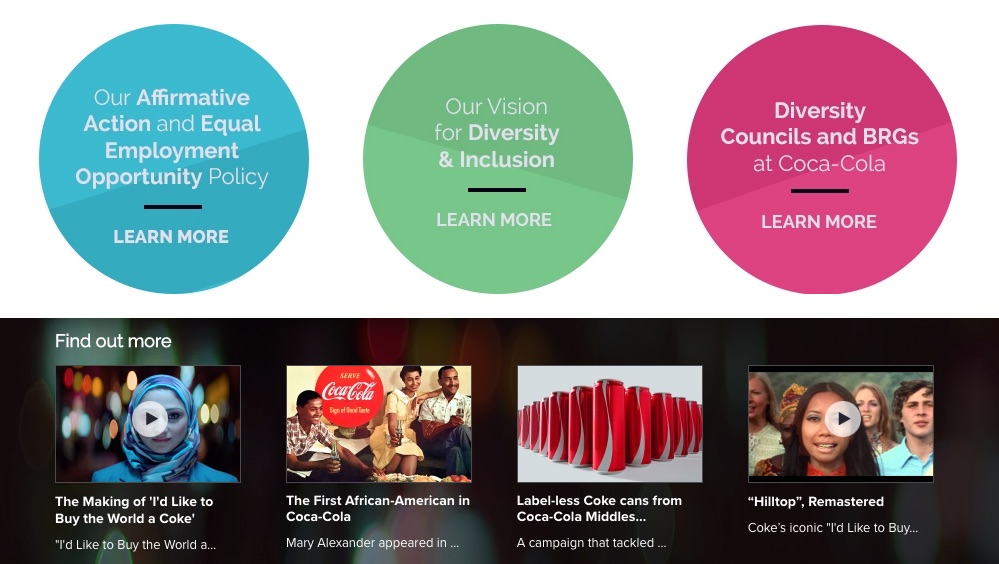 Coca-Cola has this Inclusive statement on its job postings:
Inclusive

Include, value and trust each other. We are smart alone but together we are genius. This means being inclusive, giving the benefit of the doubt and being responsible for each other. Because, for our company to thrive for the next 100+ years, smart isn't enough. We need genius.

We are an Equal Opportunity Employer and do not discriminate against any employee or applicant for employment because of race, color, sex, age, national origin, religion, sexual orientation, gender identity and/or expression, status as a veteran, and basis of disability or any other federal, state or local protected class.
Highlights:
Header — People think in headlines and seeing the word "Inclusive" in bold before their Inclusive statement shows that IBM emphasizes it.
First Person/Second Person (we, you, etc.)
Combo EEO/Inclusion Statement
IBM also has these on its Web site:
Deloitte
Deloitte's Inclusion statement is:
At Deloitte, each of us contributes to inclusion—we all have a role to play. Our culture is the result of our behaviors, our personal commitment, our curiosity, how we collaborate, and the ways that we courageously share our perspectives and encourage others to do the same.

In turn, our inclusive culture inspires us to try new things, speak openly, and be bold. It brings us together in ways that help us stand out. Our inclusive culture empowers all of us to connect, belong, and grow.
On that same Inclusion web page, Deloitte talks about the six research-based inclusive behaviors to advance inclusion including Chief Inclusion Officer:

Highlights:
Short and sweet
The mention of a "chief inclusion officer" and the 6-behavior approach shows that Deloitte is putting a lot into inclusivity.
Deloitte also has a lengthier statement of Inclusivity here: Six signature traits of inclusive leadership (includes infographic).
Duo
Duo has this Inclusion statement on its job postings:
Duo is committed to cultivating and preserving a culture of inclusion and connectedness. We are able to grow and learn better together with a diverse team of employees. The collective sum of the individual differences, life experiences, knowledge, innovation, self-expression, and talent that our employees invest in their work represents not only part of our culture, but our reputation and Duo's achievement as well. In recruiting for our team, we welcome the unique contributions that you can bring in terms of their education, opinions, culture, ethnicity, race, sex, gender identity and expression, nation of origin, age, languages spoken, veteran's status, color, religion, disability, sexual orientation and beliefs.
Highlights
Written in Plain English (including first-person/second-person (we, you, etc)
Nice line specific to their recruiting: "In recruiting for our team, we welcome the unique contributions that you can bring"
Cisco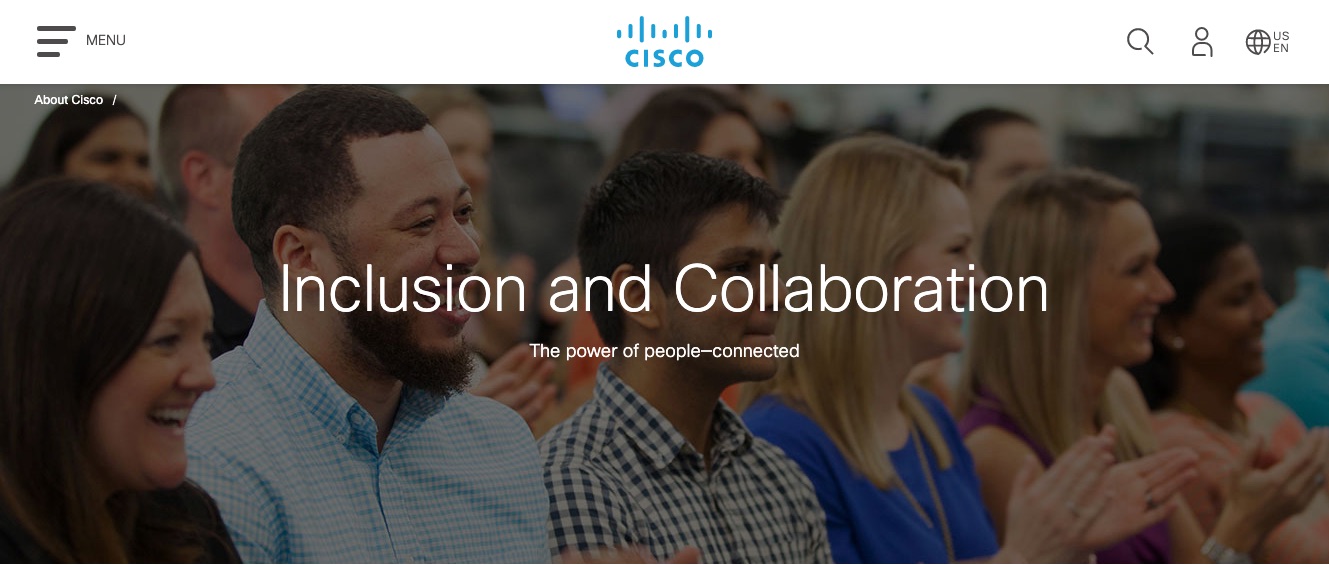 Cisco's inclusion statement (in its job postings that reads)
Day to day, we focus on the give and take. We give our best, we give our egos a break and we give of ourselves (because giving back is built into our DNA). We take accountability, we take bold steps, and we take difference to heart. Because without diversity of thought and a commitment to equality for all, there is no moving forward.
So, you have colorful hair? Don't care. Tattoos? Show off your ink. Like polka dots? That's cool. Pop culture geek? Many of us are. Passion for technology and world changing? Be you, with us!
Highlights:
It's an example of a large company showing they can be progressive
First person/2nd person (you/we) is conversational
Cisco also has an Inclusion and Collaboration page.
PepsiCo
PepsiCo had this Inclusion Statement on page 2 of a 28-page annual report on Diversity & Inclusion: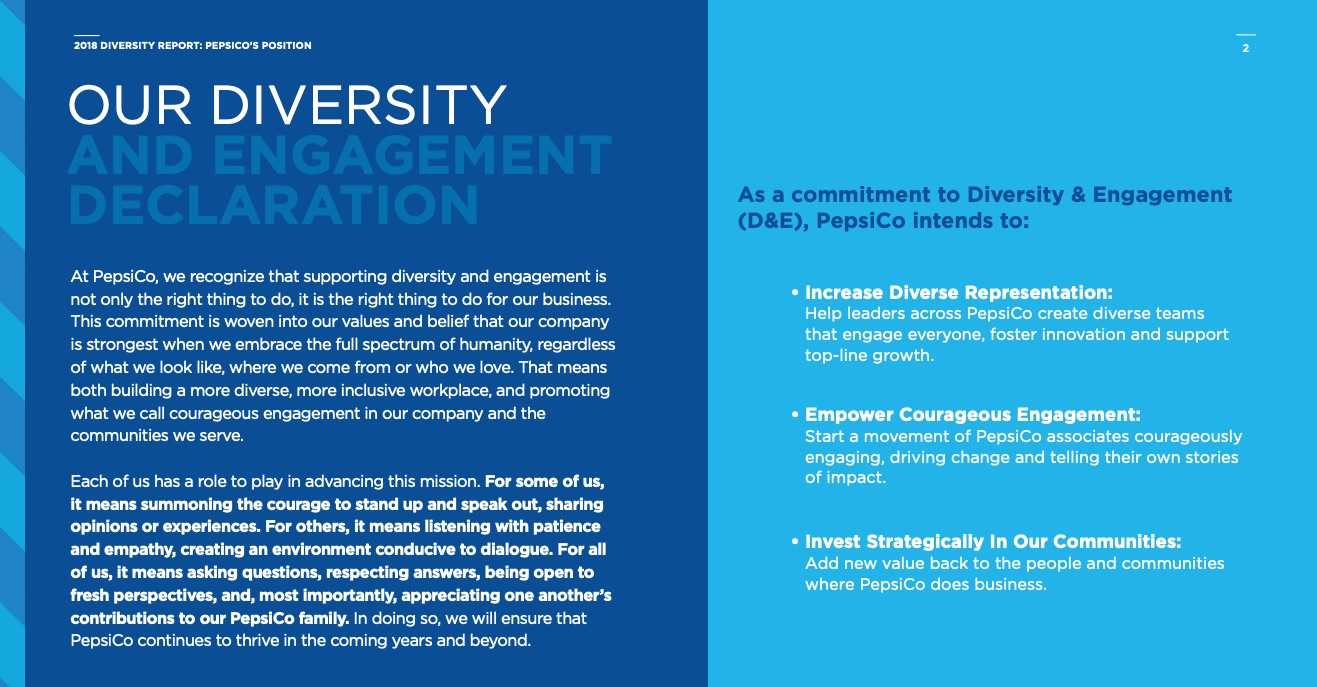 Highlights:
They dedicated a 28-page report to inclusivity. Shows seriousness.
They made a "Declaration" (not just a statement).
Overall, this is an example of PepsiCo being different (in a great way) than many in the industry.
Google
Google uses one Inclusion statement in its job postings:
At Google, we don't just accept difference—we celebrate it, we support it, and we thrive on it for the benefit of our employees, our products and our community. Google is proud to be an equal opportunity workplace and is an affirmative action employer. We are committed to equal employment opportunity regardless of race, color, ancestry, religion, sex, national origin, sexual orientation, age, citizenship, marital status, disability, gender identity or Veteran status. We also consider qualified applicants regardless of criminal histories, consistent with legal requirements. See also Google's EEO Policy and EEO is the Law. If you have a disability or special need that requires accommodation, please let us know by completing this form.
And Google has a longer one on its Inclusion Statement page:
Google's mission is to organize the world's information and make it universally accessible and useful. When we say we want to build for everyone, we mean everyone. To do that well, we need a workforce that's more representative of the users we serve.

Google is committed to creating a diverse and inclusive workforce. Our employees thrive when we get this right. We aim to create a workplace that celebrates the diversity of our employees, customers, and users. We endeavor to build products that work for everyone by including perspectives from backgrounds that vary by race, ethnicity, social background, religion, gender, age, disability, sexual orientation, veteran status, and national origin.

Read our 2019 Diversity Annual Report to hear from Danielle Brown, Vice President of Employee Engagement, and Melonie Parker, Global Director of Diversity, Equity, & Inclusion, on how we plan to deliver our strategy.
Highlights:
Google's job posting does a good job of combining the EEO/Inclusion Statement.
In both Inclusivity statements, Google emphasizes that diversity transcends its products (they want Google the product to be inclusive) as well as their workforce.
Google's philanthropic arm Google.org takes an ever deeper dive (check out their Inclusion statement page.
Mars Inc.
Mars's Inclusion statement is:
Different perspectives, unique ways of thinking — our Associates are as varied as our products. This is true no matter what your role is or where you are in the organization. And we are working to increase diversity in all our management teams. We're particularly focused on making sure women are equally represented in management positions.

We recruit and reward Associates based on capability and performance — regardless of race, gender, sexual orientation, gender identity or expression, lifestyle, age, educational background, national origin, religion or physical ability. Each Mars location, everywhere, is free to respond to local needs to create a culturally sensitive workplace for everyone. In doing so, we want every Mars Associate to feel our commitment to showing respect for all and encouraging open collaboration and communication.
Highlights:
Gives an example of an inclusion goal (women in management)
They mention that their different local offices are empowered to meet local needs
More Awesome Inclusion Statements
Editorial Additions September 4, 2020 — I found these other awesome examples of inclusion statements:
Edward Jones
We found Edward Jones' Commitments to Inclusion, Diversity and Equity listed on their "About Us" page:
"We commit to a continued focus on equitable hiring, training, promotional practices and policies. Today, 8% of our financial advisors are people of color and 21% are women. In home office senior leadership roles, 9% are people of color and 30% are women. We will work for real change and progress in diverse recruitment, hiring and advancement."
HPE
HPE's commitment to global Inclusion & Diversity is a stand-out on its website. HPE says:
"We believe anyone can change the world. At HPE, we know that our greatest strengths come from the people who make up our team. So for us, inclusion and diversity is ingrained in who we are today because we know it's what will get us to tomorrow. But our work is far from over. In fact, we continuously push for better."
Netflix
Netflix features diversity on their Careers page. Netflix says:
"It Takes Diversity Of Thought, Culture, Background, And Perspective To Create A Truly Global Storytelling Platform. Netflix is a global company, with a diverse member base, which is why the content we produce reflects that: global perspectives, global stories. As we grow globally, we know that we must have the most talented employees with diverse backgrounds, cultures, perspectives, and experiences to support our innovation and creativity. We are an equal opportunity employer and strive to build balanced teams from all walks of life."

Jobcase
Jobcase's job postings use this diversity and inclusion statement:
"If you are looking to join a company where you can proudly bring your whole self to work, we invite you to apply today. Our commitment to diversity, equity and inclusion means that whoever you are, and whatever path you've taken to get here, we value you at Jobcase. We know that diversity of perspectives, backgrounds, interests, and skills are essential to build a great product that serves ALL people. If you can help drive success and have fun while doing it, we can't wait to meet you! Apply to any and every role that feels like the right next step on your journey, regardless of the criteria we've listed."
Inclusivity or inclusiveness — what's the difference?
You probably noticed many of the examples above mention "inclusivity" but not "inclusiveness". Are they the same? We found a couple of good explanations on Quora, that might help answer the question:
I would say that 'inclusiveness' is the passive state of being inclusive, whereas 'inclusivity' is the active state of being inclusive:

"This office receives many awards for its inclusiveness, we have a very diverse team here."

"Our inclusivity has led to a very diverse team."
and
In other words, they are closely synonymous but the language may be moving from 'inclusiveness' to 'inclusivity' as the preferred noun form of 'inclusive'.
If you like this article, you might enjoy some of Ongig's other blogs with tips on how to create diversity statements, diversity commitments, and diversity goals examples. Here's a list to check out:
Note: Another way to make a diversity statement is through diversity videos. Check out this article for inspiration: Best Diversity and Inclusion Videos.
Why I wrote this?
Our mission here at Ongig is to transform your job descriptions to attract top-tier and diverse talent. Our Text Analyzer software analyzes every word of your job descriptions to ensure they are inclusive to everyone.