The top candidates have so many choices when it comes to where they want to work. So, it's increasingly challenging to attract them.
As a recruiter, you need to have the right strategies for attracting top talent, because they have a massive impact on the performance of any company. And even once you've recruited talented staff, you need to take action to retain them.
You'll need more than a lucrative salary to attract top talent in 2022 and beyond. Hiring managers are aware of this and are crafting recruitment strategies that focus on what prospective employees value most. That includes:
flexibility
a sense of community
company values that align with their own
an earnest commitment to equity, diversity, and inclusion
By redefining your hiring strategies, you can transform your ability to attract top talent to your organization.
Reasons to Attract and Retain Top Talent
Attracting top talent is key to any successful business strategy. That's because, without great staff, your business won't be able to perform optimally.
The 2022 State of Talent Optimization Report shows that many corporations don't have a talent strategy, putting them at risk of not being able to attract (or retain staff).
But it's not always easy to find or retain great talent. That's why designing and deploying an effective hiring and retention strategy is critical.
And in light of the Great Resignation, it's becoming even more critical to be seen as an attractive employer. That's because top talent is often selective about the jobs they accept. So you'll need to carefully craft job descriptions, packages, and benefits. Plus, tailor your hiring strategies to encourage and facilitate hiring the best talent.
You can take steps to help you be more competitive when it comes to finding, hiring, and retaining the best talent in the market. Let's dive in here.
7 Tips for Attracting Top Talent
Below are 7 tips for attracting top talent to your organization.
1. Refine your Employee Value Proposition (EVP)
It's important to figure out what your employees think of your organization, what benefits and perks they value most, and which skills and capabilities are most valued.
Refining your EVP helps you determine how to attract more great talent and what specific qualities or skills you are looking for in job seekers.
Your EVP should focus on viewing employees as people, not just workers. Find ways to make your staff feel fulfilled, happy, valued, and excited about their jobs. That includes creating a shared sense of purpose, offering flexibility, and giving staff opportunities for personal growth while holistically taking care of their well-being.
Here are 10 Employee Value Proposition Examples [+4 tips to create your own] for inspiration.
Cultivating a positive company culture means looking constructively in your organization to pinpoint any negative views or issues among staff that can be transformed. It's important to actively speak with staff about the values you aspire to achieve in your organization, like collaboration, innovation, and inclusivity.
Another aspect of cultivating a positive company culture is rewarding staff for their achievements and publicly acknowledging them. This helps to showcase company culture to prospective staff members.
2. Create enticing job descriptions
Job descriptions are an effective tool for grabbing the attention of potential talent, and getting them to apply.
If your job description is written in a way that sounds positive and exciting, reflects company values, and explains what you're looking for, this helps with attracting top talent.
It's also critical to leave out corporate jargon (aka HR buzzwords) and to review your job descriptions for potential bias that might turn off diverse talent.
Job description software like Ongig helps you automate the JD writing process by flagging bias (and other words or phrases) that might keep prospective employees from applying for your roles: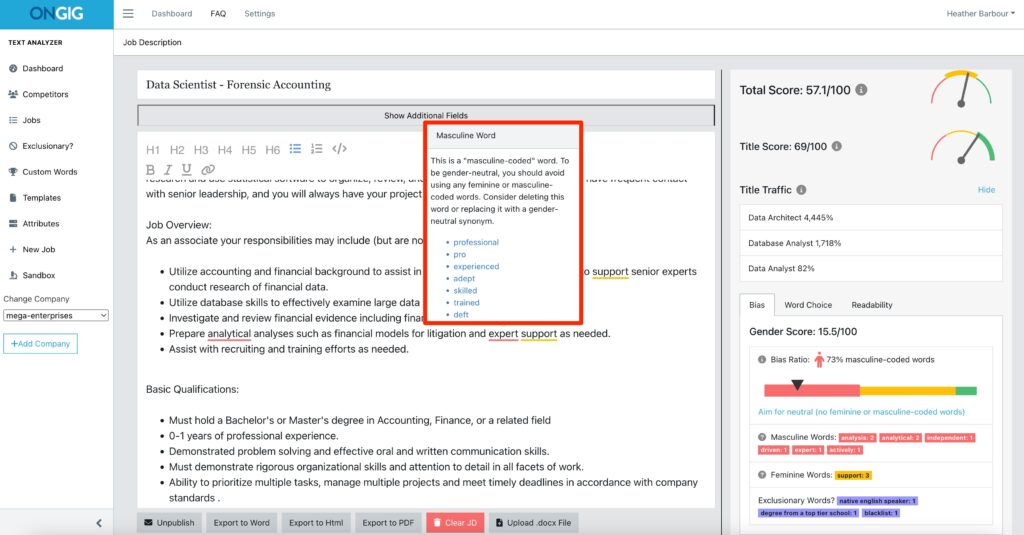 3. Reach out directly to top talent
Another method that works well for attracting top talent is directly reaching out to them and inviting them to apply for positions at your company.
This will require you to have a solid hiring strategy and know exactly what type of person you want to work for your company. You'll need to know that the person is a great fit in terms of company culture, their behavior, characteristics, skills, and experience.
You also need to consider the channels you're using to reach out. You might use different social media tools for recruiting Gen Z compared to other types of candidates.
4. Promote your company culture and values
Many job seekers are looking for an attractive company culture that echoes their values or personal goals. That's why it's critical to cultivate a positive company culture and to promote it internally (and externally).
You can communicate your company's unique culture through your website, social media, newsletters, and external public relations channels. Explore how to start a blog or how to take your social media marketing to the next level. By doing so, job seekers gain insight into what it's like working with you. This may attract them to apply for jobs with your company.
Red Hat does a great job of this through its company culture page:
5. Create a referral program
Another popular recruitment strategy is asking your existing employees to refer people they know who may be a good fit for roles at your company.
Your employees will likely tell their friends about your company and its culture. They will also know them well enough to know if they're a good fit for the position.
You may want to offer employees some extra benefits for referring great candidates, such as bonuses, referral commissions, or gifts. Some companies like Intel, Accenture, and Pinterest have dedicated diversity referral programs to attract more diverse talent.
6. Emphasize your commitment to DEI
You effectively tell job seekers what your company values by emphasizing your company's commitment to diversity, equity, and inclusion (DEI).
Companies like HPE highlight their commitment to diversity on their website:
"Our Commitment to Global Inclusion and Diversity. We believe anyone can change the world. Who we are. At HPE, we know that our greatest strengths come from the people who make up our team. So for us, inclusion and diversity is ingrained in who we are today because we know it's what will get us to tomorrow. But our work is far from over. In fact, we continuously push for better.

What we do. We empower our team members to make an impact on our business and in the world. We foster a culture that is unconditionally inclusive, and in return ask that our people contribute all their differing perspectives, ideas and experiences for one common purpose: to advance the way people live and work."
Make sure that this is a genuine commitment and not just being done for PR. You'll also need policies in place that make it clear to all staff what your commitment and values are in terms of DEI. And you'll need to actively communicate this with staff through training, communication, and events.
If job seekers see you are actively and honestly committed to DEI, they may be more inclined to apply for jobs with your company.
7. Offer better pay, benefits, and flexibility
Many companies offer increased wages to help with attracting top talent. This may mean increasing wages and ensuring that you offer attractive pay compared to competitors in your industry.
Besides better pay, consider offering flexibility (like remote or hybrid work) and better benefits.
The pandemic sparked the transition for many people to work remotely or from home. Since then, employees have said they value flexible working conditions that help them achieve a better work-life balance, reduce commute times, and help them have more time to spend on what matters most.
So you may need to rethink your stance on remote working and create a remote work policy to help attract top talent looking for remote and flexible positions. One of the many benefits to companies is that you can hire from a wider talent pool — possibly across borders where looking into international payment methods and banking systems to suit digital nomads and international remote workers is highly beneficial. In many cases, this helps increase productivity and cut costs. 
Outside of remote work perks, people love to know what else is in it for them. This may include bonuses, stipends towards professional development opportunities, extra holidays, and flexible working schedules.
Some companies have even reduced the work week to 4 days. Others offer mental health and wellness programs. Offering attractive perks and benefits is not only a great way to attract top talent, but also to retain them.
Shout-outs:
Why I wrote this:
In our increasingly competitive job market, attracting and maintaining the best talent is becoming more challenging. Ongig's mission is to help you create effective and inclusive job descriptions, so you're attracting top talent across the board.
This is a guest post from Andy Stofferis. Andy is an experienced digital nomad. He has been working from abroad for the last 8 years. Andy runs a blog about digital nomadism and remote work: www.andysto.com. This is where he shares his tips and techniques with remote company leaders, remote workers, and digital nomads.