Should you list benefits in a job description? The answer is yes.
"money and insurance (which equates to money) are what drive job seekers to apply for jobs."

source: Appcast
So, what are typical job benefits? Where do you put them in a JD? And, which ones get the most candidates to click "apply"?
Let's dive in.
5 Employee Benefits that Increase Apply Rates
A 2021 Appcast study (of 7.6 million job ads) found that job ads with 3 benefits had the highest apply rate. The same study found these 5 benefits increased apply rates the most:
Regular Incremental Bonus by 155.1%
Pet Insurance by 37.0%
Health Insurance by 29.8%
Stock Options / Employee Stock Purchase Plan by 27.5%
401(k) by 20.5%
And, here are 15 other common (and not-so-common) benefits I've seen searching job boards like LinkedIn and Indeed:
Flexible Work (hours or location)
Parental Leave
Bonuses (Performance, Referral, or Signing)
Unlimited Paid Time Off (PTO)
Family Planning Benefits
Tuition Assistance
Fitness Stipend
Relaxed Dress Code
Relocation Assistance
Training/Advancement Opportunities
Wellness Programs
Floating Holidays
Domestic Partner Benefits
Financial Wellness Education
Diverse Healthcare Provider Directory
Where to List "Benefits" in Job Descriptions
Some co.s list salary and benefits in the same section. Others separate them for more impact. I recommend listing benefits towards the middle, or just before the "About Us" and "Diversity Statement" sections.
Here's an example of a job description template that highlights (in green) the "Benefits" section just after "Salary":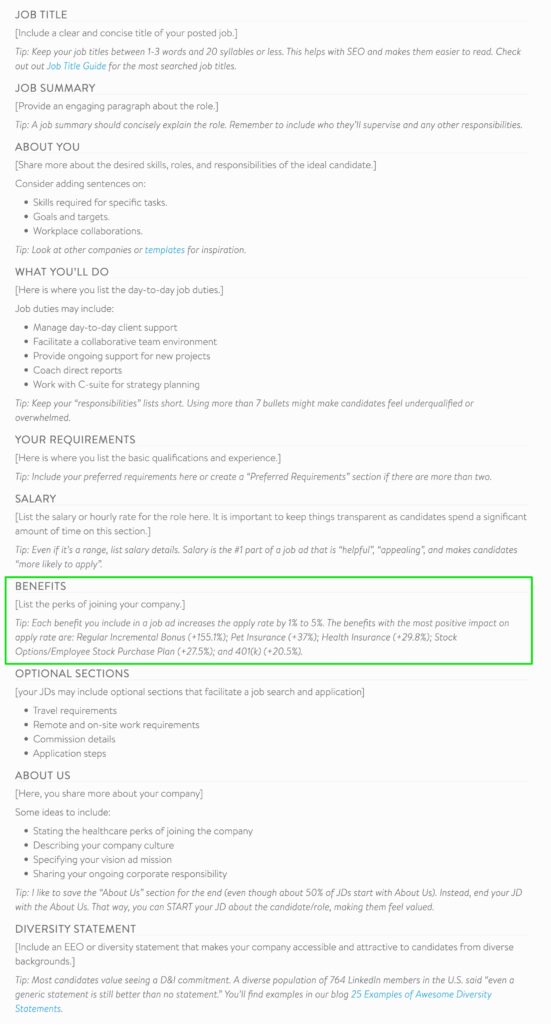 Tip: Ongig's software helps you create consistent JD templates to save you time and make sure you don't miss key sections (like "Benefits). Even if your benefits vary, the software allows you to build templates based on location, department, business unit, job code, etc.
5 Unique Job Benefits from Small Business Owners
Many co.s are offering more unique job benefits to keep (or attract) talent. Especially smaller businesses that have less budget or more flexibility around the perks they're allowed to offer employees.
Here are 6 unique benefits examples I found from Business Insider:
Million Dollar Baby Co. — offers employees a $700 annual subsidy toward any domestic trip
The Law Office W. Scott Kimberly — offers $1,200 for suits in the first year of employment
Go Text Blast, Inc. — offers its employees a $100 to $150 monthly work-from-home stipend
The Egg Donor & Surrogacy Institute in Beverly Hills, California — covers 50% of the total cost of IVF and medication for their employees
The CEO of Eden Law and The Brenke Group LLC — gifted her operations manager a Peloton for surpassing the company's revenue goals
Shout-outs:
Why I wrote this:
Ongig's mission is to create effective and inclusive job descriptions. Part of that mission is ensuring our customers save time (and stay consistent) when it comes to writing JDs. Ongig's job description software helps build custom templates that include key sections (like "Benefits") candidates care about — to get you more applies.