Does using HR buzzwords like "self-starter" or "team player" hurt or help your job descriptions? A recent Canva study of 6.3 million U.S. job ads revealed that 38% contain confusing HR buzzwords and business jargon.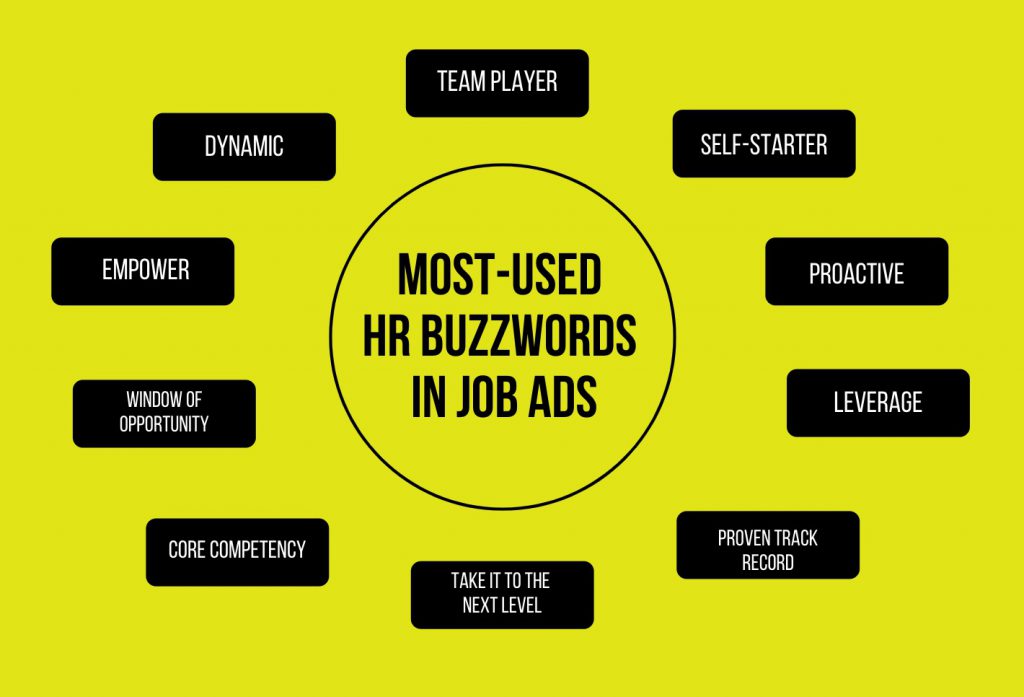 Not all business buzzwords are "bad," but you might want to consider if the ones you use are truly valuable to your job posting.
Here are the top 10 most-used HR jargon examples from Canva's report and tips on how you can replace them with something more unique (or specific):
1. Team player
Sure, you want to hire a team player, but should it be part of the requirements list? This is what we call a "captain obvious" moment. Everyone wants to hire a "team player" so you won't stand out by including it.
Tip: If there is something unique about the team, then be more specific about that. For example:
"Your team will consist of 10 sales reps whom you meet with every day in a sales huddle."
2. Dynamic
HR buzzwords like "dynamic" can sound cool, but candidates connect more with words like energetic or ambitious. "Dynamic" sounds less human and more like something in a physics experiment.
Tip: Try "energetic front desk manager" or "ambitious management trainees" instead.
3. Self-starter
Similar to a "team player", a "self-starter" is another "captain obvious" moment.
Tip: You might try something more specific like:
"Ability to manage project deadlines for the software team"
4. Empower
Everyone wants a manager to "empower" their team, i.e., motivate them to do well. It's ok to say that in your job ads, but you can also add more value by listing ways they will do it.
Tip: Look at what other companies do for comparison. Verizon does a great job at this:
We empower our associates by providing:

– Highest commissions in the industry

– Professional training and mentoring program

– Dynamic team environment

– Flexible scheduling

– National and regional marketing campaigns

– Full Benefits Package Provided including Health, Dental, Vision, 401K and Supplemental
5. Proactive
Being proactive really means having the ability to plan ahead or anticipate solutions to problems.
Tip: Instead of saying something like:
"Ability to effectively communicate both written and verbal with proactive communication style."
You might consider being more specific:
"An effective communicator."
6. Leverage
Using complex words like "leverage," add extra syllables to your job ads.
Tip: If you want a candidate to "leverage their expertise or skills in X," you can be less "buzzy" by saying, "use your skills in X."
7. Window of opportunity
Another example of is this really adding value to my role is "window of opportunity." I found the phrase below in a job posting on Indeed:
"A unique window of opportunity like this comes once in a while."
Tip: It's true that the job might only be posted for a certain window of time, but doesn't something like "a unique opportunity for hospitality lovers" sound more specific and inspirational to potential candidates?
8. Proven track record
Someone with a "proven track record" in sales could also be someone with "sales experience."
Tip: Be specific and keep it simple to help ease confusion and job description jargon overload.
9. Core competency
Other human resources buzzwords like "core competency" can sound outdated.
Tip: Consider using something like "Your Skills" instead of core competencies to connect more with your audience. "Your" is more personal and conversational.
10. Take it to the next level
Saying something like "Are you ready to take it to the next level?" sounds a bit "buzzy" and also might have candidates scratching their heads. This is another example of job description jargon that is not very literal.
Tip: If you want the person in the role to improve sales numbers, add value to a diversity program, or create a new & improved training module, say that instead.
HR buzzwords by state
This map shows which states use the most job description jargon. Washington and California ranked the highest: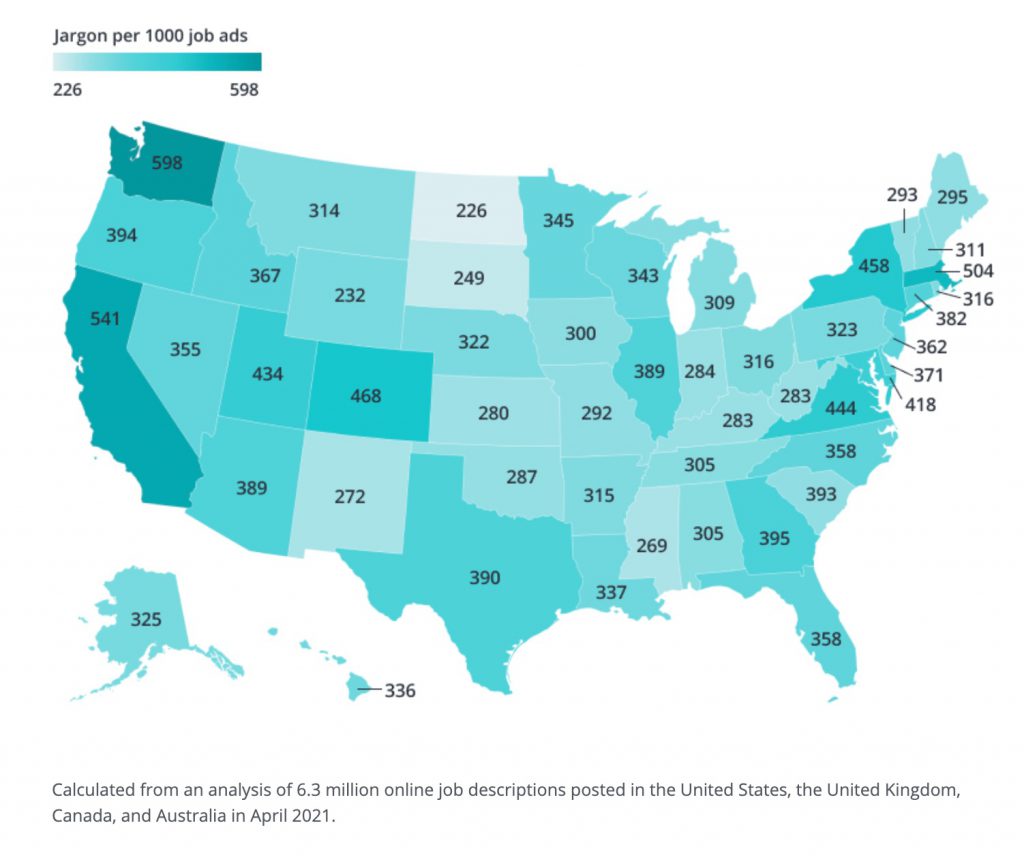 "Washington is at the top of the list: For every 1000 job descriptions, approximately 598 contained corporate-speak. California was right behind it with an average of 541; and Massachusetts, Colorado, and New York all ranked high, too."

source: Mental Floss
The most-used HR buzzwords by industry
Canva's study also has interesting data about which industries are using the most job description jargon. The Information technology industry was at the top of the list, with HR buzzwords in 604 out of 1,000 job ads.
Here are the top 10 based on their ranking: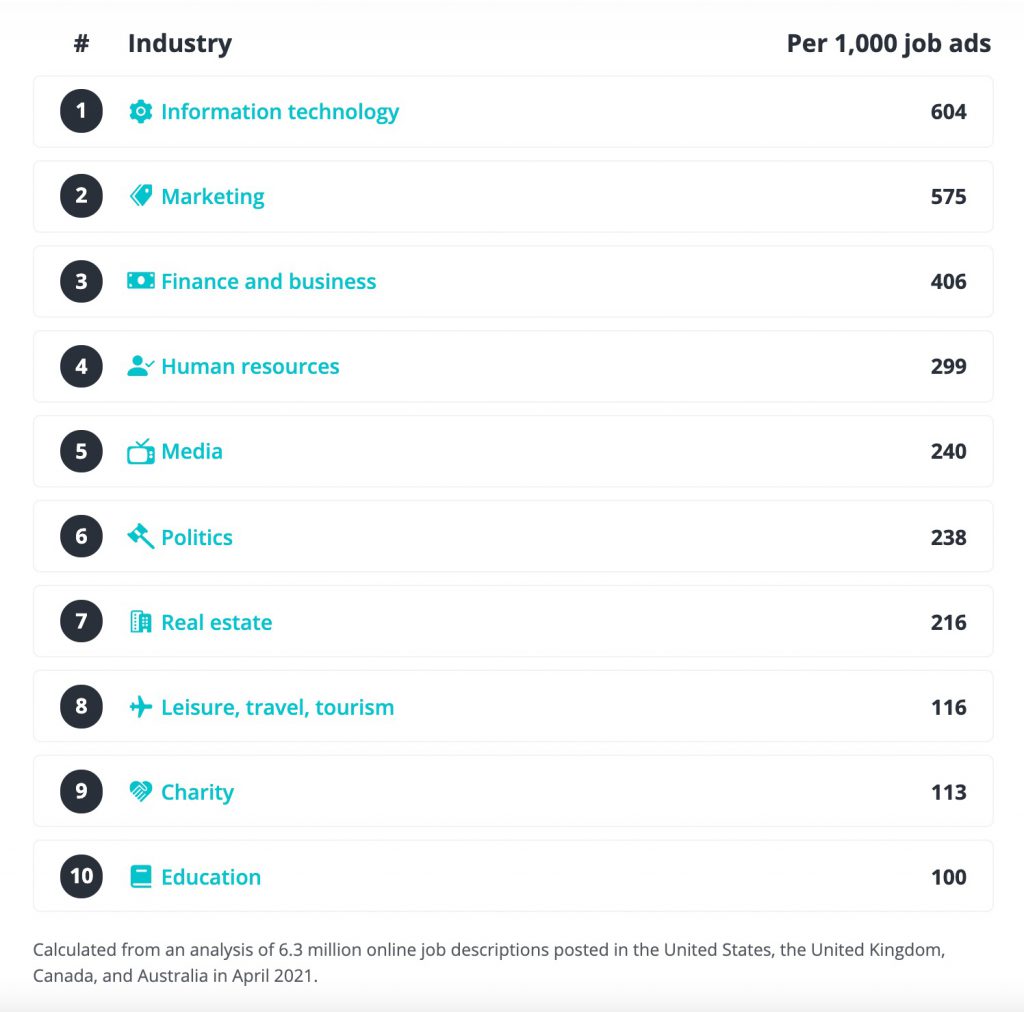 We use Canva for work!
This article on HR buzzwords is inspired by the Canva app. It's a personal (and Ongig) fave for creating graphics for just about anything (blogs, social media, presentations, & more)! The data from their study fueled this article, and the featured blog image was designed in, you guessed it, Canva!
Note: Also, check out my Canva-inspired blog on 8 Common Cliches that Might Hurt your Job Ads.
WHY I WROTE THIS
Ongig's mission is to eliminate boring and biased job descriptions. Our Text Analyzer flags certain words, acronyms, and sentences to help make your JDs more readable & appealing. Click on "request demo" to learn more.
Shout-Outs