Don't know where (or how) to start creating a job description template? Here's are 5 tools to help you write them with ease:
Ongig
Ongig is a great tool if you need help creating a job description template for diversity, or speed and scale.
You can easily create templates to keep your JDs consistent. And, Ongig allows you to set scoring goals like "readability" or "diversity," based on your hiring goals.
For example, if you want to make your JDs easier to read, set your "readability" goal to an 8th-grade reading level (or below). Or, if you want to recruit more female candidates, set a "gender-neutrality" goal based on the % of female and male-coded words.
Once you build your job description templates, Ongig gives you tips and best practices around:
lengthy JD requirements that might turn off candidates
gender neutrality: male- vs. female-coded words
biased language: race, age, sexual orientation, disability, etc.
important sections job seekers look for like salary, benefits, EEO, and DEI statements
readability: conciseness vs. wordy sentences and complex words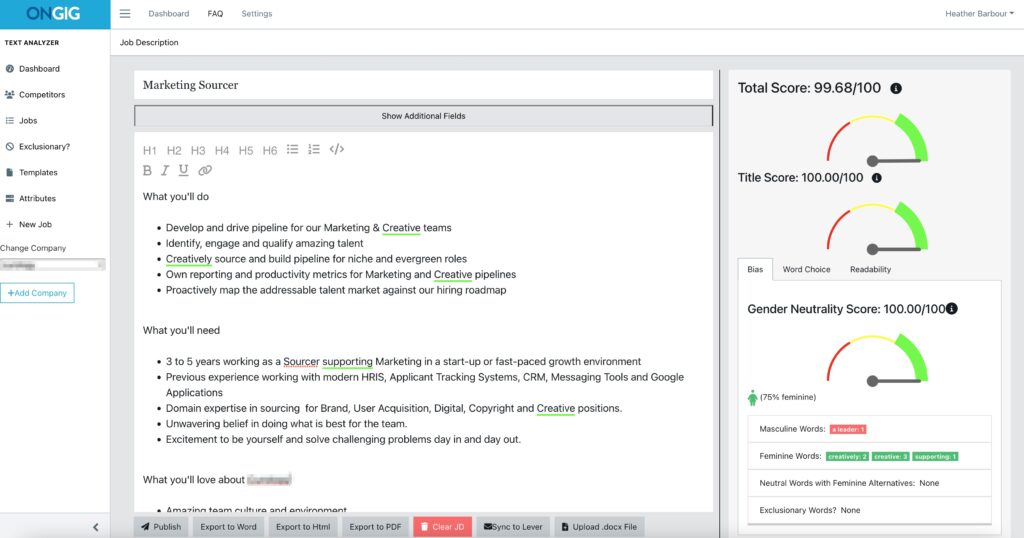 Creating a job description template keeps you consistent and speeds up your workflow. Especially if you're hiring at a high volume:
Job Description.ai
Job Description.ai is an artificial intelligence-based tool for creating job description templates. It saves you time and helps you write JDs based on skills.
This tool generates job skills, job titles across industries, job responsibilities, job qualifications, and role summaries — with just a few clicks.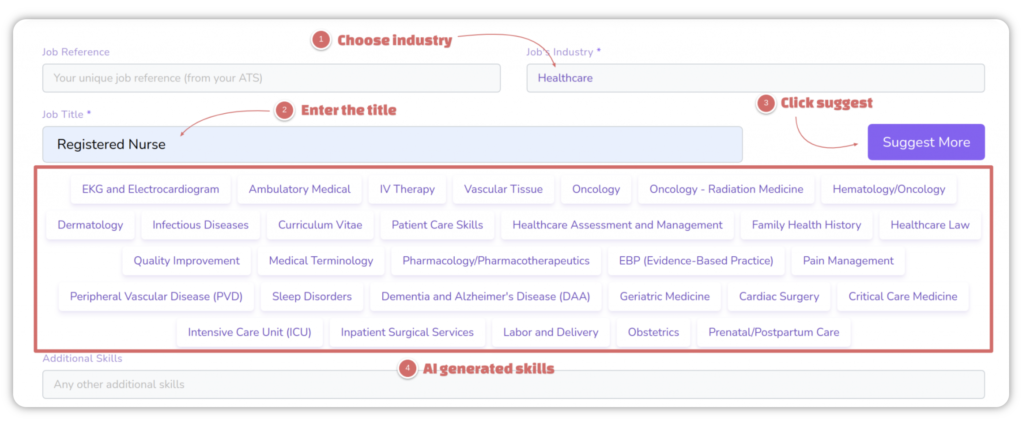 And, Job Description.ai has an cool feature called "Job Sizzle Generator." It helps you write intros when you are creating a job description template to appeal to your candidates emotionally, so they'll read on and apply.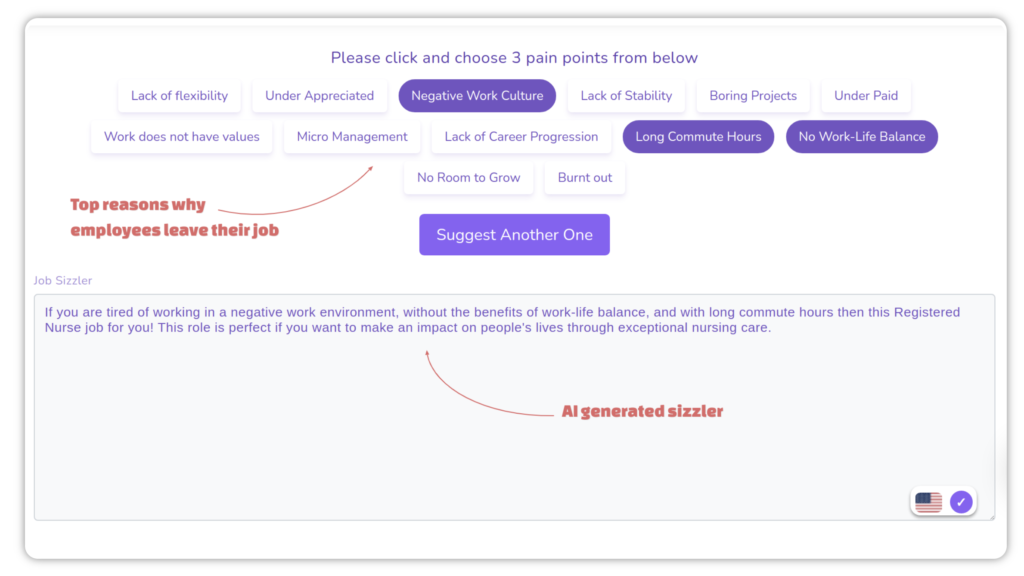 Google Docs
Google Docs is a popular tool for creating a job description template, especially if you don't have the budget for job description software.
You can create your job description templates from scratch, store (or share them), and collaborate with others online: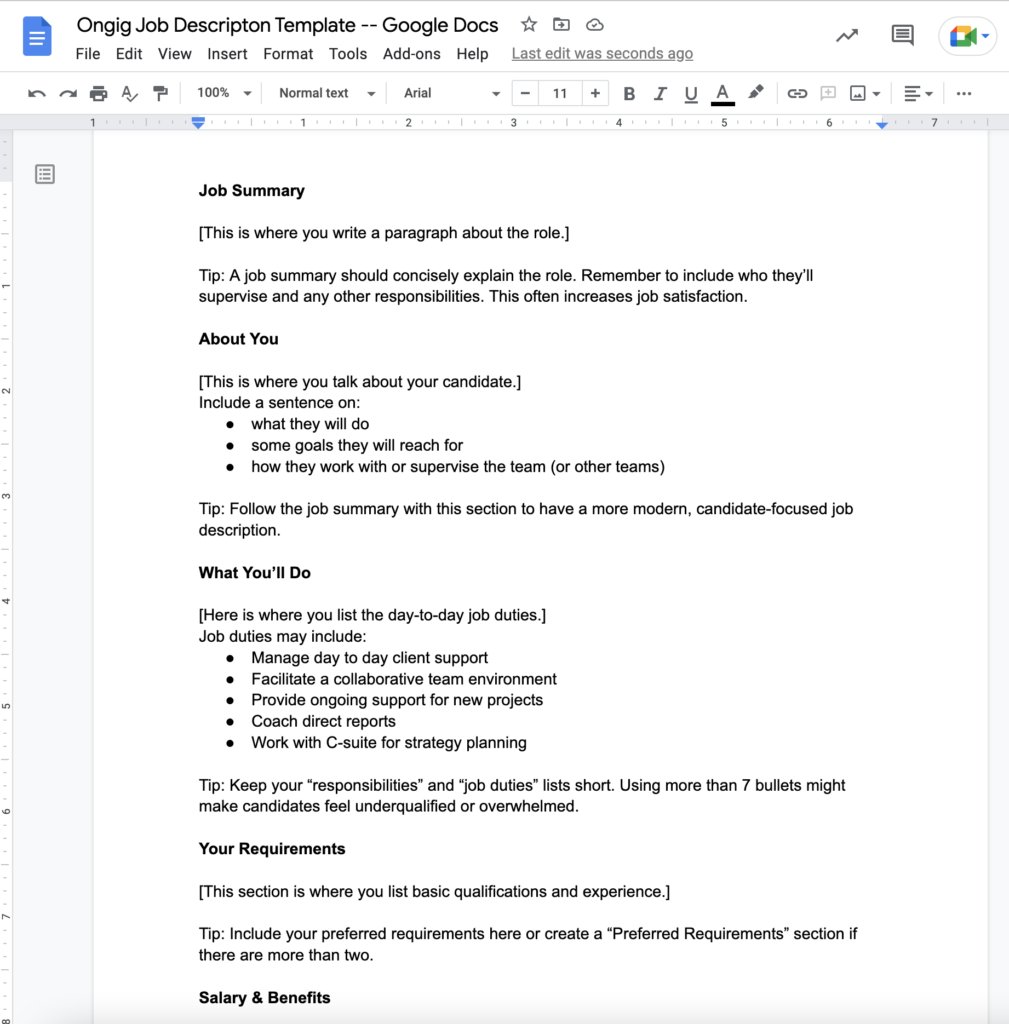 Note: Here are 3 Free Job Description Templates for Google Docs to help get you started creating a job description template for Google Docs.
Microsoft [Word and Excel]
If you use Microsoft, you should have access to MS Word and MS Excel. Many companies use these tools for their job descriptions.
There are some challenges with each and they're less automated, especially if you write JDs at scale. But, they are well-known tools, and easy to use for creating a job description template.
Note: If you start with MS Word or Excel templates, you can load them into Ongig later if you decide you need to be more automated.
Why I wrote this?
With the right tools, you can start creating a job description template…fast. Ongig's job description software allows you to write (and store) job description templates for more focused and bias-free hiring.