Job description templates are a huge time saver. That's why we built the Template Builder feature of Ongig — large employers came to us asking for software to quickly create 100's or 1,000's of well-written job postings per month!
Without templates, they'd be slow to get the job ads out the door and many would have typos, inconsistencies, and, worst of all, would be boring (and maybe biased).
A quick Google of "job description template Word" gets you loads of template examples. To save you time, we found 4 easy-to-use templates for Microsoft Word (that you can load into Ongig!).
But first, let's find out why Word is so popular for writing job descriptions.
Why is using Word for JDs so popular?
Since its launch in 1983, Microsoft Word has become the "go-to" for word processing. Despite the increasing free competition (e.g., Google Docs), around 3.5 million people still use MS Word.
But why is it so popular? It's reliable. And, new useful features are added through the years (e.g., a thesaurus, grammar checks, graphs, readability tools, etc.).
4 Examples of a Job Description Word Template
If you like using Word to write job descriptions…here are 4 JD templates (copy-paste or download for free).
1. A Free Modern Job Description Template [Word]
What does a modern job description include? Some HR pros say a modern job description shouldn't include salary because it fluctuates depending on a candidate's experience.
But, salary is important! It's one of the top things candidates look for in their job search. If you can't include the exact salary, at least list a salary range.
This job description Word template from the Job Description Library is simple and customizable. And includes a section for salary.
Job Description – Company name
| | |
| --- | --- |
| Job title: | Insert job title |
| Location: | Where is job located? Any travel etc? |
| Terms: | Perm/contract? Hours? Full/part-time? |
| Salary/rate: | Include remuneration if possible |
| Requirements: | Any special requirements such as weekend work |
| | |
| --- | --- |
| About us: | Brief description of your organization, such as what markets they operate in, products and services offered, mission statement, culture, values etc. |
| About the role: | High-level summary of the role including an overview of the job's main purpose, who the job holder will report to, and how the job contributes to the organization's success. In larger firms, some information about the department the role sits within would be helpful. |
| Responsibilities: | · Bullet-pointed list of the job holder's main responsibilities · Focus more on broad responsibilities than specific tasks · Who will they liaise with? What will they manage? · What work or results will they be accountable for? · Aim for 6 – 10 concise bullet points in this section |
| Candidate requirements: | · Bullet pointed list of skills, experience, and qualifications successful candidates will need · Be specific as possible, using numbers where possible (e.g. experience managing teams of 10 or more) · Don't ask for anything that discriminates against personal traits such as age or sex |
Contact us to apply
Write a call-to-action to encourage readers to apply for the job, telling them who to contact and how – including the email address of the recruiter or hiring manager.
2. A Free Job Description Template [Word]
If you're looking for a specific job description template (e.g., Finance Manager, Admin Assistant, Sales Manager, etc.), Template.net has free job description Word template options for download.
Here's an example for an Officer Manager. Fun fact…this scores 93% of out 100 in Ongig. It is readable and bias-free!
The first 12 templates on Template.net are free to download. But you'll need to subscribe (and pay a small fee) for more options.
3. A Job Description Template for Word [Free!]
Word-Templates.com has customizable job description templates for Word. And you don't need an email address to subscribe or download. The JDs come in different formats and lengths, so you'll find something to suit your needs.
Here's one example of a general Word job description template download: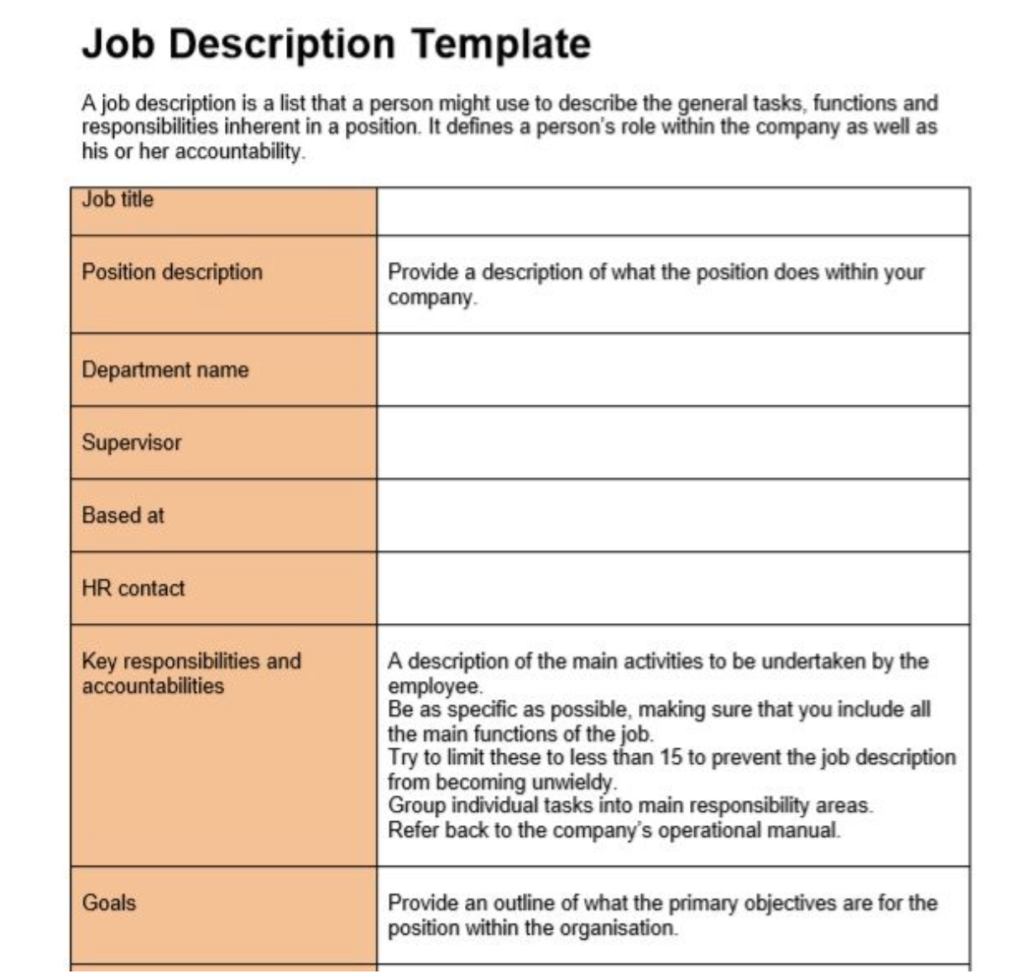 4. An Editable Job Description Template [Word]
Business In A Box has 200+ downloadable job description templates (and other helpful business docs). It's free to use (for up to 50 downloads), but you'll need to use your email for access.
The Word JD templates are easy to follow, and some already have specifics about certain roles. Here's an example template download for a CFO: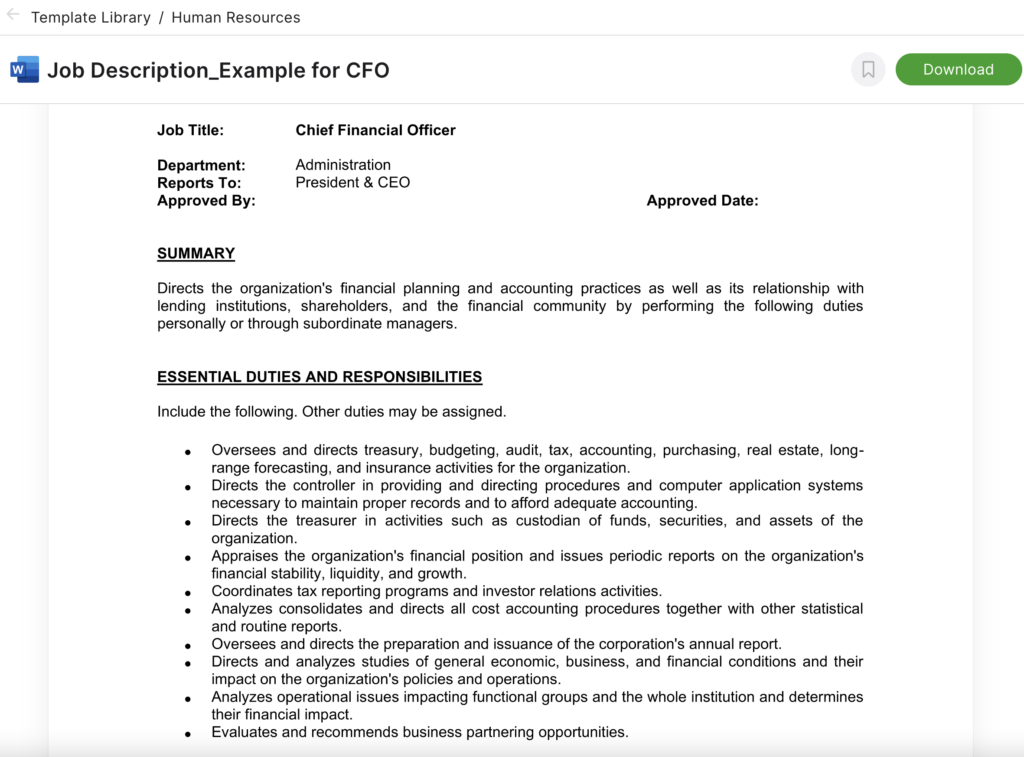 Upload your Word JD Templates To Ongig for Speed and Scale
If you feel like MS Word templates are too clunky for you, and you have some budget to invest, let me tell you about how Ongig's Template Builder works.
Easily import your JD templates from Word into Ongig. Then, keep your JDs organized and ready to use (in the cloud-based repository) when it's time to create a new job ad…saving you time:
There's also an option to create custom JD templates from scratch (and scan them for biased language), so you spend less time creating job ads, and more time posting them:
If your team has a JD writing workflow, Ongig helps with this too. Choose a template, select a job code (or req ID), select custom language by location (e.g., EEO statement), and assign a hiring manager or recruiter to make edits: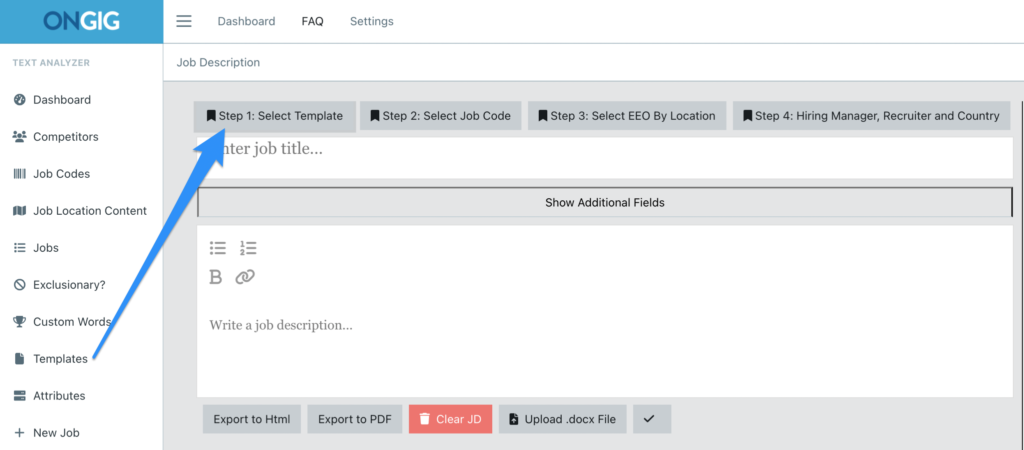 Why I Wrote This
Our mission here at Ongig is creating effective and inclusive JDs. If you need to speed up your JD writing workflow (and make custom JD templates), please request a demo to learn more!
Shout-outs: