Using cloud-based job description software is becoming the norm. Google Docs is one of them.
I found 3 free job description templates (Google Docs-friendly) you might find helpful. But before we dive into the JD templates, let's discuss why it's so popular. And why other cloud-based tools might be better for your JD writing needs.
Why should you write JDs in Google Docs (or not)?
About 2 billion people worldwide use Google docs each month. It allows you to create documents, store (or share them), and collaborate with others online. Google Docs is a great tool. But using cloud-based software makes your JD writing workflow more organized, automated, and bias-free.
If you don't have the budget for enterprise job description software like Ongig, here are 3 Google Docs templates for you:
3 Examples of Job Description Templates [Google Docs]
If you want to get started in Google Docs, then upload your JDs to Ongig; here are 3 templates you might find useful:
1. Free GHire Job Description Template
This JD is an easy-to-follow, customizable Google Docs job description template created by the now-sunsetted G Hire. It provides detailed steps on creating a descriptive job description. You can copy-paste the template below or click here for the free download.
[Job Title]
Area
Start your job description by explaining the core purpose of your company. This is your opportunity to help candidates create an emotional connection to the mission of your entire team and allows you to answer questions like "Why does your company exist?"
Example:
"Our job is to demonstrate how Google's products solve the world's problems—from the everyday to the epic, from the mundane to the monumental. And we approach marketing in a way that only Google can—changing the game, redefining the medium, making the user the priority, and ultimately, letting the technology speak for itself."
Role
Outline the high-level daily functions of the position. Think of this as the job's "elevator pitch": In a single paragraph, share the handful of key objectives new hires would work toward.
Example:
"As a Technical Product Specialist, you help maintain the success of our Google customers by leveraging your expertise to help implement a complex product while ensuring high-rates of product availability, preventing downtime and offering optimization advice with Sales."
Responsibilities
Detail the day-to-day responsibilities associated with the job. These will be unique to each role but will likely include some combination of creating deliverables, achieving strategic goals, budgeting and reporting, and collaborating with particular people or teams.
Example
"Compose content for apps, communities, emails, and newsletters.
Develop business-relevant conclusions from data.
Forecast and report business growth and other key metrics.
Work with Product Managers, UX researchers, designers, and other stakeholders."
Job Qualifications
Round off your job description by explaining the qualifications—in terms of education, experience, and skills—required for the role. Break these out into two categories: minimum qualifications and preferred qualifications.
Example
Minimum qualifications:
Bachelor's degree in journalism or marketing, or equivalent practical experience.
Experience in editorial, marketing, or UX/UI writing.
Preferred qualifications
Experience writing for voice and video.
Experience working with user research and customer feedback.
Experience collaborating closely with product, engineering, and UX teams."
2. Free Glints Job Description Template [Google Docs]
This is a collection of templates (it's 67 pages). These templates use a relaxed style, so it might work for you if your company has the same vibe. You can access the templates here.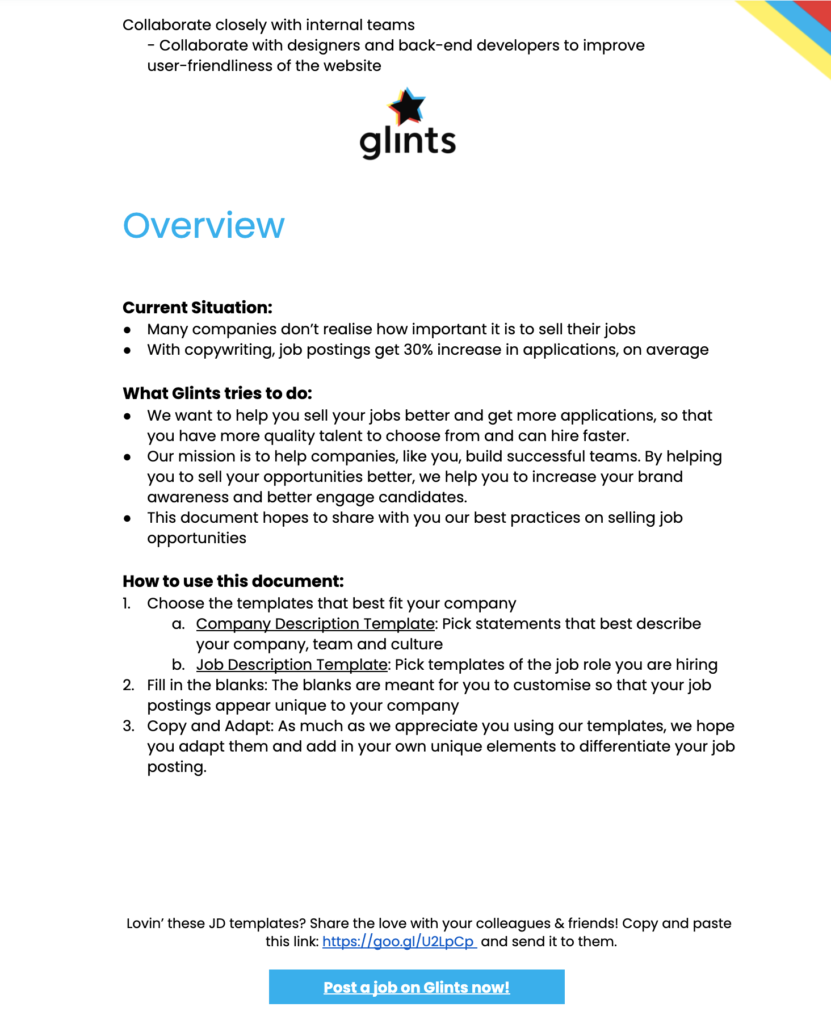 3. Free Educator Job Description Template [Google Docs]
If you're writing JD's for teachers or educators, you can give this free template from Park View a try. It's formatted for a Teacher of Mathematics, but you can modify it to fit any kind of teaching position.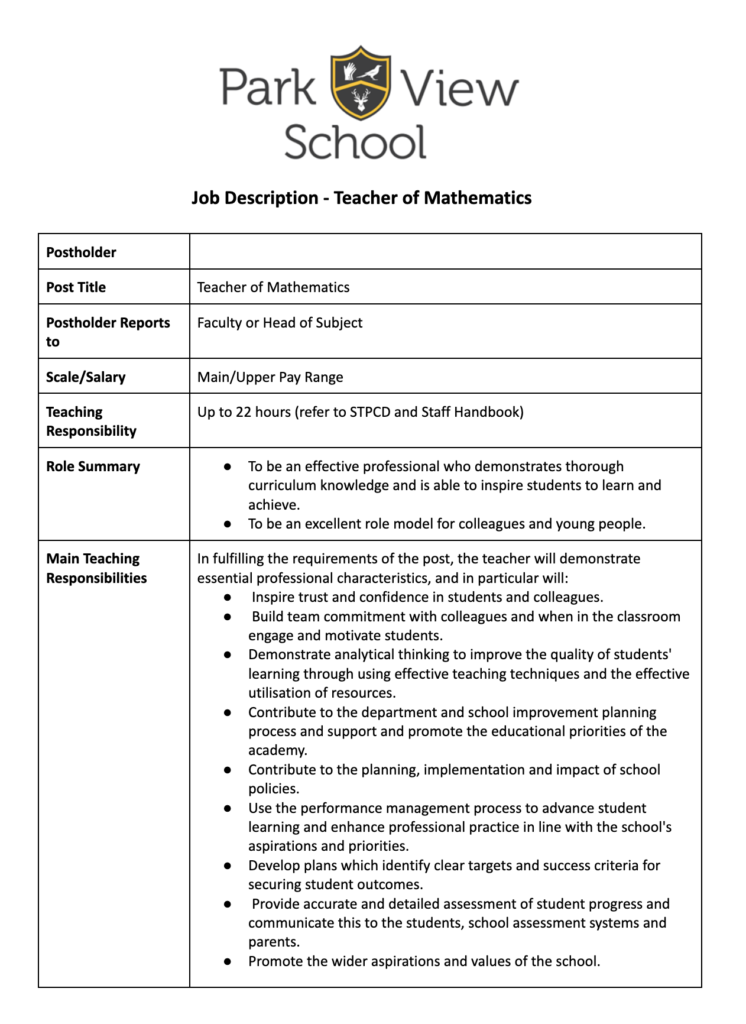 Note: If you need an internal JD template, check out our post 3 Examples of an Internal Job Posting Template.
Why I wrote this?
Ongig's mission is to make your JDs more effective and inclusive. Our Text Analyzer software scans your JDs for missing sections (and bias) and creates custom templates to save you time. Please request a demo if you'd like to learn more.
Shout-outs:
Google quietly reached a major milestone in its battle with Microsoft to rule the workplace (by Lisa Eadicicco)
Top 13 Reasons to Use Google Docs (by Dilum Senevirathne)
Feature Photo — Unsplash (by Brett Jordan)