Companies want internal candidates more than ever right now. If you are drafting your own internal job posting template, these 5 examples might help (you can copy and paste for free!).
Before we dive in, let's define what "internal job posting" means.
What is an internal job posting?
When you recruit from your current employee pool, instead of posting a job ad for external candidates…you might use an internal job posting.
It could be in the form of an internal email, a post on an internal company page, or a posted note on your office bulletin board.
Note: Job posting templates (and software that helps you create them…like Text Analyzer) can save you LOADS of time, and keep your internal postings consistent, and bias-free.
5 Examples of an Internal Job Posting Template
I dug around for internal JD templates… and found 5 examples co.s use the most.
Here they are:
1. An internal job posting email template
Many companies recruit internally…through email. For an internal job posting email, you will give a complete position description, with role details and info on applying, just like an external job posting.
But you can leave out sections like "About Us." Here's an internal job posting announcement email template you might find useful:
Internal job posting email template (source: Workable)
Email subject line: Internal job opening: [Job_title] / Looking for a new [Job_title]

Hi all,

As you may already know, there's a vacancy for a [Job_title] in our [Department, e.g. Marketing Department.] Although we plan to publish this job opening to external channels, we strongly encourage any current employee who is interested in the role to apply.

Our new [Job_title] will work on the [e.g. Product Marketing] team and be responsible for [mention two or three main duties.]

To be considered for this role, you [mention must-have and nice-to-have requirements, e.g. should have experience monitoring and deploying software using Python or Ruby and be interested in learning more about virtualization and automation scripts.]

Click here [insert link to job ad] for a full job description.

To apply for this role, reply to this email by [date] with your resume and explain why you're interested in this position.

Feel free to contact our HR team [include contact details] or refer to our company's internal job posting policy [insert link or mention that you've attached the relevant file] if you have any questions about the position or the process.

Best regards,

[Your name]

[Your email signature]
2. A job description on your intranet (or corporate website)
If your company has an intranet for internal hires, you can post a job ad there. This way, proactive employees looking for transfers or promotions are likely to see it. And, this seems pretty obvious, but posting an open position on your company website is common too. Even if it is for an internal role.
Some companies include a special link for internal candidates to apply (vs. external). If everyone applies the same way, you can include "Internal Job Posting" language in the posting if you only want to recruit internally.
If you're accepting external candidates too, you might include a line saying "current employees are encouraged to apply" or "qualified internal candidates encouraged to apply!"
No matter if you are recruiting via email, career site, or bulletin board…here's a free internal job posting template to help get you started:
[Your logo]
Internal Job Posting — Confidential
JOB TITLE
[Here, insert the job title]
Tip: keep the job title short, three words or less.
JOB SUMMARY
[This is where you write a paragraph about the role.]
Tip: The job summary should concisely explain the job functions for the position. Including a job summary at the beginning of your JD helps to attract the right internal candidates.
ABOUT YOU
[This is where you talk about your internal candidate.]
Include a sentence on:
what they will do
some goals they will reach for
how they work with the team (or other teams)
Tip: Look at other companies for inspiration.
WHAT YOU'LL DO
[Here is where you can list the duties for the day-to-day of the role.]
Tip: Keep your "responsibilities" lists short. Using more than 7 bullets might make candidates feel underqualified or overwhelmed.
Take a look at the example below:
Manages the finance function for the accounting team
Guides a team of managers and individual contributors
Consults with the executive team on financial plans
Manages vendor relationships and accounting
YOUR REQUIREMENTS
[This section is where you list basic qualifications and experience that make up the role requirements.]
For example:
A degree with a focus in accounting or finance
Experience in a finance function or other relevant area of business
Experience in people management
Experience with internal finance and accounting policies
Tip: Include your preferred requirements here or create a "Preferred Requirements" section if there are more than two.
SALARY & BENEFITS
[List any perks your candidate will get if they join the team. Benefits might stay the same for internal transfers, but employees will still want to know they won't lose out by applying. And if the new role is a promotion, there might be benefits they don't currently have. It's good to be detailed in this section.]
Here are some examples:
starting salary range of $75,000-$95,000
family health and pet insurance
employee wellness programs
parental leave
Paid time off
Tip: Even if it's a range, list salary details. Candidates spend more time looking at it than anything else.
OPTIONAL SECTIONS
[These are some optional sections you might use in your job description for your internal job posting.]
travel requirements
remote work policies
disability accommodations
how to apply
ABOUT US
[Here, you can talk about yourself. But you might want to keep this section short if it's only being used for internal job postings.]
Tip: Candidates will already know about the company. But, it's a good idea to include some specifics about the team to encourage employees from other departments to apply.
DIVERSITY STATEMENT
[Most companies have an EEO or diversity statement. You can put yours here. Internal candidates care about inclusion & diversity too.]
Tip: You'll find more examples in our blog 25 Examples of Awesome Diversity Statements.
3. A catchy job ad on your internal "notice" board
The simplest methods often gain the most attention. If your company has a bulletin board, you can use an internal job posting template to create a catchy ad…and pin it there. Not everyone is "in-office" since the pandemic, so you might have a digital bulletin board you can post to instead.
Get creative! Using catchy wording, listing key duties, and other valuable info (salary sells!) might catch the attention of someone who's looking for a new internal role.
Here are a few examples from Canva (they have hundreds of job ad templates!):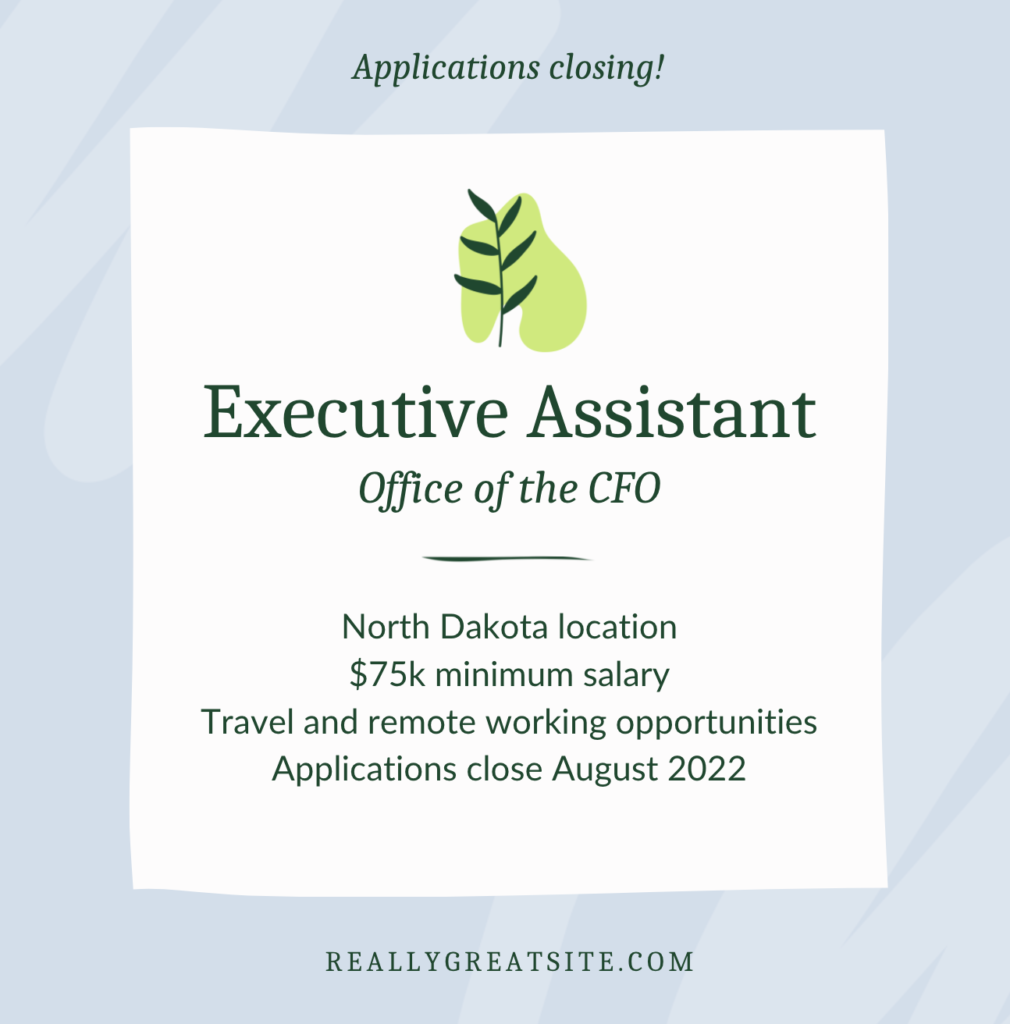 Final Note: If you want to write better and bias-free job descriptions, here are some other best practices and examples.
4. An internal job offer email template
When you post an internal job offer and successfully select a current employee for the job, you want to make it official. Usually, you'll send an email for an internal job offer to the successful candidate.
The email usually follows a discussion, and a verbal (or written agreement) between the current employee and their manager to make sure the promotion aligns with the employee's goals.
Below is an excellent example of a job offer email template you can easily tweak from Workable for you to use:
Email Subject line: Congratulations on your new role! / Your new employment contract
Dear / Hi [Employee's name],
As discussed, we are happy to officially promote you to [Position] as of [date].
Attached you'll find your updated contract that contains your new employment terms along with your compensation package and benefits. Please review and [come by the HR's office to sign it / send back signed via email] until [date]. Feel free to reach out to me, should you have any questions.
We appreciate your hard work and commitment to the [Company_name] team for the past [two years]. We're all looking forward to seeing you achieve great things in your new role.
Congratulations!
Best regards,
[Your name]
5. An internal job application template
You'll expect interested people to apply when you announce a job opening. For this, you'll need a job application template. You can use this template on your intranet or ask candidates to fill it in manually. This is a great template because it starts with an EEO/DEI statement which you can easily replace with your own.
Internal job application template (source: SHRM)
[COMPANY NAME]
INTERNAL JOB APPLICATION
[Company Name] is an equal opportunity employer. [Company Name] does not discriminate in employment with regard to race, color, religion, national origin, citizenship status, ancestry, age, sex (including sexual harassment), sexual orientation, marital status, physical or mental disability, military status or unfavorable discharge from military service or any other characteristic protected by law.
Employee name: ___________________________________________________
Phone number: ____________________ Email address: ___________________
Current position: ______________________________________________
Current department: ____________________________________________
Hire date: _______________
Position applying for: _________________________________________
Can you perform the essential functions of this job with or without reasonable accommodation? (If you have any questions about the functions of the job, please ask the hiring manager before answering this question.) YES [] NO []
Describe your current qualifications for the position including education, skill, abilities, work habits and work experience (attach resumé if applicable):
Explain why you are applying for this position:
By signing below you signify that all information contained above is accurate, that you have read the job posting and you understand, are able and willing to perform the functions and duties of that position. Your current supervisor must approve of any job application.
Employee signature: _______________________________ Date: ___________
Approval of application:
Supervisor signature: _______________________________ Date: ___________
Human resources signature__________________________ Date: ___________
Why I Wrote This?
Ongig's mission is to help transform your job descriptions. Our Text Analyzer software can scan your JDs for missing sections (e.g., salary or EEO), create templates (for speed and scale), and scan for bias that might exclude diverse candidates (internal or external).