What are the main sections of a job description? Here are 10 of the most common ones I find in JDs. You don't have to follow this order strictly, but the flow works well.
Note: Each section below includes tips that are built into Ongig. Ongig's AI-based "Section Finder" scans your JDs for missing sections and gives you ideas on what to add (or remove).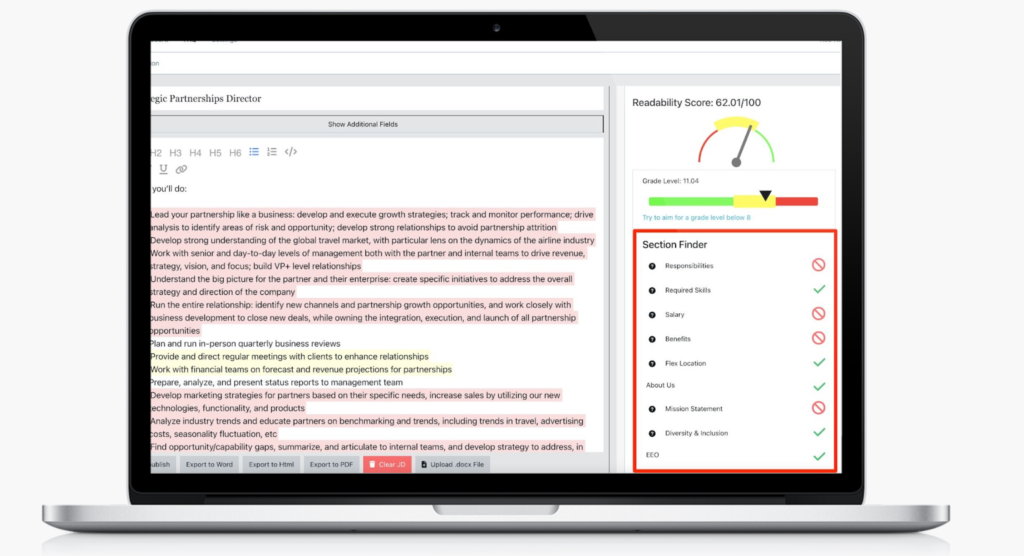 1. Responsibilities
A "Responsibilities" section is the most common. Every JD I've found has them (in some format). Some co.s call them "What You'll Do," "Job Summary," or "Responsibilities." No matter what you call it, this is where you list the day-to-day duties of a role.
Tip: Try to keep your list of responsibilities to 7 or fewer. 69% of candidates believe 8 or more role responsibilities (the day-to-day tasks of the role) in a job ad would serve as a deterrent to applying.
(source: Seek Survey of 4,800 Workers, 2019)
2. Required Skills
"Required Skills" is one of the most-used job description sections. This is where you list basic qualifications and experience. Every candidate wants to know "What You're Looking For" before applying.
Tip: Be careful how many requirements you list. Most women apply only to jobs in which they meet 100% of the requirements.
(source: Harvard Business Review HP Study, 2014)
3. Salary
"Salary" is one of the key sections of a job description. And the #1 thing candidates spend time looking at (compared to other sections).
Tip: Even if it's a range, list salary details (if you're allowed to). Salary is the part of a job ad that is most "helpful," "appealing," and makes candidates "more likely to apply."
(source: Vision Critical Heatmap Study of 450 LinkedIn Members, June 2018)
4. Benefits
"Benefits" is a key section of a job description. Here's where you list any perks candidates get if they join the team.
Tip: Each benefit you include in a job ad increases the apply rate by 1% to 5%. The benefits with the most positive impact on apply rate are:
Regular Incremental Bonus (+155.1%)
Pet Insurance (+37%)
Health Insurance (+29.8%)
Stock Options/Employee Stock Purchase Plan (+27.5%)
401(k) (+20.5%)
(source: Appcast and Behavioral Scientist Ashley Whillans, PhD, Harvard Business School, 2018)
5. Flex Location
In the post-COVID climate, a "flex location" is gaining ground on salary and benefits as the top thing candidates want. If your company offers remote, hybrid, or location-agnostic roles, this is where you give the details.
Tip: 32% of working professionals would consider relocating with a pay cut if given the opportunity to work from home as much as they would like.
(source: Blind Survey of 2,861 users, 2020)
6. About Us
In "About Us" job description sections, you talk about yourself, your values, and what it's like working at your company. Most co.s have this section, even if it's called something else (e.g., "Who We Are"). An About Us section is crucial because many candidates' first impression is your job ad.
Tip: Put your About Us section towards the bottom of your ad because the candidate cares first about the role versus about your company.
(source: How to Write a Job Description, Ongig)
7. Mission Statement
The "Mission Statement" is an important section of a job description. 67% of millennials are engaged at work when they strongly agree that the mission or purpose of their company makes them feel their job is important.
Tip: Rallying the modern workforce around a mission and purpose dramatically increases employee engagement. Try using a mission statement to tell your "culture story," highlight specific goals (by team) or talk about something you want to "do better" at.
(source: Gallup Poll, November 2016)
8. Diversity & Inclusion Statement
A "Diversity & Inclusion" job description section is where you talk about your commitment to hiring diverse talent and creating a culture of equity in your biz. Some co.s do a hybrid DEI & EEO statement, so I list the EEO section next.
Tip: Most candidates value seeing a D&I commitment. A diverse population of 764 LinkedIn members in the U.S. said, "even a generic statement is still better than no statement."
(source: LinkedIn Study of 764 members on Diversity Statements, June 2021.)
Check out this link for 25+ examples of D&I statements.
9. EEO Statement
I often find job description sections with Equal Employment Opportunity (EEO) language. Some brands keep it simple with "We are an EEO Employer." Others use more lengthy or specific EEO taglines to show their commitment to underrepresented groups.
Tip: EEO statements are not required by law unless you are a federal contractor in the U.S. But many companies include them because candidates from underrepresented groups might consider it when applying for jobs.
(source: 16 Samples of an Effective EEO Statement, Ongig)
10. Shift & Hours
A "Shift & Hours" job description section is optional. You only need it if you're hiring for hourly roles. But if you are, it's important. For example, someone looking for a nursing role wants to know which shift you're hiring for (e.g., day, night, 12-hour, etc.) before they apply.
Tip: If you include Shift/Hours info, then keep it close to sections like Responsibilities or Compensation, as that's where candidates expect it.
Why I wrote this?
Our mission is to help you attract top talent by crafting effective and inclusive JDs. Ongig's software uses AI to flag key job description sections you might've missed, and offers tips on improving the ones you have. Request a demo to learn more.
Shout-Outs: