Making your company more inclusive means prioritizing diversity and making it a part of your company policies, activities, and operations.
That includes diversity in recruiting.
Below we explore the meaning of diversity recruiting, why diversity in recruitment is important, and why it's a powerful tool for building better (and more profitable) businesses.
Plus, we look at some steps for incorporating diversity into your company's recruitment practices. Let's dive in.
What is Diversity Recruiting?
Diversity recruiting ensures diversity is incorporated into all hiring procedures — and that there's support for inclusion in the workplace (and in retention strategies).
Diversity recruiting aims to remove bias in sourcing, screening, and shortlisting prospective candidates, resulting in non-inclusive hiring practices.
Diversity recruiting aims to ensure the most talented people from diverse backgrounds are included in any hiring process.
Candidates come from various social, economic, ethnic, and cultural backgrounds. And have differences (and similarities) when it comes to genders, sexual orientations, ages, religions, levels of education, nationalities, neurodiversities, skills, and life experiences.
Candidates have different values, ethics, world views, interests, working styles, job roles, and even hierarchical levels at work.
Historically, many job seekers have experienced discrimination based on one or more of these attributes.
Creating a solid diversity recruiting strategy makes sure this doesn't happen. Building these strategies means intentionally creating supportive policies, frameworks, and supportive enterprise values to ensure inclusive work environments are the norm.
In certain countries, organizations have guidelines on hiring for equal opportunity, and remove bias in hiring.
Why is Diversity Important In Recruitment?
There are many benefits to having a diverse workforce. In addition to being the ethically right thing to aim for, it also creates better business. 
A 2022 ILO report on diversity and inclusion explains how these factors play a
"critical role… in the high performance of the workforce, businesses, economies and societies globally," and that "If inclusion remains a privilege experienced only by those at senior levels, enterprises risk missing out on… considerable benefits."
In addition, the US Chamber of Commerce reports that diverse and inclusive businesses outperform businesses that are not transformed in this way – in terms of innovation, retention of staff, talent recruitment, profit, and more.
And McKinsey & Co has found:
"the business case for diversity, equity, and inclusion (DE&I) is stronger than ever."
They also found:
"companies in the top quartile for gender diversity on executive teams were 25% more likely to have above-average profitability than companies in the fourth quartile"
, and various other impressive diversity metrics.
Diversity also benefits companies through increasing engagement and reducing turnover (which also helps reduce costs for new hires and onboarding). Diversity can help you be more innovative, which creates positive financial impacts. And diversity in recruiting allows you to access a much larger talent pool.
5 Ways to Incorporate Diversity Recruiting
Diversity is important, so how do you build it into the hiring process? Here are 5 ways to incorporate diversity recruiting in your biz:
1. Re-write your job ads with diversity in mind
How you craft your job descriptions:
changes the type of people applying for your roles
affects how many applications you'll receive
can show your unconscious bias
How you write your JDs could be holding your company back from hiring the best talent and from accessing a much larger talent pool from underrepresented groups.
Using software like Ongig helps you create more inclusive job descriptions, free from bias of all kinds (gender, race, age, sexual orientation, disability, mental health, etc.).
These types of software scan for biased language and offer more inclusive synonyms you can easily click on to make replacements: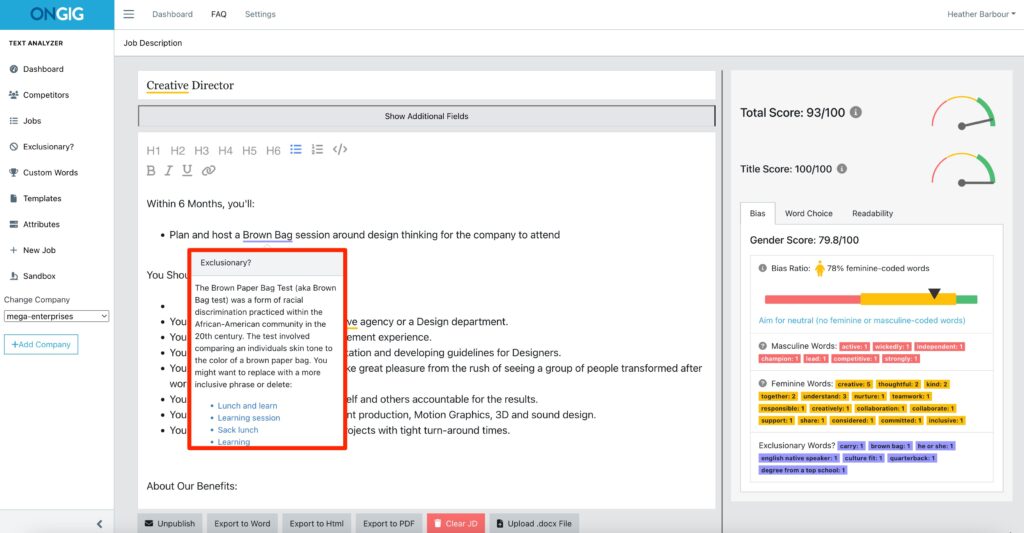 2. Market your jobs with diversity in mind
Also, consider posting jobs in places known for diversity and inclusion. Along with posting on the top recruiting websites, you should also look for opportunities to specifically reach out to candidates from more diverse backgrounds on specialist job boards, marketplaces, special media, or networks.
Examples of job boards that help connect HR teams with more diverse candidates include AbilityLinks, Out & Equal, and Female Executive Search.
You can find even more in our post 30 Top Diversity Job Boards for Employers [hiring POC, LGBTQ, Latinx & more].
3. Create a diversity and inclusion policy
One way is to create a company framework for diversity, which helps to inform the hiring process. Many companies publicly publish their diversity and inclusion policies, and share them with staff, making their ethics transparent.
You can get ideas from other corporations on what to include in yours.
For example, Mastercard offers benefits to employees that acknowledge diversity (e.g., support for sex reassignment surgery and same-sex domestic partner coverage.)
Remember that a policy only goes so far. It's important to appoint a team to advocate for the policy to ensure it gets implemented, updated, and measured. Consider selecting a diversity committee in your office to take care of this.
4. Train your HR staff on diversity, equity, and inclusion
It's also vital to provide DEI training to senior managers and HR staff, based on your diversity and inclusion policies.
If your HR staff is properly trained, they can create the necessary transformations to ensure diversity in all steps of the hiring process, right through to retention or dismissal.
Here are some books on diversity that may be inspirational for your recruiting team.
5. Re-evaluate your interview questions and practices
Be aware that certain questions asked during interviews, even if just casually, can trigger poor interview performance – particularly if related to stereotyping and bias.
For this reason, it's a good idea to ask standardized questions to all interviewees. And your team should review all the questions to ensure there's no unconscious bias. This helps to ensure that all candidates are treated fairly and equally. Having a diversity committee review these before the interview process helps. Or you can run them through a debiasing tool to look for exclusionary or offensive language.
It's also a good idea to have a diverse hiring panel. This helps show prospective candidates that diversity is not only an aspiration in your company.
Why I wrote this:
You prioritize diversity and inclusion; it becomes part of your company culture. This helps build staff engagement and can boost innovation and creativity levels. Ongig's mission is to support your company culture by helping create inclusive job descriptions to attract top talent from diverse backgrounds.
This is a guest post from Andy Stofferis. Andy is an experienced digital nomad. He has been working from abroad for the last 8 years. Andy runs a blog about digital nomadism and remote work: www.andysto.com. This is where he shares his tips and techniques with remote company leaders, remote workers, and digital nomads.
Shout-outs:
Greater progress on diversity and inclusion essential to rebuild productive and resilient workplaces (by the International Labour Organization)
Looking for Diversity? How to Build a More Inclusive Small Business (by Emily Heaslip)