More brands are going all-in on company culture. And the foundation for most of them is diversity and inclusion training.
If you are just getting started or want to fine-tune your diversity and inclusion training, these 5 tips might help. But first, why the new spotlight on D&I training?
Why is diversity and inclusion training important?
The short answer…if you create a diverse and inclusive culture, your business wins. Why?
A Deloitte study shows companies that embrace D&I are:
2 times more likely to achieve their financial goals.
8 times more likely to show strong business results.
6 times more adaptive to a changing environment.
D&I culture also attracts the modern workforce. Millennials and Gen Z are more "ethnically diverse" than other generations. CNN reports only 56% of millennials in the U.S. are white. In comparison to baby boomers, who are 72% white.
5 Tips for Diversity and Inclusion Training
Now, for the tips on creating impactful D&I training for your biz:
1. Use the 70/20/10 rule
Create challenging, interactive, and "real-life" diversity training modules. The Center for Creative Leadership says:
"A program module that incorporates tools and experiential practice sessions can help managers become more effective learners and leaders."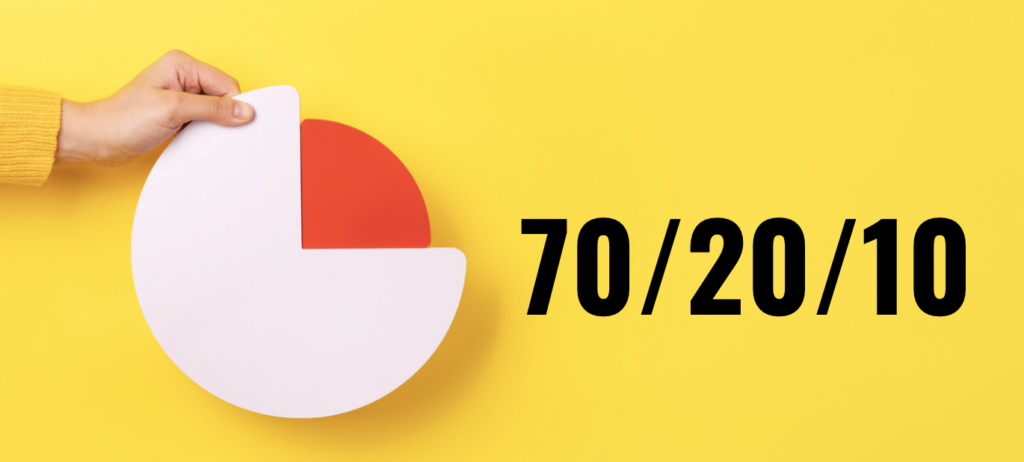 Here's how the 70/20/10 rule breaks down:
70% challenging experiences and assignments
20% developmental relationships
10% coursework and training
So, be sure your diversity training focuses on these key areas for success. You can find some training resources and ideas from Studocu.
2. Pay Attention to these Social Groups
Find the percentage of men and women, ages, ethnic groups, employees with physical or mental disabilities, or other underrepresented groups — overall and by position (or department). If you notice any social group is less than 30%, pay extra attention to it during diversity training.
Many companies write diversity reports based on this data to use as a benchmark for meeting inclusive hiring goals or creating new diversity training.
During your inclusion and diversity training, emphasize underrepresented groups. Talk about the benefits or unique experiences they bring to the company.
If you need help, there are loads of diversity and inclusion training options online. Here are 5 Examples of Diversity and Inclusion Certification Courses.
Or you can hire a DEI pro to create a custom training program for your company. Seapine, for example, helps organizations create diverse and equitable spaces:
"Seapine's MAKESPACE+ is a facilitated workshop that builds capabilities around inclusion, equity, diversity, respect, empathy, bias awareness, and non-harassment into your culture so that your organization can be more welcoming to all people."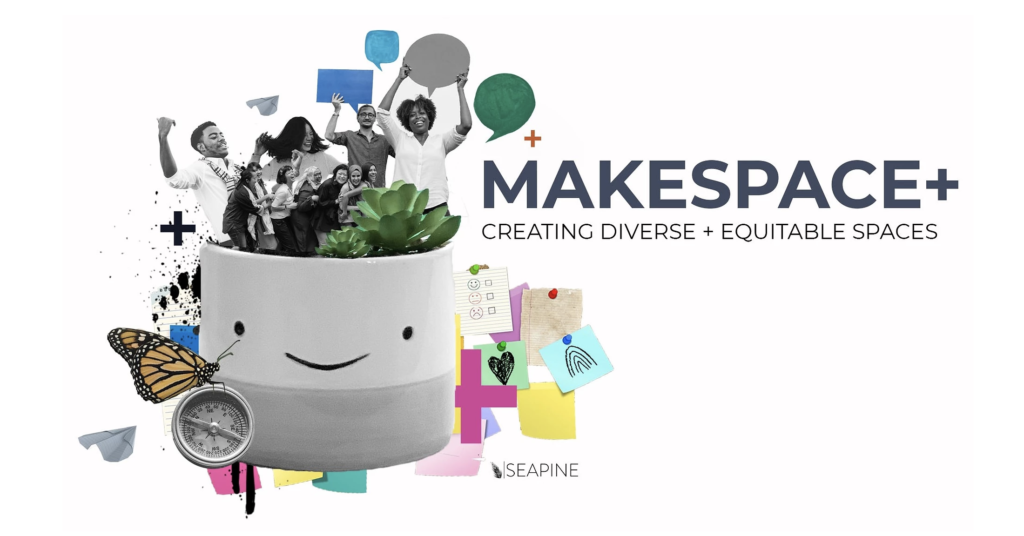 3. Separate your D&I Training into 3 memorable buckets
Accenture finds diversity training so important they divide theirs into 3 focused buckets:
Diversity Awareness – to help people understand the benefits of working with a diverse organization.
Diversity Management – to equip executives to manage diverse teams.
Professional Development – to enable women, LGBT and ethnically diverse employees to build skills for success.
(source: Social Talent)
These buckets will vary depending on how diverse your org is, or the specific challenges you're facing. For example, a tech company wanting to hire more women engineers might have more focused training for their engineering management. Or a financial company looking for interns from underrepresented groups might host diversity training for mentors starting a new diversity pipeline program.
4. Poll employees to find diversity challenges
Organize focus groups and survey employees across the company. Ask employees questions to identify key challenges or pains they face based on their differences. For example:
"Have you had an experience where you felt excluded at work? If so, what happened? And do you think it was due to unconsious bias?"
"What is our company lacking that would make you truly feel included in the team?"
"What helps you feel safe to speak your mind at work?"
Use the responses to identify any weak areas. This helps you set priorities for diversity training. You learn valuable lessons each time you host a diversity training.
And post-training, ask employees for feedback through interviews or anonymous surveys.
Tools like Typeform help you create quick surveys to easily ask for feedback to improve future inclusion and diversity training sessions.
5. Teach the Basics of Unconscious Bias (for free!)
Unconscious bias creeps into your hiring process and your job descriptions. Teach your employees about how to avoid it during diversity training. You can use the section below as a mini diversity training for hiring managers or recruiters in your biz. Just copy/paste!
Free Diversity and Inclusion Training — 5 Types of Unconscious Bias to Avoid in Job Ads
If you write job postings, you might be using biased words (aka unconscious bias) without knowing it.
What is unconscious bias? An easy definition is when you unintentionally exclude (and often offend) someone. Unconscious bias in job postings includes using text or media. If you're excluding underrepresented groups, you're narrowing your candidate pool…and putting yourself at risk of getting sued (or fired).
Here are 5 examples of unconscious bias to avoid:
1. Unconscious Bias in Job Titles — using job titles like "Chairman" or "Salesman" excludes women. "Chairperson/Chair" or "Salesperson/Sales Rep" are better alternatives.
2. Unconscious Gender Bias — some words are proven to attract or turn off candidates, according to the Journal of Personality and Social Psychology's Evidence That Gendered Wording in Job Advertisements Exists and Sustains Gender Inequality and other studies. For example, words like "aggressively" and "competitive" are considered masculine and might suggest your company culture is male-oriented.
3. Unconscious Racial Bias — using words related to slavery might be offensive to some people of color. Many companies are replacing "master/slave" programming language and other phrases like "a cakewalk" or "brown bag Sessions" because they are historically tied to slavery and the oppression of Black people. Unconscious racial bias in job descriptions also excludes Asian candidates, the Latin community, immigrants, and people who speak English as a second language.
4. LGBTQ Unconscious Bias — If you're using "he/she" and "his/her" in your job ads, you might be excluding people who do not identify with being male or female (aka the LGBTQ+ community). Try using more inclusive pronouns like "they/them/their." Or even "you." For example: "In this role, you will manage the day-to-day operations," instead of "In this role, he or she will manage…".
5. Disability Unconscious Bias — many everyday words might exclude people with a disability if you use them in your JDs. Instead of using "speak," try using "communicate." Here's a helpful table with other examples: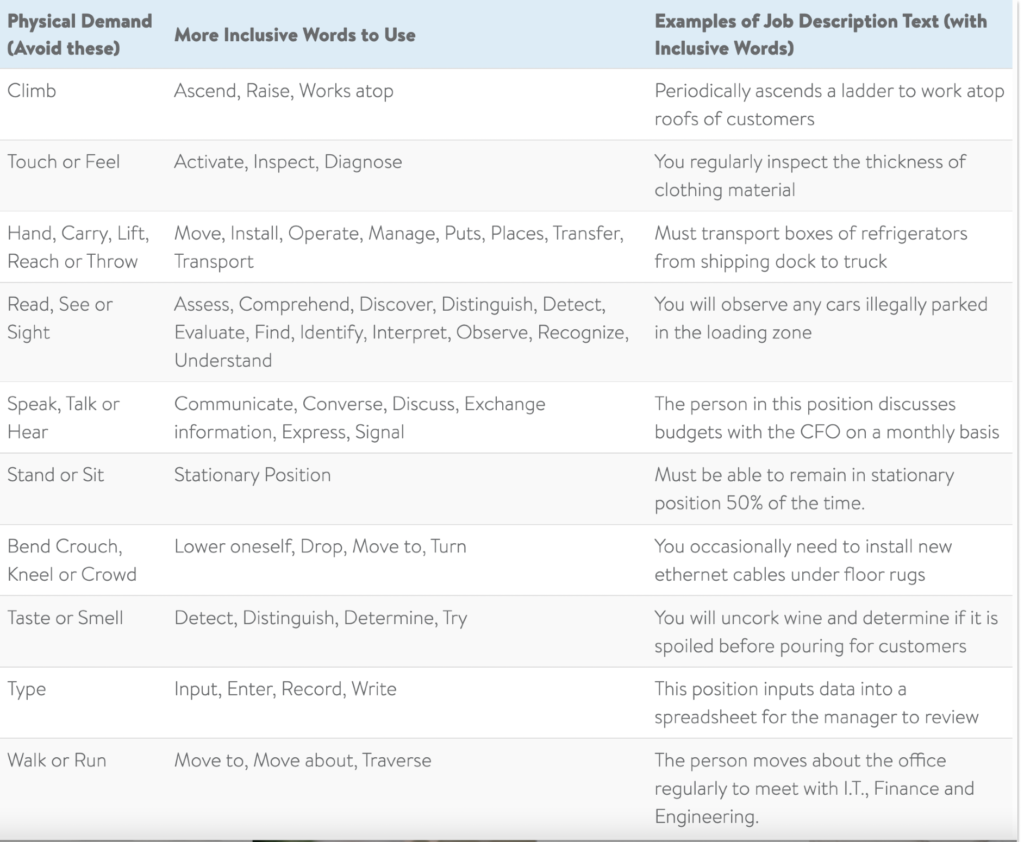 Note: You can find more details (and examples) to include in your D&I training in our post, 8 Examples of Unconscious Bias in Job Descriptions.
Why I wrote this?
We're passionate, at Ongig, about helping you attract diverse talent. Ongig's software has diversity training built-in through a proprietary database of 10,000+ terms to help remove bias from your JDs. Please, click the demo request button if you'd like to learn more.
Shout-Outs:
This is a guest post by Eliza Medley, an experienced writer, and psychologist. She is actively interested in management, new technologies, and writing motivational articles.