A diversity report is like a snapshot of a companies workforce diversity efforts.
We found 10+ examples of awesome diversity reports from top companies. They are awesome because they have stand-out features like video, colorful visuals, meaningful hashtags, case studies, and more.
Release: 2021
Headline: Inclusion, Diversity, and Engagement
Sub-Headline: As innovators, we're always seeking out firsts, and I'm excited to introduce our 2020 Inclusion, Diversity, and Engagement report — the first of its kind for us.
Stand-out feature: Akamai's diversity report mentions training hiring managers to draft inclusive job descriptions to broaden their pool of applicants. Khalil Smith, Vice President Inclusion, Diversity, and Engagement says:
"By removing potentially limiting eligibility criteria, we are able to focus on the critical skills and experiences key to joining and being successful at Akamai. We have joined other technology industry leaders in removing biased, oppressive, and racially insensitive terminology across our portfolio."
There's also a cool chart showing a 54.6% increase in "racial and ethnic minority new hires" in the U.S.: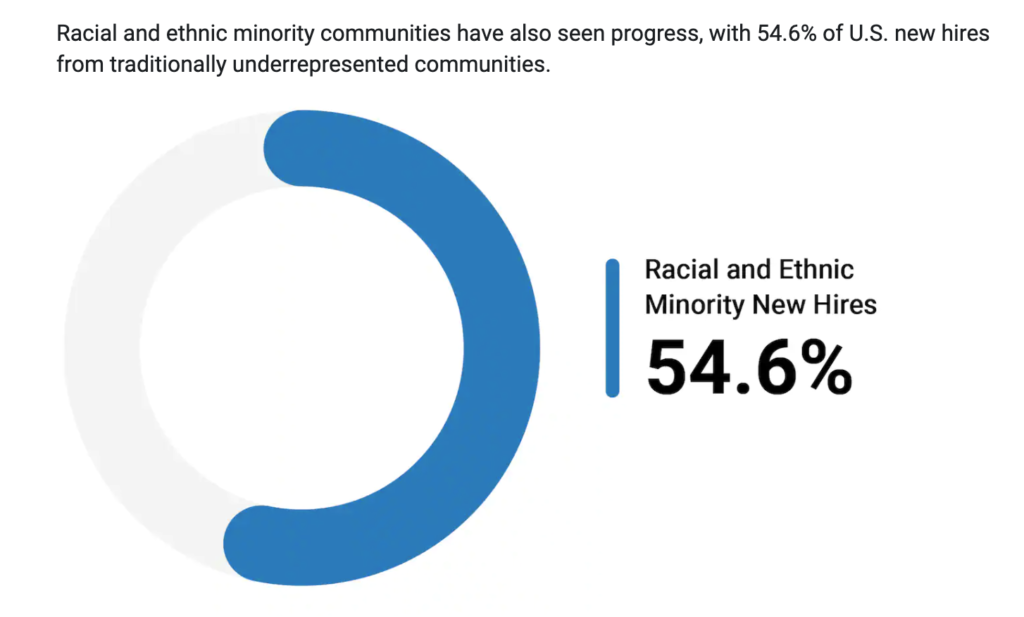 Release: April 2021
Headline: Our Workforce Data
Sub-Headline: Representation Matters
Stand-out feature: Amazon's diversity report highlights year-over-year progress for race/ethnicity and gender diversity from 2018 through 2020. The visuals are colorful and informative. The comparison charts are broken into categories like:
total workforce diversity (Global and United States)
Field & Customer Support Roles
Corporate Employees
People Managers
Senior Leaders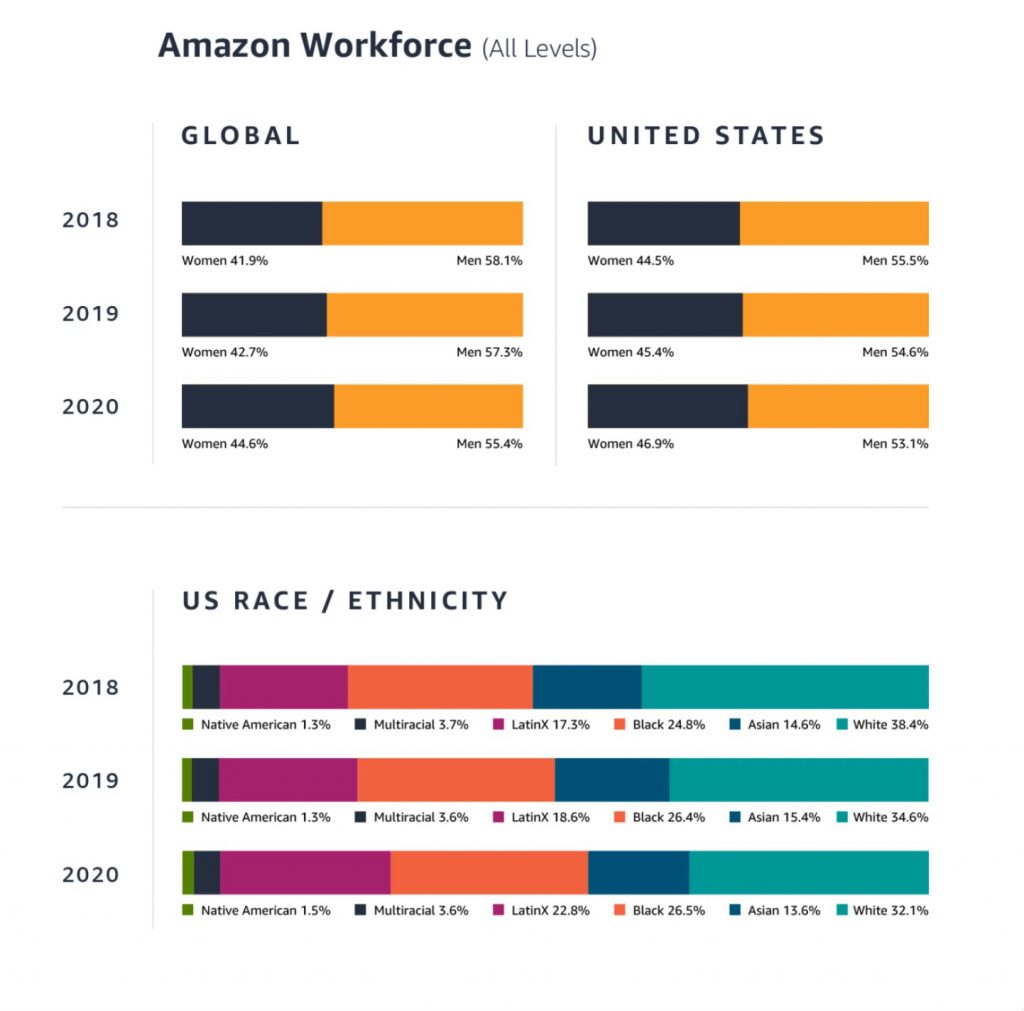 Release: June 2020
Headline: Diversity, Equity, and Inclusion
Sub-Headline: Our Progress and Our Path Forward
Stand-out feature: Booz Allen's diversity report features a timeline of the company's DEI journey starting in the 1990's and showing forward progress to the 2020's.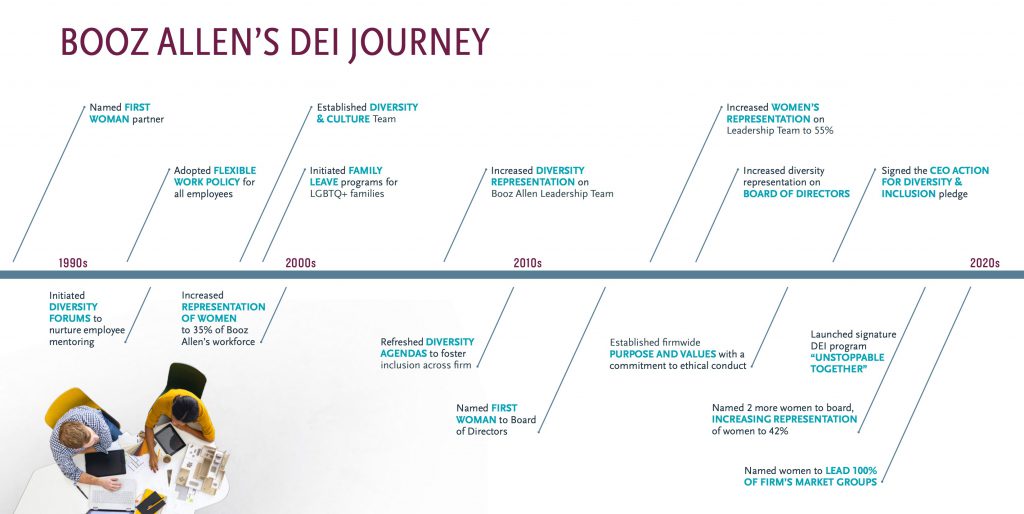 Release: May 2021
Headline: Dive in with Curology
Sub-Headline: OUR DIVERSITY, EQUITY, INCLUSION, AND BELONGING JOURNEY
Stand-out feature: Curology's first-ever diversity report focuses on DEIB (Diversity, Equity, Inclusion & Belonging) as a whole and shows their roadmap of how they will achieve it. The report says:
"DEIB is all about loving, embracing, and celebrating your skin and your shade, because everyone deserves to feel at home in their skin. As a skincare company, it is our responsibility to create spaces where people love their skin. We believe that being transparent will help keep us accountable moving forward. We wanted to share the current makeup of our workforce to shine a light on where our employee representation currently stands. This is our "look in the mirror" moment: our first-ever DEIB report."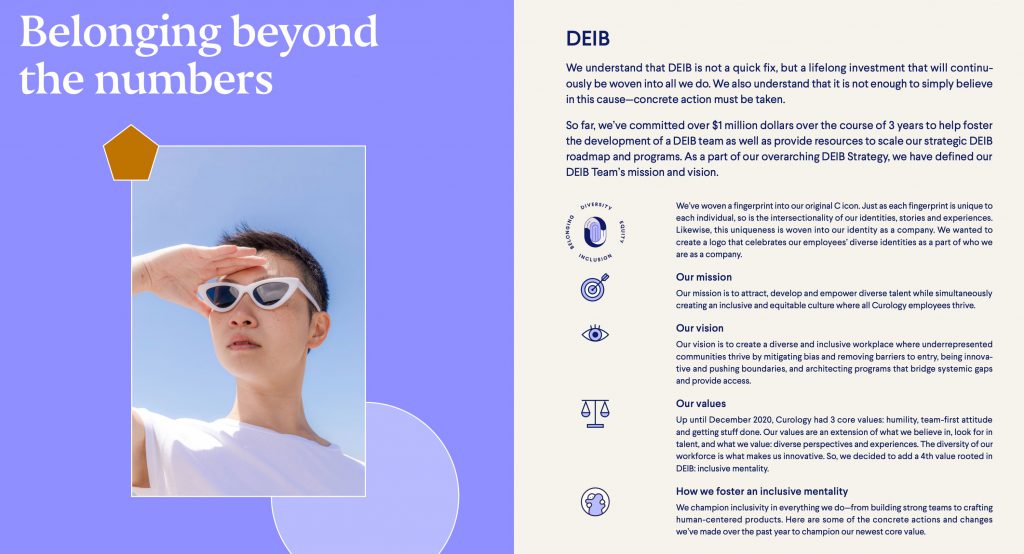 Release: May 2020
Headline: Our 2019 Diversity & Inclusion Report
Sub-Headline: We weave D&I into the fabric of eBay
Stand-out feature: eBay's diversity & inclusion report highlights a virtual reality pilot in partnership with Praxis Labs to "cultivate empathy and drive inclusion".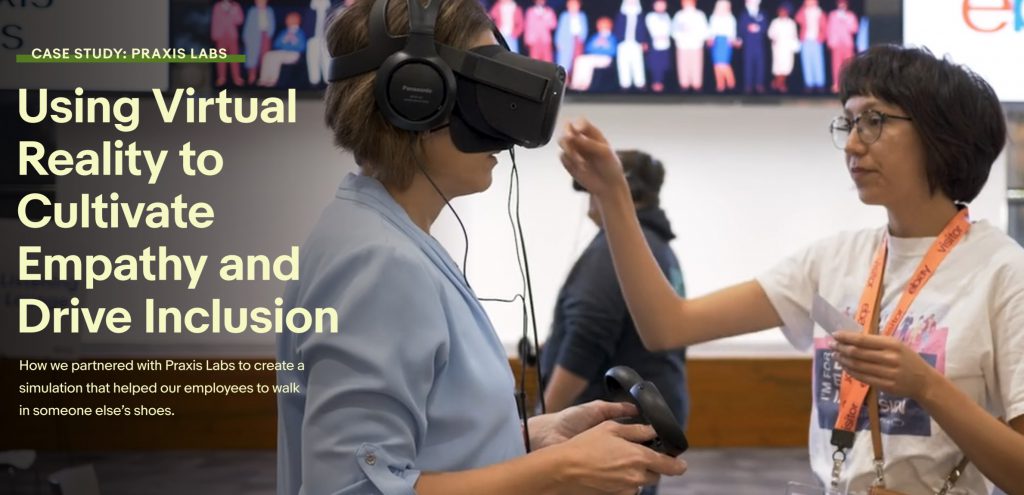 Release: July 2020
Headline: Facebook Diversity
Sub-Headline: Advancing Opportunity for All
Stand-out feature: Facebook's workforce diversity report leads with a video introduction from Global Chief Diversity Officer Maxine Williams.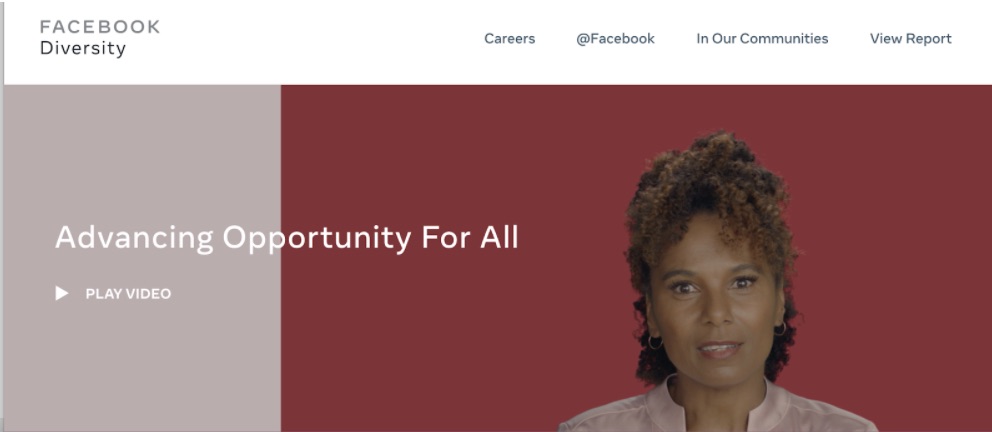 Release: May 2020
Headline: Google Diversity Annual Report 2020
Sub-Headline: We're advancing a diverse, accessible, and inclusive Google where everyone feels like they belong. Check out our progress.
Stand-out feature: Google's diversity annual report shows 2020 percentages of employees who self-identified as having a disability, being non-binary, LGBQ+, Trans+, and/ or having a military background.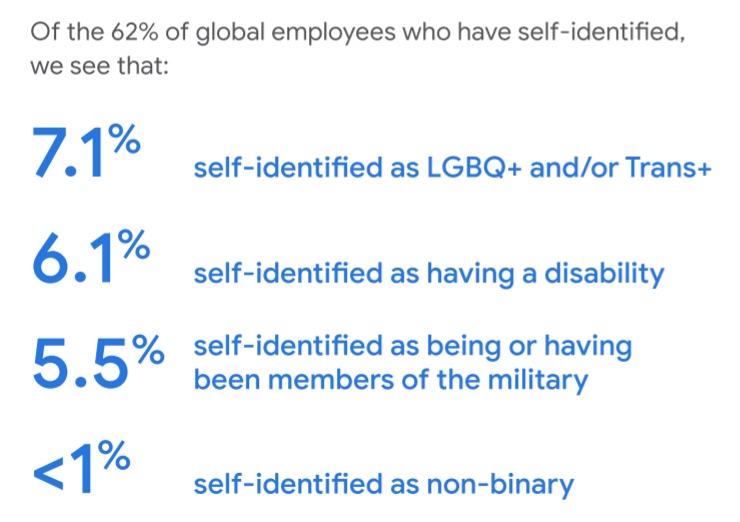 Release: February 2020
Headline: Hollywood Diversity
Sub-Headline: A Tale of 2 Hollywoods
Stand-out feature: The USC Hollywood diversity report includes a chart showing an upward trend for People of Color in lead roles since 2011.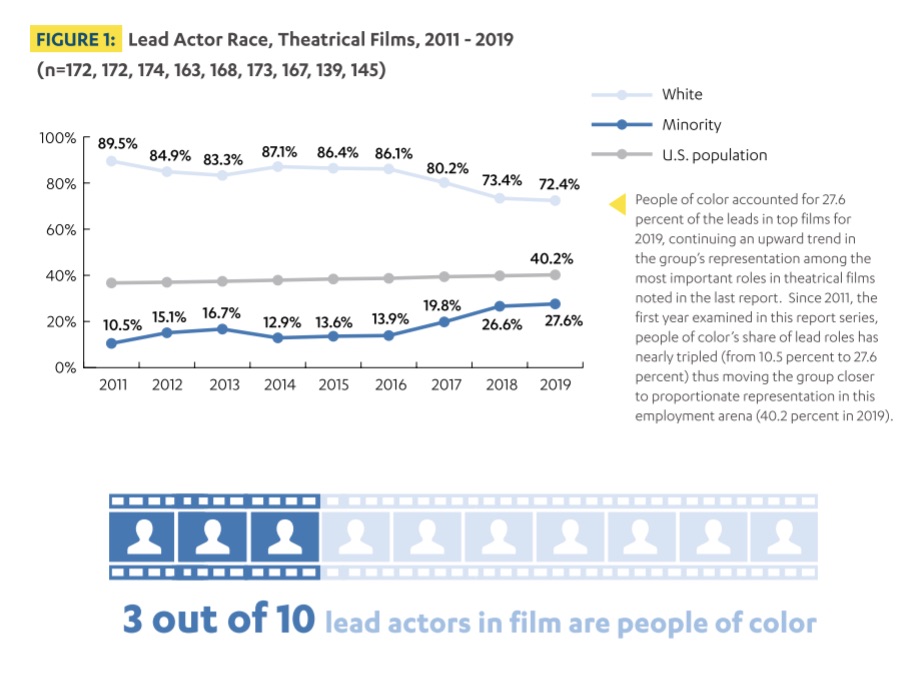 Release: May 2020
Headline: Diversity Wins: How Inclusion Matters
Sub-Headline: The business case for inclusion and diversity (I&D) is stronger than ever. Taking a closer look at diversity winners reveals what can drive real progress.
Stand-out feature: McKinsey & Company's diversity and inclusion report features a graphic showing the connection between a systemic approach to I&D and steps to also strengthen inclusion and belonging.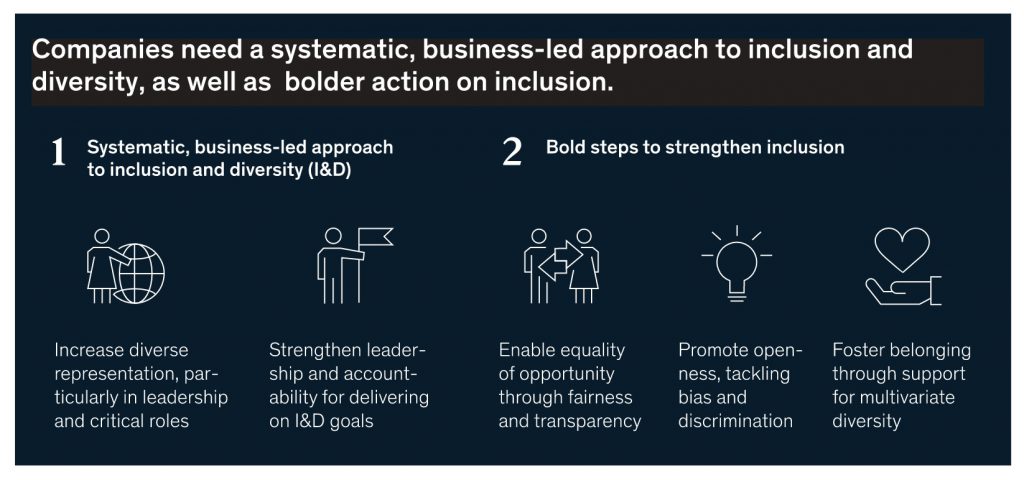 Release: 2019
Headline: Microsoft Diversity and Inclusion Report 2019
Sub-Headline: The Microsoft Diversity and Inclusion Report reveals momentum and learnings for the future.
Stand-out feature: Microsoft's diversity report put a spotlight on autism hiring programs. The feature also includes unemployment and underemployment data for people on the autism spectrum.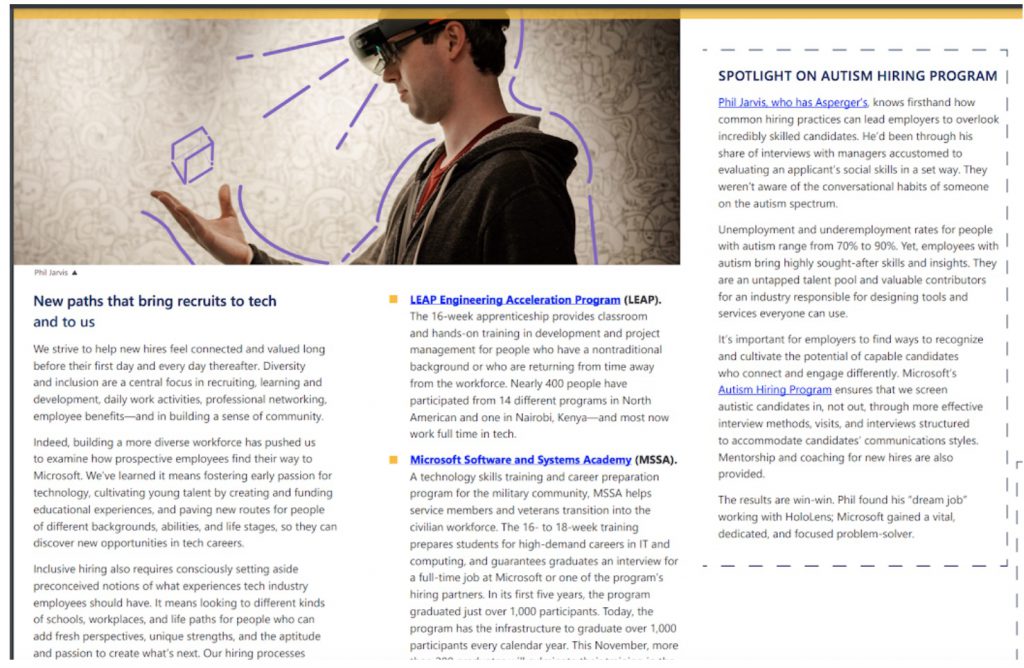 Release: 2021
Headline: We Are MiQ
Sub-Headline: MiQ's Inagural Report — Inclusion, Diversity, and Equity Accountability (I . D . E . A .)
Stand-out feature: MiQ's diversity report has a great format and easy-to-use table of contents. You can see which section you want to dig into first and navigate there with one click. The report includes things like:
letters from the CEO and Global Head of I&D
diversity strategy and program spotlights
detailed numbers related to the state of DEIA at MiQ (this makes up the bulk of the report)
an action plan to progress their I&D initiatives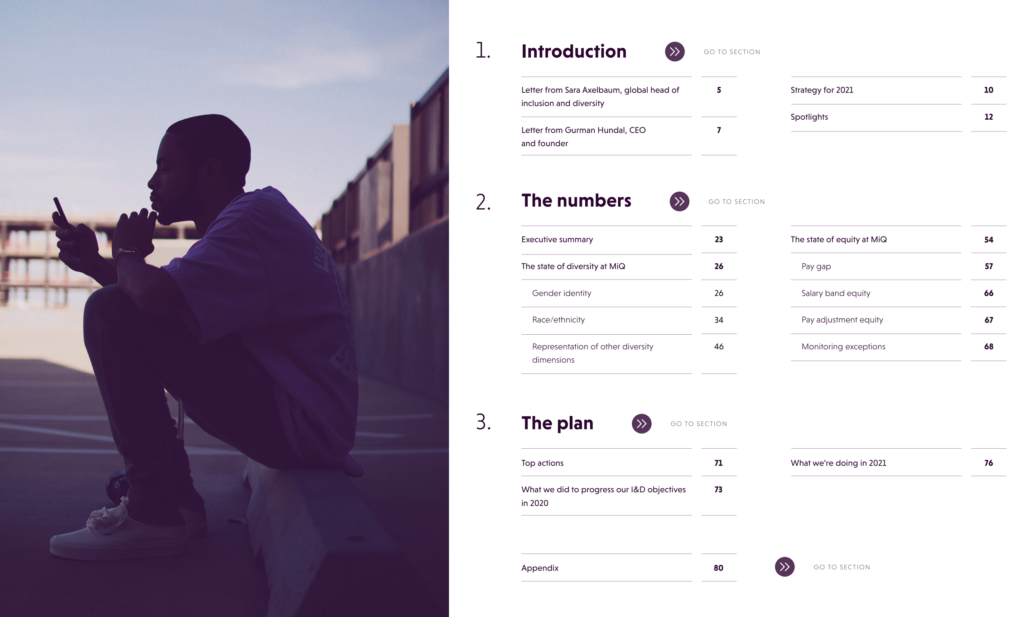 Release: January 2021
Headline: Inclusion Takes Root at Netflix: Our First Report
Sub-Headline: Sowing the Seeds
Stand-out feature: Netflix's inclusion report opens up with a unique diversity and inclusion video hosted by Vernā Myers, VP of Inclusion Strategy.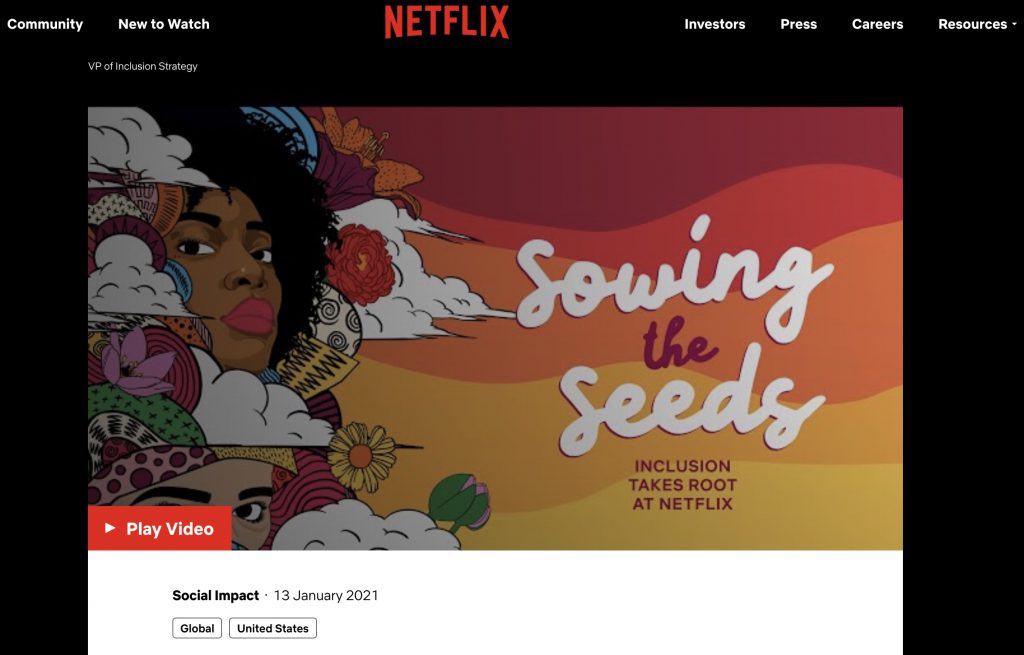 Release: August 2020
Headline: Building on a culture of belonging
Sub-Headline: 2020 PwC Diversity & Inclusion Transparency Report
Stand-out feature: PwC's diversity report highlights the company's diversity journey from 1993 to 2020 with a colorful timeline of milestones.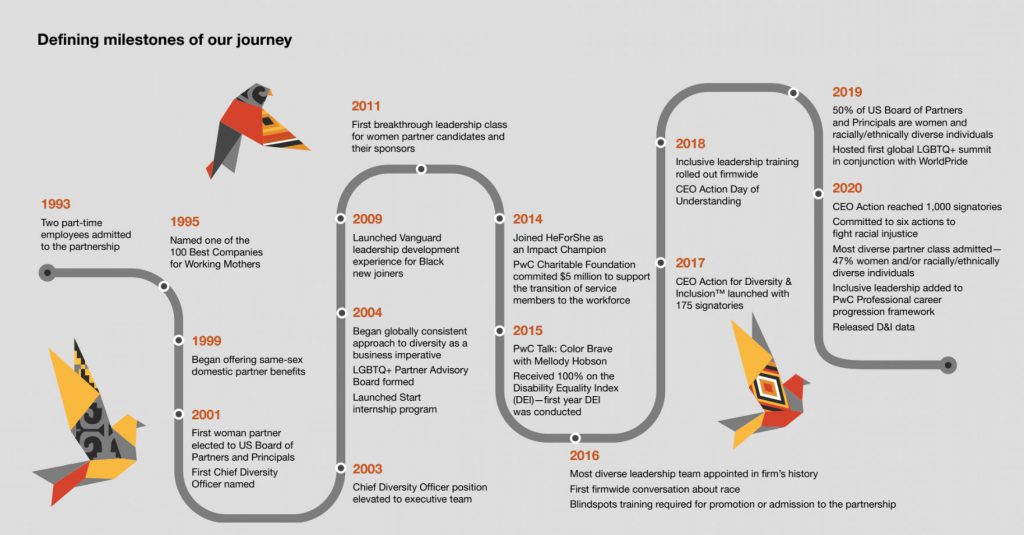 Release: July 2020
Headline: Snap's Strategy
Sub-Headline: We have developed a DEI strategy that sets out to redesign our systems, inspire empathy, and use positive accountability to drive meaningful change.
Stand-out feature: Snap Inc.'s diversity report not only focuses on the D&I in their organization but on their product too (Snapchat). The report features product images with a message about racism and hate speech.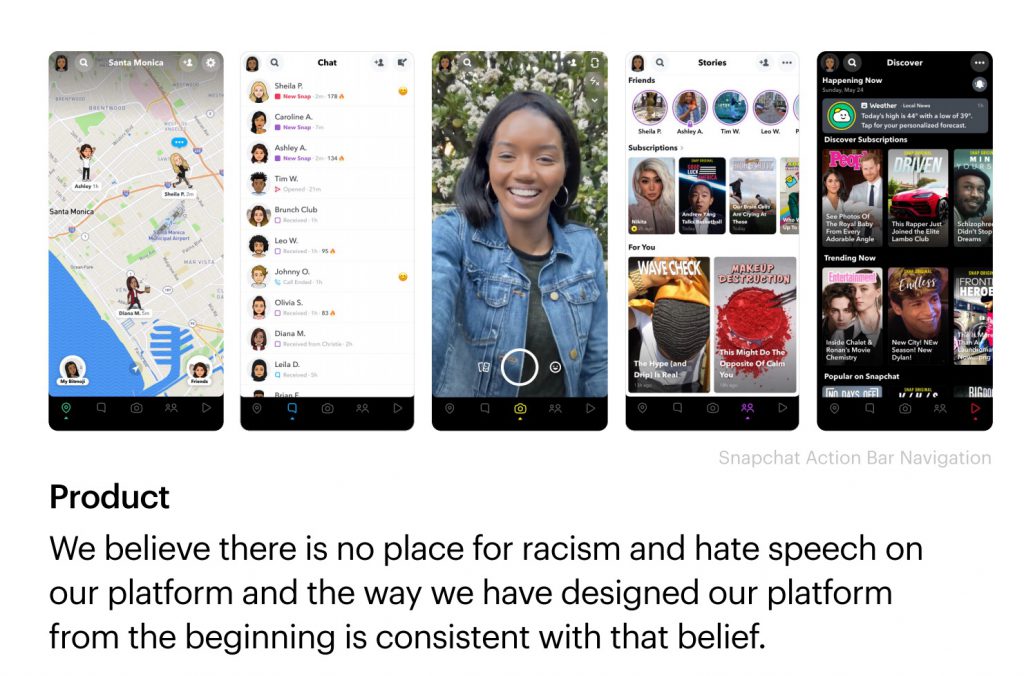 Snap Inc. also has a DEI leader that means business. Oona King, VP of Diversity, Equity & Inclusion, was recently quoted in Adweek about being useful in the fight against racial injustice. King said:
"Have the confidence to move out of your comfort zone in pursuit of greatness. Get your shit done."
Release: December 2020
Headline: Stand for equality
Sub-Headline: We champion diversity and welcome individuality. Together, we create an equitable workplace where each person can truly belong and do their best work.
Stand-out feature: SurveyMonkey's social impact & diversity report highlights diversity goals and steps already taken to foster equity & inclusion in the workforce. Here are some highlights:
Partnering with The Justice Collective to "analyze diversity, equity, and inclusion (DE&I) practices, provided antiracist training to all employees, and continued to build a strategic approach to DE&I."
Setting diverse hiring goals like investing in a new screening tool to analyze job postings for bias, creating a dedicated sourcing team that specializes in hiring for diversity, expanding employee referral bonus programs to help achieve better diversity, launching a pilot hiring program that would require at least 1 female and 1 candidate from an underrepresented racial group to be interviewed for every open role.
Launching a vendor diversity program
Partnering with LeanIn.Org "to highlight barriers for women's achievement in the workplace and beyond."
(Note: SurveryMonkey's 2024 diversity goals are in our blog, 25+ Examples of Awesome Diversity Goals.)

Release: September 2020
Headline: Target 2019 Workforce Diversity
Sub-Headline: Composition of Governance Bodies and Employees as of Fiscal Year End 2019
Stand-out feature: Target's diversity report features People of Color (POC) comparison charts showing Target's numbers (in red) vs the NAICS retail trade sector (in grey).

Release: December 4, 2020
Headline: Diversity, Equity and Inclusion Impact Report 2020 (U.S.)
Sub-Headline: We focus relentlessly on innovation and rely on teamwork and collaboration to help achieve this goal. Along the way, we are continuing to build a culture that is safe, respectful, fair and inclusive for all of our employees.
Stand-out feature: Tesla diversity ERGs that support a community of belonging and diverse leadership.
The Tesla diversity report highlights various employee resource groups for underrepresented communities. These ERGs promote Tesla employee diversity, Tesla gender diversity, Tesla ethnic diversity, Tesla veterans, and more.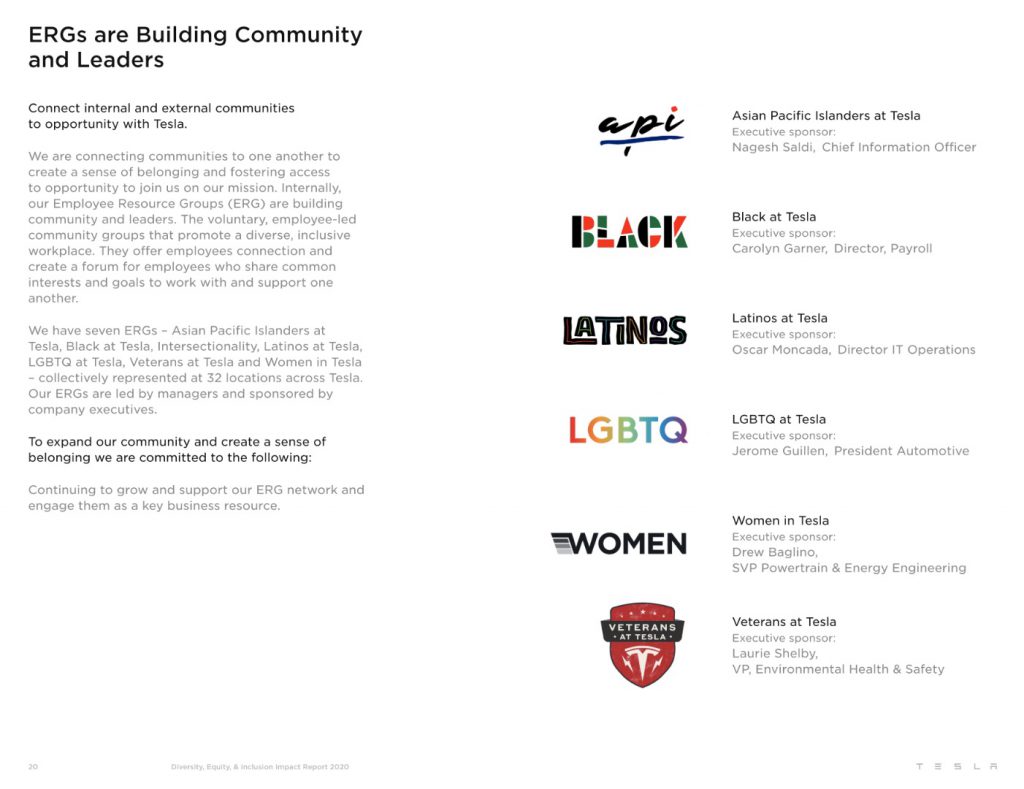 Release: May 2020
Headline: Twitter's culture and values
Sub-Headline: We're on a journey to be the world's most diverse and inclusive company – it's key to serving the public conversation.
Stand-out feature: Twitter's inclusion & diversity report has an introduction with a very fitting hashtag. #UntilWeAllBelong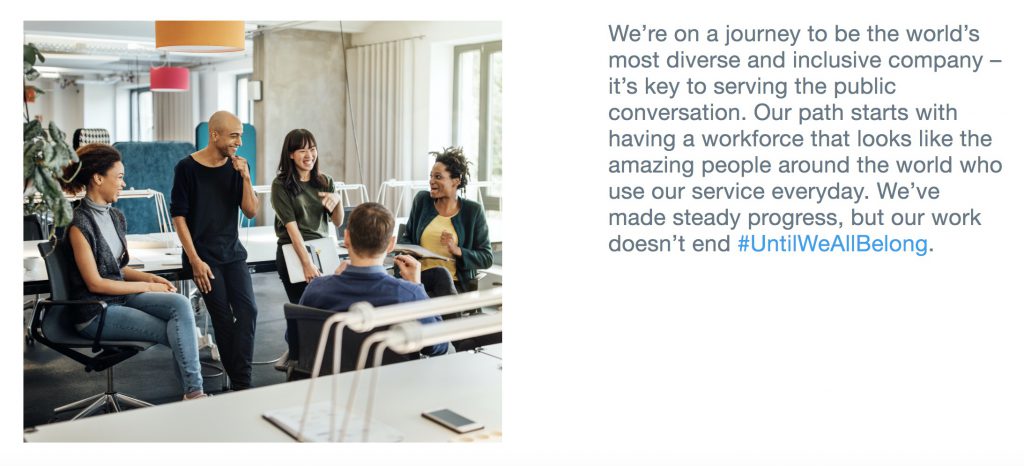 Release: July 2019
Headline: 2019 D&I Report
Sub-Headline: At Uber, our mission is to ignite opportunity by setting the world in motion
Stand-out feature: Uber's diversity report compares tech vs non-tech employee diversity using charts focused on gender and People of Color (POC).


WHY I WROTE THIS
Ongig is on a mission to help eliminate boring and biased job content. With Diversity and Inclusion in the spotlight, there is a growing focus on diversity metrics and diversity reports. Ongig's Text Analyzer enables employers to write more inclusive job content which can help attract more diverse candidates.