The NFL is in the news this week after announcing their first-ever diversity committee, following a lawsuit by former Miami Dolphin Head Coach Brian Flores. Flores is suing the NFL, Miami Dolphins, Denver Broncos, and New York Giants for "alleged discrimination and racism in hiring practices."
This is the NFL's first diversity committee. But, I found 5 other examples of big brands who've had them for years.
Before we dive in…
What is a diversity committee?
A diversity committee is:
"typically a group, providing representation from different backgrounds within the organization, who meet on a specific cadence to discuss what is being actioned on DE&I, how it's working and providing advice on what to do next."

(source: Forbes)
Who should be on a diversity committee?
To create a successful diversity committee, you'll need a chair with DE&I expertise and someone who presents topics to senior-level execs (unless the committee is made up of senior-level executives).
The key purpose of a diversity committee is to support underrepresented groups. So, it's important to represent them in the committee. Most diversity committees have a mix of BIPOC, women, LGBTQ+, people with disabilities, allies of underrepresented groups, and c-level leadership.
Now, let's look at 5 examples of a diversity committee. Plus, a list of members for each.
Let's start with the NFL:
1. NFL — Diversity Advisory Committee
When was the diversity committee formed? March 2022
What the NFL says about the goal of its diversity committee:
"The six-member committee will lend its expertise, external perspective on industry best practices and will evaluate league and club diversity, equity and inclusion (DE&I) strategies and initiatives. This includes all hiring processes, policies and procedures, with a primary focus on senior-level coach and front office personnel positions. After completing this evaluation, the committee will provide comprehensive recommendations to the league office and club ownership for consideration."

source: National Football League
NFL Diversity Committee Members: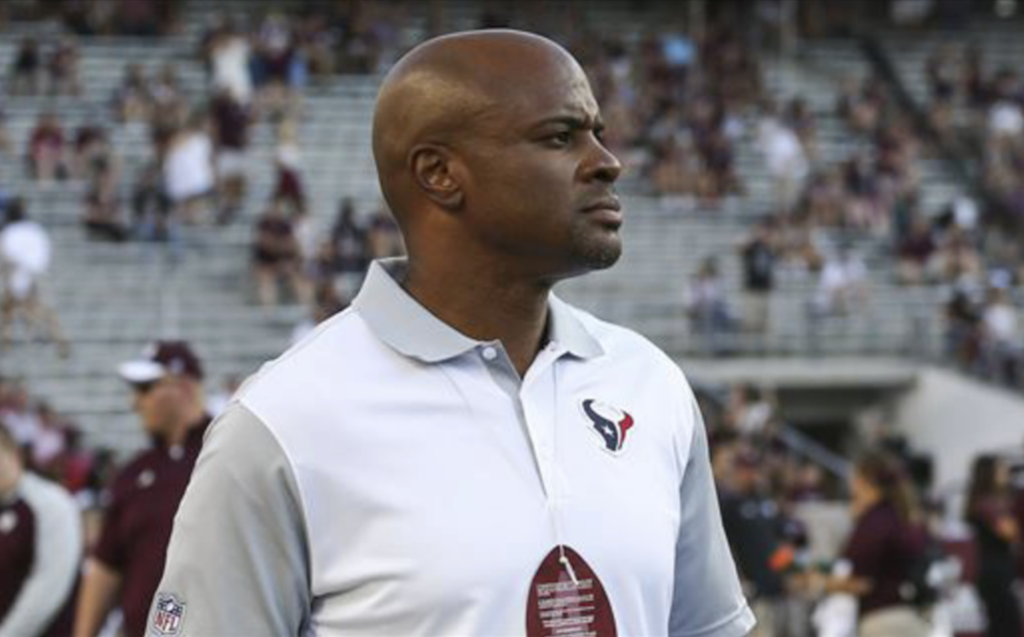 (pictured above from left to right)
Rick Smith (American Football Executive and former Houston Texans GM)
Pamela Carlton (Springboard)
Peter Harvey (former N.J. Attorney General, Patterson Belknap)
Patricia Brown Holmes (Riley Safer Holmes & Cancila LLP)
Dr. Stefanie K. Johnson (University of Colorado Boulder's Leeds School of Business)
Don Thompson (Cleveland Avenue LLC, former CEO and president of McDonald's Corporation)
2. General Motors (GM) — Inclusion Advisory Board
When was the diversity committee formed? June 2020
What the GM says about its diversity committee mission:
"In June 2020, GM Chair and CEO, Mary Barra, commissioned an Inclusion Advisory Board and announced our mission to become the most inclusive company in the world. We're making it our mission to promote social and racial justice and equity. And we keep adding to this commitment every day."

source: General Motors
General Motors Diversity Committee Members:

(pictured above from left to right)
Kim J. Brycz (Senior VP, GM)
Mary T. Barra (Chair and CEO GM)
Tonya Allen (President of the McKnight Foundation)
Dennis Archer Jr. (CEO, Ignition Media Group & President, Archer Corporate Services)
Craig Buchholz (Senior VP, GM)
Arden Hoffman (CPO, Cruise) – LQBTQ
Todd Ingersoll (President/CEO, Ingersoll Automotive)
Gerald Johnson (Executive VP, GM)
Telva McGruder (Chief of DE&I, GM)
Mark Reuss (President, GM)
3. Salesforce — Ecosystem Equality Partner Advisory Board
When was the diversity committee formed? May 2021
What Salesforce says about the frequency of their diversity committee meetings:
"Our Ecosystem Equality Partner Advisory Board members will meet twice per quarter to build and support initiatives that align to Salesforce's vision of equality for all."

source: Salesforce — Medium
Salesforce Diversity Committee Members:
4. Sky – Diversity Advisory Council
When was the diversity committee formed? June 2020
What Sky says their diversity committee adds to the biz:
"Sky's new Diversity Advisory Council will be responsible for advising and guiding the business on issues of diversity, including using its voice externally, and helping to maintain progress towards becoming a more inclusive organisation. Members of the group are experts in their field and represent views from a variety of backgrounds.

Their unique perspectives will add value to the way Sky steers diversity and inclusion as it creates new plans to improve representation and progression of minority groups, especially at a senior level. The group will work alongside Sky's Diversity Action Group, a diverse cross-section of Sky's workforce chaired by Stephen van Rooyen, EVP & CEO UK & Europe."

source: Sky
Sky Diversity Committee Members:
5. Toyota — Diversity Advisory Board
When was the diversity committee formed? 2002
What Toyota says about the role of their diversity committee:
"Toyota's Diversity Advisory Board plays an integral role in fostering a more diverse and inclusive culture at the company. Working closely with the organization's senior leadership, the Advisory Board helps drive adoption of best practices and ensures executive accountability."

Toyota
Toyota Diversity Advisory Board Members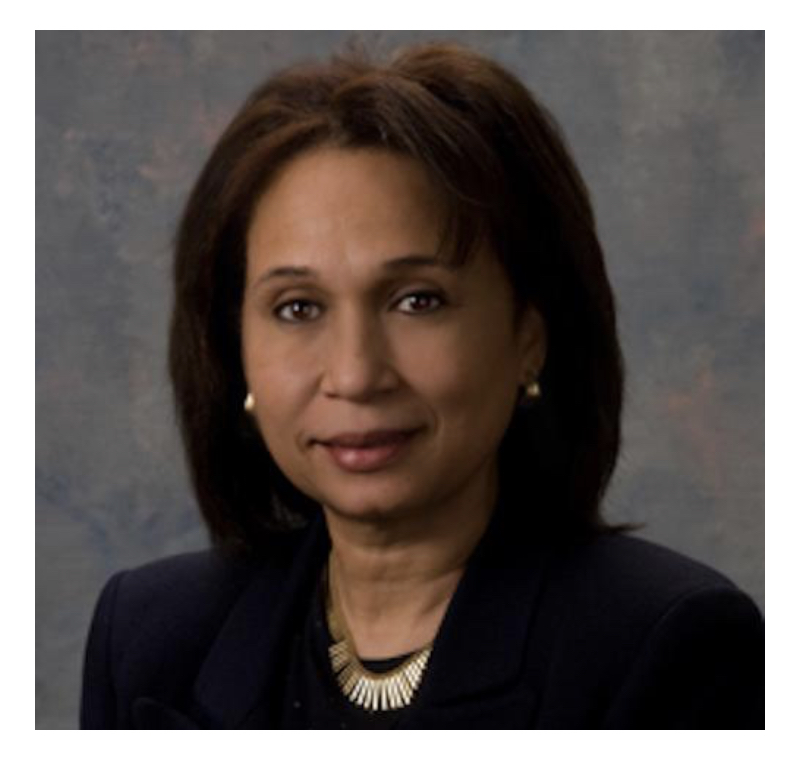 (pictured above from left to right)
Alexis Herman (Chair & CEO, New Ventures, LLC)
Gilbert Casellas (former VP, Dell)
Kyoto Chopra (Senior VP, Pearson PLC.)
6. Ferrara — Diversity Committee
Ferrara's Diversity, Equity, and Inclusion Council was formed in October 2020 to help concentrate and focus efforts to ramp up diversity, equity, and inclusion at Ferrara, ensuring alignment to the company's mission, vision, and operations and strategic accountability for results.
Now in its 3rd session, the council, chaired by the CEO and co-sponsored by the CHRO and Head of DE&I, includes every member of the executive team, along with more than 35 employees, who represent the various business units, genders, tenure and race in the organization. Each council member is active in a Business Resource Group and includes their council participation in annual performance objectives.
Ferrara Diversity Committee Members: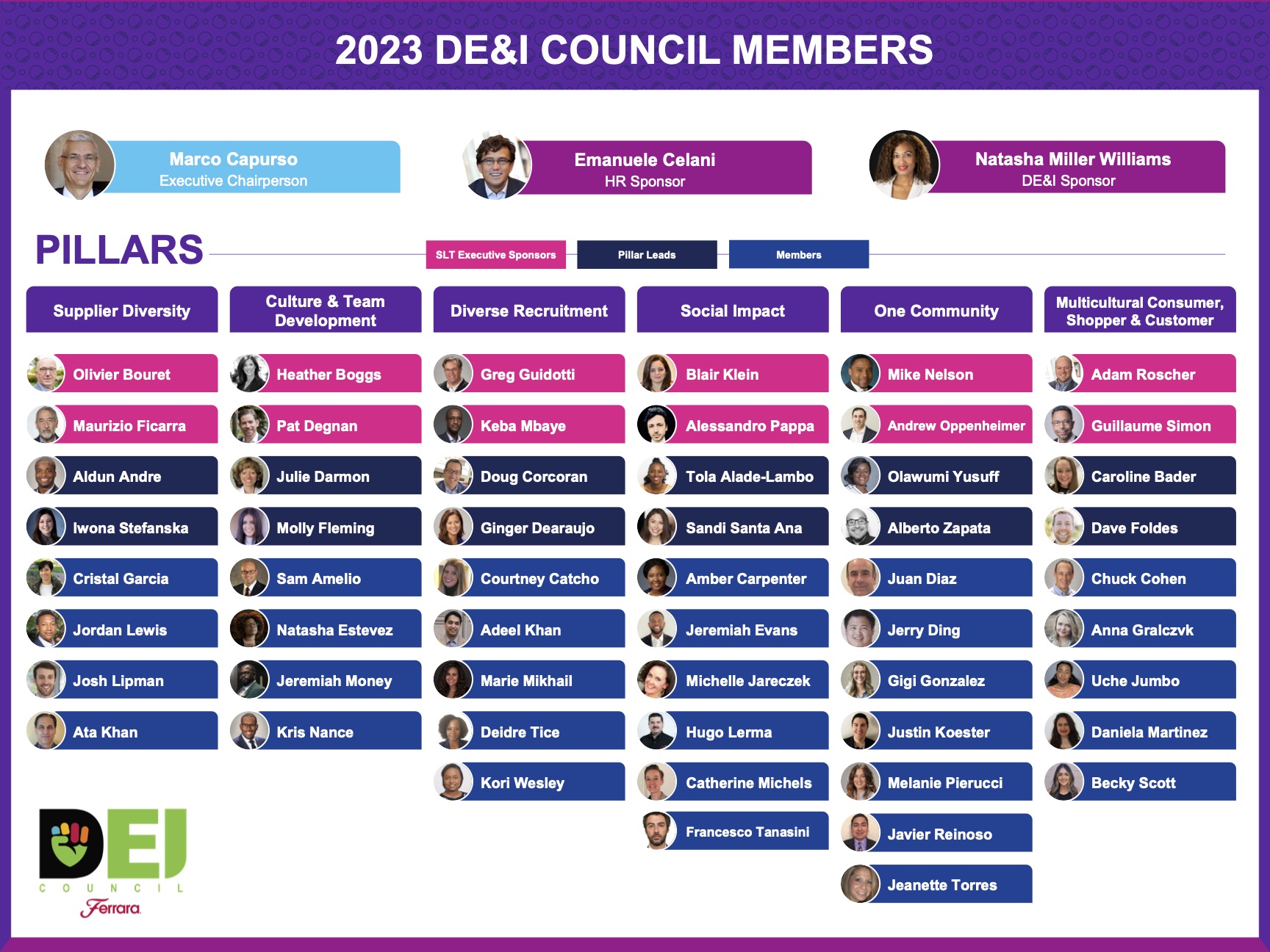 The responsibilities of the council are to:
Assist the CEO and head of DE&I in creation of the DE&I strategy and key milestones.
Embed diversity, equity and inclusion across the enterprise with strong connections to departments.
Identify systemic barriers that impact recruitment, retention and advancement, training, and key assignments.
Act as change agents for the organization, challenge the status quo, champion DE&I and promote the company as an employer of choice.
Using six sigma methodologies, the council determines which processes (metrics, diverse marketing, culture, supplier diversity, hiring, etc.) are most in need of improvement, then assembles the group into pillars to tackle each one. The council's scope is reviewed each year, along with metrics and progress to strategically improve DE&I at Ferrara and serve as change agents.
Why I wrote this?
A diversity committee sets the foundation for your inclusion initiatives. And they might find bias in your hiring processes, or in your job descriptions. Ongig's software helps flag and remove bias from your job descriptions to reach a larger pool of diverse talent. Please request a demo to learn more.
Shout-outs: