For your organization to stay competitive in a diverse and global world, incorporate DEI practices into your everyday operations. Research from McKinsey & Co. shows companies with a diverse workforce experience 36% more returns than non-diverse ones.
But setting diversity and inclusion performance goals isn't an easy, one-time task. The process requires commitment for success.
In this post, we'll dive into 6 steps to set inclusion goals (and how to achieve them).
What are diversity and inclusion performance goals?
Simply put, these specific goals are outcomes you want to achieve based on equity, diversity, and inclusion.
Unfortunately, most inclusion and diversity goals fail. To help you achieve your DEI goals, here are 6 steps to help you get started: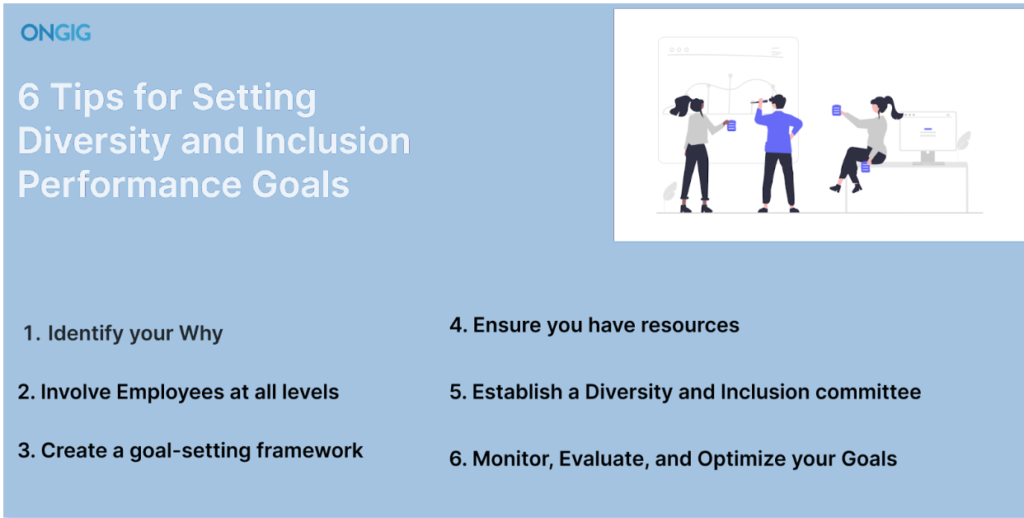 Now, let's dig deeper into each:
1. Identify your "why"
The first step is to find your "why."
Many co.s set diversity and inclusion performance goals because they're "nice-to-haves." By doing this, they never actually understand how the inclusion and diversity goals will help their organization.
To find your "why"…
Conduct an analysis of your company culture, so you'll better understand what you want to achieve. And benchmark yourself with other companies (in your industry, or others) to know how to improve.
Also, check your analysis to find out if underrepresented candidates are:
Applying for work in your organization
Being interviewed and selected
Being promoted for doing good work
Staying at your company
I talked to Grace HE, the people and culture director at teambuilding, to learn how she identified her "why," and this is what she said:
"Our starting point was benchmarking our position within our industry and conducting employee surveys. This helped us understand where our company currently sits and what inclusion goals we had to achieve."
Once you have the data from your research, you'll learn your "why." Then you can start to think about what you'd love to achieve. For example, you might decide that your DEI "why" this year is to hire more LGBTQ+ employees.
2. Involve employees at all levels
Setting diversity and inclusion performance goals is like launching a new product. You wouldn't release a new product without discussing it with your key stakeholders and customers.
In this case, while setting a diversity goal, your employees are important stakeholders. Especially in a remote and hybrid world — you'll need a good structure to ensure everyone is heard.
Do this by:
Conducting focus groups: Small groups where you can candidly discuss inclusion and diversity in your organization with your employees.
Having physical interviews with your executives: To understand the diversity and inclusion performance goals for each department, branch, and division.
Sending out employee surveys: To help you get enough data on inclusion and diversity from your employees. Ask a few questions like…How would you love to be treated? What DEI program would you love us to start? And, how would you like your manager to treat you?
From those methods, you'll understand the behaviors your employees associate with feeling included, valued, and respected in your organization.
3. Create a goal-setting framework
Now you have your data, the next important step is to choose a goal-setting framework.
Goal-setting frameworks are a great way to track and report your diversity and inclusion performance goals.
To create an effective goal-setting framework, adopt the "SMART" acronym. Here are examples of how you can use it to set diversity and inclusion goals, step by step:
Specific
Achieving goals is easier if you break them down into small chunks.
Gauri Manglik, CEO & Co-founder of Instrumentl, says:
"It's important to set your DEI goals as specific targets rather than broad or general goals. For instance, if you're looking for a certain number of employees with disabilities, ensure that's what you're asking for."
For example, instead of saying:
"This year, we'll achieve diversity in our organization."
Say:
"We'll improve the representation of Black women in management".
Measurable
If you can't measure it, you can't manage it. Add figures to make your goals measurable. Setting goals backed by figures will help you stay on track.
For example, instead of:
"We'll hire more people of color this year".
Say:
"We'll target to hire 40% of people of color as leaders in our organization".
Attainable
This is where external research comes into play. Use the numbers from your measures to set realistic targets for your organization. Add in references from your research, so your employees and leadership feel the goals are attainable.
For example, instead of:
"We'll recruit 25% more LGBTQ+ employees in the next 10 months."
Say:
"We'll achieve 25% representation of LGBTQ+ employees in our organization. In New York City, most companies have more than 25% representation of LGBTQ+ employees, so we can reach that figure too."
Relevant
This section ensures that your diversity and inclusion performance goals are aligned with your company values. When your employees relate your diversity goals to their own goals, they'll be motivated to work to achieve them.
Don't say:
"We'll hire more Black women because we're lacking Black women in our company."
Say:
"Diverse teams are better at solving problems, and are more creative. That's why we're focusing on hiring more Black women to improve diversity in our company."
Time-bound
Set a deadline and the milestones you want to achieve in a certain time. This will make it easier to track progress.
Don't say:
"We're aiming to achieve 30% representation of employees with disabilities in the long term."
Say:
"By 2024, we will achieve 30% representation of employees with disabilities. By the end of this year, we'll improve that number from 12% to 20%."
4. Ensure you have resources
After setting your inclusion goals, share them with your leadership team. This ensures they provide you with enough resources to help achieve your goals.
Also, more investors are requesting to see the composition of a company workforce by race, ethnicity, and gender. So your showing your stakeholders you're trying to achieve those goals might mean more investments.
Jack Underwood, CEO of Circuit adds:
"Most diversity and inclusion initiatives fail because there weren't enough resources. What resources do you have available to support and promote inclusion goals? Are resources already in place or will you need to create new ones? Knowing this will determine the scope of your action and what results can be achieved."
Backing up diversity goals with resources (and buy-in) helps create meaningful change in your biz.
5. Establish a diversity and inclusion committee
A diversity and inclusion committee is also important to help you achieve your goals. These diverse teams drive change and support initiatives outside of their regular work.
Different organizations have their own ways of creating their diversity committees. Here are some steps you can follow to create your own:
Select potential DEI committee members: Ensure you select the members from different departments, underrepresented groups, and departments.
Recruit volunteers: At this step, only recruit the willing employees from the list of the employees you selected.
Get approval from your leadership: Be sure to get buy-in and committee members from top levels of your biz.
Highlight your diversity goals: Show the committee members the SMART goals they'll help the organization achieve.
Establish clear communication strategies: Create and share your plan for communicating your specific goals across the company (and externally).
Following these steps will make achieving your diversity and inclusion performance goals easier. Especially with the support of a dedicated committee.
6. Monitor, evaluate, and optimize your goals
The work doesn't stop after establishing your diversity and inclusion performance goals.
You'll need to monitor if your inclusion and diversity efforts are working. You can monitor and evaluate your D&I goals by:
Sending employee satisfaction surveys to understand how employees feel.
Having one-on-one meetings with your executives.
Checking the rate of your underrepresented employees' turnover.
Knowing the employee retention of your underrepresented employees.
Having yearly meetings with your stakeholders.
Checking the number of new diverse talents hired.
Karolina Kijowska, Head of People at PhotoAiD, says:
"Choose metrics that provide you with deep insights into the performance of your DEI strategies. For example, don't track the diversity of the entire workforce. Instead, track the rate at which diverse candidates are being hired and their retention rate."
3 Best practices for diversity and inclusion performance goals
For more inspiration, let's look at 3 best practices for diversity and inclusion performance goals.
1. Create learning and development programs
Training your employees from underrepresented backgrounds is a meaningful way to advance their career growth. And, it will increase employee engagement because all employees will grow together.
To create career growth opportunities for your diverse employees:
Look into their knowledge gap, skills, and abilities to know the programs you can enroll them in.
Create a mentorship system where your diverse employees are mentored by experienced employees.
Sponsor networking events for your underrepresented employees.
2. Create an inclusive hiring method
You may have other diversity and inclusion goals in place, but if you don't embrace an inclusive hiring practice, you might not reach enough diverse talent. To ensure you have inclusive recruiting strategies, be sure:
Your hiring managers are trained on DEI to ensure they're recruiting diverse candidates.
You are posting your job openings on diversity job boards that are used by underrepresented candidates.
Your job descriptions have inclusive language (and are free of bias). Unfortunately, the words you use might have unconscious biases (e.g., based on education, gender, age, race, etc.). You can try to remove these words, but it's time-consuming. Try using software like Ongig's Text Analyzer to easily find biased words in your JDs so you can remove (or replace them):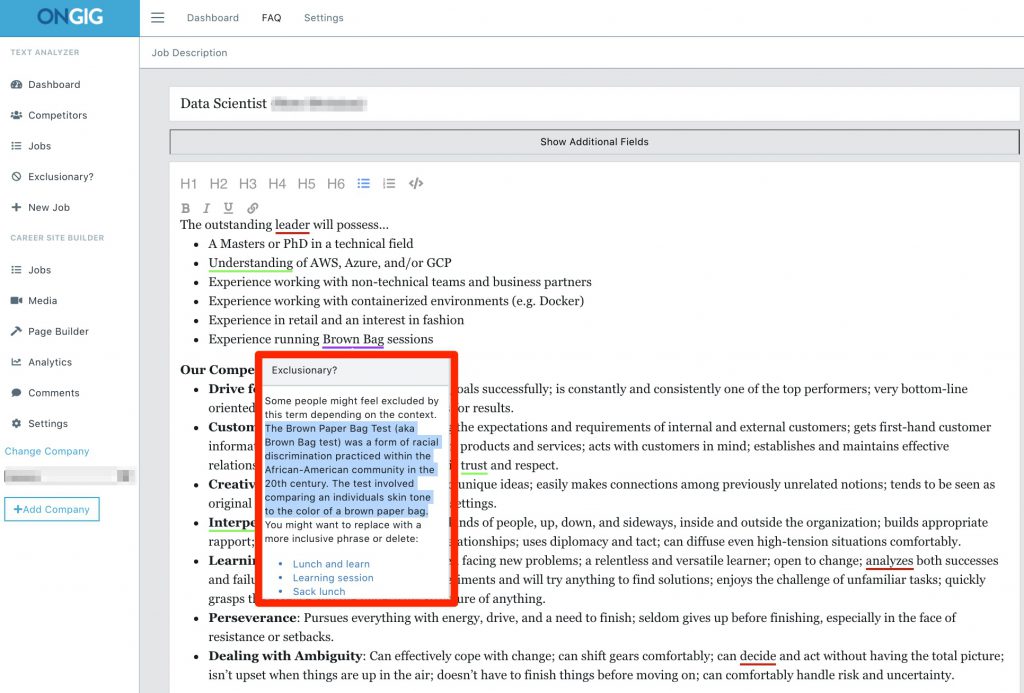 3. Create employee resource groups (ERGs)
Employee resource groups bring together team members who share a common identity, like religion or sexual orientation. ERGs don't only promote an inclusive workplace, but they also help enhance employee experience, create a sense of belonging, and promote company innovation.
You can create different ERQs for:
People of color
Veterans
LGBTQ+ employees
Interfaith employees
Working parents
Former felons
& more
WHY I WROTE THIS:
Ongig's mission is to support your commitment to meeting diversity and inclusion performance goals with our Text Analyzer software. Book a demo today if you want to ensure your JDs are inclusive — setting the foundation for hiring a more diverse team.
SHOUT-OUTS: