Having a diverse team is good for your bottom line. Companies with a more diverse workforce experience 36% more returns than non-diverse ones. Plus, 76% of candidates and employees from different backgrounds prefer to work for co.s focused on inclusive culture.
If you want to build your DEI hiring strategy, here are 5 examples of inclusive recruiting practices to start with:
1. Write Inclusive Job Descriptions
An inclusive hiring process starts with job descriptions if you want to attract diverse candidates.
Here are 2 proven ways to ensure you have inclusive job postings:
Avoid bias and use inclusive language. The words you use might have unconscious biases (e.g., gender, race, education, age, etc.). Words like blacklist, Oriental, digital native, ninja, he/she, and others can turn off people from underrepresented groups.
You can try to be conscious of these words, but you won't be able to catch all of them. You can use AI software like Ongig's Text Analyzer to quickly find biased words in your JDs (and provide inclusive alternatives):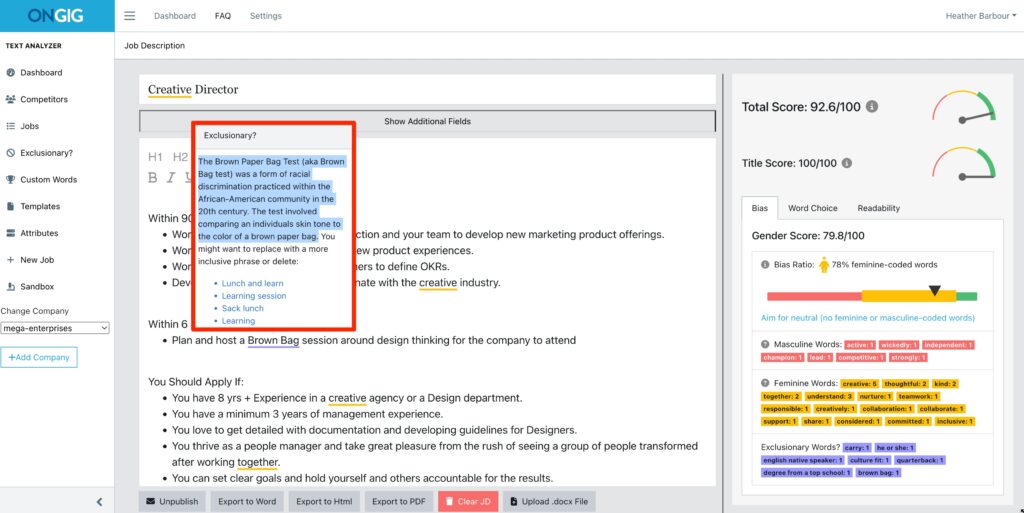 Show your Commitment to DEI. Most candidates prefer a company with a solid commitment to DEI. Make sure the candidate knows yours by including your DEI Statement on your JD. A diverse population of 764 LinkedIn members in the U.S. said:
"even a generic statement is still better than no statement."

source: LinkedIn Study of 764 members on Diversity Statements.
If you need inspiration for updating or writing a new diversity statement, check out this link for 25+ examples.
2. Create an Accessible Career Site
Another way to boost your inclusion efforts is to make your career site accessible. This means formatting open positions on your website so people with disabilities or sensory impairments can navigate your website.
You want to make sure you have:
Consistent navigational elements so an assistive reader tool can read it
Dyslexia friendly fonts
Proper color contrast for those who have visual disabilities or color blindness
Video captions for people with hearing disabilities applicants
Keyboard accessibility so your hiring content can be accessed without a mouse
Consult the Web Content Accessibility Guidelines (WCAG) international standard for more specific guidelines.
The BBC site is an excellent example of a digitally accessible website. It has:
Responsive screen design (easily adjusts to any device you view it on)
Easily navigated by keyboard
All videos have options for subtitles
There's an accessibility help link to make sure keyboard and screen readers find help fast
3. Build a Diverse Interview Panel
Inclusive recruiting practices carry over from career sites and job descriptions to your interview process.
Inclusive teams are often built from diverse recruiting teams. Creating an interview panel instead of having just one person do the interview minimizes the risk of personal bias creeping in during interviews.
Aim for a maximum of 5 people for each panel. Assign a leader, and make sure everyone knows their specific roles and responsibilities.
An article from TRIBE suggests you choose your panel based on:
Age and experience
Racial diversity
Social styles
Intel has had success with this. The company requires each panel interview to include at least 2 women or members of underrepresented groups and, within 2 years, expanded its hiring diversity by 41%.
4. Widen your Candidate Search
If your candidate pool is not as diverse as you wish despite having an inclusive JD, you might want to check where you're posting your job ads. After all, similar job seekers tend to use the same channels to apply for jobs.
To build a more diverse talent pool, you might want to think of going where your target market is, along with the usual channels.
If using online job boards, here are some you might want to try:
You'll find even more top diversity job boards for hiring POC, LGBTQ+, Latinx, and other represented groups here.
5. Show your Commitment to DEI During Onboarding
When your new candidate finally says yes and officially becomes part of your team, there is no better way to show them your company's commitment to DEI by making them feel included during the onboarding process.
Here are some suggestions after the application process ends:
Have your hiring managers give the new team member a formal or informal orientation. You might also want to assign a partner or "buddy" to help the new hire during onboarding.
Create a comfortable workstation or a workspace.
Have the entire team participate in the onboarding process to create a sense of belonging and inclusion.
Take the new employee to breakfast or lunch with other team members.
Why I wrote this:
Having inclusive recruiting practices shows your company's commitment to DEI. And Ongig's mission is to support your commitment through our Text Analyzer software. If you want to ensure your JDs are inclusive, please get in touch for a demo today.
Shout-outs!