If you're searching for employee resource group best practices, here are 5 that might help:
1. Writing employee resource group mission statements
Let's start with creating employee resource group mission statements. They outline your purpose and help with setting goals for ERGs. Most have a similar message that aligns with company objectives, plus differences that are specific to each underrepresented community.
Here's an example from Google of an ERG mission statement for all of their sub-groups: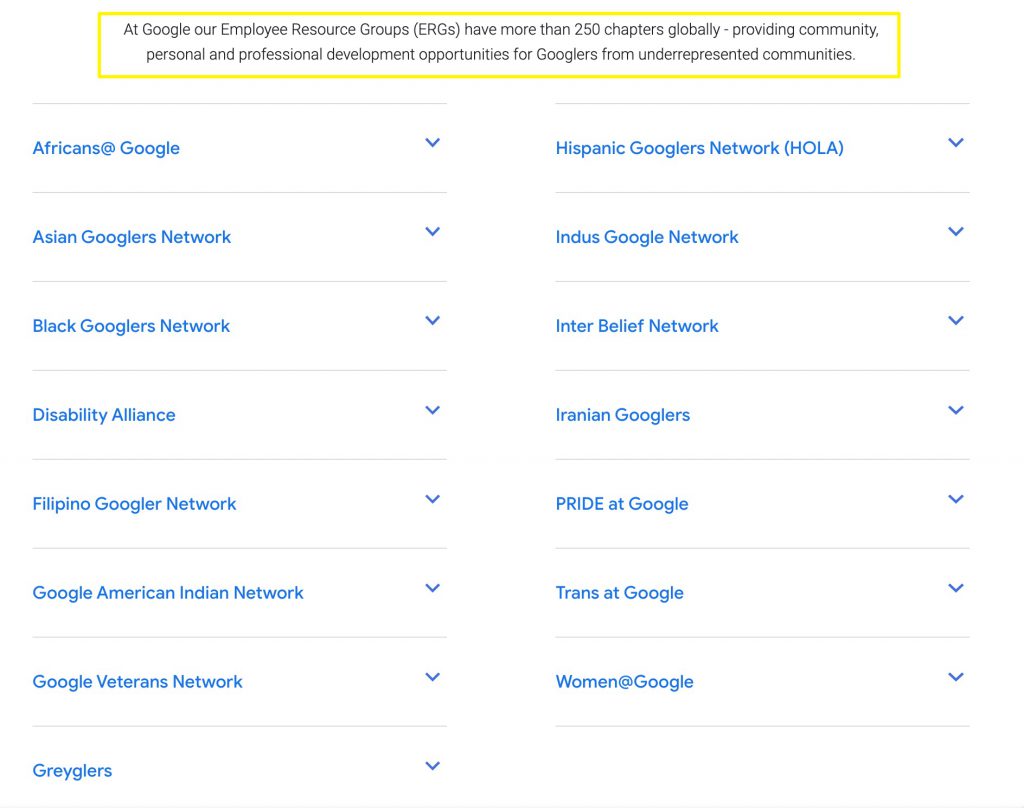 And, here are 3 examples of group-specific employee resource group mission statements:
Argonne ERG mission statement for African Americans:
"The Argonne African American Employee Resource Group (AAA-ERG) partners with laboratory leadership to promote the development of African Americans in science, technology, and operations. Through engagement, mentorship, and programming that promotes cultural awareness and communication among the workforce, the AAA-ERG supports a world-class workplace to make a positive impact on the community."
Berkeley Lab ERG mission statement for Veterans:
"The purpose of the VERG is to enhance the work environment at Berkeley Lab for veteran employees and job seekers. Our goal is to promote an inclusive and welcoming atmosphere, identify and address emerging issues or challenges such as veteran recruitment and retention, increase the visibility and value of veterans' skills in the workplace among management and staff, provide guidance for institutional processes and programs, enhance policies of non-discrimination, and recognize achievements impacting our community. The group is open to all employees, including veterans and civilians. VERG is currently working on a self-identification campaign for veterans at the Lab."
Hyundai mission statement example for Equality/LGBTQ ERG:
"Promotes a positive and inclusive work environment while providing opportunities for Lesbian, Gay, Bisexual, Transgender and Queer (LGBTQ) Hyundai employees in education, career development, networking and workplace collaboration. Additionally, this ERG advances innovative ideas to drive awareness of the Hyundai brand within the LGBTQ community. Driving: Equality welcomes membership and contribution from all Hyundai employees supporting its goals, both LGBTQ employees and allies."
Examples of ERGS
You can apply employee resource group best practices for many different underrepresented groups. Some common ERGs are created for:
people with disabilities
women
cultural, race, or ethnic groups
religious groups
gender indentity minorities
sexual orientation minorities
age groups
parents and caregivers
veterans
neurodivergents
remote workers
2. Establishing employee resource group guidelines
Every ERG needs structure and boundaries, so creating employee resource group guidelines is key. Some companies do this in the form of:
an ERG "toolkit"
an employee resource group handbook
a page on their internal site
These are examples of things to include in your employee resource group guidelines:
how ERGs are created
how are they funded
who manages the funding
meeting structure and frequency
how leaders are selected
marketing the ERG
3. Getting ERG leadership buy-in
ERG best practices include getting approval and "buy-in" from upper management. If you have support from the top, there's a higher chance of success:
"Seek out an executive within the organization who will sponsor your group. They don't have to be deeply invested, but it should be someone who supports your mission and the demographic you're trying to serve. This person will basically be your liaison with leadership and can speak up for you if they have any issues/concerns with your group after it's been established."

source: The Mom Project
ERG leadership buy-in doesn't have to come from the HR or DEI departments. Take Meena Polich, for example; she's Senior Counsel at Intercom and the co-founder/head of Inter-AzNs, Intercom's employee resource group supporting their Asian community.
4. Developing "allyship" with ERGs
Get people outside of the underrepresented group involved. Employee resource group best practices should include building a network of allies.
If your organization comprises 70% white men, invite them to ERG events or ask them to join an ERG leadership team. Bringing employees together from different backgrounds and cultures is the point of ERGs. Here are a few examples of common ally groups:
anti-racism allies ERG
ERG male allies
lesbian, gay, transgender, bisexual & allies ERG
allies disabilities ERG
I also found this great post showing how allyship and understanding are built through ERGs: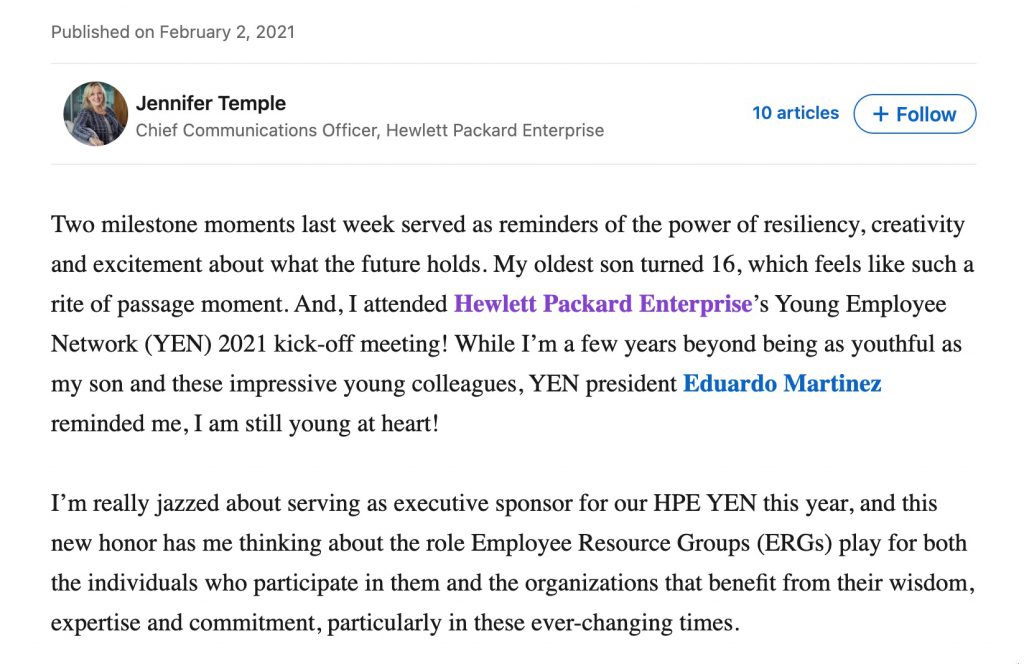 Jennifer Temple is HPE's Chief Communications Officer and the 2021 executive sponsor for HPE's Young Employee Network. She said:
"Our Young Employee Network (YEN) is helping facilitate cross-generational understanding, which is vital to creating a workforce of the future. In the wake of George Floyd's death in May of 2020, members of our Black Employee Network (BEN) helped me understand how to be a better advocate for social justice. And, members of our Disability Network have expanded my understanding of effective communication in a digital world."
5. Setting up training for employee resource groups
This list of employee resource groups best practices isn't complete without training. Training for employee resource groups is important, especially if you want to bring groups together to create a sense of belonging.
You can use your mission statement and employee resource group guidelines as tools for training new members (or ERG leaders). And, some ERGs host training sessions to foster relationships across their company. Training topics might include:
unconisous bias
leadership
constructive communication
team building
You can also be more informal (and fun) by hosting other events through your ERGs like:
virtual coffee chats
a diverse speaker series
volunteer events
I noticed Indeed has Verzuz Battles hosted by their Black Inclusion Group, virtual Zumba classes led by Latinx in Tech, and virtual dance parties organized by iPride for Pride Month.
WHY I WROTE THIS
With Diversity and Inclusion in the spotlight, more employers are focusing on ERGs. Ongig supports diverse hiring practices with our Text Analyzer by eliminating bias of all kinds.
Shout-Outs: