Recruitment marketing is vital to talent acquisition.
In this guide I share a primer on recruitment marketing with hopefully-helpful tips, including:
My definition of recruitment marketing
The 6 stages of the recruiting funnel
4 recruitment marketing strategies
The 3 major benefits you'll see from effective recruitment marketing
So if you want to engage more candidates and increase the awareness of your employer brand, you'll love this.
What is Recruitment Marketing?
The definition of recruitment marketing is the use of marketing strategies to recruit candidates to you the employer. My experience is in digital recruitment marketing so that's what this guide is all about.
The goal of recruitment marketing is to find, attract and engage higher quality candidates through these digital marketing strategies.
You can think about it as traditional digital marketing, but instead of marketing to consumers, you are marketing to candidates and job seekers.
The Recruiting Funnel and Recruitment Marketing
Recruitment marketing takes place at the top of the recruiting funnel.
It's where you attract and engage candidates.
Here's a funnel provided by Ora Worldwide for more context:
Awareness
The first step of the funnel is awareness — it's first and arguably one of the most important.
Candidates need to know that you're a potential employer before anything.
This means you need to know where (platforms, social media) your candidates are hanging online AND market on those platforms!
It's also important to keep track of passive candidates and where they're spending their time.
Today's job market is quite different than the past.
A lot of candidates are passive (i.e. aren't actively looking for jobs or already employed) but will express interest if they see something that catches their eye.
How do you catch their eye?
Generate awesome content that:
Candidates want to consume.
Articulates your company as an employer of choice.
Expresses your employer brand.
Includes your employees.
Facebook Recruitment Marketing Posts Examples:
Interest & Consideration
Once a candidate has clicked your ad, link or post, they've entered the interest and consideration stages.
This is where they hit the landing pages of your post.
It's crucial to optimize these landing pages.
Some things your landing pages should have:
Content based on the ad or post the candidate clicked from (i.e. Recruiting post for engineers click through to a page focused on your company's engineering jobs, benefits, perks, etc.)
Engaging videos and/or images
Employer of choice awards (if any)
Employee value proposition (EVP)
Clear calls-to-action
Calls-to-action are important at this stage because it's the next step in converting the candidate.
Here are some calls-to-action to consider for your landing pages:
Search Jobs: Give them an option to view job pages for specific positions. This should go to your job search page.
Talent Community Opt-In: Candidates don't apply, but they opt-in with their email to receive job alerts and other recruitment marketing content.

Tip: Be sure to email candidates relevant job alerts and content to the position or department they want to work for. They'll unsubscribe quick if you send them emails that aren't relevant.

Apply: They've clicked through to your page so they're interested. It'd be smart to include an apply button in case they're ready to apply. Some companies don't want a general apply, they'd like the candidate to go one step further and apply when they've landed on a specific job or department.
For example, check out Dell's career landing page (below).
Notice the prominent "Search Jobs" call-to-action (above the fold) and the "Join Talent Network" call-to-action (bottom of the page).
Recruitment Marketing Strategies
In this section I'll list where you want to implement recruitment marketing strategies and what you should focus on.
Company Career Page
This is an important one.
It's the primary landing page dedicated to candidates on your corporate site.
And often one of the top Google results when searching "[company name] careers".
The best company career pages include:
A strong headline
Videos and pictures
Employee testimonials
Benefits and perks
Values and culture info
Here are a couple of company career page examples we love:
Note: Click image to see full career page.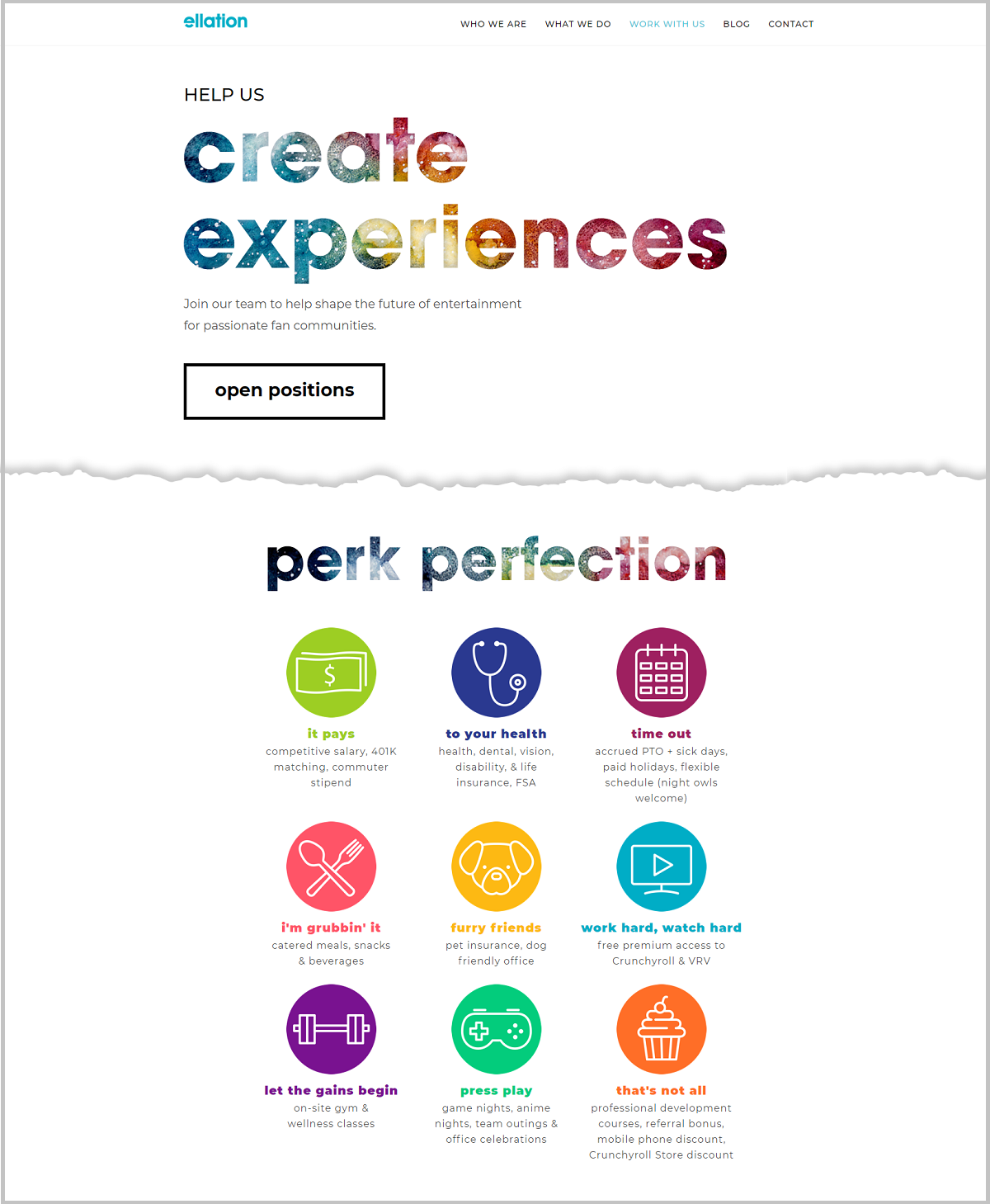 Here are some more resources if you're looking for company career page inspiration:
Job Pages
An important asset for employers, but usually generated by applicant tracking systems.
Most ATS-generated job pages are text-based with little to no branding. Remember:
"Applicant tracking systems were never meant to be pretty (external), they were meant to help manage workflows (internal)".

– James Ellis, The Talent Cast
A while ago I published Boost Your "Digital" Candidate Experience with Job Page Overlays and define a job page overlay like this:
Job page overlays allow you to take control of your job pages and give you the ability to easily add:
Videos and images
Recruiting widgets
Custom design
Branding
Recruiting content
Recruitment marketing platforms like Ongig, Talentbrew, PhenomPeople and Smashfly will help you create and implement job page overlays.
Email
Email marketing is still a top digital marketing strategy and continues to evolve in recruitment.
You can use email at every stage of the recruiting funnel, whether you're reaching out to a new candidate or nurturing one from the past.
Here are some email lists you should be building (notice there are 3 different segments):
Applicants
Talent community Opt-Ins
Potential candidates
Some tips for recruitment marketing emails:
Personalize the message

Don't just use first name and last name either. Dig deeper and include school(s) attended, interests outside of work, projects or technologies they've worked with, etc.

Always include a call-to-action.

Use different messages and calls-to-action for different segments.

Optimize your emails for mobile devices.
Include content that candidates want to read about:

Benefits & perks
Employer of choice awards
Salary information
Job openings
Here's a recruitment marketing email template for a past applicant or talent community subscriber:
Social Media Platforms
Social media can be one of the biggest outlets for your recruitment marketing messages.
Facebook, LinkedIn, and Twitter are where candidates are hanging out.
Those platforms also offer the best targeting options for advertising.
It's amazing how granular you can get when choosing targeting options.
Here's an example for targeting on Facebook:
Some tips for your social media recruitment posts and ads:
Create in-depth candidate personas

These are the personas you will be targeting with your ad campaigns.

Use awesome video and images

You'll be using this media to attract and catch the eye of candidates.

Create landing pages focused on converting

Content matches the topic/message of the post or ad.
Optimize with the right calls-to-action (search jobs, talent community, apply)

Track your results (likes, comments, shares, impressions, clicks, conversions)

The results will tell you if the ad was a success or not. If it is apply the strategy to other campaigns. If it isn't adjust it and test again.
Benefits of Recruitment Marketing
Here are 3 of the top benefits you'll reap from recruitment marketing:
Candidate Experience
Recruitment marketing improves your candidate experience by making it more personal.
The Beamery explains the impact of recruitment marketing on candidate experience in this excerpt:
Employer Brand
Recruitment marketing is designed to put an emphasis on employer branding.
Running social media campaigns, staying active on social media platforms, investing in programmatic advertising, and personalizing outreach and communications.
These are all things that will build a stronger employer brand with the goal of increasing awareness and visibility.
Undercover Recruiter got a great quote from VP of Talent @ Great Clips, Jared Nypen:
Candidate Targeting & Quality
Another benefit of recruitment marketing is giving employers the ability to create hyper-targeted ad campaigns.
Here's an explanation and list of benefits of targeting recruitment campaigns from Appcast:
Why I Wrote This
Ongig is a recruitment marketing platform focused on job pages and job description text.
Our branded candidate experience optimizes job pages with videos, images, recruiting widgets, and other recruiting content to engage and convert candidates. Our text analyzer optimizes job description text by eliminating gender, racial, age, and other biases.