Effective recruitment involves many tactics, tools, and methods. The job description is one of the most essential elements of effective talent acquisition.
When structured, optimized, and written well, a "website job description" (aka a JD on your career site) drives your recruitment process forward and inspires the best talent to apply for your roles.
Here are 5 tips for creating winning job descriptions for your website to boost employer branding, set the right expectations, and speed up your hiring process.
Here's what you should do:
1. Use smart tools to boost recruiting
First, we have to note some common issues that tend to turn talented candidates away and paint a bad picture of your brand.
You might not be aware of it, but your job descriptions might have hidden biases that deter candidates and cost you more money for every application you get.
That's why it's important to leverage smart technology and use a job description bias tool to automatically identify bias and those keywords that might send the wrong message to potential applicants. It's a quick and simple way to optimize your JDs before rolling them out on your website or other platforms.
Ongig flags biased words in your JDs based on gender, race, age, disability, mental health, and more. And makes it easy for you to swap biased words with more inclusive ones.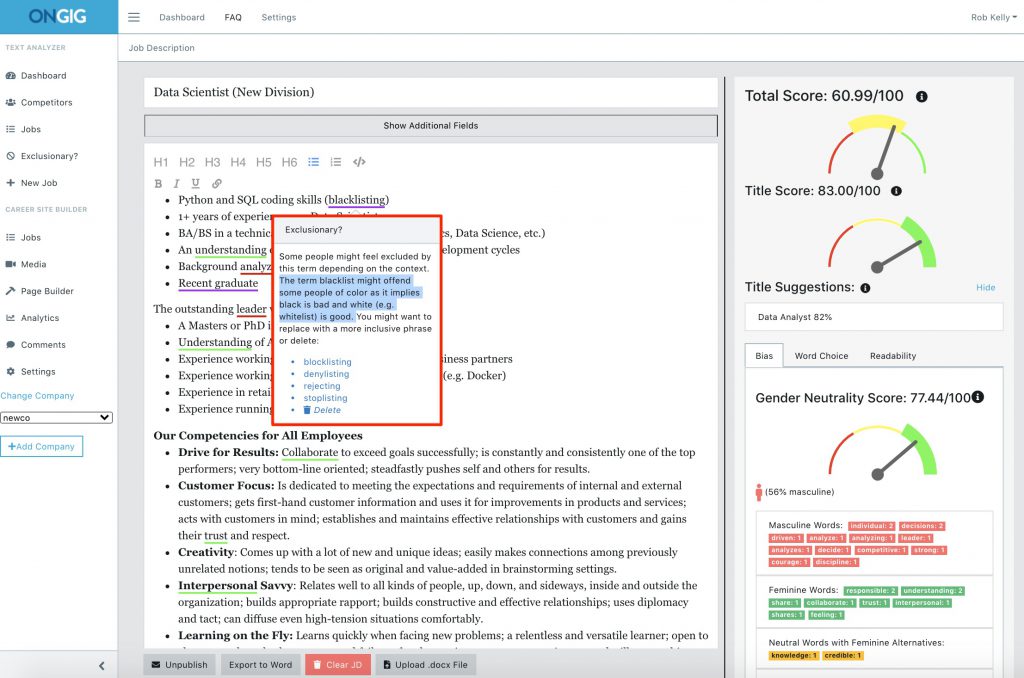 Other tools include conferencing and quiz tools for remote interviews and applicant testing. Or a comprehensive applicant tracking system will speed everything from pre-screening to candidate scoring (and onboarding).
Combined, these tools will allow you to create better job descriptions now and in the future.
2. Don't be afraid to list salary and benefits
Over the years, a particularly bad habit has become prominent in the business world and recruitment in general — not disclosing salary.
While you might be apprehensive about listing your compensation and benefits, it's important to consider the possible upsides and the very real downsides of staying silent on the matter.
For one, not disclosing salary in job descriptions might attract the wrong applicants. It can prolong your recruitment process, costing you money and effort.
It doesn't matter whether you are disclosing a working-class job salary or a salary for an upper-level management position — it's important to keep compensation and benefits transparent for all.
Be transparent with your base pay (or a range) so potential applicants know whether or not this is a job they should apply for. And remember, applicants will always find out what the industry pay is for that role.
Don't let them find that out on a competitor's website; keep them on your careers website by being open and transparent.
3. Format your text for clarity
A giant wall of text is a great way to make people hit that back button and continue their job search elsewhere.
Creating job descriptions that entice, engage, and inspire people to take action means combining visual elements with clear and value-driven writing. If you still don't have one, create a logo for your brand and feature it in the description for the visual effect. Let's leave the visuals aside and take a closer look at text optimization.
First, to write a good job description, you need to use the right tone of voice that follows your brand guidelines and resonates with your target audience. You also need to convey the right values and the key drivers to entice top talent to apply.
Remember, the best of the best are not just looking for fair compensation and paid vacation days.
It's important to break walls of text with bullet points (and subheadings), and emphasize key statements with bold text. You'll also make your website job description stand out by taking the potential employee through a typical day at work. And showing what's in it for them.
This is something that most employers don't do, but it can help paint a picture for the candidate and tell them whether or not you'd be a good fit.
Here's a free copy/paste job description template Ongig recommends if you need some help deciding on a format for your JDs:
JOB TITLE
[Include a clear and concise title of your posted job.]
Tip: Keep your job titles between 1-3 words and 20 syllables or less. This helps with SEO and makes them easier to read. Check out our Job Title Guide for the most searched job titles.
JOB SUMMARY
[Provide an engaging paragraph about the role.]
Tip: A job summary should concisely explain the role. Remember to include who they'll supervise and any other responsibilities.
ABOUT YOU
[Share more about the desired skills, roles, and responsibilities of the ideal candidate.]
Consider adding sentences on:
Skills required for specific tasks.
Goals and targets.
Workplace collaborations.
Tip: Look at other companies or templates for inspiration.
WHAT YOU'LL DO
[Here is where you list the day-to-day job duties.]
Job duties may include:
Manage day-to-day client support
Facilitate a collaborative team environment
Provide ongoing support for new projects
Coach direct reports
Work with C-suite for strategy planning
Tip: Keep your "responsibilities" lists short. Using more than 7 bullets might make candidates feel underqualified or overwhelmed.
YOUR REQUIREMENTS
[Here is where you list the basic qualifications and experience.]
Tip: Include your preferred requirements here or create a "Preferred Requirements" section if there are more than two.
SALARY
[List the salary or hourly rate for the role here. It is important to keep things transparent as candidates spend a significant amount of time on this section.]
Tip: Even if it's a range, list salary details. Salary is the #1 part of a job ad that is "helpful", "appealing", and makes candidates "more likely to apply".
BENEFITS
[List the perks of joining your company.]
Tip: Each benefit you include in a job ad increases the apply rate by 1% to 5%. The benefits with the most positive impact on apply rate are: Regular Incremental Bonus (+155.1%); Pet Insurance (+37%); Health Insurance (+29.8%); Stock Options/Employee Stock Purchase Plan (+27.5%); and 401(k) (+20.5%).
OPTIONAL SECTIONS
[your JDs may include optional sections that facilitate a job search and application]
Travel requirements
Remote and on-site work requirements
Commission details
Application steps
ABOUT US
[Here, you share more about your company]
Some ideas to include:
Stating the healthcare perks of joining the company
Describing your company culture
Specifying your vision ad mission
Sharing your ongoing corporate responsibility
Tip: I like to save the "About Us" section for the end (even though about 50% of JDs start with About Us). Instead, end your JD with the About Us. That way, you can START your JD about the candidate/role, making them feel valued.
DIVERSITY STATEMENT
[Include an EEO or diversity statement that makes your company accessible and attractive to candidates from diverse backgrounds.]
Tip: Most candidates value seeing a D&I commitment. A diverse population of 764 LinkedIn members in the U.S. said "even a generic statement is still better than no statement." You'll find examples in our blog 25 Examples of Awesome Diversity Statements.
4. Boost engagement with visual elements
If you want to stand out from your competitors, enrich your career site and job descriptions with visual elements. Be sure to use your brand's color scheme for these pages and follow the visual style guide to add pictograms or unique imagery to support your subheadings and break up paragraphs of text.
Also, make sure that your logo fonts are visually appealing.
Voltz Motor Tech does this in their modern job description template shown here: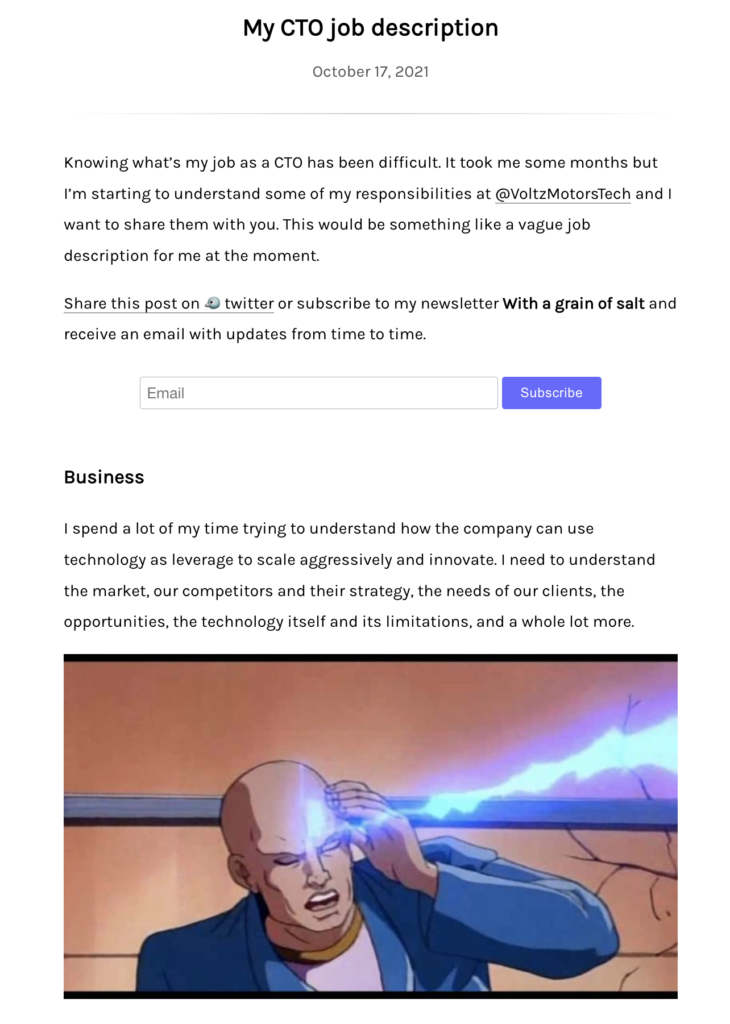 Or use a large header image to frame the page's design and set the tone. If the pictures or other visual elements are too small, you can use a tool like Depositphotos to upscale your images while ensuring the landing page stays responsive and loads quickly.
And add a call to action to the bottom of each page to inspire potential applicants to "apply now."
5. Build dedicated landing pages
Creating new landing pages for each open position is a great way to improve your brand's visibility online, improve SEO, and allow each available job to stand out. This is an excellent opportunity to personalize pages on your website for the position and its requirements and attract the type of person who should apply for the role. Make your landing page user-friendly, conduct a heatmap analysis to identify how users interact with the page, and make necessary improvements.
It's also a great way to leverage website monitoring and track the performance of these pages, so you optimize your hiring efforts in the future.
These pages will generate important user data and give you an insight into the type of traffic that's coming to your website.
Why I wrote this:
A website job description can make or break your talent acquisition efforts. It's key to eliminate bias from your JDs, use the right tools in the process, and optimize your written (and visual) elements to create a compelling narrative for potential candidates. Ongig's software supports your goal to attract quality applicants and to help find the perfect fit for your company, culture, and long-term goals.
This is a guest post from Nikola Sekulić of Content Wizards:
Nikola is a seasoned brand developer, writer, and storyteller. Over the last decade, he's worked on various marketing, branding, and copywriting projects – crafting plans and strategies, writing creative online and offline content, and making ideas happen. When he is not working for clients around the world, he is exploring new topics and developing fresh ideas to turn into engaging stories for the online community.
Shout-outs:
1. Feature Photo by Austin Chan on Unsplash