Words matter, especially in job descriptions. And exclusionary words keep diverse talent from applying. Finding these words on your own is tricky (and time-consuming).
One of the best ways to do it is by using a job description bias tool. Here are 4 tools to save you time (and remove the human error element):
1. Ongig Job Description Bias Tool
Ongig flags biased words in your JDs based on gender, race, age, disability, mental health, and more. And the software makes it easy for you to swap biased words with more inclusive ones.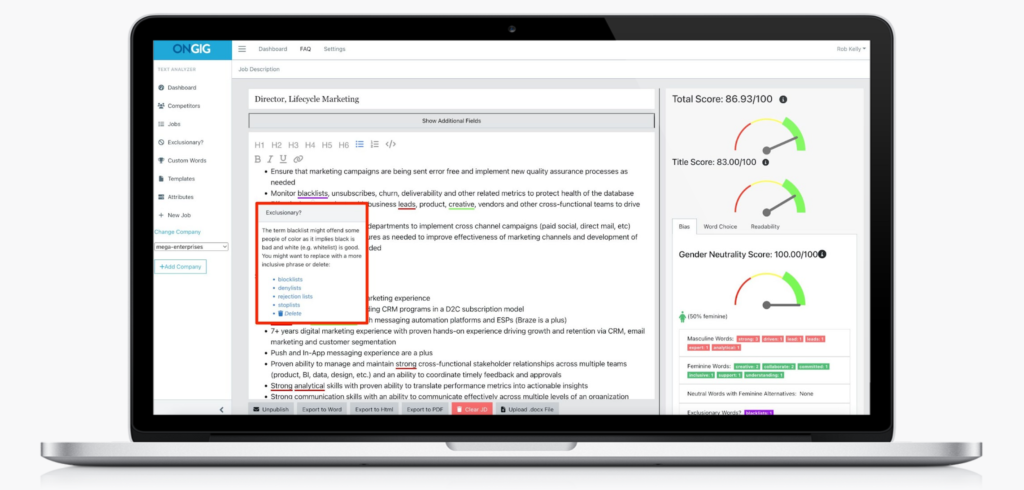 Here are some examples of words this job description bias tool might find in your JDs:
Gender-coded words. strong, objectives, principles, leader, and competitive might deter women from applying to your job ads.
Racial Bias. a cakewalk, blacklist, native English speaker, spirit animal, and brown bag might keep candidates from Black, Indigenous, and People of Color (BIPOC) communities from applying.
Age Bias. recent graduates only, the elderly, and digital native might deter older people from applying to your roles.
These are just a few examples of biased language that creeps into your job descriptions (sometimes unintentionally). You'll find loads of others in Ongig's Inclusive Language List for Job Ads. And that's just a sampling of the 10,000+ words flagged automatically when you use the software.
Outside of scanning for biased words, Ongig also has built-in job title suggestions, JD workflow settings, an AI-based "missing section" finder, readability tips, a complex words finder, custom JD templates, and more.
2. Applied Job Description Bias Tool
Applied is an applicant tracking system (ATS) with a focus on diversity, equality, and inclusion (DEI) in hiring. Its job description bias tool checks your JDs for gender-coded words because women are less likely to apply for a job with male-coded language.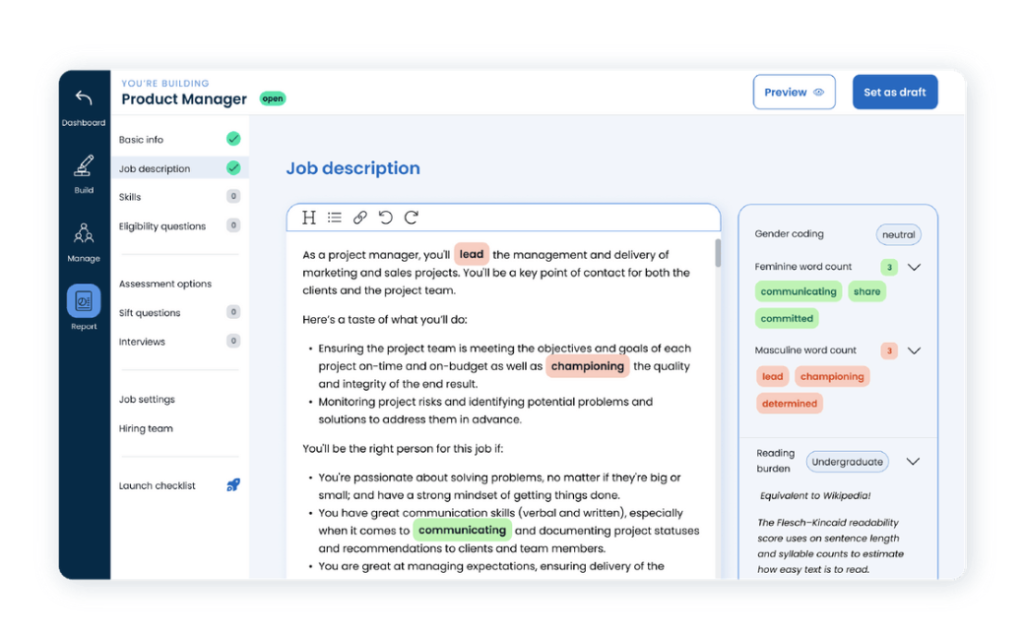 Applied also:
Checks the length of your job requirements. Long lists of requirements prevent more women from applying because studies show women usually only apply to jobs when they know they'll meet 100% of the requirements.
Analyzes your JDs for ease of reading. The tool uses Flesch reading scale to tell you how easy (or difficult it is) to read.
Hosts regular DEI events.
Has a job board for curated DEI jobs.
3. UInclude Job Description Bias Tool
UInclude's job description bias tool identifies gender-based and racially exclusive phrases in your JDs. It also gives you more inclusive word replacements.
A unique feature of this tool is it gives you a performance prediction score or an "inclusion score." This score tells you the inclusion level of your job ad and how it might appeal to underrepresented candidates. It predicts that any JDs with a score of over 85 will have a higher rate of applicants and a lower cost per application.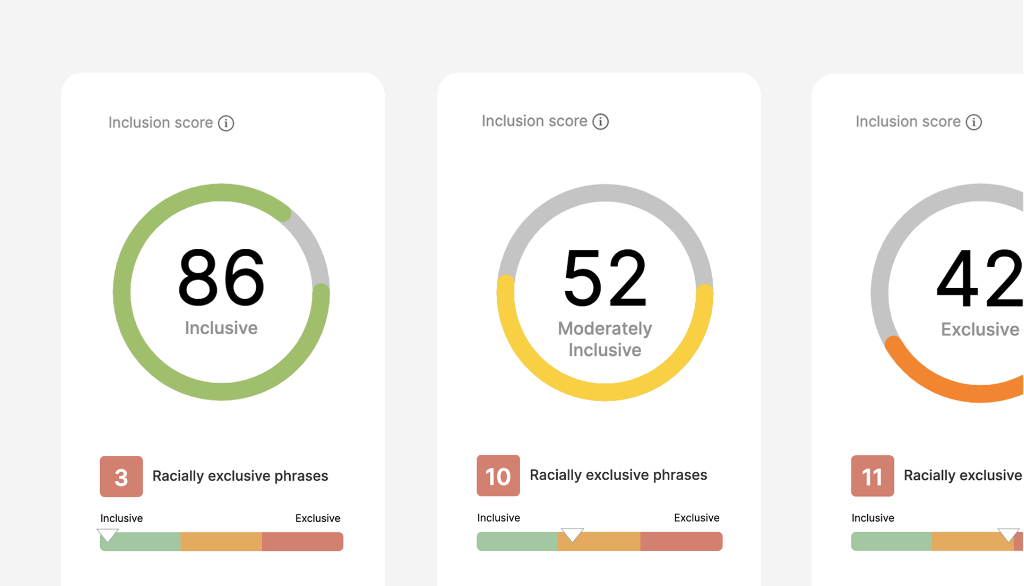 4. Gender Decoder Job Description Bias Tool
Gender decoder is a free job description bias tool focused on gender bias. It finds subtle gender-coded language in your JDs. It also tells you if these words are masculine or feminine coded words, but it does not offer more gender-neutral replacements.
When you copy and paste your JD into the blank box and click "check this ad," it automatically populates a list on the left grouped into male and female coded words. The downsides are it doesn't underline the comments, so you'll have to search for it manually.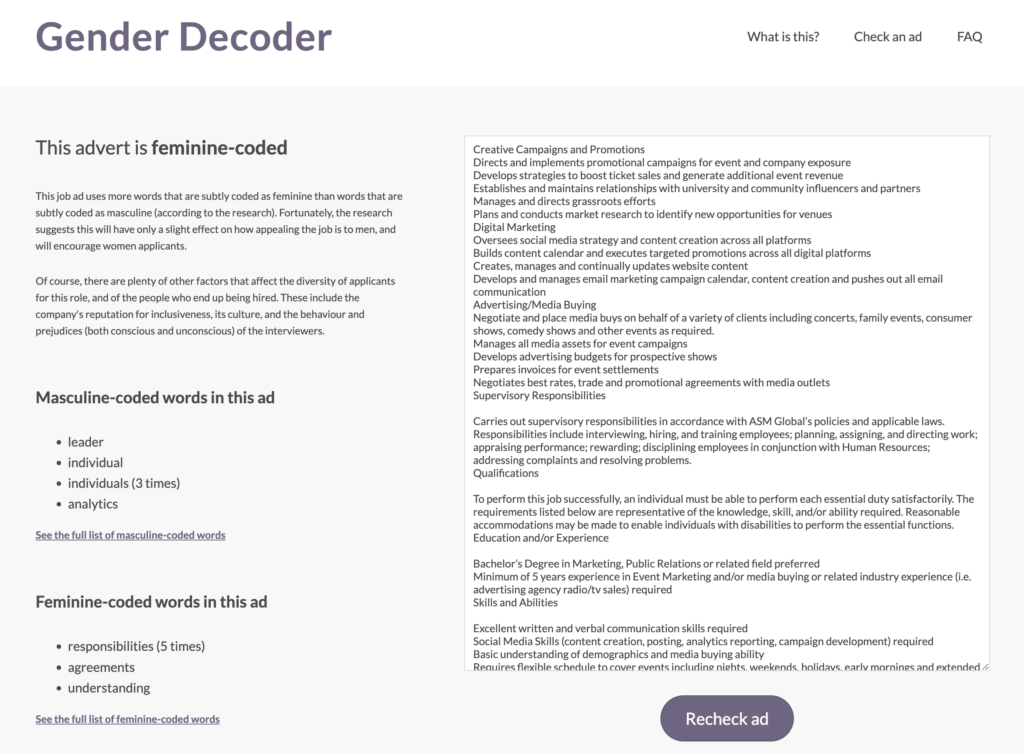 Note: Gender Decoder also allows you to make a copy (as stated in their license) as long as you include the copyright and permission notice.
Why I Wrote This:
Ongig's mission is to create effective and inclusive JDs. Our job description bias tool helps you automate the process to have more focused diversity hiring practices and attract top talent.
Shout-outs:
Why Women Don't Apply for Jobs Unless They're 100% Qualified (by Tara Sophia Mohr)
Feature Image Photo by Markus Spiske on Unsplash