A modern job description template is more than a list of daily duties with matching skillsets. Candidates are focusing on benefits, compensation, culture, and flex-work options more than ever.
So, how do you update your JDs to attract top talent? Here are 4 examples of modern JD templates you might find inspiring. Plus, 1 is free to copy/paste!
Zappos — Modern Job Description Template
Many candidates find value in company culture, benefits, and values-focused companies. Especially the modern workforce.
So, highlighting these first in your JDs attracts candidates from the get-go. Once you tell people what's in it for them, you can tell them more about the company. Zappos uses a modern job description template that does this well.
Zappos starts its JDs with a welcome statement highlighting its values and commitment to D&I:
"Welcome! You made it to the job description page!

At Zappos, we look for people who will show up as their whole self because we value diversity and inclusion, as well as people who enjoy fun and maybe even a little weirdness. So be sure to check on whether you're aligned with our company values and culture. If you think you can see yourself delivering WOW as a member of the Zappos family, then check out the job description below!"
Next, they list the company's 10 core values and "4Cs":
Company Culture is at Our Core
Deliver WOW Through Service
Embrace and Drive Change
Create Fun and A Little Weirdness
Be Adventurous, Creative, and Open-Minded
Pursue Growth and Learning
Build Open and Honest Relationships With Communication
Build a Positive Team and Family Spirit
Do More With Less
Be Passionate and Determined
Be Humble
We Focus on 4C's
Company Culture
Customer Service
Commerce (the "E" kind in our case)
Community
And then, the company's perks (aka "benefits"):
A generous Zapponian discount program.
A multitude of benefits and incentives to stay healthy and fit.
Zappos pays 100% of every employee's medical, dental, and vision.
Plenty of paid time off for life, vacations, staycations, and rest.
Zappos pays for 100% of any 12 therapy, mental health, or coaching sessions each year.
Meaningful assistance programs like professional development, mentoring, and 401k.
Make an impact through volunteer adventures and other community programs
Mandatory fun? Yes, please. Enjoy team building, family spirit, and plenty of room to recharge.
Then they describe what it means to be a Zapponian:
"Zapponian [noun| employee of Zappos]. You are self-motivated. You think like an entrepreneur, constantly innovating and driving positive change, but more importantly, you consistently deliver mind-boggling results.

Bold [adjective| not afraid of anything]. A role at Zappos is an opportunity to be a part of something different. To go bold. We're a company that isn't afraid to take risks and question the status quo. Oh yeah, we like to have fun too.

Scout [noun| you're a recruiter, too]. As a Zapponian, we'll ask that you always keep your eye out for great talent to join our family. Consider yourself an extension of the recruiting team, scouting for the best people to grow our company."
After these candidate-focused sections, more traditional JD sections follow:
Who We Are
Who We're Looking For
What You'll Be Doing
Requirements
The Fine Print/EEO Statement
Voltz Motor Tech — Modern Job Description Template
Modern technology advancements bring rapid changes in job responsibilities. Especially for C-suite employees in the tech sector like CTO (Chief Technology Officer), CIO (Chief Information Officer), or VP of Engineering.
Using Tom Berray's 'The Role of the CTO' framework, David Stanete created his own modern job description template to get a better understanding of the roles he plays in Volt Motor Tech as CTO.
Here's a snapshot of his comic-style job description: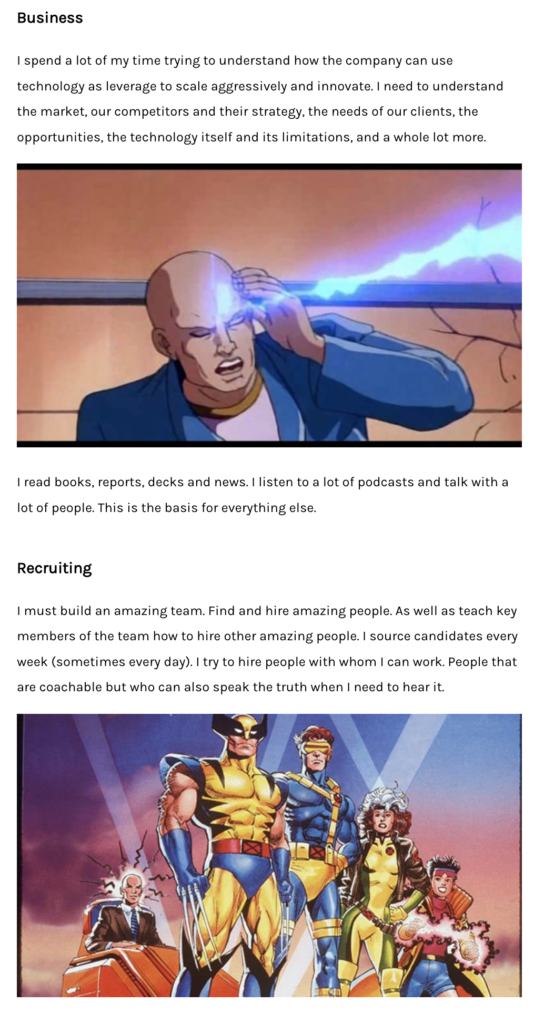 Besides "Business" and "Recruiting," other sections include:
Processes
Practices
Collaboration
Alignment
Management
Structure
Evangelisation
Coaching
& more
You can read the full CTO JD here.
LEGO — Modern Job Description Template
LEGO uses a modern job description template that's "you-focused." Their JDs show candidates how they might interact with their team and also use unique section headers:
"Play your part in our team succeeding" — summary of the role
"Do you have what it takes?" — role requirements
"Join the global LEGO family" — benefits and flex-work statement
LEGO's JDs also have EEO, DEI, and accessibility statements. And they end with a fun video highlighting company culture with a final tagline, "So come play with us."
Here's a snapshot of a Creative Producer JD using their modern job description template: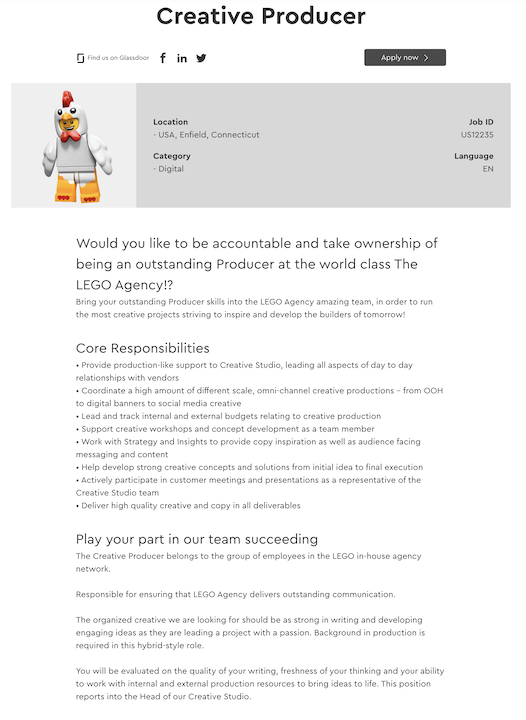 You can find more examples of their modern job description template on the LEGO career page.
Free Modern Job Description Template [just copy & paste!]
Here's a free template Ongig recommends if you need to edit or create new modern JDs. I've listed tips and examples in each section so you can easily copy/paste.
Note: This template works for any role. You'll just need to customize it based on your company requirements.
JOB TITLE
[Here, include the job title]
Tip: Keep your job titles between 1-3 words and 20 syllables or less. This helps with SEO and makes them easier to read. For example, "Sales Rep" is better than "Executive Business Development Manager."
JOB SUMMARY
[This is where you write a paragraph about the role.]
Tip: A job summary should concisely explain the role. Remember to include who they'll supervise or work with on the team. This often increases job satisfaction.
Here's an example for a Software Engineer, from Toast, for inspiration:
"Do you like to solve complex problems at scale? Toast is looking for a Software Engineer to play a key role on our Onboarding & Adoption Team. We go the extra mile to enable our restaurants to become experts in the full Toast Platform, encompassing Point of Sale, Digital Ordering, Loyalty, Employee, Inventory, and more using a combination of a reimagined user experience and deep analytical thinking on what is working and what is not."
ABOUT YOU
[This is where you talk about your candidate.]
Include a sentence on:
what they will do
some goals they will reach for
how they work with or supervise the team (or other teams)
Tip: Follow the job summary with this section to have a more modern, candidate-focused job description.
WHAT YOU'LL DO
[Here is where you list the day-to-day job duties.]
Job duties may include:
Manage day to day client support
Facilitate a collaborative team environment
Provide ongoing support for new projects
Coach direct reports
Work with C-suite for strategy planning
Tip: Keep your "responsibilities" and "job duties" lists short. Using more than 7 bullets might make candidates feel underqualified or overwhelmed.
YOUR REQUIREMENTS
[This section is where you list basic qualifications and experience.]
Tip: Include your preferred requirements here or create a "Preferred Requirements" section if there are more than two.
SALARY
[List the salary or hourly rate for the role here. Candidates spend more time looking at it than anything else.]
Tip: Even if it's a range, list salary details. Salary is the #1 part of a job ad that is "helpful," "appealing," and makes candidates "more likely to apply."
source: Vision Critical Heatmap Study of 450 LinkedIn Members, June 2018
BENEFITS
[List any perks your candidate will get if they join the team.]
Tip: Each benefit you include in a job ad increases the apply rate by 1% to 5%. The benefits with the most positive impact on apply rate are: Regular Incremental Bonus (+155.1%); Pet Insurance (+37%); Health Insurance (+29.8%); Stock Options/Employee Stock Purchase Plan (+27.5%); and 401(k) (+20.5%).
source: Appcast and Behavioral Scientist Ashley Whillans, Ph.D., Harvard Business School, 2018
OPTIONAL SECTIONS
[These are some optional sections you might use in your job description.]
travel requirements
remote or flex-work policies
disability accommodations
how to apply
ABOUT US
[Here, you talk about yourself!]
Some ideas to include:
what type of healthcare you provide
how great the company is
your core values and mission
Tip: I like to save the "About Us" section for the end (even though about 50% of JDs start with About Us). Instead, end your JD with the About Us. That way, you can START your JD about the candidate/role, making them feel valued.
DIVERSITY STATEMENT
[Most companies have an EEO or diversity statement. You can put yours here.]
Tip: Most candidates value seeing a D&I commitment. A diverse population of 764 LinkedIn members in the U.S. said, "even a generic statement is still better than no statement."
source: LinkedIn Study of 764 members on Diversity Statements, June 2021.
Why I wrote this?
Our mission is to help you attract top talent. Ongig's template builder allows you to create and store modern job description templates (like the ones above), so you can write effective JDs (at scale). Please request a demo to learn more.
Shout-outs: