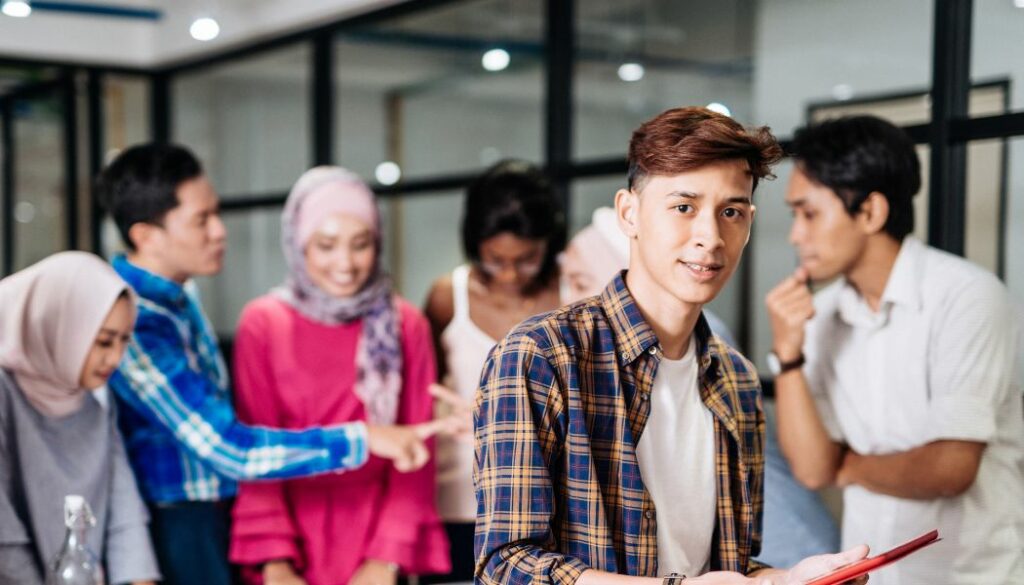 Gen Z is leading the charge for workplace equality like never before. With their unique insights and values, this generation strives to create a more inclusive and equitable future for all.
If you work in HR, it's key to recognize and understand this powerful influence on the modern workforce.
In this age of social awareness, Gen Z is pushing the boundaries of what it means to achieve workplace equality. They seek organizations that prioritize:
attractive salaries
equitable hiring processes
inclusive work environments
By embracing these key concepts, you can empower your organization — and foster a culture that attracts the brightest talent — while supporting the growth and well-being of every employee.
While the journey towards workplace equality requires combined efforts of employers and employees, your role is essential. Let's dive into some ways you can work smarter when it comes to attracting Gen Z.
Gen Z's Influence on Salaries
Gen Z's entrance into the workforce has sparked a renewed focus on competitive salaries and their role in promoting workplace equality. This generation understands the importance of fair compensation — not only in personal financial stability — but also in reducing pay gaps and promoting inclusivity. By advocating for attractive salaries, Gen Z is challenging organizations to prioritize equitable pay and address discrepancies between employees.
Pay is crucial for attracting and retaining Gen Z talent. Compensating all employees fairly for their skills and realizing this need for change enables you to create an environment of trust and respect.
HR departments play an instrumental role in salary offerings and transparency. By conducting regular salary audits and exceeding industry standards, you'll find and address any pay disparities.
And, promoting transparent compensation policies not only helps create a culture of accountability, but also showcases your commitment to workplace equality. Taking this approach will show job seekers your company values fairness and inclusivity.
Revamp the Hiring Process for Workplace Equality
A hiring process that promotes workplace equality is a top priority for Generation Z. To attract and retain the top Gen Z talent, you may need to examine your hiring practices. Take a good look at any areas where bias and discrimination can creep in.
Implementing inclusive strategies, like using blind recruitment tools, can minimize bias and create a more level playing field for potential employees. Blind recruitment involves removing personal identifiers from resumes and applications, allowing hiring managers to focus solely on candidates' skills and experience.
Eliminating factors, like gender, age, and ethnicity, from the initial stages minimizes the risk of unconscious bias. This more equitable approach will benefit job seekers and help you build a more diverse workforce.
Providing training and resources to your team also helps combat biases. So does creating clear guidelines and procedures for candidate evaluation.
Benchmark Job Descriptions and Similar Roles
Benchmarking job descriptions and evaluating similar roles in your biz are critical steps in promoting workplace equality. A standardized job description clearly outlining the role's responsibilities, expectations, and requirements allows for fair and unbiased evaluation of candidates.
Comparing similar roles is an important aspect of benchmarking. This process includes assessing salaries, benefits, workload and career development opportunities. When consistently applying these standards across similar roles, you mitigate the risk of favoritism and ensure all employees have equal opportunities.
Also, finding and eliminating bias in job descriptions is essential for creating an inclusive hiring process. This step involves recognizing and removing gendered language, stereotypes, or cultural prejudices that discourage underrepresented groups from applying. Tools like Ongig's Text Analyzer can help flag bias and offer more inclusive replacements to automate the process.
Create an Inclusive Work Environment
An inclusive work environment is necessary. When you welcome diverse perspectives, your organization thrives because it builds a strong foundation for employee satisfaction.
Diversity is a key part of Generation Z's values. But, it goes beyond race and ethnicity for them. Gen Zers want to work at a place that welcomes all gender identities. A Tallo survey found: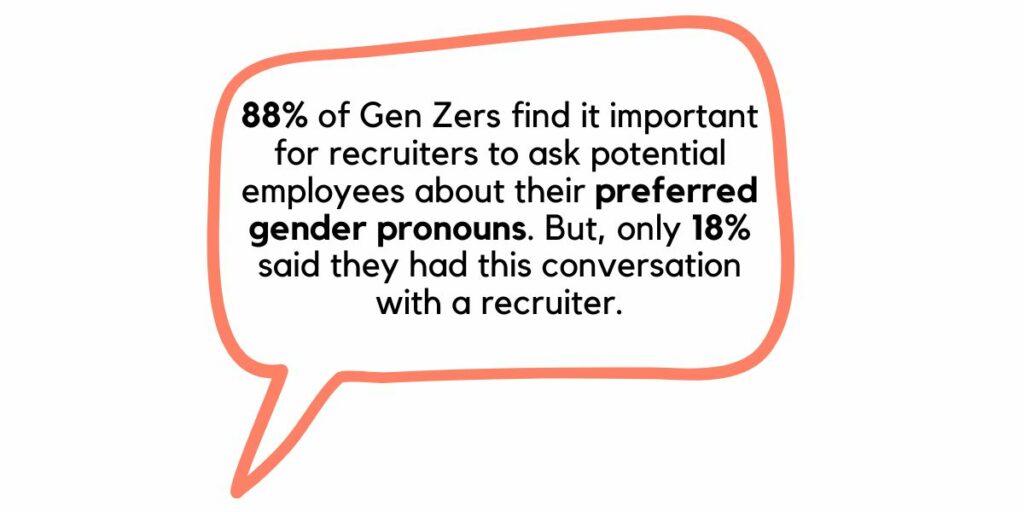 If you embrace best practices for promoting inclusivity, you have a better chance of attracting and retaining Gen Z employees. Encourage open dialogue, allowing everyone to express who they are or their ideas without others passing judgment.
Attract Prospective Employees with Equality Initiatives
Attracting Generation Z talent requires showcasing equality initiatives.
Many organizations achieve this by promoting workplace equality and their dedication to diversity and inclusion on their social media channels or career page. By highlighting your company values, you appeal to a broader pool of talent.
Efforts in promoting workplace equality will be a key selling point for job seekers today. The best method for actively promoting equality initiatives is emphasizing your organization's programs, policies, and success stories. This helps build your employer brand too.
As a recruiter or DEI manager, your role is pivotal in shaping a company's culture and success. Embrace this as an opportunity to create lasting change and implement a place that celebrates diversity, equity, and inclusion.
Embrace Gen Z's Impact on Workplace Equality
Generation Z is undeniably at the forefront of driving workplace equality, challenging organizations to embrace inclusive work environments and beyond. Be ready to adapt to their expectations to help shape the future of work. By supporting these initiatives, you create a workplace culture that aligns with Gen Z's values and paves the way for more success.
Why I Wrote This:
As HR pros, we must stay informed about DEI trends and adapt accordingly. This way, we create a workplace that aligns with the values of the modern workforce.
Ongig's mission is to help support and elevate DEI in your organization, starting with creating inclusive job descriptions. Please request a demo today to learn more.
Shout-Outs:
This is a guest post from Eleanor Hecks. Eleanor is the managing editor of Designerly. She's also a mobile app designer with a focus on user interface. She lives in Philadelphia with her husband and Goldendoodles, Bear, and Lucy. Connect with her about marketing, design, and/or tea on LinkedIn.