Job description benchmarking is similar to salary benchmarking, where you study how other companies list their compensation packages. Instead, you'll study their job descriptions and internal details to ensure you aren't missing key components to complete tasks successfully.
The idea behind job description benchmarking is to write such a stellar (and pointed) JD that:
you'll end up with a consistent set of responsibilities
you narrow your candidate pool
the people you interview come with a specific skill set, so they do an excellent job
You'll find you can narrow your choice of candidates based on education, skills, and experience when you have an optimized job description. And, Heads of D&I can also ensure they cast a wide net based on the characteristics needed to fill the position without missing the mark on experience or training.
So, where do you start?
Steps for Job Description Benchmarking
There are many steps to creating the perfect job description, including studying salary ranges, gathering internal job descriptions, and talking to folks already in the same role.
Here are some steps to develop a great job description benchmark to serve your company well across multiple functions (or even various clients).
1. Gather Internal Data
The first step is to figure out what job description the company used for the open position in the past. Although leadership might now be different and the position may have changed a bit, key components to the role likely remained the same. Pull out the things that still make sense and set them aside to include in the new listing.
Figure out which elements apply to all roles in a company or even across multiple clients for recruiting firms.
2. Talk to Employees in the Role
If there is someone in the role currently or who will work alongside the new employee, talk to them about their views on the job. What are the most important skills needed? What did former employees lack that they'd like to see in a new hire?
The person who does the work daily better understands what's needed to succeed in that role.
3. Talk About Career Progression Paths
In one study, researchers found around 30% of job positions require consolidation or re-leveling. Making the career path progression clear to job seekers makes the role more desirable. They can clearly see how they might progress in the company and make more money over time, so top-tier candidates will be more likely to apply.
Adding job description benchmarking elements about career progression allows potential employees to see how they might benefit from choosing one job over another. A boilerplate section on how to get raises and promotions also applies to multiple listings and can be plugged in each time you post a new job opening.
4. Study the Competition
Look at job listings from the company's competitors. Is the brand missing anything you might add to your job descriptions to attract applicants? Pay attention to what the bigger companies in the industry offer. Do you spot any job description benchmarking elements across their listings?
You might even look outside the industry to businesses that attract a lot of in-demand recruits. What are they doing to draw those people to them?
Smaller businesses might not have as good of benefits or might lack a few other perks. Create a boilerplate section showing the benefits of working for a smaller company and the unique features the bigger businesses don't offer.
5. Run a Survey
Ask people who've applied (and not accepted the job) what you can do better. Explain you're trying to narrow down your job descriptions and attract candidates like them to the company. Not only will you keep the lines of communication open for the future, you'll likely gain valuable insight on improving your listings and better focusing on job description benchmarking across your roles.
The best responses often come when you allow people to report anonymously. Be open to hearing harsh criticism. It's through an open mind on what you can do to improve that you'll come up with the best job description benchmarking templates.
6. Set Rules for Salary Ranges
Traditionally, benchmarking focuses on salary ranges for potential employees. Fortunately, figuring out how much to pay your employees is straightforward with many third-party online job listing sites, like Glassdoor or Indeed. Even sites like Payscale offer valuable input into what people should make in various roles for their area.
For example, a graphic designer in Kentucky makes between $32,000 and $61,000 per year–slightly lower than areas like Chicago or Cincinnati, but still higher than a few southern states.
Make Job Description Benchmarking Simple with Boilerplates
You can simplify the entire process by using software like Ongig. Ongig's job description software allows users to create custom boilerplate sections for job description templates. Rather than rewriting the whole job description each time, you'll plug in a set of standard sections you can then move to any new listing.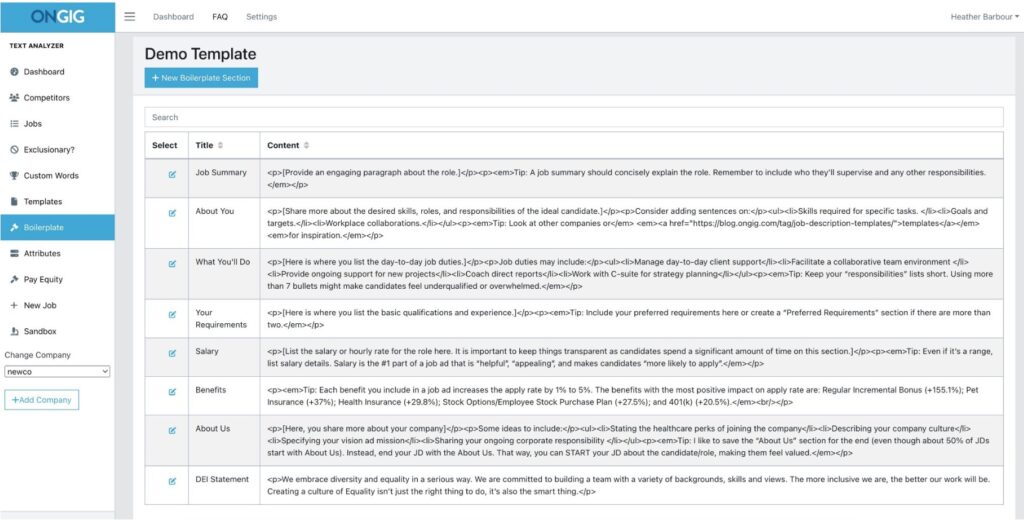 If you're writing 100s or even 1,000s of job descriptions each month, you can use software to save time and run job description benchmarking across different units or clients. This keeps you consistent.
You've likely noticed postings where the description includes elements like the compensation package or other benefits. With Ongig, your boilerplate language gets added to every new listing, and only the details of the specific role change slightly from one job description to the next.
Here are a few ways using Ongig helps make job description benchmarking fast and pain-free:
Tie requirements to responsibilities lists so you can quickly create a new listing by plugging in the template.
Create job description benchmarking about the work environment to plug into every new post.
Upload a salary range boilerplate and connect it to job titles or locations. Then you can include the range in your posting and get into the specifics during interviews. This also gives you some flexibility for candidates with a lot of experience or who are more desirable for certain roles.
Why I Wrote This:
Recruiting is tedious and repetitive. Finding top talent is a numbers game, where you must cast your net and narrow down the options. Anything you can do to save time and better meet the needs of job seekers helps improve your hiring process. One of the best ways to see if job description benchmarking works for you is to request a demo of Ongig to know how to easily create templates and plug them into your JDs.
Shout-Outs:
This is a guest post from Eleanor Hecks. Eleanor is the managing editor of Designerly. She's also a mobile app designer with a focus on user interface. She lives in Philadelphia with her husband and Goldendoodles, Bear, and Lucy. Connect with her about marketing, design, and/or tea on LinkedIn.