Writing a job description template is a great way to ensure consistency (and get more applies). Especially if you're working with a big team.
Here are 5 tips to get you started writing your own:
1. Eliminate Biased Words
Words matter, especially if you're writing a job description template. If your JDs are full of exclusionary words (based on race, gender, disability, age, etc.), you might be turning off diverse, qualified talent.
Try removing bias from your job descriptions to attract a diverse pool of candidates. How do you do this?
Being conscious of the words you use is the first step. But, a better alternative is to invest in software like Ongig to automate the process. Ongig scans your JDs for biased words and gives more inclusive replacements so you can easily click and remove bias when writing a description template: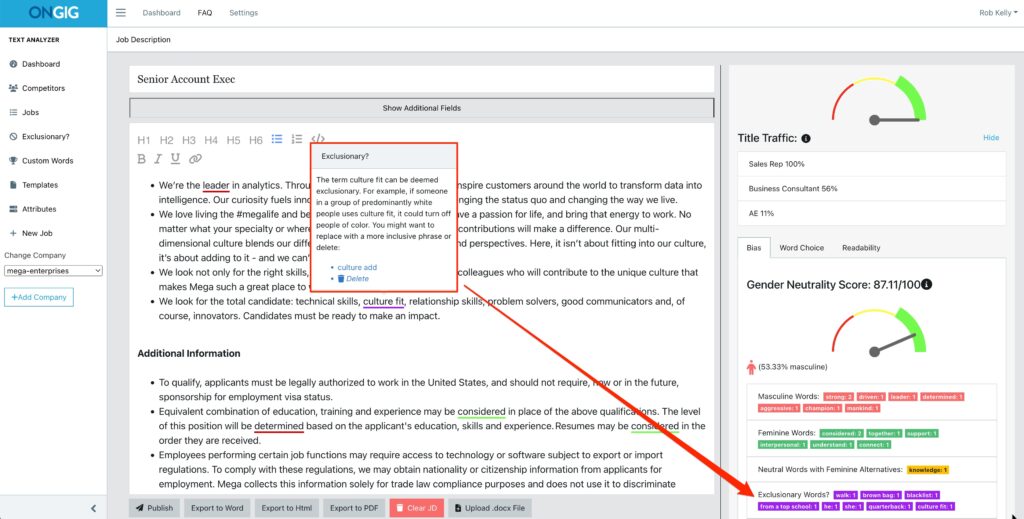 2. Write In Your Company's "Brand Tone"
Many applicants apply to roles because they like the company's culture. Your future applicants have likely already browsed your company website to get an idea of your company culture. And your JDs are an extension of your culture too.
Do you use more formal language at work? Or do you have a more relaxed atmosphere? When writing a job description template, match the tone and the energy of your JD to your company's brand tone.
Applicants are 2-4% more likely NOT to apply if they see a discrepancy in your JD's tone of voice and your company's brand voice.
You should also decide on a point of view (POV) for your JDs. This relates to your "brand tone" and helps remove any inconsistencies. I recommend using a first or second-person point of view (I, we, you) because it's more conversational and candidate-focused.
Here's an excellent example of "brand tone" and POV from Constant Contact. They use "you language" and a consistent tone across all of their job postings: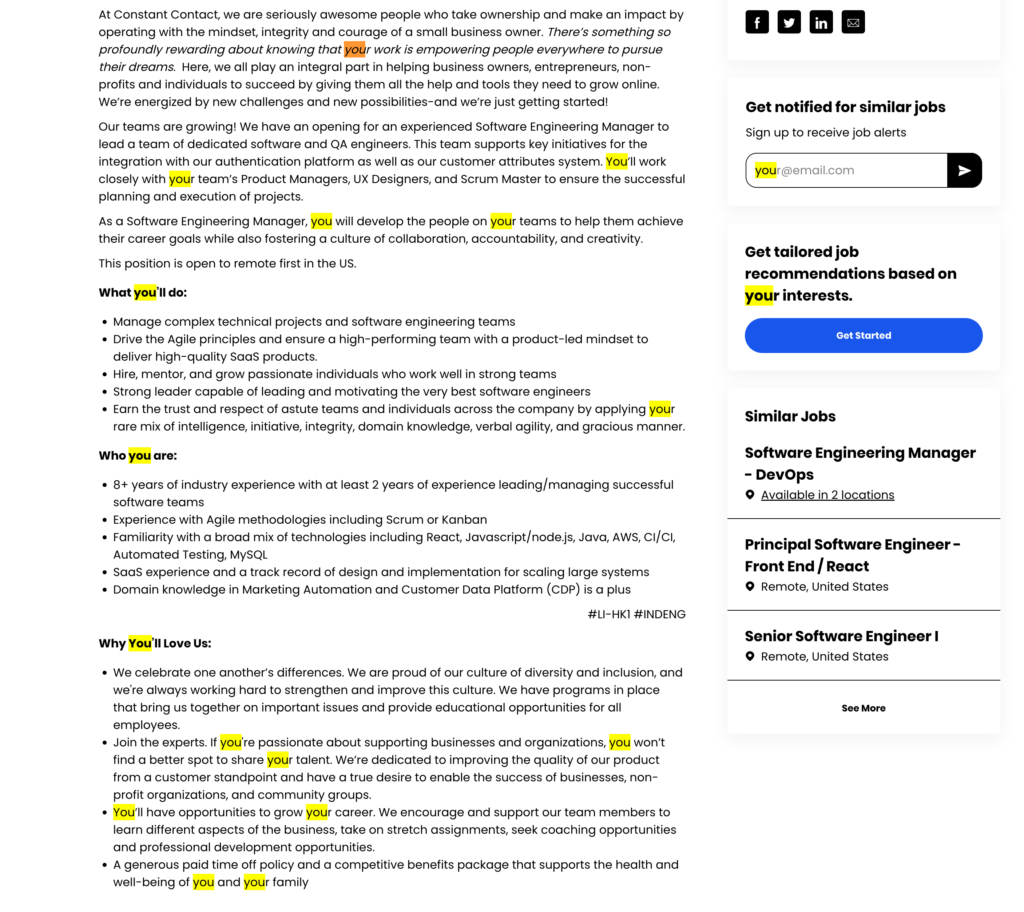 3. Include "Compensation"
Candidates apply for jobs because they want to further their careers and put their skills to good use. But, "what's in it for me" is still the # 1 reason candidates apply for roles.
61% of applicants say the salary range is the most critical part of the JD. And:
"money and insurance (which equates to money) are what drive job seekers to apply for jobs."

source: Should you list Benefits in a Job Description? — Ongig
This means benefits like health insurance, bonuses, and stock options drive job seekers to click "apply."
It's not a legal requirement to include compensation in your JDs (unless a state law requires it), but including "comp" info helps ensure consistency across your roles. Plus, it saves you time from going through the interview process only to find out that your top applicant doesn't want to accept your salary offer.
Here's an example of a "Salary" and a "Benefits" section to use when writing your own job description template:
SALARY
[List the salary or hourly rate for the role here. It is important to keep things transparent as candidates spend a significant amount of time on this section.]
Tip: Even if it's a range, list salary details. Salary is the #1 part of a job ad that is "helpful," "appealing," and makes candidates "more likely to apply."
BENEFITS
[List the perks of joining your company.]
Tip: Each benefit you include in a job ad increases the apply rate by 1% to 5%. The benefits with the most positive impact on apply rate are: Regular Incremental Bonus (+155.1%); Pet Insurance (+37%); Health Insurance (+29.8%); Stock Options/Employee Stock Purchase Plan (+27.5%); and 401(k) (+20.5%).
4. Keep Your Job Description Templates Short, Simple and Concise
Job seekers spend an average of 14 seconds on a job ad before they decide to apply (or not).
When writing a job description template, keep the sections short and "scannable."
One way to do this is to simplify your "requirements" section. A best practice is to keep it under 7 bullet points so you don't bore or overwhelm candidates.
Keeping your job requirements short and sweet:
Encourages more women to apply for your roles. This is because women tend to apply for a job only if they meet 100% of the requirements.
Increases your overall application rates. 69% of candidates believe 8 or more role responsibilities (the day-to-day tasks of the role) in a job ad would serve as a deterrent to applying.
Ongig's software helps you create custom JD templates based on these best practices. Here's a good example of a "requirements" section in the app: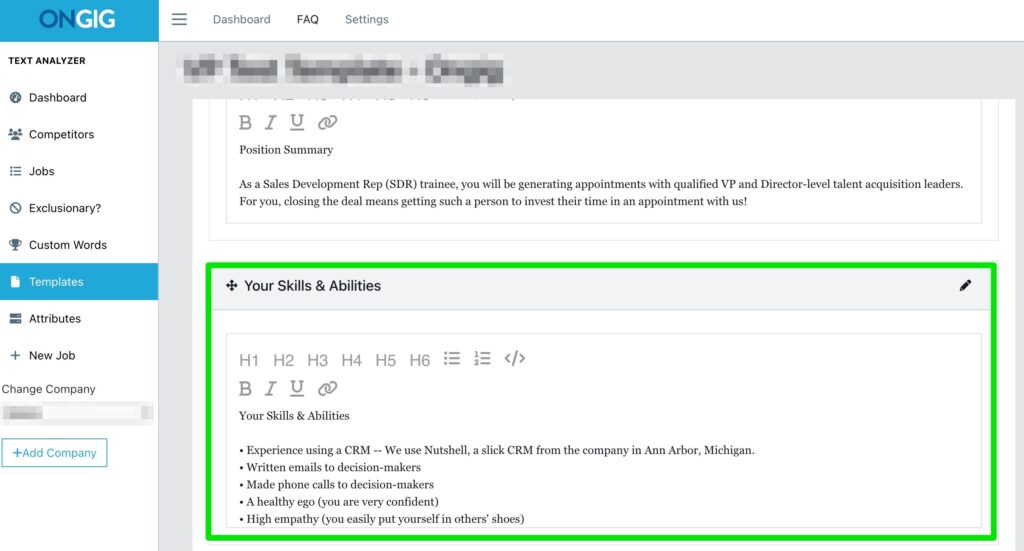 5. Create SEO-Friendly Job Titles
Job seekers search for JDs online. Using SEO-friendly titles is the best way to help them find your roles. When writing a job description template, use simple, clear job titles.
Doing this for your JD templates (instead of having each recruiter make up their own titles) keeps you consistent and makes your JDs more searchable.
For example, instead of "Rockstar Ninja Developer," use "Web Developer," "Software Engineer," or "Software Developer." These are the most-searched developer titles on Google each month.
If you want to find more SEO-friendly (and highly-searched) job titles check out Ongig's Job Titles: The Definitive Guide. The job titles are listed by hierarchy and departments to make it easier to scroll and find the titles you need.
Why I wrote this:
Part of Ongig's mission is to create effective and inclusive job descriptions. And, writing your own job description template in Ongig is a great way to ensure you stay consistent and attract a larger pool of top talent.
Shout-outs: