At first, job descriptions take time to build. But, once you have templates, you'll save time editing.
JD templates are much faster than always starting from scratch. Using templates also creates consistency and keeps you from missing important info.
So, how do you build the best job description template for your roles?
Here are 5 steps:
1. Create your JD templates
Building a standardized JD template with the exact details and company branding requires plenty of reviews, but once you've done it, you'll save loads of time next time you post a new role.
There are lots of JD template examples online. And depending on your company workflow, you might use tools like MS Word, Excel, or Google Docs to create your own versions.
Here's how you can create the best job description templates from scratch:
Google Docs
Start with a blank document to make your job description template in Google Docs. Design the document with your logo design, typeface, and color. Then type in your JD text (more of that on step # 2). 
Next time you need to create a new JD, just open the template. Click File > Make a copy. Then, tweak the requirements based on each role.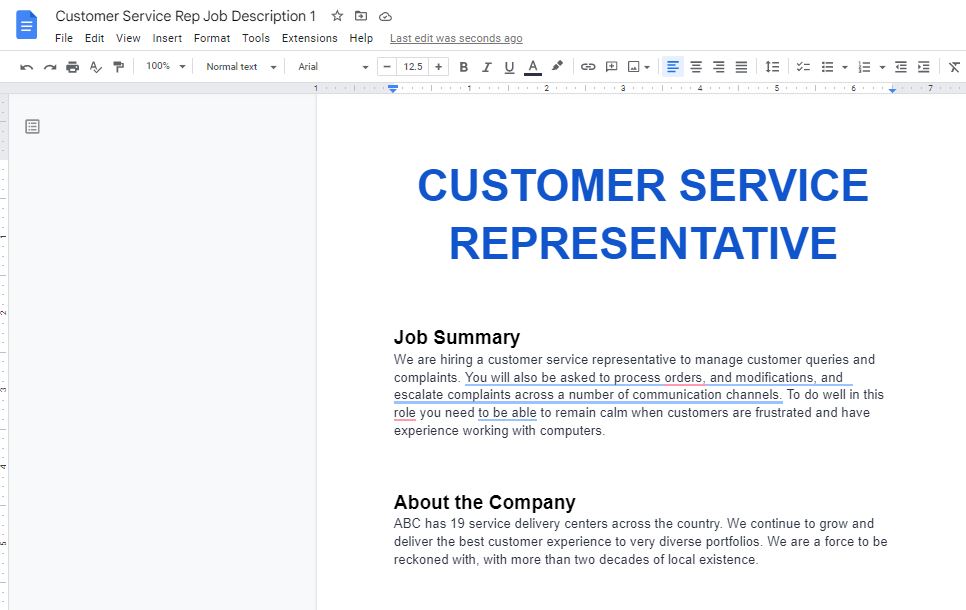 Be sure to save the template for re-use. Google Docs saves new documents automatically, but don't forget to give them a recognizable name.
Don't want to design from scratch? Check out these free job description templates for Google docs.
Microsoft Word
Microsoft Word allows you to save your reusable templates as .dotx files.
Start with a blank document. Then, design the document with your logo, typeface, and color. Then type in your JD text (more of that on step # 2).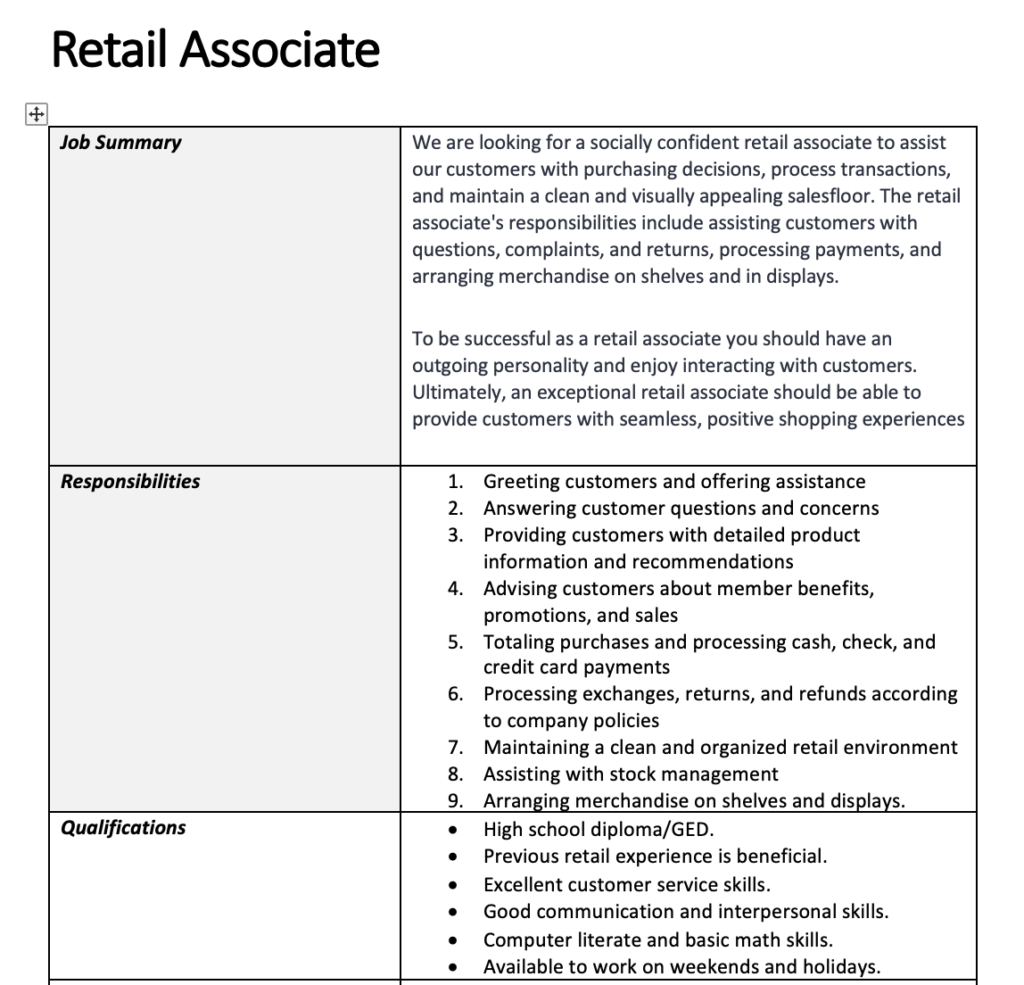 Next time you need to craft new JDs, your template will be in your gallery of options. When you want to make a new version of your JD, create a new file, find the job description template and click "Open."
When you need to edit your JD template, choose "Open" and change the "Files of Type" option to Templates. Then look for the specific template, open it, and modify it. Every job description you create based on that template will incorporate those changes.
If you want some fast and easy templates to start from, check out these 4 job description templates for MS Word.
2. Use Consistent Job Description Sections
So after doing the initial design (and setup), you need to fill in your job description with more details. Here are some recommended sections with tips for each, so you stay consistent across roles:
Job title — keep it concise and industry-specific, between 1-3 words.
Job Summary — give a general overview of the position, and write 3-5 sentences detailing how the role impacts the organization.
Responsibilities — list the position's daily tasks, so applicants will know what's expected of them. Keep it short to avoid overwhelming candidates, ideally between 5-7 bullet points.
Qualifications — list the requirements for the role like program experience, licenses, and training. You can split the qualifications between "must have" and "preferred."
Salary & Benefits — lists the work perks and rewards for the selected candidate, like competitive salary, health insurance, allowances, bonuses, incentives, home office stipend, paid leaves, learning and development opportunities, and company stock options.
About the Company — when the company was founded, its location, and the type of products and services you provide. You can also mention notable achievements like being awarded for a "Great Place to Work" or "the #1 cybersecurity company in [country, geography]."
Diversity/EEO Statement — include an EEO or diversity statement that makes your company accessible and attractive to candidates from diverse backgrounds.
If you're looking for modern and catchy examples of the best job description templates, check out these examples of modern job description templates.
3. Use a Central Job Description "Repository"
Having a central repository to keep your JD templates is a great idea. You can store them in a shared drive, Google Drive, or Ongig to make sharing templates easier.
This allows hiring managers and recruiters to edit the same job description templates, allowing for real-time collaboration.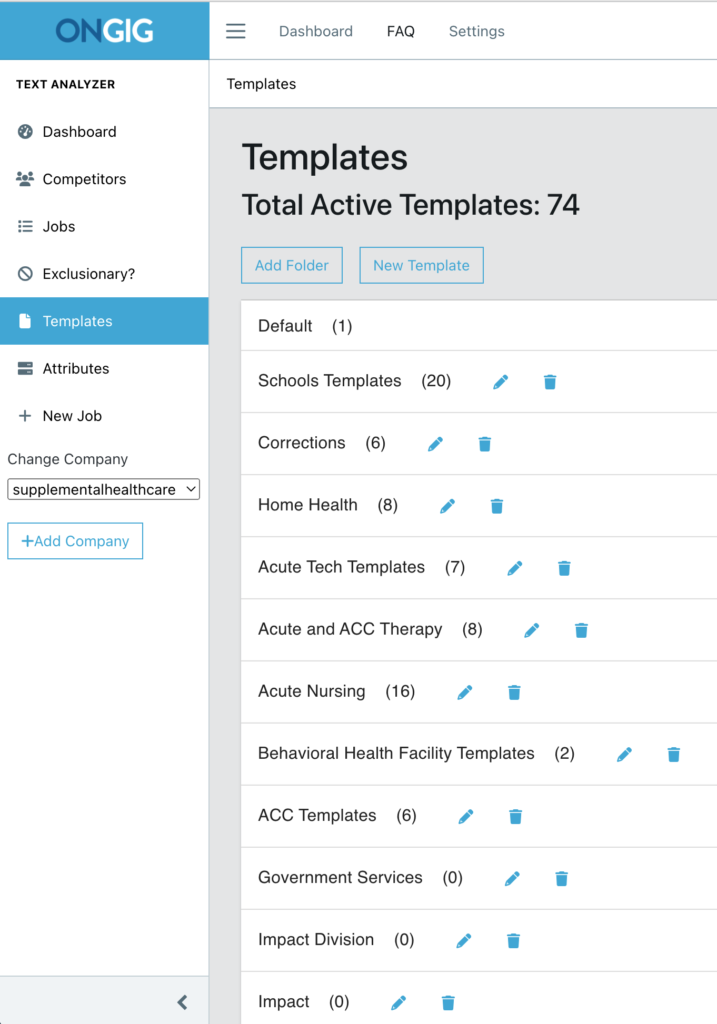 No matter which tool you use, create a consistent file name for each template so they're easily searchable. And choose a naming convention that works best for your team.

4. Edit Your Job Description Templates
After writing your job description template, it's time to edit. Proofread to avoid grammatical and spelling errors. I like to use AI-powered writing assistants like ProWriting Aid or Grammarly to speed up the process:

And if you want to make your job descriptions more effective and inclusive, use Ongig. This AI-powered software flags:
The ratio of male and female coded words to ensure your JDs are gender-neutral
Biased language like race, age, sexual orientation, disability, mental health, and more
Complex words and extra-long sentences that lower readability
Lengthy job requirements that deter women and neurodiverse candidates from applying
Missing sections candidates care about like DEI statements, salary, and benefits
5. Use Job Description Software to Automate the Process
You can write, edit and store your job descriptions in one place. This is a big time-saving feature, especially when hiring at scale.
With software like Ongig, you can "bulk fetch" your JD templates from your ATS. Or create custom templates right inside the tool to create consistency across departments, locations, or job families.
Ongig also allows you to select which parts of the JD to make editable and which sections you want "locked" for editing.
For example, you might have standard "About Us" or "EEO" info you want to include across roles, with no changes allowed. And "Responsibilities & Requirements" sections might change based on the location or skill levels: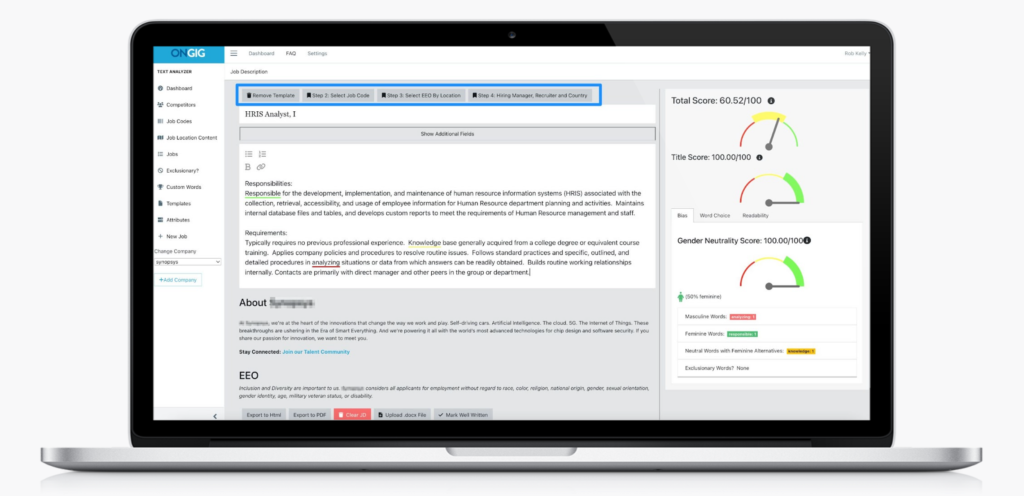 Ongig also scans your job description templates for readability and inclusion. And you can add unlimited users with user permissions based on their role in the JD writing process (e.g., viewer vs. editor vs. admin).
Why I wrote this:
If you want to write the best job description templates (and you're hiring at scale), it makes sense to invest in job description management software like Ongig. Ongig's mission is to help you create effective and inclusive job descriptions and save you time in the process.