An inclusion statement is a compass…a commitment to DEI that helps direct decisions your company makes.
69 % of executives agree DEI is a critical issue. Being inclusive is not just the right thing to do; it's also great for the bottom line. If you want to start (or improve) your DEI initiatives, a great first step is creating a diversity, equity, and inclusion statement.
Tips for Writing an Equity and Inclusion Statement
There is no right or wrong way to write a DEI statement. But, here are some tips to help you write an awesome inclusion statement. Plus a few examples from companies who've done well writing theirs.
1. Use a catchy, powerful headline
Check out how Apple pulls you in with a simple headline:
"We're all in."
In a novel, the first sentence is the most critical part. This sentence determines if your readers will keep reading the book (or not). The same goes with crafting an inclusion statement. Start it with a headline that summarizes your vision.
Apple's diversity statement is short…but powerful AND captures its audience. After the powerful opener, the 2 sentence inclusion statement follows.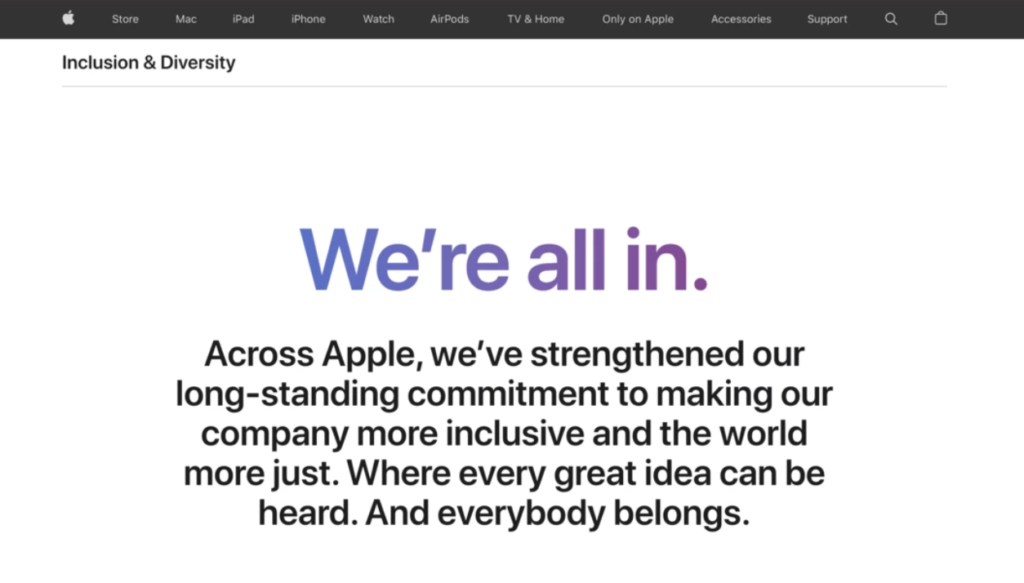 2. Include impactful words
When you craft an inclusion statement, you want to use positive and inclusive words. You can use words like:
belong/belonging
build/building
celebrate/celebrating
change
core value
diverse/diversity
equal/equality
empower
grow
included
innovation
promote
responsibility
spirit
together
social change
valued
These words set the tone for a diversity inclusion statement that values equality. A good example is the Salesforce equality statement: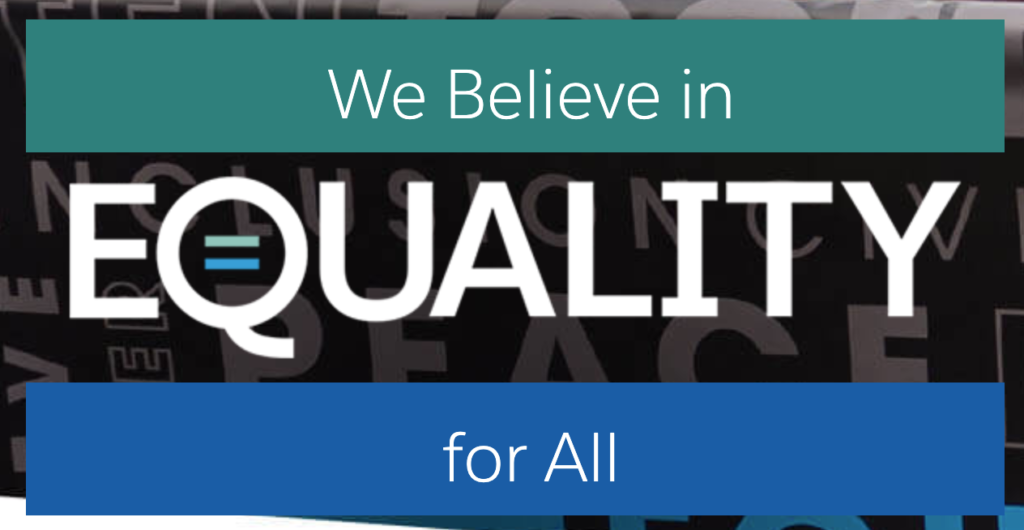 Salesforce's inclusion statement uses many of these positive words (I bolded them for easier viewing):
"Building a Workplace That Reflects Society.

Equality is a core value at Salesforce. We believe that businesses can be powerful platforms for social change and that it is our responsibility to further Equality for All.

Creating a culture of Equality isn't just the right thing to do; it's also the smart thing. It empowers us to innovate, build deeper connections with our customers, and ultimately become a better company.

We strive to create a workplace that reflects the diverse communities around us and where everyone feels seen, heard, valued, and empowered to succeed. Clearly, there is more work to be done, but together we can build a more equal workplace and world for all."
3. Keep it simple
When crafting your inclusion statement…keep it simple. T-Mobile's equity and inclusion statement is one of the simplest I've found.
It opens with 2 short sentences, "Be Yourself. We like it that way." and then 2 more simple sentences follow outlining T-Mobile's commitment to equity and inclusion:

4. Define what diversity, equity and inclusion means to your company
Each inclusion statement is unique to the organization. There's no set template on what to include. But, you can define what DEI means to you as a business. If you're having trouble, try answering questions like:
Why does DEI matters to you today?
How our company will approach DEI in the future?
What do we want our employers and customers to know about our commitment to inclusion and equality?
What activities can we do to promote DEI in our company?
From there, you can craft your inclusion statement.
Here's a good diversity and inclusion statement example from IBM for inspiration. IBM's "Be Equal" inclusion statement shows how they approach DEI: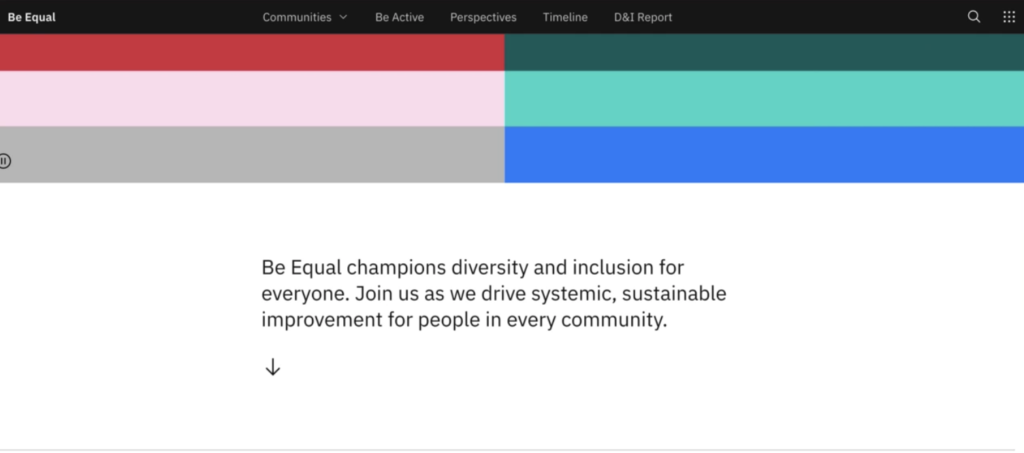 5. Back your statement with "actions"
It's not just enough to craft a powerful headline to grab people's attention. It's more meaningful when you back up your inclusion statement with an action plan.
Uber publishes a yearly "People and Culture Report" supporting their inclusion statement. This report lists 14 specific racial equality commitments and has a section titled "2021: The year of action."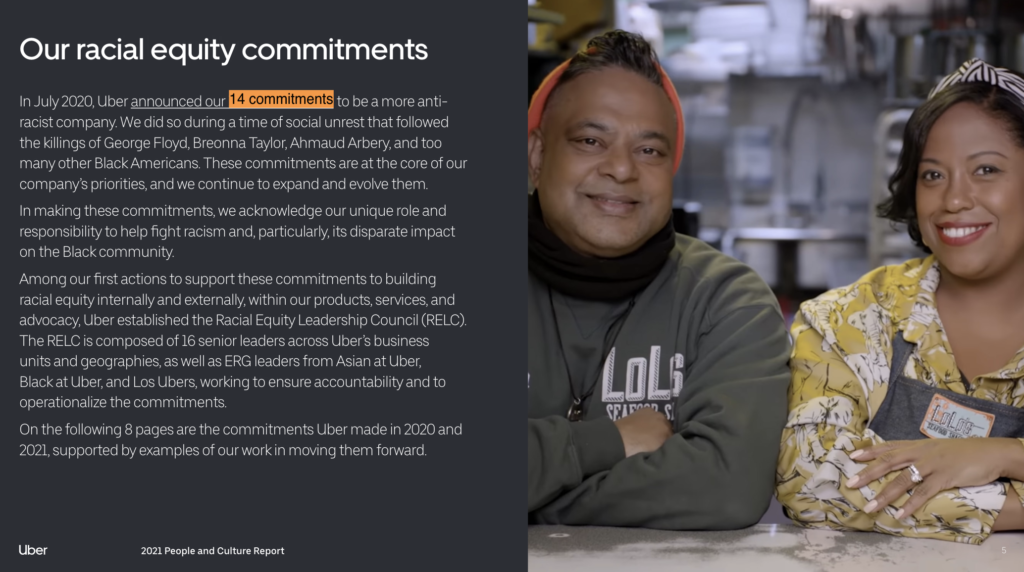 You can post a diversity report on your company's website, like Uber, to keep your shareholders (and others) informed of your progress.
Note: You'll also find other inclusion statement examples in our post 10 Examples of Awesome Inclusion Statements.
Why I Wrote This?
Our mission is to eliminate boring and biased job descriptions. And many co.s add their inclusion statement at the end of their JDs. Ongig's Text Analyzer can help scan for non-inclusive language to ensure your company DEI statement is bias-free. Please request a demo to learn more.
Shout-Outs