How do you measure DEI analytics? Numbers don't lie…and 67% of HR leaders agree that diversity is essential. We've created a list of tools that can help you improve (and track) diversity analytics in your biz.
These 7 tools help you:
create content to increase the % of diverse candidates you hire
understand the DEI climate in your company
track DEI analytics improvements over time
Why DEI Analytics?
Before we get to the list, here's why diversity and inclusion analytics are essential. DEI analytics give you a picture of how diverse your business is. There are many uses for DEI data, but here are 5 important ones:
Understanding the people who work for you at a deeper level.
Creating new diversity goals or policies to drive change.
Identifying bias that might hinder diverse hiring, development, or promotions.
Creating a business case for new diversity tools and initiatives.
Using DEI analytics to create transparency in diversity reports.
Now, let's dive into 7 DEI analytics tools in the market today.
Ongig

Biased words can find their way to your job descriptions, putting off talent from underrepresented groups. This affects the diversity and inclusion analytics you track during hiring (and beyond).
Ongig's Text Analyzer scans your job description text for possible exclusionary words and offers inclusive replacements. If you remove exclusionary phrases, the % of diverse hires can grow (giving your DEI analytics a positive boost).
Ongig can also help re-design your career site, making it more SEO-friendly, engaging, searchable, and inclusive. Client career sites come with a targeted tracking dashboard catered to diversity and hiring goals. Please request a demo to learn how the software can support your diversity and inclusion data analytics.
Circa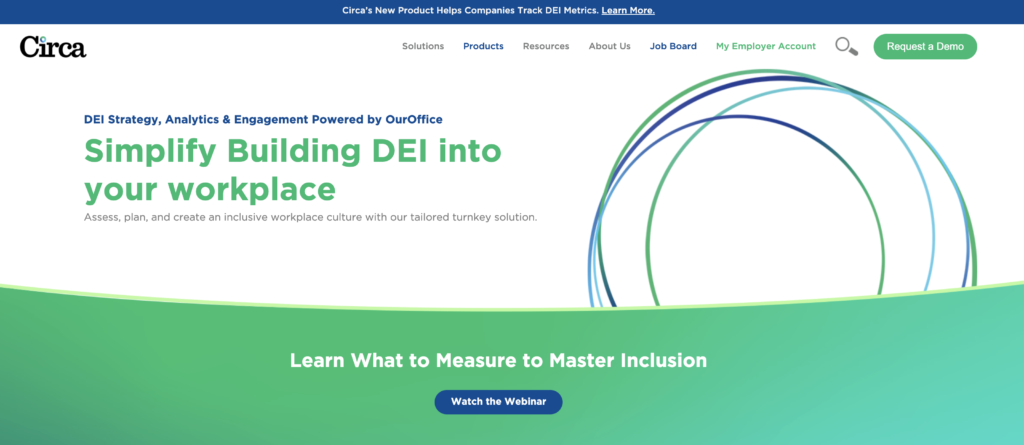 Circa is SaaS-based diversity recruiting analytics tool. Circa is often used by companies who work with Federal contracts to ensure their regulations comply with the law. On October 7, 2021, Circa added a new service — DEI Strategy, Analytics, and Engagement.
Their diversity and inclusion analytics solution offers a 3-step process:
a current assessment of your company's DEI situation
DEI planning
implementing your company's goals
Along with DEI analytics, Circa has a job board giving you access to talented and diverse individuals ready to fill your job openings. And, Circa will promote your jobs using their 600+ network of DEI employment sites. Request a personalized demo to learn more about pricing and packages.
Crescendo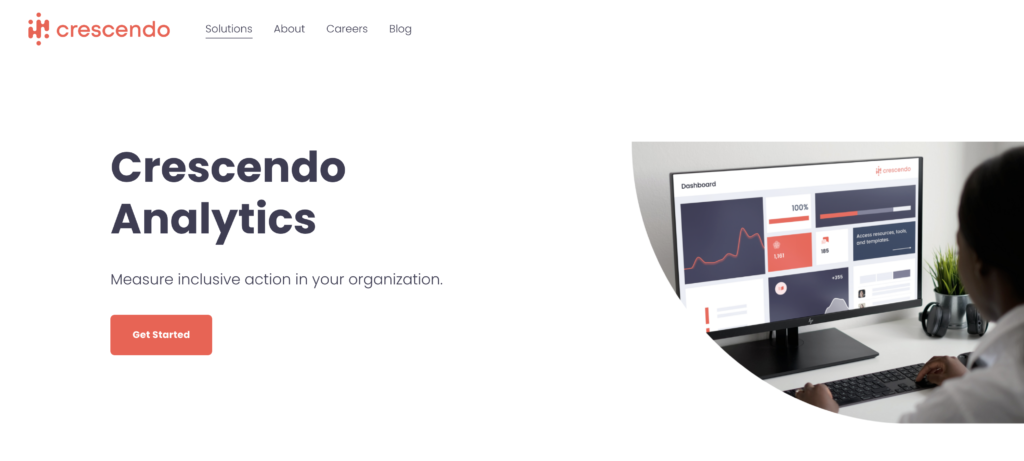 In 2018, the founders of Crescendo started the company after experiencing workplace bias and discrimination. Crescendo is a woman and a black-owned company with a mission to help create an inclusive and healthy work environment for all.
They do this through DEI analytics that measure and track your company's DEI initiatives in real-time. The software helps you spot trending topics and create initiatives towards your end goals. Crescendo's DEI strategists interpret the data to give you valuable insights and meaningful recommendations to help improve company diversity.
To learn more about Crescendo, you can contact them with details about your biz to get started.
Workhuman
Workhuman uses diversity analytics monitoring to generate tailored personalization (based on data) to eliminate unconscious bias. Analyzing your employee's experience, team interaction, and more helps create a more inclusive and understanding workplace. Companies like Cisco and Procter and Gamble use Workhuman.
The tool has an Inclusion Advisor — AI that identifies biases (unconscious or not) in real-time. You can think of it as a micro coach that informs employees of subtle prejudices in their communication. Often people change their tone once they are aware their words make other people feel offended or excluded.
Workman offers a six-month free trial on sign-up.
Diversity Dashboard

Diversity Dashboard is a project management software that helps you design, manage and track your company's DEI analytics, programs and initiatives. If you haven't implemented a DEI program before, the tools takes you through the process of creating one.
The platform helps you create an effective DEI strategy and has project management tools for managing budgets, training, activities, and employee participation in events. There's also a learning hub full of information and videos to help you give your diversity analytics a boost.
To learn more about pricing and licensing, contact them or request a demo.
Dandi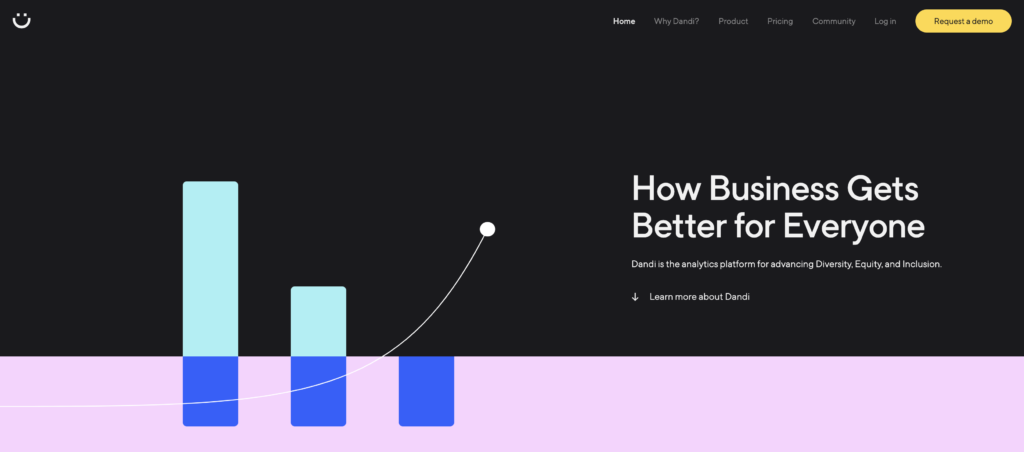 DEI analytics can only be effective if there are measures you can quantify. For example, how do you measure bias? What are the metrics for equity? Not being able to define these can set back all your DEI efforts. Dandi defines the metrics for everything you want to measure so you can quantify it and have better use for the people data you've collected.
What's unique about Dandi is it has a network of DEI advisory boards. This board is composed of people from different backgrounds who are all experts in diversity and inclusion. This group of people offers ongoing input to your company as you implement your DEI initiatives.
If you are interested in their service, a demo is available, and prices start at $12 per employee, billed every year.
CEIPAL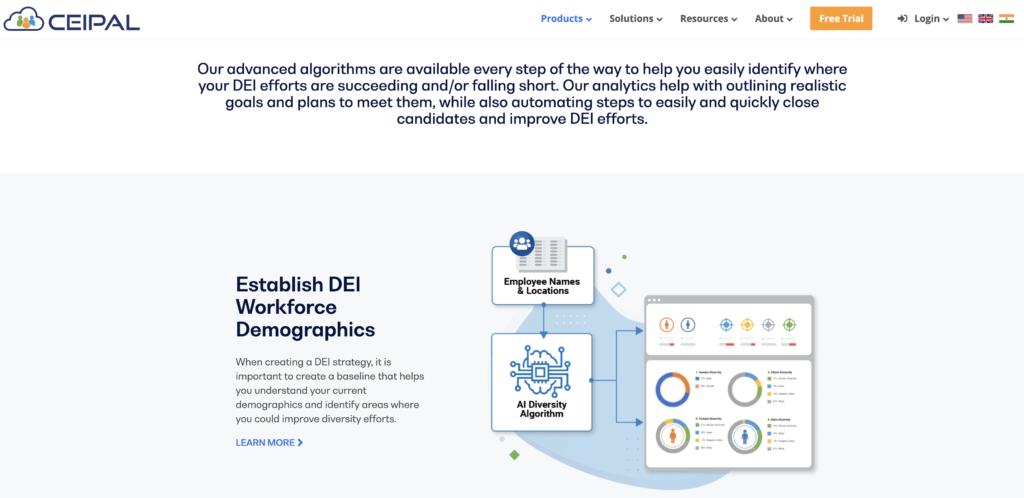 CEIPAL is a talent management platform. In October 2021, they launched AI-based diversity analytics to help you analyze the effectiveness of your DEI initiatives.
CEIPAL has an AI Diversity Assessment with 3 steps to help your company build a healthy, diverse workforce:
analyzing the diversity of your workforce using only the names of your employees and their locations
creating a company roadmap based on diversity and inclusion data analytics
implementing a plan to build a more diverse workforce
Complete the free trial form to test out this diversity analytics tool.
Why I Wrote This?
Ongig is on a mission to help you create a more diverse, equal, and inclusive environment for potential candidates. Please request a demo to learn more about how our software can help improve your biz (and your DEI analytics).
Shout-Outs: