My job is awesome. I chat with talent acquisition leaders most of the day, and then I work with the Ongig team to create software to (hopefully) solve those problems!
About a year ago, I started a spreadsheet of the problems TA leaders shared with me. I decided to now share them with you — perhaps they'll help you with your TA strategies.
Disclaimer: Since Ongig is a job description platform, a higher-than average amount of people bring up job description-related problems with me.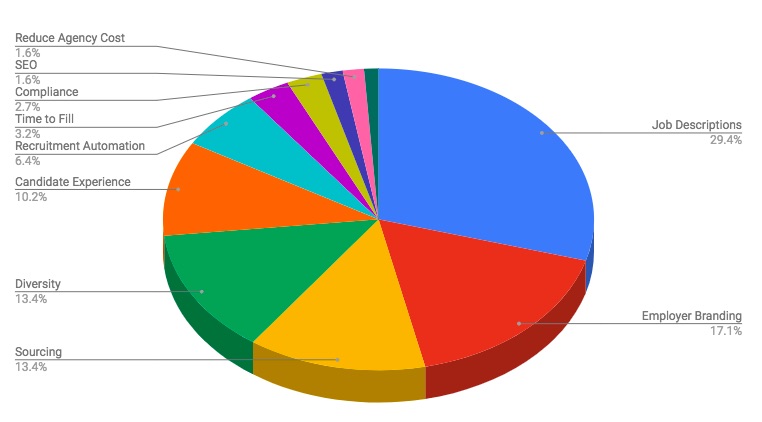 1) Job Descriptions
Coming in at #1 is the category of job descriptions in general.  TA leaders come to me to chat about X sub-topics about JDs:
Job Descriptions are too "Dull/Static"
Most TA leaders are frustrated by how static their JDs look. They're not always sure exactly what they want but they won't settle for the status quo of just text.
Job Descriptions Need to be Written More Like Ads
Many TA leaders are not proud of the text within their job descriptions. They worry that their JDs are:
Written with "internal speak" — E.g. They use terminology that their internal team understands but that candidates might be confused by.
Not persuasive — E.g. The copy does not give a compelling reason for the candidate to consider the opportunity.
Too long
Job Descriptions Don't Appeal to Millennials & Gen-Z
Nearly all TA leaders aim to stand out and engage the newest generation(s) of workers. They worry that their current JDs are written only for more experienced professionals instead of young folks recently out of school.
Some TA leaders are interested in adding video to their JDs. They'd like to show a corporate "commercial"-like video or video of hiring managers and team leads.
2) Employer Branding
The #2 most popular topic of pain among TA leaders is employer branding. TA folks want to:
Tell their story better
Create new videos and other media
Show their uniqueness
Be more active on social media
Share their mission or values
Improve their scores on Glassdoor and other ratings and review sites
In short, they want their employment brand to stand out among all the noise.
Many talent acquisition leaders say their marketing departments have de-prioritize TA.
3) Sourcing/Pipeline
The most proactive TA leaders admit they need more pipeline for at least some part of their business.
Examples:
Consulting companies need more Cloud-savvy candidates
Big tech cos need more A.I. developers
New companies with a hot product need more sales reps to sell it!
SaaS/Cloud companies that sell well need more Customer Success managers (a super-hot market right now)
Construction companies need more Project Managers (because they can't launch their newest $20 million project without them!)
Government contractors need more cybersecurity developers with clearance
Call center companies need more, well, call center reps (a notoriously high turnover position)
The "Gig Economy" companies (think Uber, Lyft, Postmates, etc.) need more drivers
4) Diversity
I rarely come across a TA pro who doesn't have diversity on their to-do list.
They typically need more women and underrepresented ethnicities. They might also have a government quota to hit for hiring more veterans.
Note: Register for our next webinar on Aug. 2 at 1PM EST Diversity Recruiting: Why Words Matter
5) Candidate Experience
Most TA folks know that their candidate experience can be much better.
Many of my calls have to do with a TA leader thinking about revamping their career site. They want things like:
Job Search — They're not happy with their ATS job search
Microsite Pages — They'd like to customize pages for Diversity, Veterans, Internships or some other area of focus
Mobile-friendly pages
Shorter Apply Process — Many TA leaders get frustrated by the long apply process that some ATS's require.
They also care about what a candidate sees when they come through a job board like Indeed, Glassdoor or LinkedIn.
And candidate experience is not limited to external candidates. The best TA leaders are talking to me about mobility/internal candidate experience.
What makes candidate experience tough for TA is that they often don't get the marketing and development (CSS, HTML, etc.) resources needed.
6) Recruitment Automation
TA leaders are constantly trying to automate anything that helps recruiters recruit more quickly.
They want to "buy time" for recruiters and free them up to do the high-touch things like personalized outreach to candidates.
7) Time to Fill
TA leaders want to shorten any time they can between when a job req is discussed and when the job gets filled.
They want less friction in their "workflow".
For instance, quite a few TA leaders ask me about the best steps to take for better job description management workflow.
8) Compliance
TA leaders sometimes have compliance issues to deal with such as:
Adhering to new pay equity laws
Having proper EEO/OFCCP compliance and tracking which JDs don't have them
GDPR compliance (every overseas employer I talk to asks me about this)
Posting jobs on diversity-oriented job boards
Picking an ATS that is strong on compliance
9) Search Engine Optimization
Recruitment SEO continues to be a hot topic for some of my TA friends.
They ask about:
What URL to use for their career site and job pages
How to use microsites to get free Google and Bing traffic
They are right to ask. I've seen a lift in my client's quality applications by 2+% when they play their SEO cards right.
10) Reduce Agency Costs
One Fortune 100 company told me they are focused on eliminating use of an executive search firm completely.
Another TA leader of a consulting company said that sales sometimes moves so fast on new projects that she gets caught off-guard on hiring the IT folks needed to execute. In those cases, she's forced to use contractors/agencies to fill the IT positions.
Agencies often cost TA teams 10% to 30% commission on first year's salary.
That's a huge cost that leadership would love to see eliminated.
I wrote this article to help other TA leaders I haven't talked to think about their strategy.
I believe that an effective job description platform like Ongig helps move the needle on improving in all 10 of these problem areas above.
[starbox]