What is the difference between a job description and the role description? Are they the same?
The short answer, a role description is a section in a job description. Here's more on each:
What is a "Job Description"?
A "job description" is everything about an open position you want potential candidates to know. It explains what a job entails, the requirements, responsibilities, the team, salary & benefits, etc.
We've found that the most successful job descriptions include the sections below:
Job Title
The title should be informative and easily searchable – don't forget to consider SEO. You can read more about what makes a great job title here.
Job Summary
The job summary is a paragraph about the role; keep it simple and interesting with your model candidate in mind.
Hint: this is your "role description."
About You
In this section, describe your ideal candidate to capture the attention of quality applicants.
What You'll Do
In this section, you'll tell candidates about the job duties. Try to list no more than 7 duties to keep candidates from feeling overwhelmed or underqualified.
Your Requirements
The list of requirements gives job seekers an understanding of whether or not they are suitable for the role. If you have more than 7 requirements on your list, create a "Preferred Requirements" section too.
Salary & Benefits
Salary and benefits info motivates job seekers. Candidates spend more time looking at salary information than any other part of your job description.
About Us
Tell job seekers about yourself as briefly and clearly as possible. Include the advantages of working at the company.
Diversity Statement
Most job descriptions include a diversity statement. It's an essential part of any JD if you want to reach diverse talent.
How to Apply
Tell job seekers how to apply for a job and what to expect from the application and interview process.
Note: Many people also interchangeably use "job description" and "job posting." They are similar but not always the same.
Now let's define a "role description."
What is a "Role Description"?
A "role description" is the same as a "job summary" or "role summary." It's a small piece of a "job description."
A role description is a brief overview where you include some key responsibilities the role requires. Usually 2-5 sentences towards the top of your JDs. It's an easy-to-understand description of your ideal candidate and how their role impacts the biz (and its team members).
A successful role description encourages quality candidates to read on, and apply.
Here are 3 examples of a role description: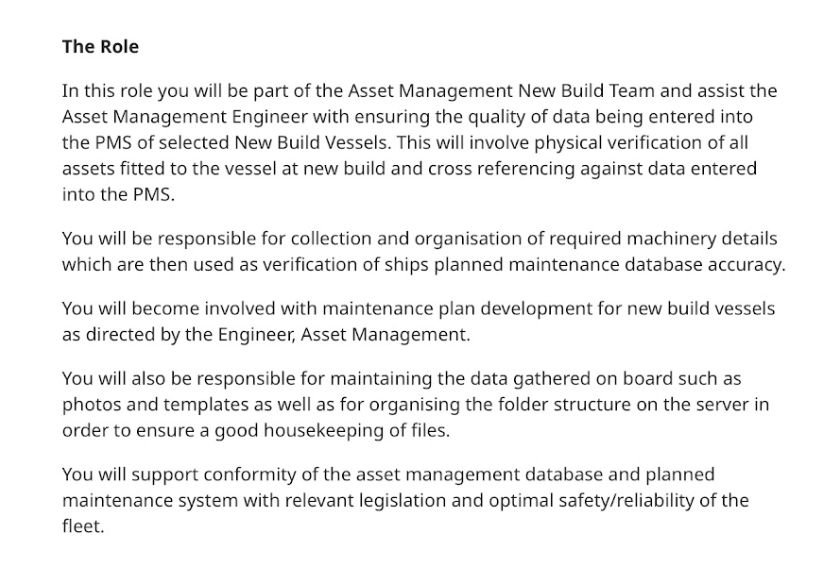 Why I wrote this?
Our mission is to help you create effective and inclusive job descriptions to attract top talent. Ongig's software automates the JD writing process so you can create consistent job descriptions, at scale.