Compelling job ads start with powerful titles that connect with candidates. Some companies use a job title generator to find the best titles for their roles.
Adding highly descriptive words to make your JD stand out is tempting. But you'll want to ensure your titles are clear, specific, and searchable if you want top talent to apply.
No 2 job title generators work the same way. So, you'll want to check the priorities (and algorithms) behind each platform to fit your needs. Here are 5+ examples of a job title generator you might find helpful:
1. Mithril & Mages — Real Job Title Generator
Mithril & Mages' modern job title generator isn't just for job titles. It works as a general inspiration generator, giving suggestions to fuel brainstorming sessions for various subjects.
But, it does generate job titles for modern occupations. You can access the job generator in 2 ways.
The first option takes you through a guided step-by-step approach to select your industry, followed by a sub-industry to generate a set of titles.
For example, if you select "Architecture and Engineering Occupations" followed by "Civil Engineers," you'll get a list of job titles like the one below: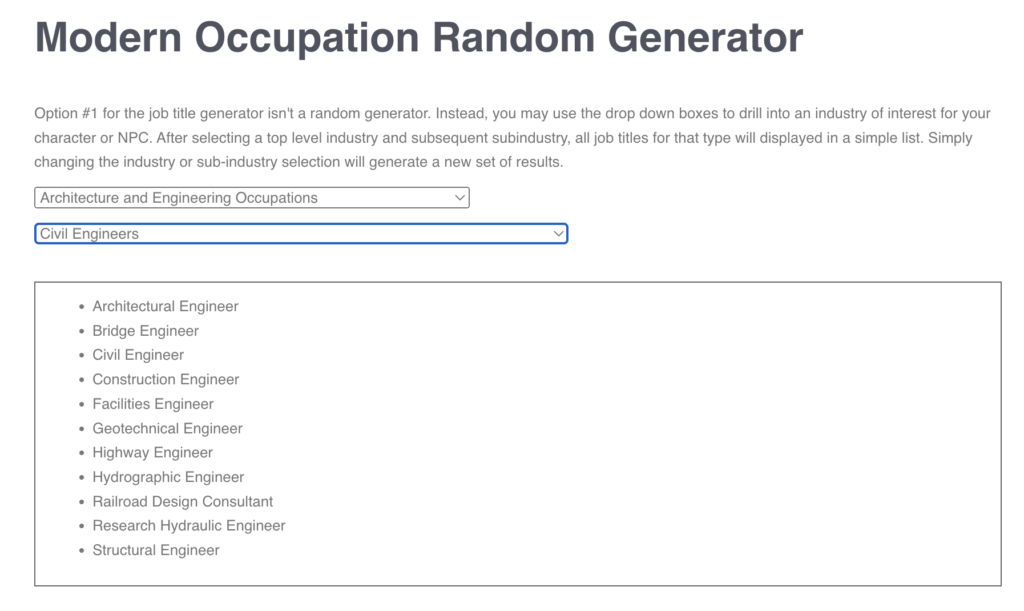 The second option lets you dive into generating random job titles with up to 25 titles per search. This is totally random, so if you are looking for a specific job family, stick to option 1.
2. A Corporate Job Title Generator
Cool Generator is an online job title generator with 26,000 titles. To find job titles for your company, you type keywords in the search box and choose the number of titles you want to generate. For example, if you search "marketing" and select "12," the website generates job titles like the ones below: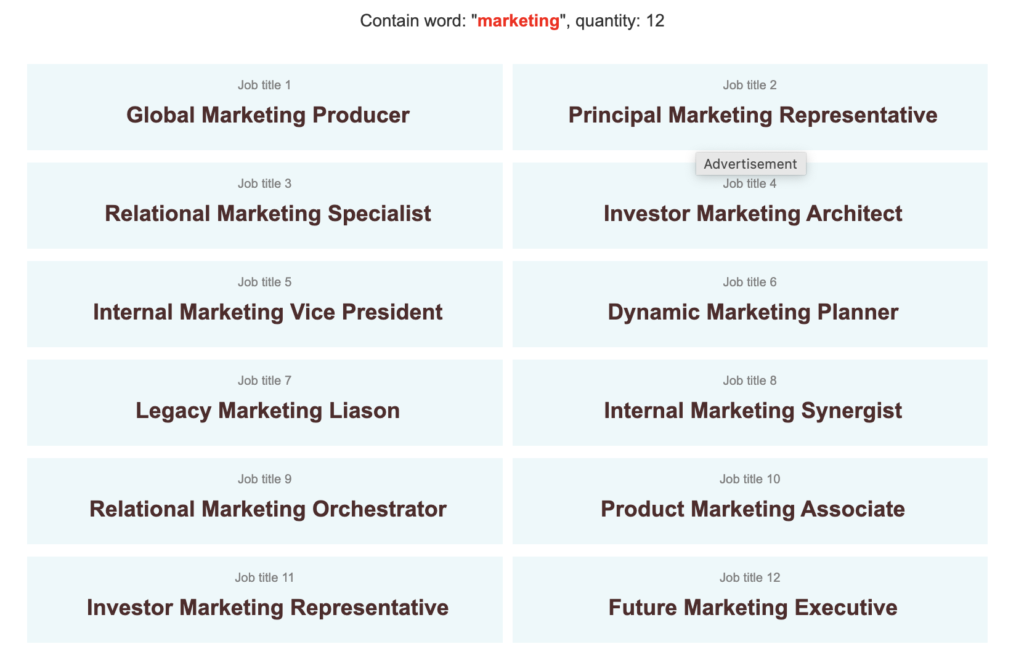 3. Ongig — A Free Guide and Automated Job Title Generator
Ongig's definitive job titles guide shows what candidates and employers search for (on Google) when it comes to best practices for job titles. And includes lists of titles by hierarchy and departments: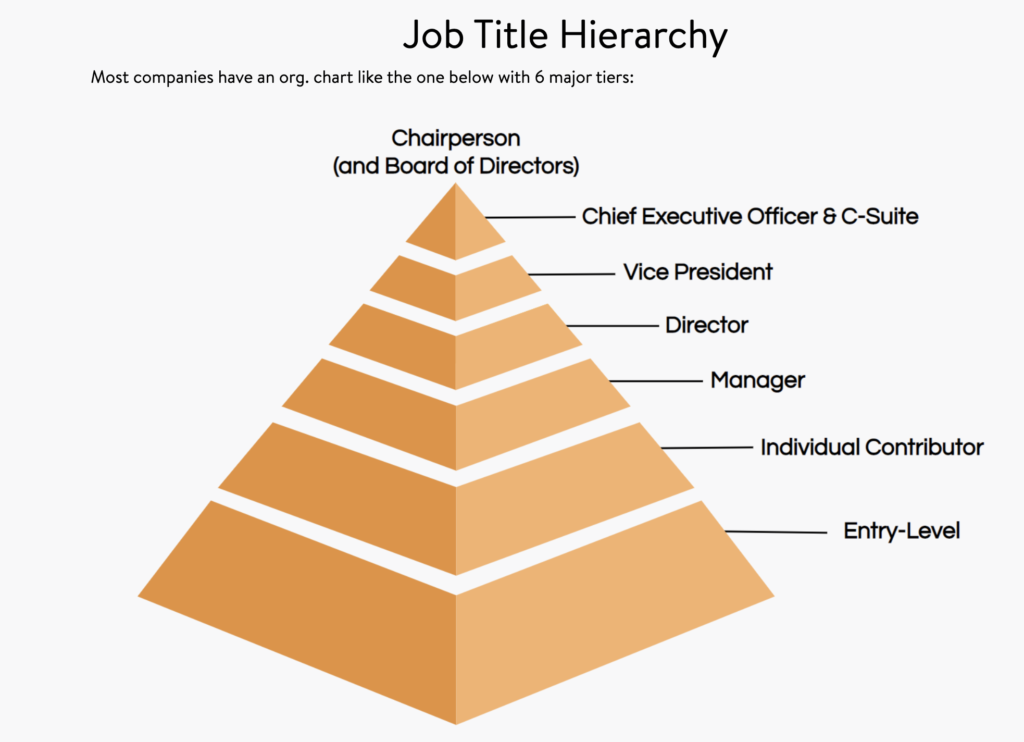 It's a great starting point, so you can easily customize job titles to fit your organization's style. The guide isn't an automated job title generator, but Ongig's job description software has a built-in job title traffic feature that is.
Ongig scans your job titles and compares them to what candidates search for every month on Google. Then, you get real-time suggestions for job titles that get more searches. This helps you choose more SEO-friendly (and more popular) job titles.
Here's an example for a sales role. You'll notice "Sales Rep" is searched almost 90,000 more times per month (on Google) than "Enterprise Account Executive." So if you are trying to reach more candidates searching for sales roles, you might try using the title "Enterprise Sales Rep" instead: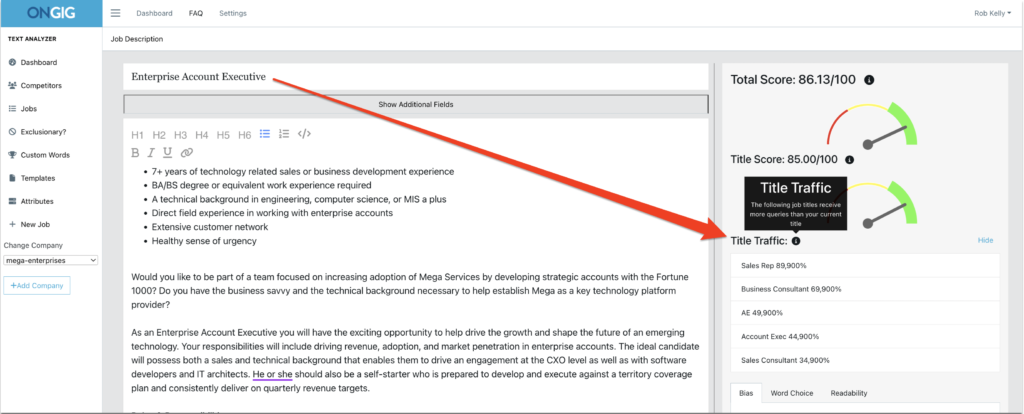 4. Design Titles — Creative Job Title Generator
Professionals in the design and creative space are highly expressive and often seek titles to reflect their creative energy. Many creatives look for funny job titles instead of sticking to the standard "Chief Storyteller" or "Brand Executive."
Design Titles is a creative job title generator that simply lets you refresh the page to get different design-related titles like:
"Enigmatical Designer for Pixels" (graphic designer)
"Productive Magician of Post Design Rationalization" (project manager)
"Brainstormer for Ink Imperfection" (editor)
"Designer of Look and Feel" (branding designer)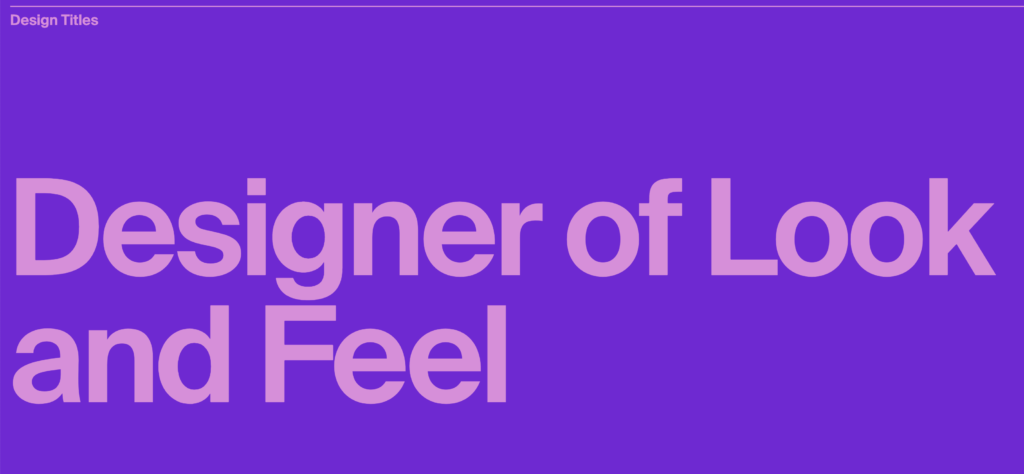 Although the website presents a satirical vibe, it could serve as a real job title generator for creative work culture.
Adding fun job titles can help your company attract creatives-at-heart, but you might also want to lead with a more traditional job title to be more Google search-friendly.
5. A Randomized Job Title Generator for Startups
Similar to the Design Title tool above for creatives, designer Alexa Guse created a job title generator celebrating startups for Edmonton Startup Week in 2021.
When you click "Try It," the site randomized job titles alluding to common (and creative) roles for startups.
Some of the titles generated on the site (e.g., "Lead Information Development Ambassador" and "Talented Innovative Thought Vice President") might seem exaggerated. But, they serve as a nod to the vibrant startup community that continues to challenge the limits of traditional job titles.

6. Back to the Future Job Title Creator 
Generator Land's slightly humorous job title generator produces fun and unique roles that will fit nicely in the web 2.0 landscape.
Are you searching for your next "global networking mystic," "human interaction cheerleader," or "main productivity architect"? The site will help you keep an open mind when planning your next highly engaging JD.
7. Resume Worded – LinkedIn Inspiration 
Resume Worded is a site that helps hopeful candidates present themselves better on LinkedIn. The site presents a randomized job title creator that helps talent brainstorm for engaging headlines that can expand connections and discoverability and contribute to potential business partnerships or collaborations. 
While the job title generator works great at generating optimized headline samples that leave a favorable impression, you can't filter the specifics.
Why I wrote this?
At Ongig, we're on a mission to create effective and inclusive job descriptions. Ongig has a built-in job title generator for enterprises posting jobs at scale (e.g., 100's or 1,000's of jobs per month). Request a demo to learn more.