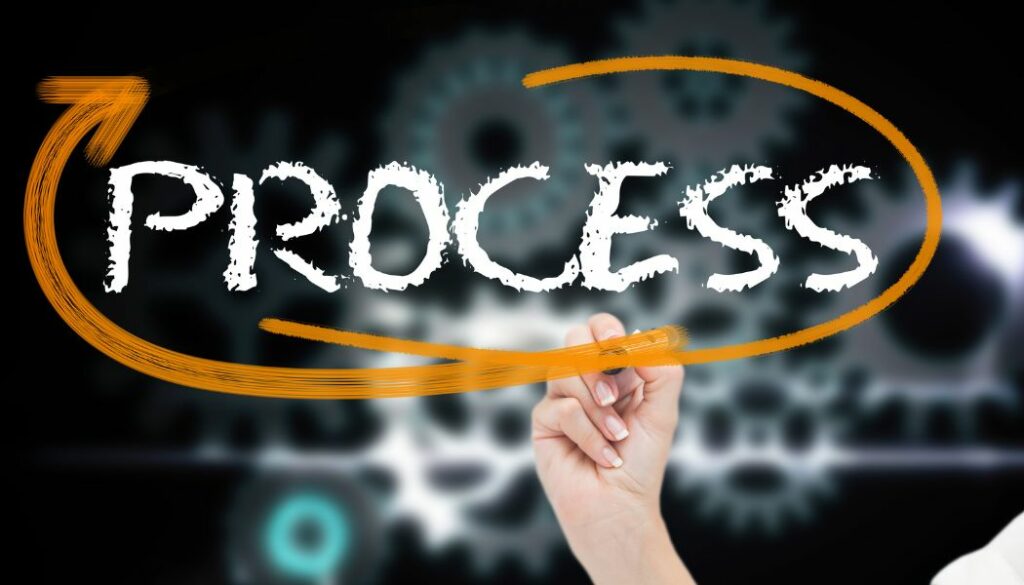 What is your process for writing job descriptions?
Creating well-written and inclusive JDs helps you stand out from the thousands of companies hiring and get more applicants. Here are 7 tips to add to your process for success.
1. Use concise job titles
Job titles are one of the most effective ways for candidates to find you when they search online. And 36% of candidates use job titles to search for the jobs they want.
A good job description starts with a concise job title, and you may want to keep these few things in mind:
Keep it simple. It might be tempting to write things like "Rockstar System Administrator" or "Social Media Ninja." But remember that these fancy terms can hinder your job ad from being found in online searches. The best way is to keep it simple.
Avoid Jargon. Instead of using internal jargon for job descriptions (e.g., Level IV System Administrator), use standard job titles and plain language (e.g., Senior System Administrator).
Remove gender-specific titles. Aim to remove gender-coded words from your job titles so you're more inclusive. For example, instead of "Postman," use "Postal Worker," or "Flight Attendant" instead of "Stewardess."
2. Open with a solid job summary
A job summary is your chance to let candidates know about the job. In your job summary ( or position description), you'll ideally want to include the following:
A summary of the job's daily responsibilities. This summary includes how the role fits your organization and growth opportunities. You'll also want to know who they'll be working within the company.
Include an exact job location. If possible, provide a detailed job location. Writing this information can optimize your job postings so it ranks higher in the job search results.
3. Write a short list of responsibilities
This section tells candidates what they'll do. You'll want first to write down all the responsibilities (or job duties) you can think of for this role. Review the list and then cut them down to a maximum of 7 job responsibilities, and write them down in order of importance.
Keep your list short so candidates aren't overwhelmed and can clearly see what the role is all about.
Some of the things you can include are:
Duties unique to the organization
Everyday activities of the position
Financial Responsibilities
Supervisory Responsibilities
Training Required
Here's an example "What You'll Do" section for a role at Epic Games for inspiration:
In this role, you will
Exhibit good color theory and technical expertise in architectural layout, lighting, scene composition, and environmental FX polish (bloom, color adjust, fog, etc.).
Model and texture a wide variety of props/assets.
Creatively model from rudimentary or unfinished concepts, showing understanding of the goals of the design, to final, production-ready models.
Create solid, high fidelity textures of any given surface.
Create shaders for environment assets, volumetrics, decals, ambient effects, etc.
4. Write a short list of qualifications
Another part of the process for writing job descriptions includes outlining what candidates need to get the job.
Job qualifications are tricky because you want to list the things you want the candidate to have, but you don't want to be too specific that you deter certain people from applying. Women, for example, only apply to a job if they meet 100% of the requirements, while men apply if they meet 60%.
One of the best ways to do this is to divide your qualifications into must-haves and nice-to-haves. Must-haves are qualifications crucial to get the job done, and nice-to-haves are skills they can learn on the job.
Below is an excellent example from a Google Product Manager job posting:
Minimum qualifications:
Bachelor's degree in a technical field or equivalent practical experience building/shipping technical products.
Experience developing/launching products/technologies within Cloud Infrastructure.
Experience driving product vision, go-to-market strategy, and design discussions.
Experience creating strategic product roadmaps and working with cross-functional teams.
Preferred qualifications:
Experience managing day-to-day technical and design direction.
Experience in one or more of the following: storage, computing, networking, high-performance computing, and/or internal tools and infrastructure management.
Knowledge of multiple functional areas (e.g., Product Management, Engineering, UX/UI, Sales, Customer Support, Finance or Marketing).
Ability to influence multiple stakeholders without direct authority.
5. List salary and benefits
While money is not everything when it comes to candidates deciding whether or not to apply for a role, it is a crucial factor. 61% of candidates say salary is the first thing they look at.
Some states, like Colorado, California, New York, and Washington state have passed pay transparency laws requiring you to list salary information in your JDs.
If you want to attract more candidates, one of the best things to do is to list salary details, plus perks and benefits. Employee benefits usually fall into 4 categories:
Health and wellness
Time-off and leave benefits
Work-life benefits
Financial and retirement benefits
Here are some examples of company benefits you may want to consider listing in your JDs:
Healthcare
Dental care
Flexible work hours
Parental leave
Paid time off
Bonuses
Tuition Assistance
Relaxed dress code
Floating holidays
Domestic partner benefits
401 k
Please note that you may need federal and state-mandated benefits for eligible employees. Failure to do so may result in fines. Some of these benefits include minimum wage, paid overtime, unemployment insurance and the Family and Medical Leave Act (FMLA).
6. Include your company description
You introduce yourself whenever you meet someone new; your company description is a way to introduce your company to potential candidates. Research shows 72% of candidates are likely to apply to your job ad if it includes a company job description.
You'll want to include information about:
your company's mission and culture
the size of your organization
your DEI statement or commitment to diversity
If you have a company career page or dedicated page for hiring, be sure to link to it in this section.
Here's a good example from Banfield Pet Hospital for a Veterinarian job posting:
Who we are

We're Banfield. You've probably seen us around. We started in 1955 as a small practice with big ideas about preventive petcare. Now we're the leading general veterinary care practice in America and we'd love to have you join our team.

We love pets. You know what else we love? Vets. We want to make sure our veterinarians feel supported so they can live their best lives AND practice medicine their own way. We do that by surrounding them with talented, passionate teammates and giving them amazing resources that help them stay fulfilled in and outside of work.

Banfield's here for you so you can be there for pets!
7. Ensure your JDs are inclusive
A great final step in your process for writing job descriptions is to check your JDs for bias. Biased language can deter top talent from applying, especially from underrepresented groups.
You can try to catch discriminatory words yourself, but it is time-consuming and you still might miss some. Using software like Ongig's Text Analyzer automates the process of flagging exclusionary words and suggesting more inclusive alternatives.
With Ongig, you can easily replace gender-coded words or other types of biased language (based on race, ethnicity, age, etc.) with just a few clicks: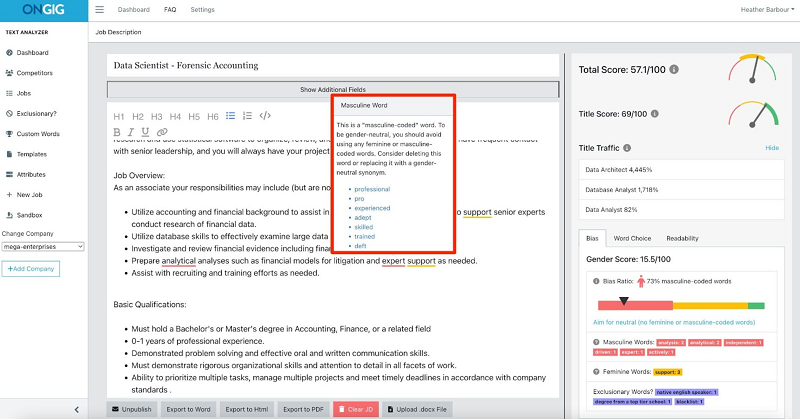 How often should job descriptions be updated?
You should update your JDs as often as needed, or at least once a year, to ensure they're still relevant (and reflect your company's current needs). If you want some tips for updating your JDs, you may find this blog helpful: 5 Tips for Updating Job Descriptions.
Why I wrote this:
Ongig's mission is to create effective and inclusive job descriptions. Adding this software to your process for writing job descriptions saves you time and helps you write JDs at scale. Please request a demo to learn more.
Shout-outs: