In the past, most co.s were not clear about salary transparency. Now, it's more common to discuss pay openly…instead of hiding it under a rock.
This has helped narrow the pay gap, changing co.s for the better. They're gaining more trust from employees and getting 30% more apply starts.
Make Pay Transparency a Common Practice
Discussing money is a touchy subject. Still, it's important to do it.
Many people were raised to not talk about money, but times have changed. Making "salary" a common topic will not only help close the gender pay gap but also help you gain your employees' trust. Salary transparency, starting with the hiring process, also helps you boost your talent pool.
And, honest communication between employers and employees encourages them to work harder. Especially if they feel there is an open door for conversation about pay.
Salary transparency doesn't only benefit your biz, but also prospective and current employees. The cost of living is expensive and changes day to day. A lot of job seekers are hoping to make enough money to pay for their expenses and save up for a larger purchase, like buying a home.
Visibility into your salary offerings, bonus benefits, and compensation review policies helps ensure confidence when making decisions about affordable mortgages, or how much to contribute to a 401K.
With this knowledge, employees will be happier knowing they can set themselves up financially and feel more satisfied in their job.
Be "Salary Transparent" in Job Postings
There's a place where discussing salary transparency is crucial…in your job postings.
Job seekers are more likely to apply for openings if the salary is listed (even if it is just a range).
This has been proven time and time again:
In 2018, a LinkedIn study showed salary as the #1 part of a job ad that is "helpful," "appealing," and makes candidates "more likely to apply."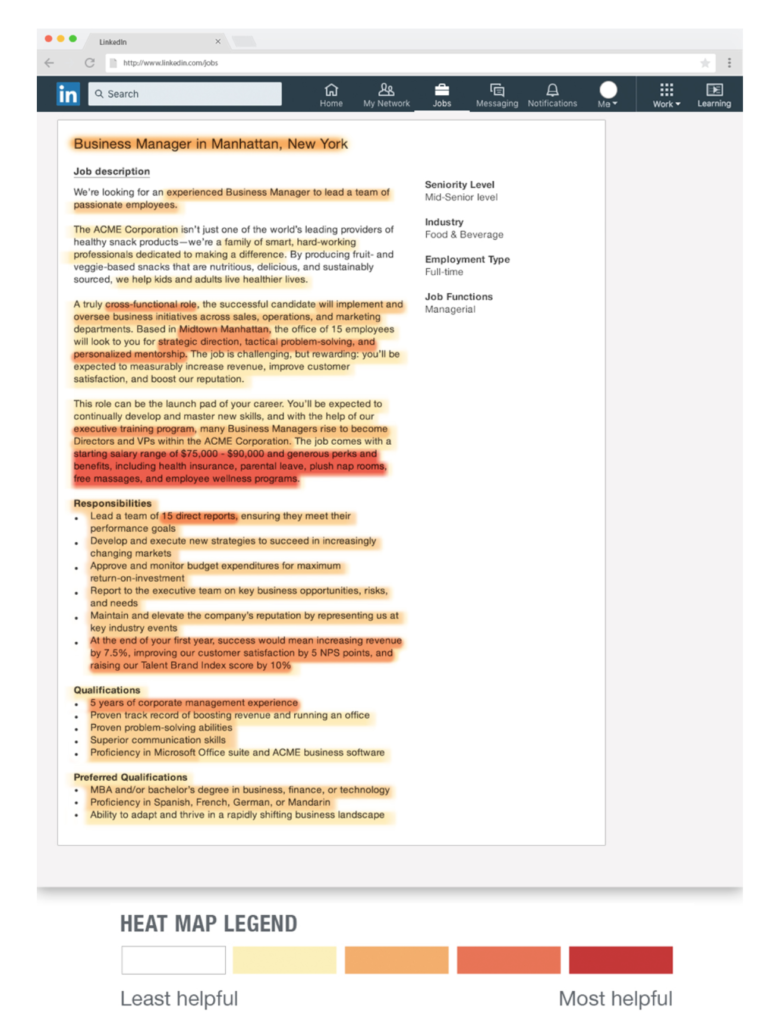 Adobe's more recent New Future Workforce Study found "Gen Zers won't even apply to a job if the salary isn't listed."
And…a 2023 survey from ResumeLab found "80% of respondents said they likely wouldn't apply for a job if salary range information was lacking."
Outside of increasing your chances of getting more "applies," adding pay to your postings is important because it saves time for everyone involved in hiring. If the salary is not listed and candidates go through the entire interview process only to find out the pay isn't enough for them, both parties waste time.
In some places, it is also the law.
Follow Salary Transparency Laws for Job Postings
Listing salary information in job postings was not a legal requirement until recently (for some states and cities).
And, based on the trends, it seems more companies (states, counties, and cities) will follow suit.
"17% of companies already provide the information across US locations that don't have legal requirements to do so."

source: Bloomberg
Here are 6 current "pay transparency" laws for job postings (as of February 2023):
1. Colorado Salary Transparency Law
Effective Date: January 1, 2021
This law requires employers to include compensation in job postings, notify employees of promotional opportunities, and keep job description and wage rate records.
2. New York City Pay Transparency Law
Effective Date: May 15, 2022
The main impact of the NY pay equity law on job descriptions is that it requires employers with 4+ employees to list a "good faith" minimum and maximum salary range on for all advertised NYC job, promotion and transfer opportunities."
3. Ithaca, NY Salary Transparency Law
Effective Date: September 1, 2022
This law makes it an "unlawful discriminatory practice" for employers to advertise a job, promotion, or transfer opportunity without listing the minimum and maximum hourly or salary compensation.
4. Westchester County, NY Pay Transparency Law
Effective Date: November 6, 2022
This law requires employers with at least 4 employees that are posting job, transfer, or promotion opportunities which "are required to be performed, in whole or in part, in Westchester County, whether from an office, in the field, or remotely" state the minimum and maximum salary for postings.
5. Washington Salary Transparency Law
Effective Date: January 1, 2023
The WA pay equity law requires Washington state employers to include a salary range, benefits information, and other compensation details in job postings.
6. California Pay Transparency Law
Effective Date: January 1, 2023
California passed a law (Senate Bill 1162) requiring employers (with 15 or more employees) to post salary information on all job postings. The law aims to close wage gaps.
And here are some other states, cities, or counties with pending legislation around pay transparency in job postings:
Albany County, NY (effective on March 9, 2023)
Connecticut (in development)
Jersey City, NJ (waiting for approval)
Massachusetts (in development)
New York (effective in September 2023)
South Carolina (in development)
Why I Wrote This:
The more open you are about pay transparency, the more your business will grow positively. And if you want to ensure your job postings are compliant with "pay equity" laws, Ongig's software helps you quickly scan them for missing salary info, so you can easily edit any that are not compliant.
Shout-outs:
Podcasts: What's new at Indeed with EVP Maggie Hulce (by RecTech Media)
New Data On Financial Transparency At Work [2023 Report] (by Dominique Goldschmitt)
Adobe's Future Workforce Study reveals what Gen Z is looking for in the workplace (by Vaishali Sabhahit)
Quick Facts About the Gender Wage Gap (by Center for American Progress Action Fund)
This Job Description Heatmap Shows You What Candidates Really Care About (and What They Ignore) (by Greg Lewis)
Albany County, New York's New Law Requiring Disclosure of Pay Ranges in Job Postings (by The National Law Review)
NY State Will Now Require Companies to Post Salaries in Job Ads (by Bloomberg Law)
More states roll out pay transparency laws (by Erin Bendig)
Connecticut Proposes Legislation To Increase Salary Transparency In Job Postings (by Kelly M. Cardin and Nicole S. Mulé)
Westchester County, NY Pay Transparency Law Takes Effect (Law and the Workplace Blog)
Salary Transparency Comes to (Some) of New York State (by Ogletree Deakins)