Times change, and so have job descriptions. Today, long, fancy titles and never-ending lists of daily duties that worked 10 years ago might appear archaic or insensitive. If you're like most companies, updating job descriptions is a top priority.
If you need (or want) to update your JDs, here are 5 tips to get you started:
#1: Review your "headline"
The headline — aka your job title — is the first thing that catches candidates' attention.
"36% of job seekers that use job sites search for a job using the title of the job they're looking for."

source: Indeed
A boring or gender-biased title gives your potential hires little incentive to keep reading the rest of the job description. A best practice for job titles is to keep them to 2 or 3 words so they're easier to read.
Also, aim to remove gender-specific suffixes like "-man" or "-ess" from your roles. For example, replace "fireman" with "firefighter" and "stewardess" with "flight attendant."
Some job titles have a lot of synonyms too. If you are hiring a sales role, try using titles candidates search for more often (e.g., "Outside Sales Rep" vs. "Associate Business Development Representative" or "Outside Sales — Territory Representative").
Note: Ongig's Job Titles: The Definitive Guide outlines some best practices on job titles, plus lists the most-searched titles by hierarchy and departments.
#2: Remove biased language
The words you use in your JDs might keep candidates from applying. Especially if they contain bias (race, age, disability, sexual orientation, gender, etc.).
Updating job descriptions to remove bias is key to attracting diverse talent. You can create your own "diversity style guide" or use diversity tools like Ongig to flag words that might offend or deter candidates from underrepresented groups.
Here's a snapshot of how Ongig flags biased language (and offers more inclusive options) so you can easily click to update your JDs: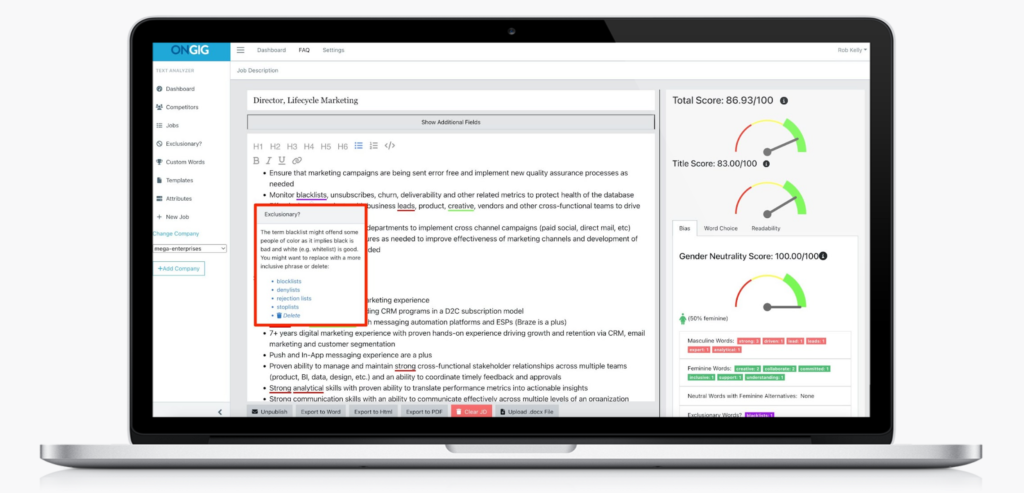 #3: Clearly outline your expectations
The average candidate only spends 14 seconds reading a JD before deciding to apply (or not). So, be specific and brief.
Quality JDs clearly outline the responsibilities and requirements for a role. Replace confusing language and long lists of "must-haves" when updating job descriptions.
Whether it's duties, academic qualifications, competencies, or job experiences, check that your requirements are clear at a glance. This will help your JDs bubble to the top.
Note: If you're JDs are turning off talent, here are 5 Ways Changing Job Description "Requirements" Boosts Applies & Inclusion.
#4: Use an "on-brand" tone
Company culture is a big deciding factor for many candidates. You could undermine your hiring efforts by using a tone that is not "on-brand" with your company culture.
"If the tone of your job post doesn't match your culture, applicants are 2-4x less likely to apply."

source: LinkedIn
When you're updating job descriptions, use the same level of energy and tone in your sentences you would daily at work. Be conversational. But, make sure it fits with your industry. If you are a Fortune 500 finance company, you'll probably use a different tone than a small startup or a daycare center.
And, try not to be too casual. Overly casual job postings perform worse than more "generic" or "formal" ones: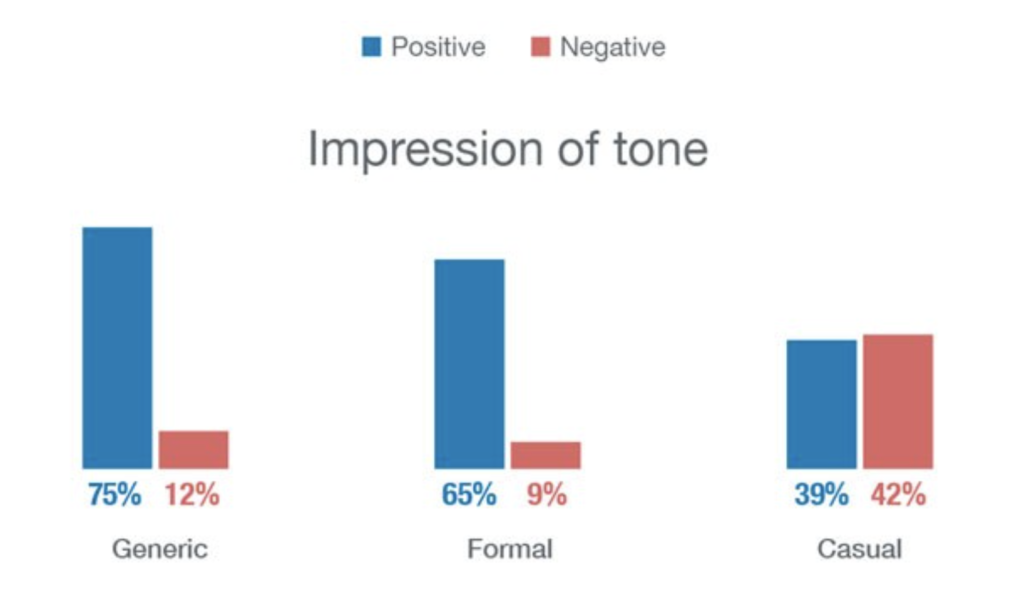 #5: Use links to your advantage
When updating job descriptions, insert helpful links to give candidates job-related details. This gives candidates insightful info about the role without taking up too much space in your JDs.
Here are some useful JD links to consider:
your diversity page
employee benefits
social media sites
employee testimonials
a virtual office tour
"giving back" or mission-related pages
a video intro from the hiring manager
If a job posting site doesn't allow embedded links, paste the URL in plain text so candidates can copy/paste it if they like.
Why I wrote this?
Ongig is on a mission to create more effective and inclusive job descriptions. Our software makes updating JDs easier (and faster) to help you attract top talent.
Shout-Outs: