Using inclusive language is one of the top best practices in writing job descriptions. It improves your chances to attract diversity as well as the best candidates because it widens the net to include as many qualified candidates as possible.
What is inclusive language? Hubspot, in its great article How to Use & Promote Inclusive Language at Your Organization, put it this way:
"Inclusive language avoids biases, slang, or expressions that discriminate against groups of people based on race, gender, or socioeconomic status. Inclusive language allows you to resonate with more audiences by speaking and writing in more impartial ways."
Here are 6 tips for using inclusive language to attract a more diverse candidate pool. They go far beyond just creating gender-inclusive job descriptions.
1. Create a Diversity Style Guide of Inclusive Language
First off, you're going to want to create an inclusive language guide (aka "Diversity Style Guide") for your recruiting team. To do this, you can review other style guides as a starting point.
The goal of this inclusive language style guide is:
allow people to look for more info or advice when unsure about which words to use
to combat discriminatory language (aka "non-inclusive language")
to help people use "use examples that reflect a broad range of identities and perspectives" when writing speaking, or using images
A diversity style guide outlines inclusive words and terms that might make some people feel excluded. Here are some examples of recommendations around race and ethnicity from SumOfUs.org's A Progressive's Style Guide: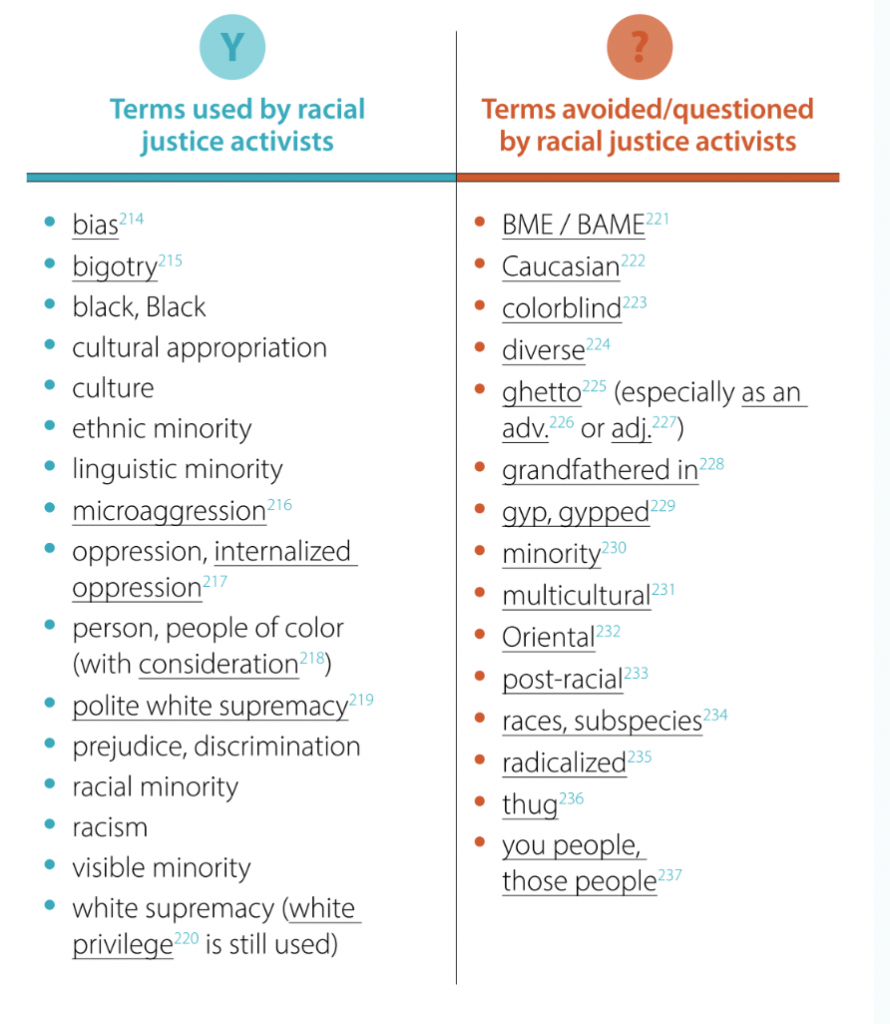 Creating an inclusive language list supports your recruiters and hiring managers when they craft job postings.
Having a "biased words list" (e.g. the "Terms Avoided" list above) along with terms that are ok (the ones on the left above) help keep biased language from making its way into your job ads.
In 2020, Twitter Engineering tweeted with the #WordsMatter hashtag when they announced their internal inclusive language list.
Inclusive language plays a critical role in fostering an environment where everyone belongs. At Twitter, the language we have been using in our code does not reflect our values as a company or represent the people we serve. We want to change that. #WordsMatter https://t.co/JVO8968B7K

— Twitter Engineering (@TwitterEng) July 2, 2020
Along with Twitter, other companies followed this trend for things like coding language. According to CNET, Apple also removed non-inclusive language like "blacklists" and "master/slave" and created alternatives in their updated style guide. Microsoft also replaced some technical language with racial tones pushed by the Black Lives Matter initiative calling for racial justice — they too reportedly now use (internally) an inclusive language list of synonyms they use to replace non-inclusive language.
Google's inclusive language style guide for developers mentions avoiding "unnecessarily gendered language."

If you create an inclusive/progressive style guide, your team is more likely to use inclusive language in hiring, interviewing, and at work in general.
2. Avoid common jargon and complex phrases
You can quickly turn off candidates by using common jargon and complex phrases in your job ads.
Did you know that candidates on the spectrum take things more literally than those not on the spectrum?
Aim for more language that is more clear…and less clever. A few examples:
replace "low hanging fruit" with "simple tasks"
use "pioneer" instead of "push the envelope"
don't use "zero-sum-game"
What about easily distracted candidates (e.g. that have ADHD) or other slightly learning-disabled candidates who read a bit slower than others.
Solution: reduce your syllables!
Here are 3 high syllable-count terms that may make candidates feel like they are reading a legal document along with replacement language:
Replace "In accordance with" with "by" or "under" are easier to read
Replace "In order to" — with "to"
Replace "liaise with" with "work with"
And beware acronyms!
Acronyms like KPIs, SLAs, and P&L can also be hard to understand. Spell them out, or leave them out.
You can make major progress with diversity language in your JDs just by keeping things simple like:
Using a simple sentence like this:
"Seeking an entry-level assistant to support the buying process, helping our team meet goals and deliver on our promises to customers." — Linkedin Talent
Instead of a more clever/but hard-to-read sentence like this:
"Seeking a superstar who can liaise with the procurement team and push the envelope in order to deliver on our promises to customers." — Ongig
Avoid common jargon and corporate language — that's a big barrier that keeps talented young people from applying to entry-level positions. Candidates with experience may understand, but young candidates or candidates who speak English as a second language might feel excluded or confused.
3. Use a job description tool that removes non-inclusive language
How do you know if you are using inclusive language in your job descriptions? Find a tool that highlights non-inclusive language and gives more inclusive replacements. Using a job description tool like Ongig's Text Analyzer helps you find masculine words and other types of bias (race, disability, age, sexual orientation, mental health, and more) in your job descriptions.
The screenshot below shows a Database Engineer job description in Text Analyzer with more inclusive replacement phrases for masculine words like "strong" and "leader":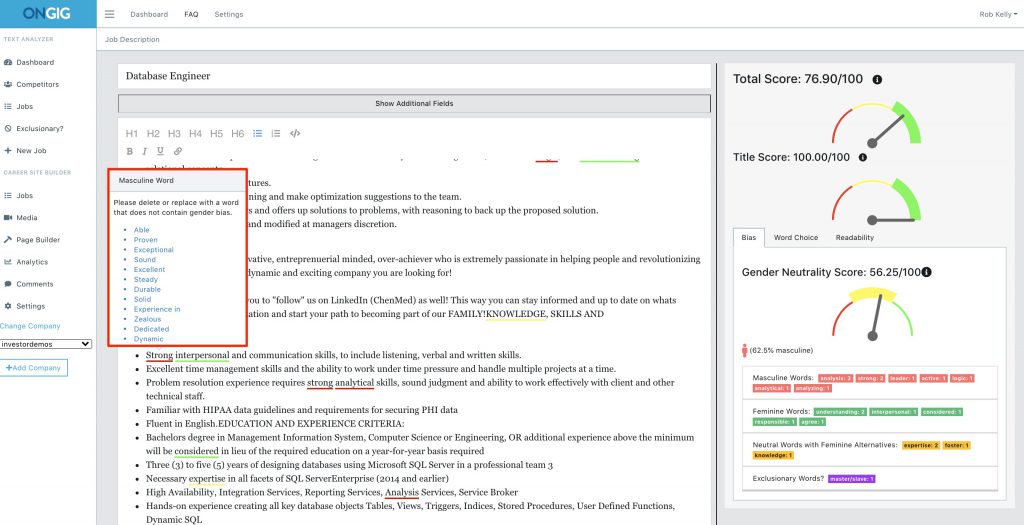 This screenshot of an Executive Assistant job ad shows more inclusive replacement phrases for "grandfathered" that's considered non inclusive language based on race: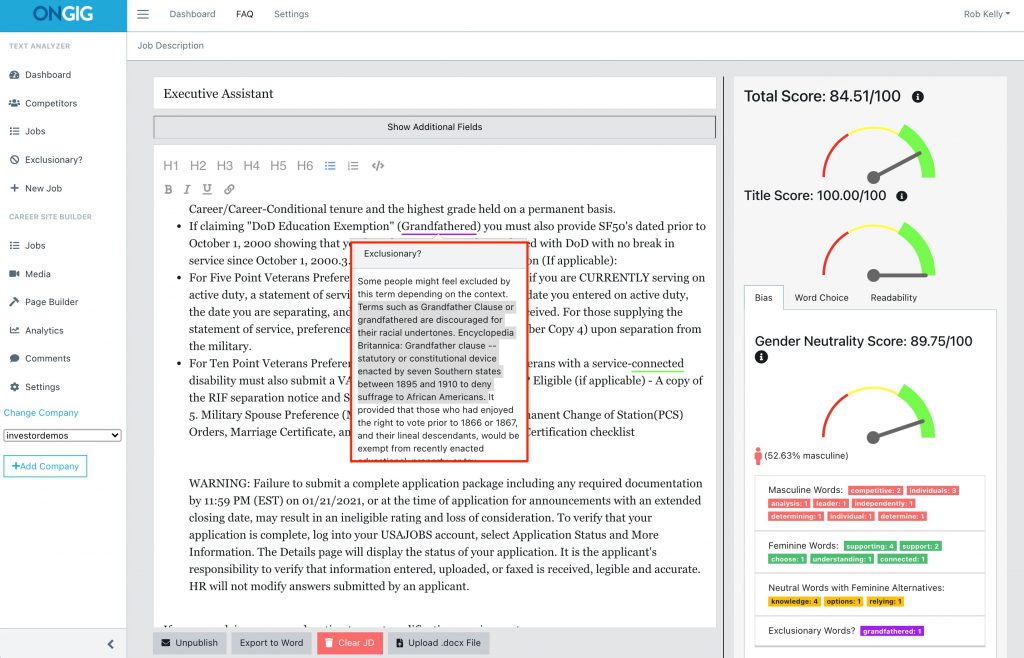 In our blogs, 7 Examples of LGBTQ Exclusionary Language [in Job Descriptions] and Top 10 Terms with Bias Toward POC [in Job Descriptions], there are more examples of non-inclusive language that a job description tool like Text Analyzer helps you flag and replace.
4. Use dyslexia-friendly fonts to be more inclusive to "neurodivergent" candidates
Being inclusive in your job description language also means considering neurodiverse candidates. It's estimated that 1 in 10 people in the U.S. have dyslexia. People with dyslexia (sometimes known as "neurodivergents") may have challenges processing words on a screen. This means font choices in job descriptions are important if you want to be more inclusive.
The British Dyslexia Association even has a Dyslexia friendly style guide with tips. Here are a few of the many listed in their diversity style guide:
changing the font makes inclusive job descriptions easier to read (Arial, Comic Sans, Verdana, Tahoma, Century Gothic, Trebuchet, Calibri, or Open Sans)
clearly format text using subheadings
underlining text or italics causes crowding; use bold for emphasis instead
using a larger dyslexia friendly font size (12-14 point)
Here's an example. The job posting below is for an HR Business Consultant. The content in both is the same, but the image on the left is not dyslexia-friendly. The image on the right uses dyslexia friendly fonts and more inclusive formatting.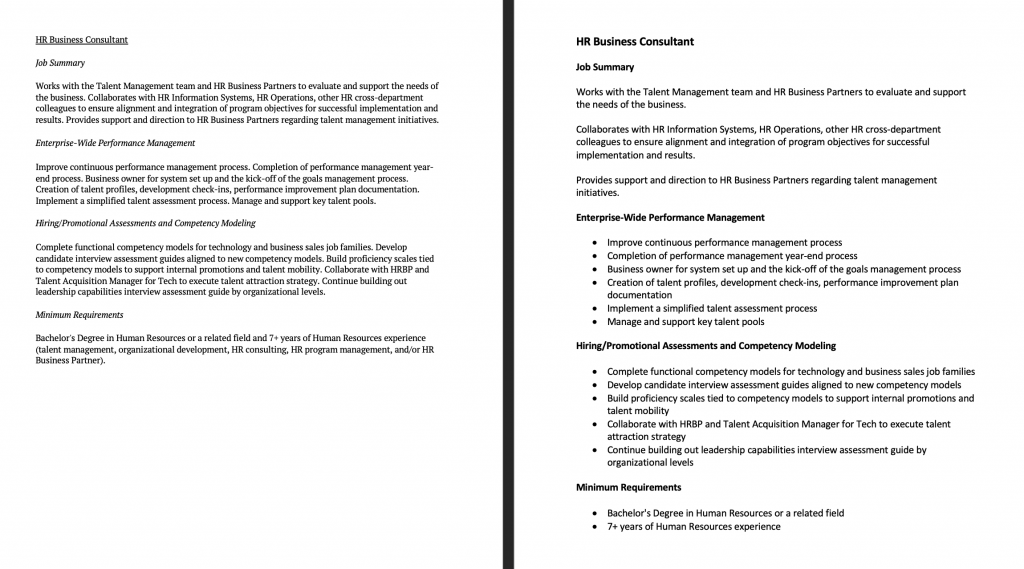 5. Inclusive Language for People with Disabilities
Another tip. Don't use unnecessary details where you don't have to. This not only helps simplify your job descriptions for people with dyslexia, but it also lowers the chances of excluding certain groups, like people with disabilities.
"For example, you might write that a plant manager needs to walk from station to station. But is the method of getting from one place to another really important? Couldn't an employee use a wheelchair or scooter to achieve the goal?"– Understood's blog Rethinking "essential functions": 5 ways to make job descriptions more inclusive
Using words like "lift" might make someone feel excluded depending on the context. The image below shows some more inclusive replacements that could also prevent an ADA lawsuit: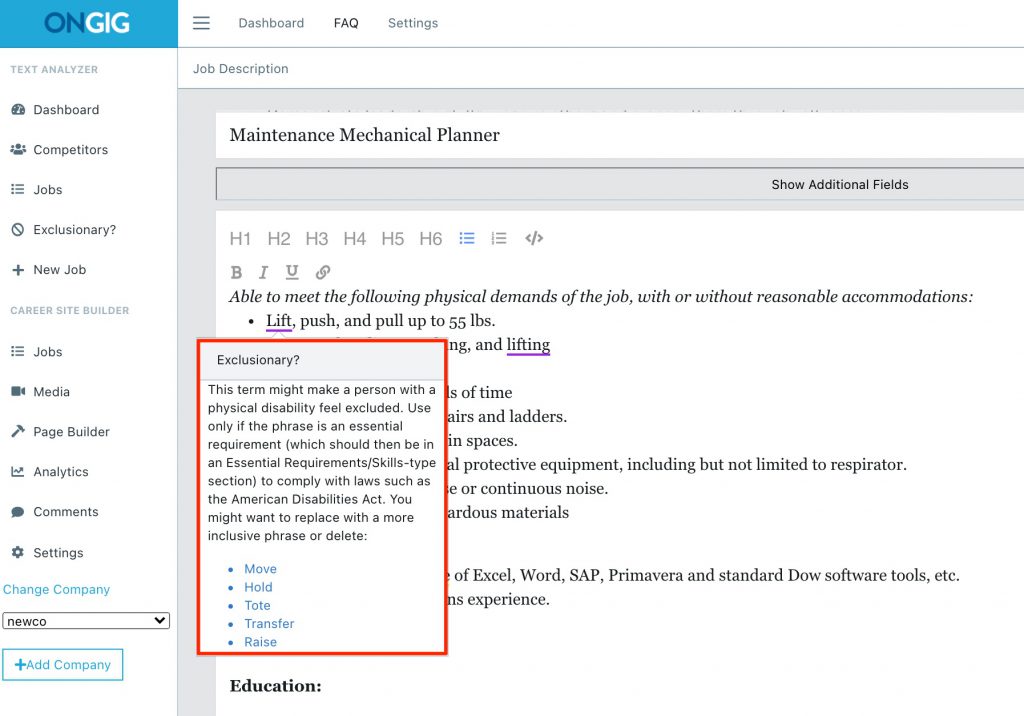 6. Highlight "Inclusive Benefits" in your job descriptions
Another tip, show candidates your company is dedicated to being inclusive. Add a special sentence or paragraph in your job postings highlighting:
employee benefits for underrepresented groups (e.g., a mentor program for people of color)
your organization's commitment to DEI (e.g., an internal DEI committee)
employee resource groups (ERGs) supporting inclusion (e.g., list the # of ERGS you have)
diversity training for employees (e.g., annual unconscious bias training sessions)
needs accommodations (e.g., flexible work arrangements for parents or people with disabilities)
Include this information anywhere in the job description. Here are a few examples of language companies are using to be more inclusive:
Entrust Datacard
The intro section of Entrust's Business Systems Analyst job posting says:
"From unconscious bias training for managers to global affinity groups that create connections both within and across our enterprise, Entrust expects and encourages all individuals to accept and respect one another. And, of course, to be themselves."
Federal Reserve Bank of Philadelphia
In the closing section of this bank's Support Analyst job ad, we found this:
"To support a workplace culture of belonging, we offer seven employee resource groups (ERGs) and a 100 percent rating on the Human Rights Campaign (HRC) Corporate Equality Index."
You can also add some of these to your EEO Statement at the end of your inclusive job postings. See below for more on this.
7. Use Inclusive Language in the EEO Statement of your Job Posting
EEO statements are not new, but they can be polished up, focusing on being inclusive. Here are 2 examples (one short and lone longer) of companies using inclusive language in their EEO statement:
Survey Monkey
"SurveyMonkey is an equal opportunity employer. We celebrate diversity and are committed to creating an inclusive environment for all employees."
Visa
"Universal acceptance for everyone, everywhere is at the heart of our company. We promote diversity of thought, culture and background, which connects the entire Visa family. As such, Visa is proud to be an Equal Opportunity Employer. We do not discriminate on the basis of race, color, ancestry, national origin, religion or religious creed, mental or physical disability, medical condition, genetic information, sex (including pregnancy, childbirth, and related medical conditions), sexual orientation, gender identity, gender expression, age, marital status, military or veteran status, citizenship, or other characteristics protected by state or federal law or local ordinance."
And double-check progressive style guides to make sure that your EEO does not contain non-inclusive language.
You can find more examples of EEOs in 10 Samples of an Effective EEO Statement.
Why I Wrote This
The team here at Ongig is on a mission to help eliminate boring and biased job content. Using inclusive language in job descriptions is a top priority for many companies. Ongig's Text Analyzer job description tool helps support the creation of inclusive job postings.
Shout-Outs