Inclusive, well-written job ads are your first step to attracting top candidates. But writing them is challenging, especially if you write them at scale. I've compiled a list of the best job description tools to help you stay on track.
I organized the list into 2 tables (in alphabetical order) for easier reading.
Job Description Tools: Analysis & Augmented Writing
These job description management tools help you write effective JDs to attract the best talent. They flag things like:
gender-coded language
exclusionary words (e.g., racial, disability, LGBTA+ bias, etc.)
long list of requirements
low readability scores
internal jargon
And, help you:
build custom job postings templates
flag items for regulatory compliance
boost your employer brand
build video components into your JDs
Let's check out the list, starting with Ongig's Text Analyzer.
Ongig scans your job descriptions for 12+ types of bias (gender, race, age, disability, etc.), flags it, and suggests real-time inclusive alternatives, so you're more likely to attract diverse applicants.
It also highlights the overuse of bullets or adverbs, creates custom JD templates, highlights missing sections candidates care about (e.g., salary), and helps with salary compliance in JDs.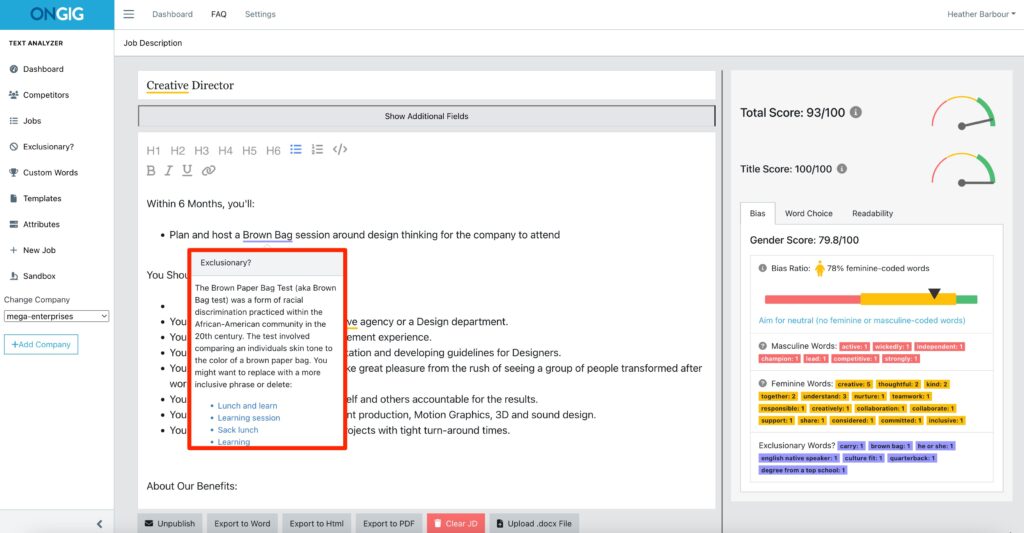 Applied. Applied scans your text for gender bias and suggests inclusive words to replace them. It also gives you an inclusion and conversion score, and flags jargon.
Before You Apply Company Profile. This helps you create your company's brand by creating Q&A videos and gives candidates the ability to reach out to you (the recruiter).
Cliquify. This platform allows you to create your company brand kit with colors, fonts and images and connects social media handles like Twitter, Linkedin and Facebook. It also enables users to build job cards.
CompetencyCore by HRSG. Using their built-in AI suggestions, you can choose from 1200+ drafts to create your own JDs.
Eploy. Eploy checks your JDs for length and an equal opportunities statement. It's free to use. All you need to do is copy and paste your JDs.
Gender Decoder. This is a free tool that scans your JD for gender-coded words. You must copy and paste your job ad, which populates a list of masculine and feminine coded words.
Get Optimal. This tool is a gender writing analysis tool that scans your text for gender bias. Register for a free job ad report to test it or buy credits to use it.
Google Docs. You can create a job description template with Google Docs, share and store them, and collaborate with others to store them online. This service is free to use with a Google email account (also free to create)
Google Keyword Planner. This tool helps you identify the keywords you can use so your JDs can be found by suitable candidates online.
Grammarly. Grammarly does more than check punctuation and grammar. It also finds gender and non-inclusive words and offers replacements.
Hemingway App. This tool can help your writing, concentrating on how easy it is to read. All you need to do is copy and paste your text, and it analyzes and gives suggestions for readability.
Job Ad Analyzer. This FREE service analyzes your JDs and tells you what applicants you will likely attract.
Job Description Grader by Jobvite. This tool analyzes your JDs, rating from A to C (A being the highest). It also analyzes your JD's overall sentiment and readability and scans for biased words.
Job Page Grader. This tool scans your JD and gives it the highest grade of 100%. It analyzes it for engagement, conversion, SEO and web page performance.
Jobsoid. This FREE job description generator has over 1000+ templates to help you write JDs. You can choose a job title, and it generates templates you can customize.
Jobwriter.io. Jobwriter scans your job posts and highlights words that are not gender neutral and suggests alternatives for it. It also gives language ideas for you to use.
Microsoft Word and Excel. Word and Excel are also excellent software for creating JDs. You can create your own, or you can look for templates online. Microsoft Word. If you have a Microsoft 365 subscription, you can use its gender analysis tool.
Minute Creator. This FREE tool uses occupational information from 8000+ Bureau of Labor Statistics Occupation Classification. Just search for a job title, and it creates a list of JD options for you to use.
Predictive Index. This tool has a feature called Job Assessment which helps you identify what each position needs by creating job targets before you write job postings.
Rytr. Rytr uses AI to help you generate job descriptions from 30+ language types and 20 tones.
SparcStart. This platform enhances your JDs with videos and infographics on travel, workspace and benefits and includes an "apply now button" that easily integrates with your company's ATS.
Talvista. Talvista uses algorithms to analyze JDs for problematic terms and phrases and replaces those biased words with inclusive terms.
TapRecruit (now Datapeople). TapRecruit's goal is to help you write job descriptions that are thoughtful, concise and inclusive. It also provides a job description score based on job title, description, and inclusivity.
Textio. Textio is an augmented writing platform that analyzes your JDs and aligns it with your company value and culture. It predicts how your JDs will compete for talent and gives you a Textio Score that measures how your JD will perform in the real-world hiring market.
Totaljobs Gender Bias Decoder. This FREE tool scans your text for gender-coded words and highlights them, but it doesn't give you alternatives.
UInclude. UIinclude checks your content for gender and race bias, and the tone of your job descriptions. It's free to try for 7 days with a business email.
Job Description Tools: Career Site Self-Service
Career self-service tools empower you to change your company's career pages anytime. These tools help you adapt to any recruiting-related challenges that come your way. Including:
making your site mobile-friendly
posting job descriptions
incorporating SEO search capabilities
candidate communciation (e.g., chatbots)
tracking talent analytics
cohesive branding
job search usability
Ascendify. Ascendify gives you mobile-friendly sites, Linkedin and mobile device applications, and immersive career designs for you to use.
Beamery Talent Operating System. This self-service career site has multilingual and SEO search capabilities and allows for flexible editing and content arrangement.
Clinch by PageUp. Powered by machine learning, this platform gives you unlimited pages and microsites and has a complete blogging engine. It also gives you SEO-optimized and accessible career page templates.
Eightfold.ai. Eightfold.ai has an integrated chatbot and built-in SEO and provides personalized talent acquisition content.
iCIMS Attract. This self-service tool is powered by machine learning and is optimized for Google. It also comes with end-to-end analytics with a dashboard and career site branding.
Phenom People. Phenom attracts and engages candidates with employer branding, a streamlined application process, a chatbot and good digital accessibility.
Recruit Rooster by Direct Employers. Their website gives you access to Google talent Job Search, animated videos and photos, and performance-tracking analytics.
Symphony Talent's SmashFlyx Career Site Builder. This career site gives you a real-time chat assistant, personalized content and landing pages, conversion tracking and cohesive branding.
Talemetry. This platform is mobile and social-friendly and is powered by Google machine learning. It helps you create targeted mobile and social-friendly content and gives you talent promotion to passive candidates.
talentReef. talentReef offers you job board integrations, SEO support and talent community campaigns to help you compete for top talent
TMP's Talent Brew by Radancy. Talent brew's career web design has an active job feed and search, job alerts, branded templates, quarterly analytics and widgets.
Why I Wrote This:
Ongig is on a mission to create effective and inclusive job descriptions so you can attract the best candidates. Ongig is one of the top job description tools to use to streamline your JD workflow and build the best job ads. Please request a demo if you'd like to learn more.