Writing JDs takes time, especially if you're writing 500+ a month. The good news -– there are job description generator tools that automate the process. Now you can spend your time on what matters most –– finding the best talent.
What is a job description generator? The simple answer –– it's software that creates JDs for any type of job. There are quite a few on the market (each with its own specialty).
So, I found 5 top job description generators for you to check out.
Some are paid, and some have free options. Let's get started!
1. Ongig — Job Description Generator
If you're an enterprise creating 100's or 1,000's of job descriptions per year, you might find Ongig a better fit. Ongig is a job description generator that creates JDs fast (and at scale).
To generate job descriptions, you'll only need to make a few clicks to select a template, a job code (or req ID), an EEO or D&I Statement (by location), and then assign it to someone on your team to make edits (e.g., a recruiter):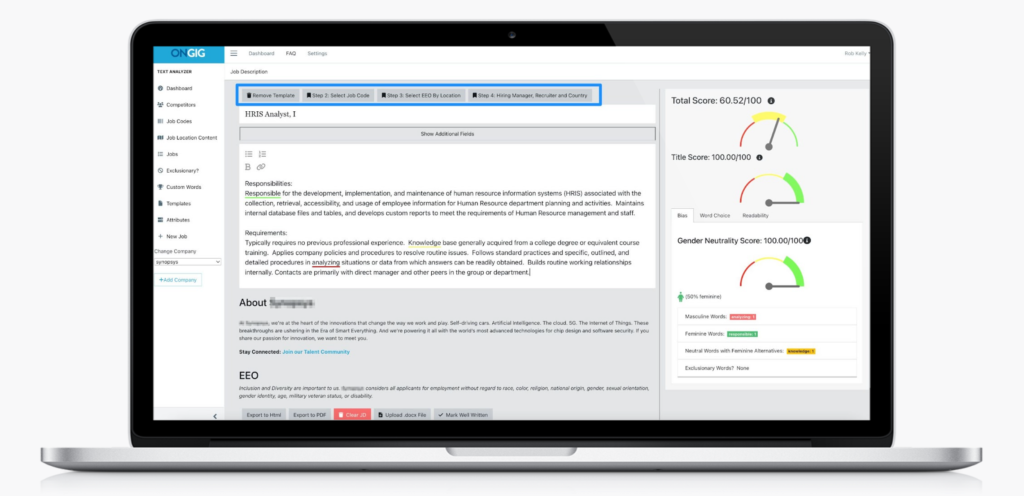 The example above is for one Ongig customer's workflow, but each account is customized based on how you manage your JD process.
The software also:
Increases applications (including from diverse candidates)
Saves time for recruiters (who aren't copywriters anyway)
Speeds up the time from when Job Req is approved to posted
Finds "gotcha" words that are biased
Integrates with MS Word, Excel, and ATSs
Flags missing sections like Salary & Benefits, Diversity Statement, and others you might want to add
Ongig Pricing
Enterprise-level pricing starts at $11,999/year and is based on company size, JD volume, and the size of your JD library (if you have one). You'll need to request a demo to learn more about pricing.
Note: If you need help generating job titles for your JDs too, check out 5 Examples of a Job Title Generator.
2. Ryter — AI-based Content Generator
Ryter uses AI to create JDs with a few clicks. Here's how it works:
Select the language you want to use (there are 30+ options, which is great if you need to recruit in another country)
Select a tone (casual, candid, convincing, etc.)
Type in a job title (e.g., "Product Manager")
Choose the number of options (they call it "variants") you want
And click "Ryte for me" to get a sample job description to work with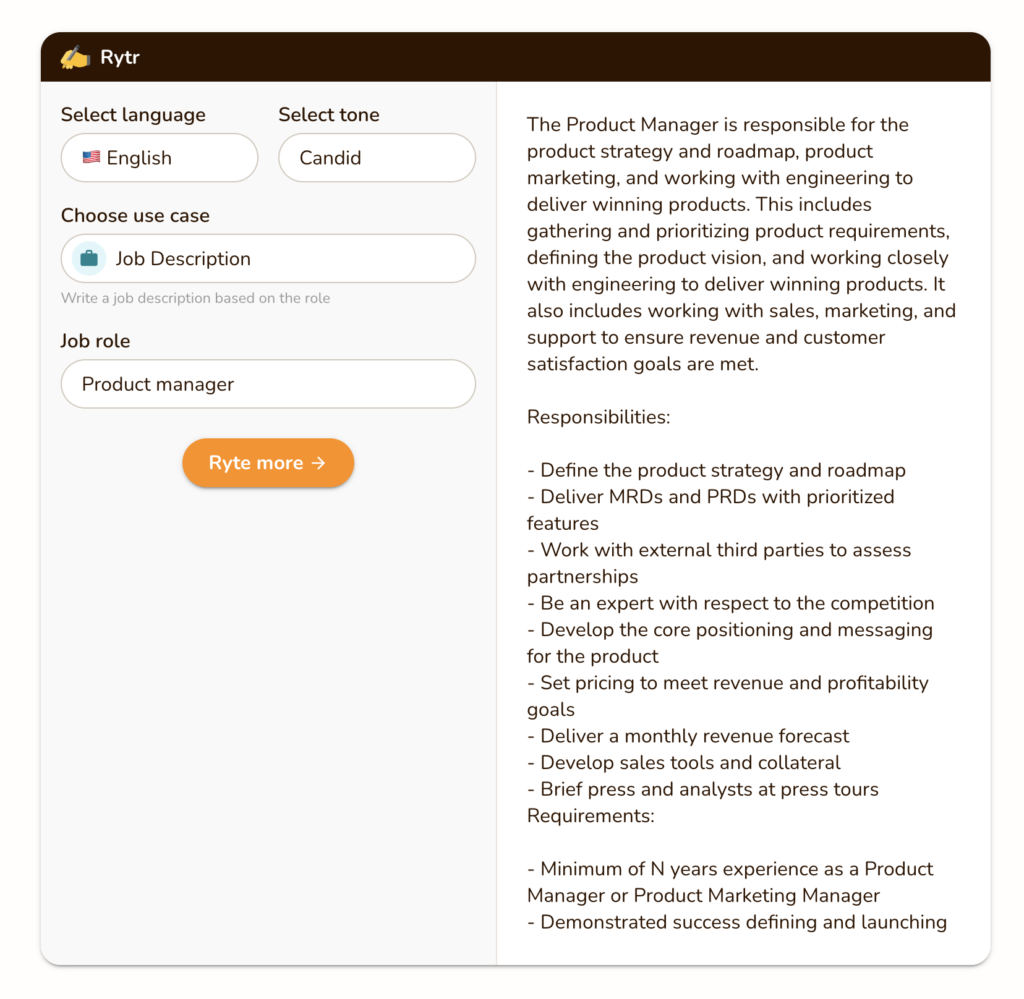 Ryte generates a basic intro plus a few requirements and responsibilities. But, you'll have to add other sections like salary, benefits, diversity statements, etc.
Ryter Pricing
There's a free plan for 5,000 characters per month. If you need more, you'll have to upgrade to a paid version for $9 or $29 a month.
3. Job Description.ai — JD Generator
Job Description.ai uses data from 27+ global industries to help you create JDs.
If you're looking for a JD generator with the main focus on JD and its nuances, you might want to look into this one.
It has a:
Job Skills Generator
Job Responsibilities Generator
Job Qualifications Generator
Job Role Summary Generator
You just choose the job industry, the job title, and click "suggest" to get an output like this one: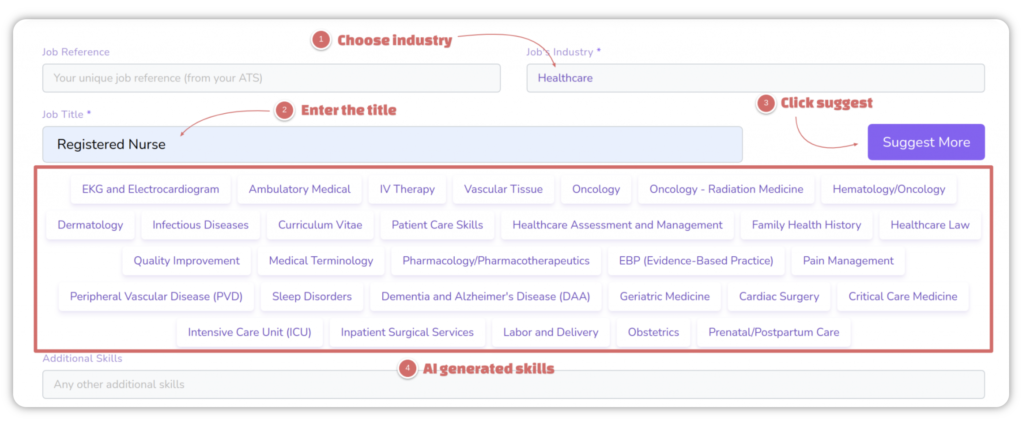 It also has a spelling and grammar check to make sure everything is polished.
Job Description.ai Pricing
The "startup" plan starts at $250 a month and has limited features. You'll need to contact their sales team for a demo and pricing for "agency" or "enterprise" pricing.
4. PitchMe — Job Description Generator
The PitchMe Job Description Generator uses a click-by-click process to help you create JDs.
You start with the position you want to hire (data analyst, programmer, UI designer, software engineer, etc.) and choose a set of skills: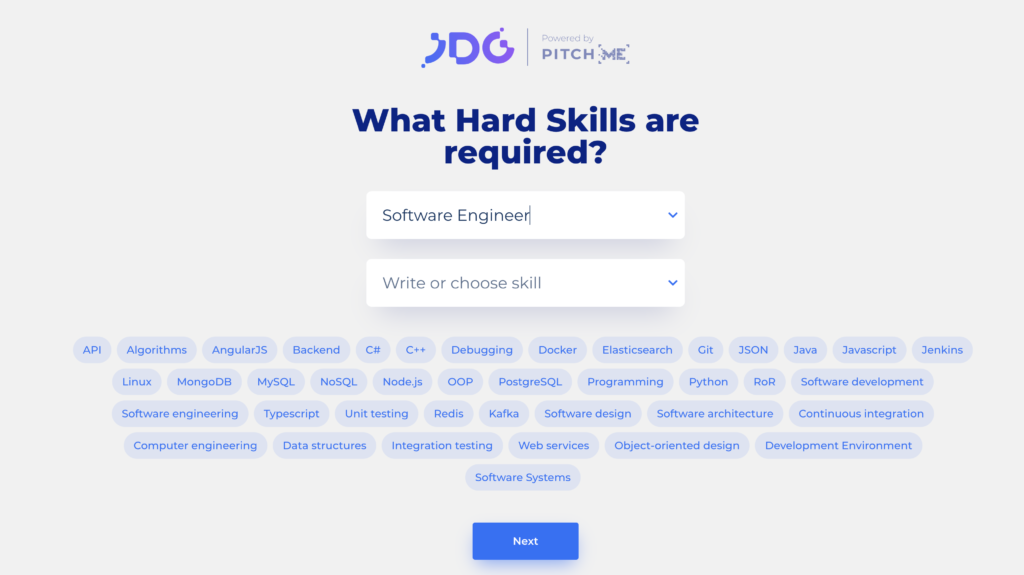 Then you'll answer a few questions about the role:
What are the contract type and salary range? (full-time, contract, etc.)
Where will the role be based? (choose remote if you like)
What's the working environment like? (desk-centric, remote, startup, etc.)
What type of role in the team? (team coordinator, collab, etc.)
Who does the role report to? (the CEO, another manager)
What are the work hours? (freelance, flexible, etc.)
How many years of experience? (1-5, 5-10, or more than 10)
And key in your contact details to download a free PDF or post your JD from their site.
PitchMe Pricing
PitchMe offers 5 "freemium" credits to post your JDs on their platform. You'll need to enter your name, company website, and a valid company email to get your free credits. Request a demo to learn more about their services and pricing.
5. HireQuotient — Job Description Generator
HireQuotient's job description generator helps you build JDs through role profiles.
You enter your business email or connect to your LinkedIn profile to get started. Then you:
select a "job role" (aka title)
type your "About the Company" text
make edits to the "Role" section as needed
select "Responsibilities" from an auto-filled list
type your "Requirements"
add any additional sections you might need
choose a location, industry, and salary range
preview and save
HireQuotient Pricing
The tool is free to use with a business email or LinkedIn login.
Why I wrote this:
Ongig's mission is to help you create effective JDs, at scale, through tools like custom templates and a job description generator. Please request a demo to learn more.
Shout-outs!
8 Best Job Description Generator Tools for Recruiters (by Snaphunt)