Do you want to create job descriptions online…that are consistent and bias-free? Here are 5 job description builder tools to help you:
write more effective and inclusive JDs
speed up your JD writing process
create re-usable templates
So you can attract top talent. Let's dive in.
Text Analyzer is a job description builder tool that helps you create the best job ads fast. Ongig's cloud-based software has a database of 10,000+ biased words with inclusive replacements.
It also acts as a repository so users can easily access approved templates or job descriptions (based on their access permissions).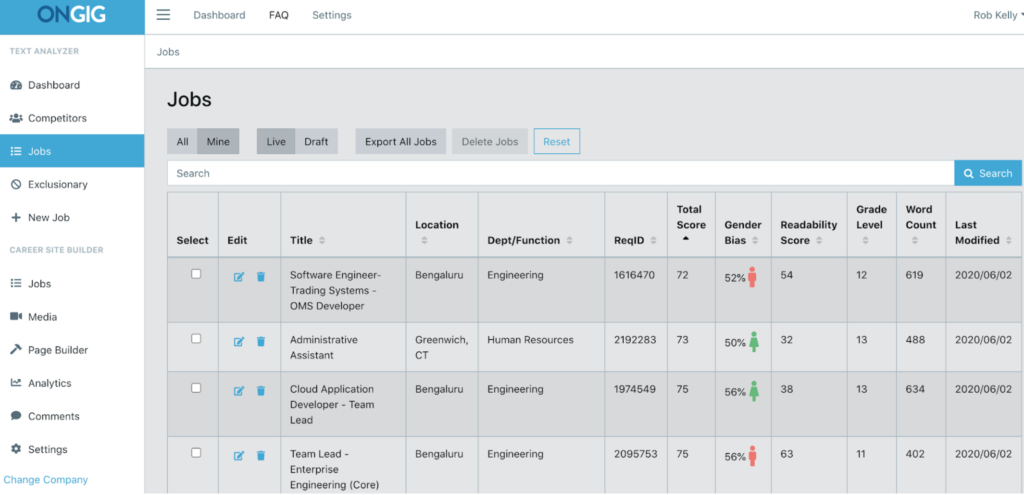 Text Analyzer scans JDs for:
bias (gender, race, disability, sexual orientation, age, elitism, neurodiversity, mental health, and more)
complex words (e.g., "in order too," "in accordance with", and other "legalese")
missing sections (Salary & Benefits, Diversity Statement, About Us, EEO, and others)
extra long lists of requirements (that might deter candidates from applying)
excessive adverbs and run-on sentences (that make JDs harder to read)
…and suggests more inclusive language, SEO-friendly job titles, and other tips to help you write better JDs.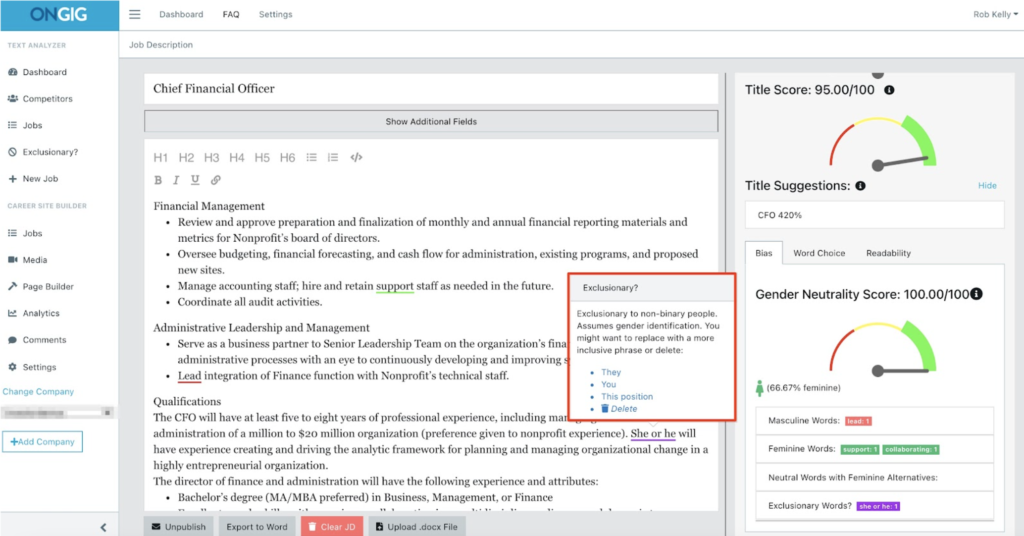 Once you create job descriptions online using Text Analyzer, you can export them to PDF, Word, and HMTL (easy copy/pasting)…or sync them to your applicant tracking system (ATS).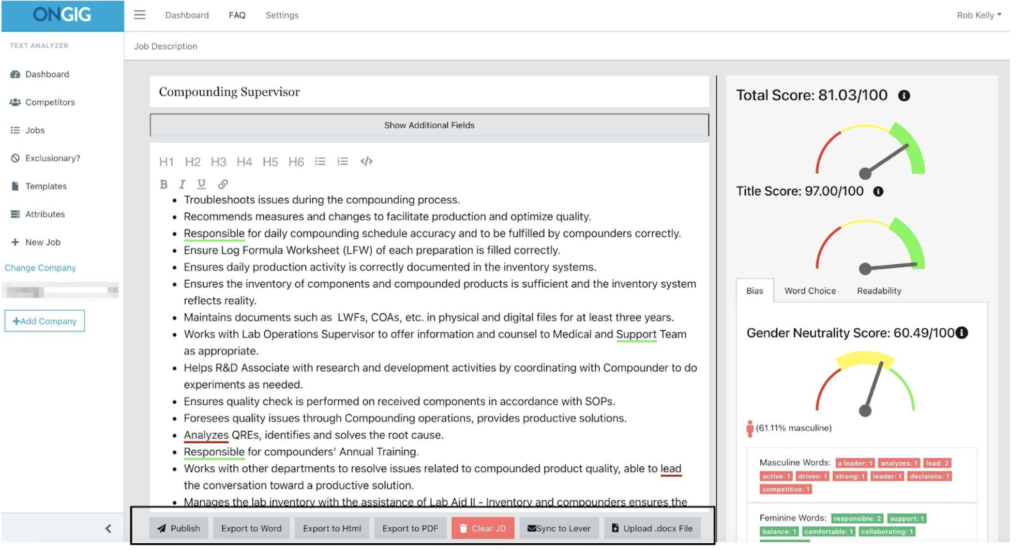 Enterprise-level pricing starts at $11,999/year and is based on company size, JD volume, and the size of your job description library (if you have one). You can request a demo to learn more about the features and pricing.
2. Jobsoid Job Description Generator
Jobsoid job description generator is a cloud-based recruiting solution. It is used by startups, recruiting agencies as well as small and growing businesses.
Jobsoid has a FREE job description generator (with an online library of 1000+ templates) to help you write JDs. Each job description template also has an overview plus general duties, and requirements.
So, all you need to do is choose a job title (or job family) to get templates you can customize.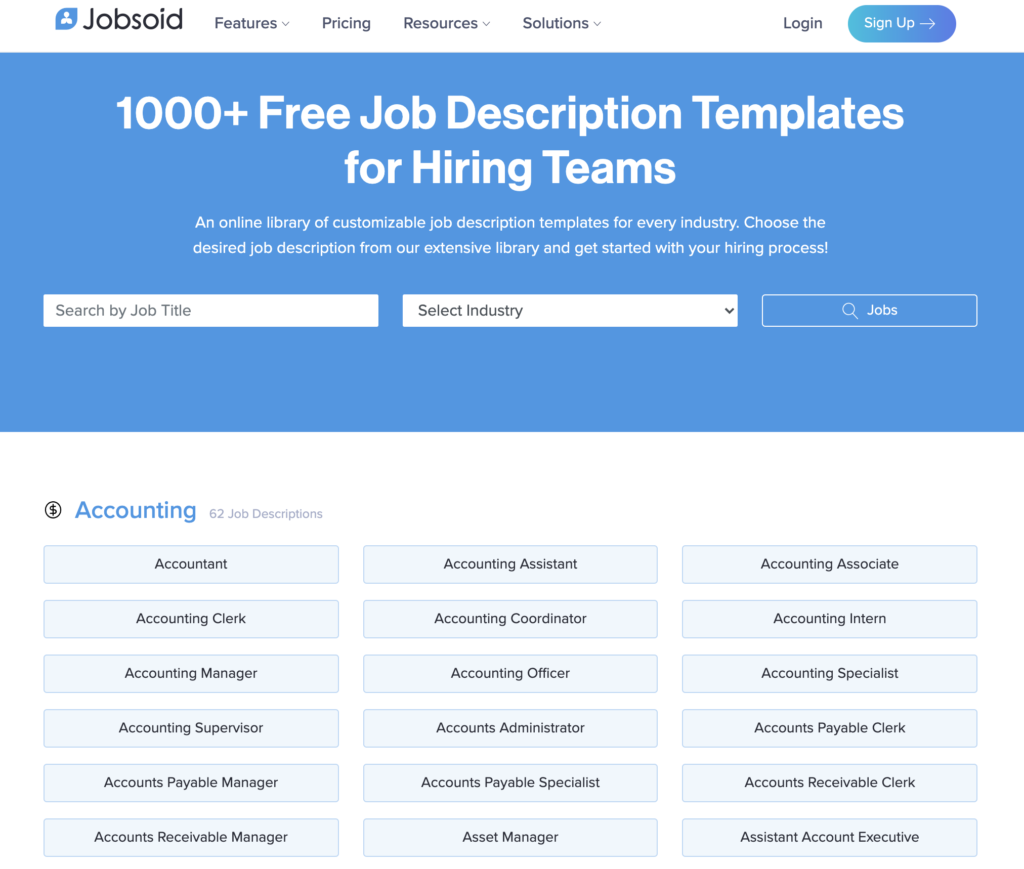 Minute Creator is a free job description builder that scans a comprehensive list of job titles, duties, responsibilities, education, and physical requirements. This free tool also uses occupational info from 8,000+ Bureau of Labor Statistics Occupation Classifications.
When you search for a job title (e.g., "Software Developer"), the tool creates a list of JD options. It also creates a customized Word template you can download and edit.
Note: These templates are broad, so you might still need to trim down the requirements and purpose of your role.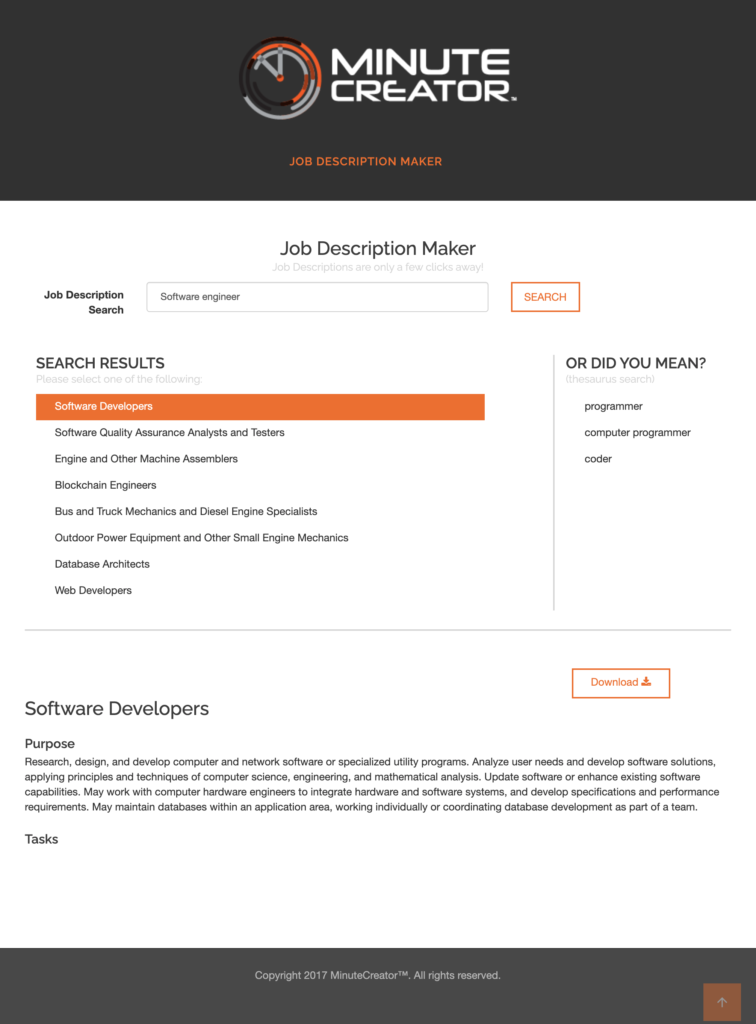 4. CompetencyCore Job Description Creator (by HRSG)
CompetencyCore's job description builder allows you to choose from 1200+ drafts to create your own JDs. The tool uses built-in AI suggestions based on role types so you can easily match competencies based on related job types.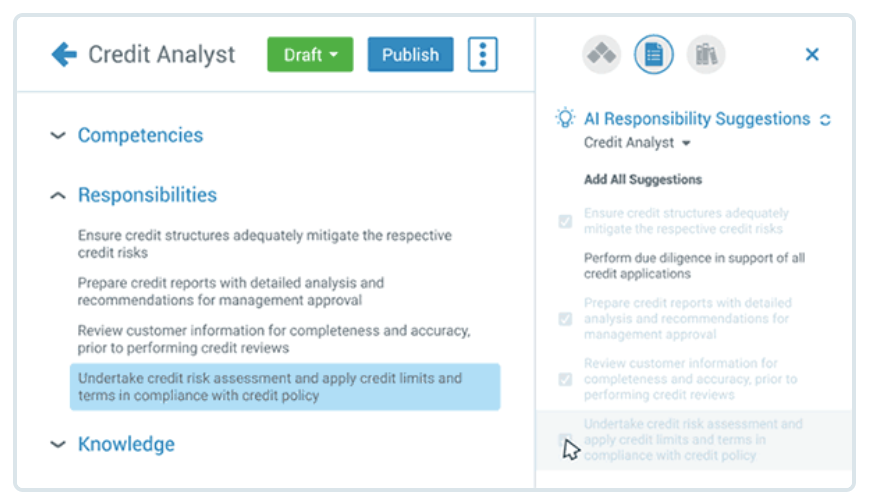 This tool also helps you "create interview guides based on the job data, build career pathing programs to engage and retain your talent, and manage all your processes easily." Request a free demo to learn more about options and pricing.
5. Rytr Job Description Builder Tool
Rytr is a smart tool that also uses AI (Artificial Intelligence) to assist you in creating job descriptions. It's like having a helpful assistant that understands your needs. So, with Rytr, you have the freedom to personalize the job description according to your preferences. You can choose the way it sounds, the writing style, and also the specific details you want to include. With this, you can make sure that the job description perfectly fits what you're looking for. Thus, it makes the hiring process much easier and tailored to your unique needs.
Here are the 4 steps you'll take:
Choose a language from 30+ language types
Select one of the 20+ tones from a drop-down list (e.g., candid)
Choose "Job Description" as your use case
List some keywords, phrases, or titles and click Ryte for me
Here's an example of a Product Manager JD made using Ryter's job description creator: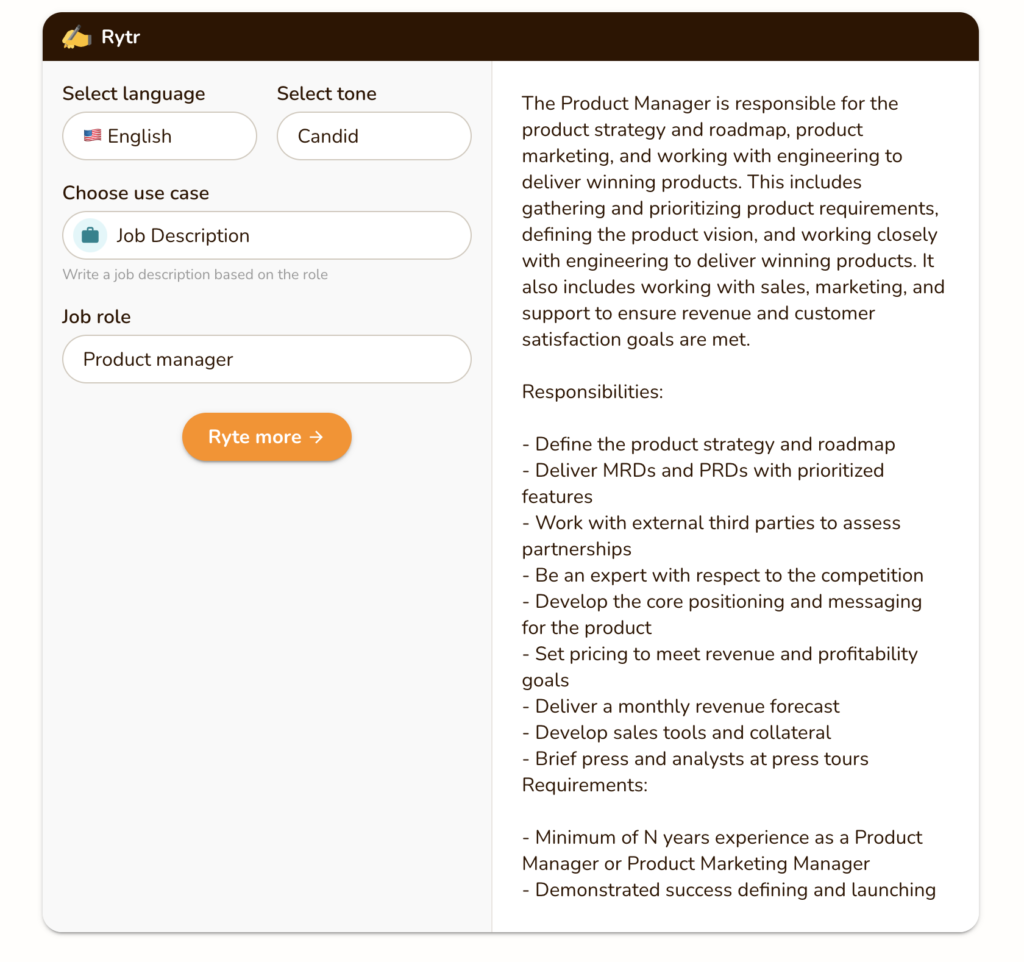 Why I Wrote This?
Finding the right candidate for the job starts with a great job description. Ongig helps you build JDs that are effective and inclusive so you can hire top talent. Plus, it can also help you improve your JD workflow.