Do you know how to make a job description stand out? Here are 5 ways to make it happen:
1. Use simple, keyword-driven titles
It's great to be creative. But for job titles, it's best to be simple and specific. For example, instead of using the title "Senior Web Cloud Developer, Digital Technology," using something like "Senior Web Developer" is more simple and SEO-friendly.
Here's a list of the 10 most common software job titles candidates search for each month on Google:
Web Developer
Software Engineer
Software Developer
Front End Developer
Network Engineer
Java Developer
IOS Developer
SQL Developer
Android Developer
Salesforce Developer
You can find more top job titles searched by candidates in Ongig's Job Titles: The Definitive Guide.
2. Include a list of perks
One of the best ways to make a job description stand out is to tell candidates what they'll get if they work for you.
Candidates want to know what's in it for them. Is your company offering extended lunch hours? Do you offer a hybrid work model? What about childcare services or pet insurance?
Research shows each benefit you include in a job ad increases the apply rate by 1% to 5%. And, the benefits with the most positive impact on apply rate are:
— Regular Incremental Bonus (+155.1%)

— Pet Insurance (+37%)

— Health Insurance (+29.8%)

— Stock Options/Employee Stock Purchase Plan (+27.5%)

— 401(k) (+20.5%)

(source: Appcast and Behavioral Scientist Ashley Whillans, PhD, Harvard Business School)
If you don't want to list all of your "work perks," at least include a link to a page that gives candidates more info.
Google does a great job of dedicating one page to all the benefits Googlers get when they work for the company:
3. Be Transparent with Salary
Salary is the #1 part of a job ad that is "helpful," "appealing," and makes candidates "more likely to apply."

(source: Vision Critical Heatmap Study of 450 LinkedIn Members)
Listing salary details (even if it's just a range) is a great way to make a job description stand out.
It helps attract more qualified and serious candidates. This is because they decide before applying if the salary is a good fit, or not. It also saves you time going through the interview process only to find out your applicant isn't happy with the compensation package you're offering.
Adding pay rates to JDs is not legally required in most states (yet), but places like New York City and Colorado require companies to list salary information in all of their job descriptions. More pay transparency requirements will likely be in the coming months or years.
4. Eliminate biased words
If your job ads are full of gender-coded words (or other biased language), you might be turning off qualified applicants.
So how do you make a job description stand out without excluding underrepresented groups? Make sure your JDs are free from bias.
One way to do this is to invest in diversity tools. These tools scan your job descriptions for words or phrases that might exclude candidates based on gender, race, age, sexual orientation, disability, neurodiversity, etc.
You often might use a word and not even realize it's offensive or biased.
Here's one example of a phrase with potential racial bias, "culture fit." When you click on the phrase, you'll find a pop-up with a more inclusive replacement and an explanation of why it might be "exclusionary."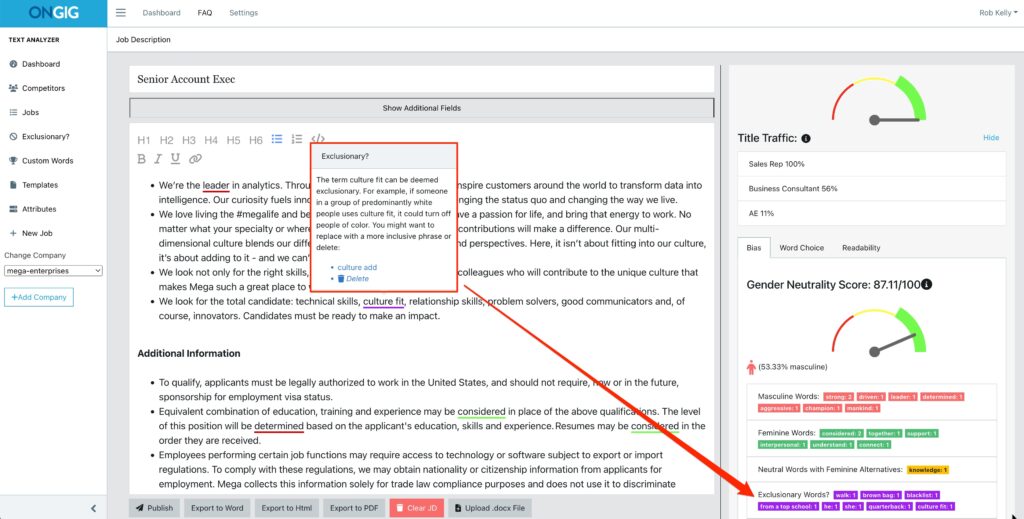 Note: You'll find more examples of exclusionary words with inclusive replacements in The Inclusive Language List for Job Ads.
5. Keep it super simple
Another way to make your job descriptions stand out is to use simple, easy-to-understand language.
The last thing potential talent wants to do in their search is read a job ad that sounds like a legal document or a novel. A best practice is to aim for an 8th-grade reading level or below. This maximizes attention and retention.
Avoid internal speak or jargon, no matter how highly educated you expect your candidates to be. Use short sentences and keep your lists of requirements short so they're not overwhelming.
And, if you use a second-person point of view, your JDs will be more simple, and conversational. For example:
use "What You'll Do" instead of "Job Responsibilities"
use "Who You Are" instead of "Job Requirements"
use "Who You'll Work With" instead of "About Our Team"
use "What You'll Get" instead of "Compensation and Benefits"
Tip: Stick to one point of view across all of your JDs to avoid inconsistency.
Why I wrote this:
Part of our mission is to help you learn how to make a job description stand out to attract top talent. Ongig's software automates the process by flagging words you might want to remove and suggesting key sections to add to increase your apply rates.
Shout-outs: