The goal of a job posting is simple. It's to capture the right candidate's attention with truthful content to help them decide whether to apply.
Note: Check out our free Job Descriptions Guide — it tells you everything we know about writing job descriptions!
What if I told you I could improve the effectiveness of your job descriptions by 40%?
To do that, I recommend you write your job postings at around an 8th grade or lower readability level.
What?
Did he say "8th grade or lower"?
Yup.
Now, I'm not suggesting that you're trying to hire 8th graders.
But if you want to attract the very best (and even the most educated) candidates in the world, you're going to write at a lower grade level than you'd think.
Check out these writing pros and the grade level readability of their text compared to typical job description text: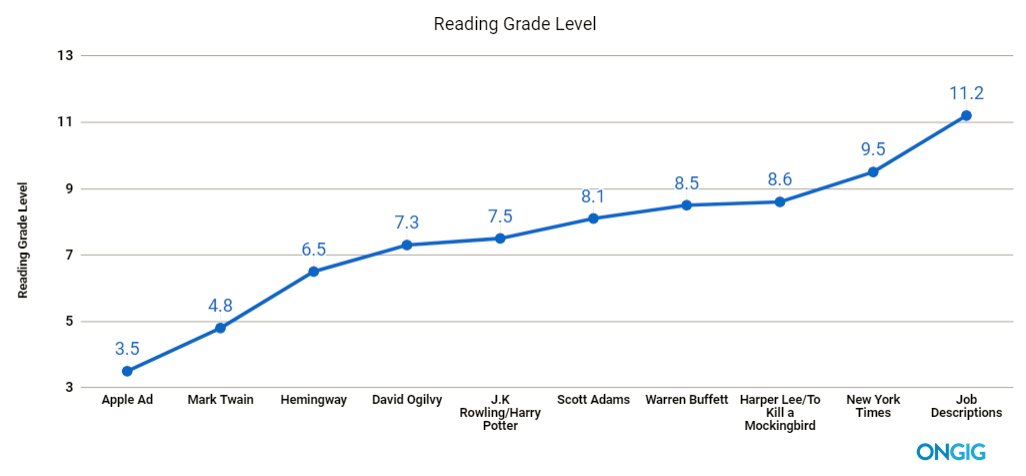 I share more details on the above chart later on. But first…
What is Reading Level?
There are many ways to measure reading levels.
In the U.S., the easiest reading level is by grade as in grades of the U.S. school system (where 1st grade is an early year of schooling and 12th grade is senior year of high school).
Check out Wikpedia's Readability entry which includes many formulas to measure reading levels such as:
The Gunning Fog
The Simple Measure of Gobbledygook (SMOG)
Flesch-Kincaid
They take into account length of words and sentences, number of syllables, use of pronouns and much more.
All of them calculate a reading score and some have a school grade level readability score.
It's now widely accepted that writing at a 7th/8th grade level or below maximizes attention and retention.
The Best Writing is at an 8th Grade or Lower Readability
I applied readabiliy scores to some of my favorite ads, books and writers (I used random excerpts for the book examples (not the entire book)) to get that cool chart above. Here's a bit more detail about the text I analyzed and what grade level they came in at:
Apple Advertisement ("Here's to the Crazy Ones") by TBWA Chiat/Day = 3.5 grade level
Mark Twain's The Adventures of Huckleberry Finn = 4.8
Hemingway (the first chapter of The Sun Also Rises) = 6.5
David Ogilvy's Ogilvy on Advertising = 7.3
J.K Rowling's Harry Potter Series = 7.5
Scott Adams (Dilbert) Random excerpt from "How to Fail at Almost Everything and Still Win Big = 8.1
Warren Buffett ((first 6 pages of his annual report): 8.5
To Kill a Mockingbird by Harper Lee = 8.6
New York Times = 9.5
Do you see how all of them except the NY Times are written at a <9th grade level?
The most readable text (at the 3.5th grade level) comes from the famous "Think different" ad. This should come as no surprise. It was written by the advertising copywriters at ad giant Chiat/Day.
Below are the words in case you're interested — click here to see the video and the version narrated by Steve Jobs (the public one was narrated by Richard Dreyfuss).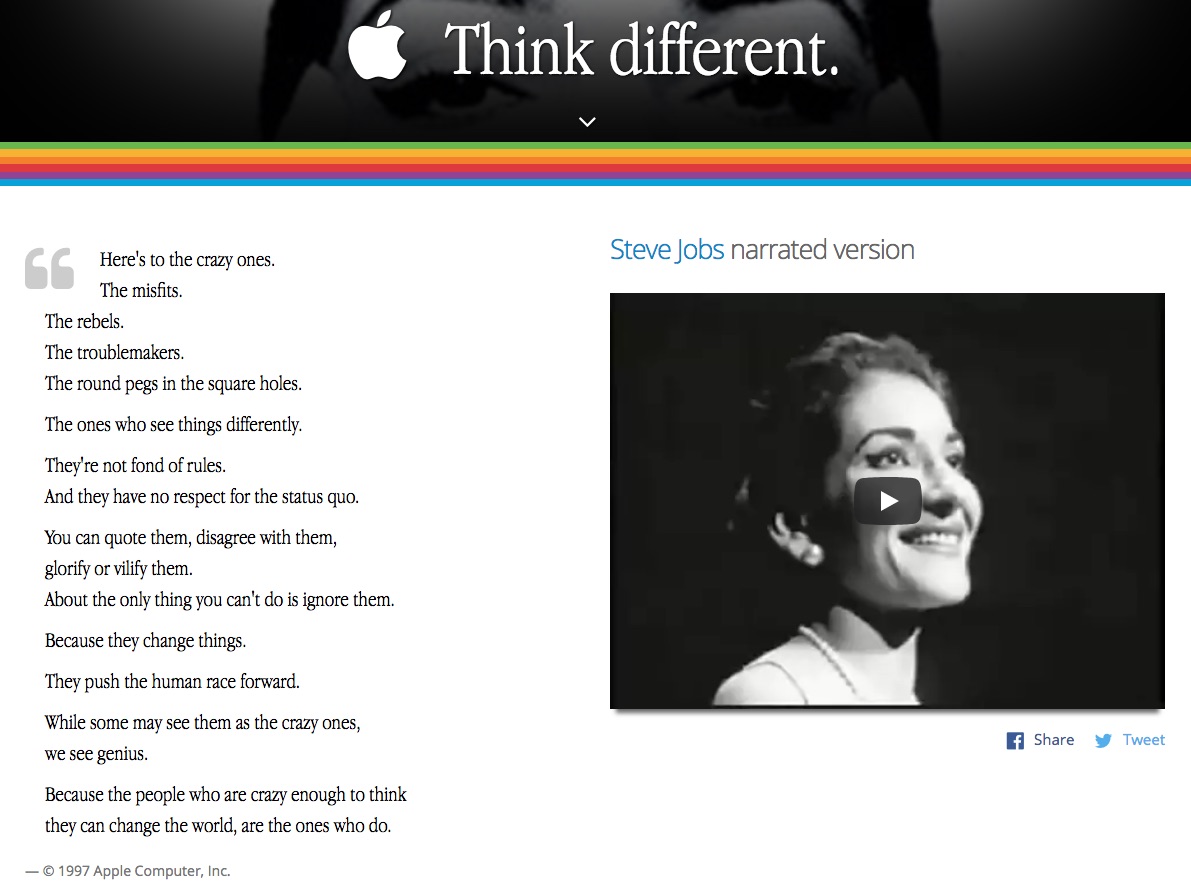 I wonder how many candidates applied to Apple because of that effective ad!
Job Postings are Written at an 11.2 Average Grade Level
Then, I analyzed more than 3,500 job descriptions from 11 public and private companies.
The job postings are at anywhere from 10.2 grade level to 11.8 grade level. 11.2 was the average grade level.
Ouch!
That's a full 3+ grades (40%) harder to read than the 8th grade level I recommend.
Why is that?
It's simple. Job postings are typically written by a mish-mash of busy hiring managers and HR people. Few of them are professional writers and even fewer are writing job postings as a full-time job.
A job posting is an ad and deserves as much copywriting attention as an ad your marketing team is putting out.
At a bare minimum, you need to write your JD in Plain English.
The Best Candidates are Busy (So Make it an Easy Read!)
Even if you're trying to recruit a graduate with a Master's degree, you don't want to "write up" to them at a high academic level.
The best candidates are busy people and you're trying to get them to read and then to stay awhile. Most candidates spend less than <10 seconds reading a text-based job ad.
"The most valuable of all talents is that of never using two words when one will do." — Thomas Jefferson
How hard is it to get a job posting from 11th grade to 8th grade level?
Not that hard!
Check out this opening paragraph of a Google software developer job description.
Google's software engineers develop the next-generation technologies that change how billions of users connect, explore, and interact with information and one another. Our products need to handle information at massive scale, and extend well beyond web search.
That reads at about a 11.1 grade level
Now let me rewrite that text to make it more readable:
Our engineers create software used by billions. Our products now go far beyond web search: they help users connect, explore and interact with information and each other. And they all must scale!
That reads at about a 6.3th grade level (the Heminway level!).
All I did was use shorter words and sentences.
And you might be asking:
What about more technical text such as in the Requirements section.
Check out this excerpt from an IBM Developer job posting:
At least 8 years experience in C/C++
At least 2 years experience in System level programming skills
At least 2 years experience in Python
Ability to use Microsoft office products such as PowerPoint, Excel, Word and Project
Working knowledge of LaTeX
English-Fluent
That text already scores at the 7.5 grade level (and I didn't even touch it yet!).
The toughest section of a job posting to make readable is the EEO/Diversity section. That's often full of compliance language from your Legal team and most lawyers are not known for writing readable text. In my experience, you might have to settle for about 10th grade readability level for an EEO/Diversity section.
Tips to Make Your Job Descriptions More Readable
I wrote about 5 Free Tools to Write Better Job Descriptions last month and 3 of those tools will give you a readability score. The easiest free one is HeminwayApp. Another more in-depth tool, Readable.io, lets you have a free trial to test out average grade level.
Even Microsoft Word gives you an Average Grade Score (though they don't provide tips on how to improve it).
Here are some quick tips on how to get a more readable grade level score:
Use shorter sentences
Use shorter words
Reduce the use of adverbs
Use first person/second person ("We and Our" and "You" and "Your")
Pay extra attention to your opening paragraph — that's where you win or lose the candidate!
For some more in-depth JD Writing tips, you might also check out all my free articles at this Writing Job Descriptions tag. For more tips on writing job descriptions, check out How to Write a Job Description — Best Practices & Examples.
Or reach out to Ongig
The Ongig Text Analyzer software now scores all your JDs for readability as well as gender, sentiment, word count and more. Ongig also has a job description copywriting team on-demand to help you rewrite your JDs at a higher scale.
You can request a demo if you want to see what the average grade level of some of your job descriptions is. I'll be glad to run your JDs through the Ongig Text Analyzer.