When you want to fill certain roles in your company, it's only natural to look at your competition. You want to know what they offer, how you compare, and how you should communicate your job openings to attract top talent.
As helpful as this information is, there are some things in the hiring process that you cannot change (like the impressive perks offered by your competition). But, there are some things you can change to have a big impact on your hiring process's success.
Let's dive into what you can do to boost internal communication during the hiring process to inspire the right people to join your team (and to make it as seamless as possible for everyone involved!).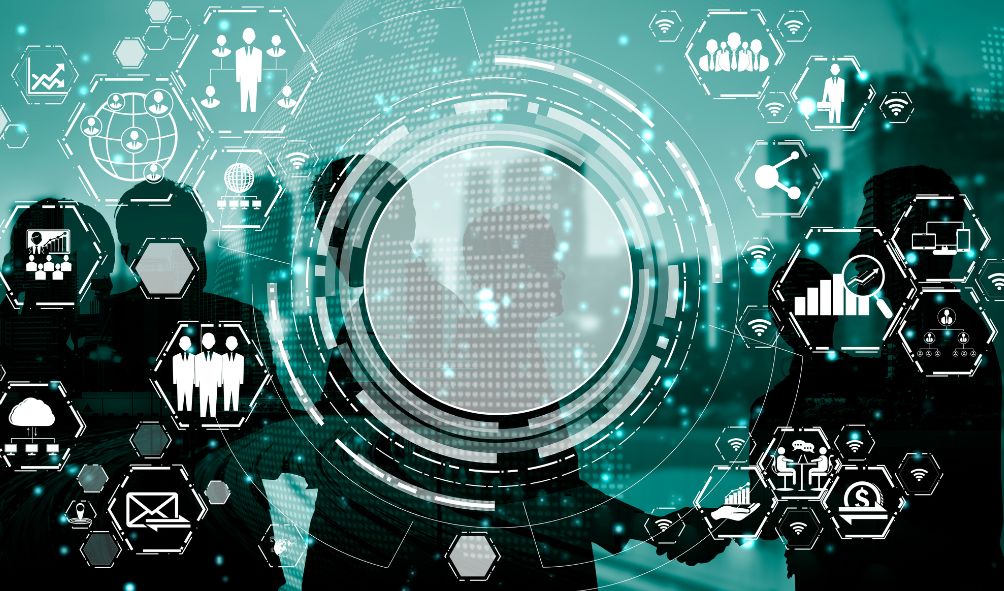 1. One place for all interactions
HR teams are often spread across a myriad of offices and departments, in an attempt to keep everyone in the loop and as involved as necessary. But that spread-out approach might slow down and impede the hiring process.
Setting up a unified platform for all internal communication fosters company inclusivity and simplifies hiring from start to finish.
Keeping all your tools, apps, knowledge, and procedures in one secure place will:
speed up hiring
allow employees to share their thoughts
help integrate new people into your culture much faster
As you hire new people and take them through your communication infrastructure, they'll be more likely to feel like they truly belong to your culture, as they won't be left out of chat rooms, projects, team-building sessions, or any important news that's shared with your team.
2. Creative templates to the rescue
Another simple and effective way to improve internal communication during the hiring process is to use powerful visuals.
Using attention-grabbing HR templates to share important reviews, introducing new team members, and HR reports saves you time and effort.
With great visuals, you can create an entire onboarding program that will lead your managers through the process step by step, reducing the back-and-forth between HR and their team.
Visuals are also a creative way to set up job ads, communicate core brand messaging internally or externally, and entice employees to recommend someone for an open role.
3. Set up an onboarding buddy program
If inclusivity is one of your brand values, and you already have initiatives to ensure you're an equal-opportunity employer, you most likely also work on mentorship initiatives (and effective collaboration).
To add that inclusive dimension to your hiring process, set up a buddy program for new hires to make it easy for new (and existing) team members to work together. This will achieve some of the following:
Improve internal communication during the hiring process — you'll be able to streamline onboarding and prepare the new team members to effortlessly join your organization.
Simplify communication — so new team members always knows who to turn to if they need help or have questions.
Avoid back-and-forth — between team members who aren't certain about the best protocols or steps the new hires should take in certain situations.
Ensure proper support during the onboarding — this gives more reason to anyone interested in joining your company to accept the job.
Continue building your culture with inclusivity in mind, so newcomers feel accepted and valuable from day one.
4. Practice equality and appreciation
Hiring is stressful. You're trying your best to build your talent pipeline while so many co.s are competing for candidates' attention — and all the while, you have a business to run.
But some priorities shouldn't slip through the cracks.
For example, you cannot afford not to communicate how much you value your employees. If potential candidates feel they won't be appreciated, they'll be much more likely to abandon negotiations for a company that does focus on appreciation.
In the spirit of transparency and honest communication during the hiring process, ensure you share how your organization expresses team appreciation, what kinds of rewards and recognition to expect, and how valued each employee is.
Let your job ads communicate the perks and benefits of working with your company.
Make sure your social media channels clearly showcase the inclusivity and appreciation you're fostering internally.
Set up dedicated career pages on your website to set expectations from the start.
These steps will simplify the hiring process and answer the most important culture-related questions before your candidates even have to ask them.
5. Give hiring a personal touch
Now that most companies are hiring globally and have hybrid (or fully remote) collaboration structures, it's hard to connect with people in a deep, personal way.
One important way you can build more meaningful connections starts with agreeing internally on how you want to write your job ads so that they attract the right people to start with.
Then, when those qualified candidates start exploring your brand culture and get in touch, you can use video to personalize the hiring process. This helps people better understand what it means to work at your company.
Here's how:
Set up video introductions for each department, so candidates get to know who they'd be working with. Give your company a face and a voice!
Organize video interviews instead of traditional automated questionnaires, which are often impersonal.
Once you narrow down your selection, send out a congratulations video to them and ask them to set up a time to speak with you, or offer detailed guidance on the next steps.
6. Incorporate an eLearning element
HR pros know well nothing can improve without the willingness to learn. Naturally, HR teams are often the leaders when it comes to company-wide learning, knowledge sharing, and professional and personal improvement opportunities.
Most modern-day candidates won't even consider working with a business that doesn't have some of those programs on offer. And, having an eLearning environment in your biz also helps HR teams and managers improve the hiring process.
Be sure you communicate with candidates how your company uses learning management systems and what educational opportunities to expect while working with you.
Corporate training is a must for most ambitious professionals. So be sure they know early on what to expect, and you'll save yourself hours searching for ideal candidates — they'll be far more likely to come to you directly.
Built-in online courses can help during the onboarding process. This means less stress for your team leaders, HR department, and your new hires.
Give your new employees a chance to shine as well! They might be pros in their field, meaning they can share their knowledge and skills via your eLearning system. Offering them a role like this can elevate their desire to join the team (and make them feel more appreciated).
7. Get clear on candidate selection
How often does internal miscommunication slow down your hiring process?
"Wait, I thought we were looking for a senior software developer to work in our time zone."

"Actually we wanted to expand and look for junior devs, too, and the time zone doesn't really matter."
Details like these can completely derail your efforts to hire someone, so improving internal communication during the hiring process makes all the difference in how quickly you narrow down your candidate list.
You may discover you can hire internally, cross-train someone eager to advance in a specific field, or ask for a recommendation and cut the journey short.
So, as you go into another hiring round, be sure to refine your candidate selection internally.
You'll save tons of time and effort as you choose the correct channels for the role and start writing job descriptions to attract top talent.
8. Use chat to simplify hiring
Simpler screening and proactive communication are the 2 key reasons to start using chat as part of your hiring process.
Especially if you have someone internally who can be available for candidates to answer questions, provide extra information, or simply take them through the selection process. Another benefit of chat for recruitment is building a more engaging hiring experience for the candidates.
Being available and flexible makes it easier for candidates to choose to communicate with you in the first place. For example, chat is an effective channel for setting up live interviews and a secure way to send informative links and videos. Or you can send a text from your computer so to communicate with multiple candidates at once.
Overall, setting up chat on your site and enabling it on social for hiring purposes can speed up hiring.
Chat also provides valuable tips on what kind of FAQ section you might create, reshaping your internal hiring protocols too.
Why I wrote this:
As the hiring playing field becomes more competitive, it's important to look at your organization with a critical mindset and for constructive ways to adapt. Don't forget that the quality of communication during hiring will set the tone of long-term collaboration for new hires and will likely affect your retention rate.
Be sure to consider these ideas the next time you revise your hiring process, and actively listen to your HR team and employees on ways to optimize hiring for the long haul.
And, if you want to integrate job description writing software as a part of hiring, please request a demo to learn more about Ongig.
This is a guest post from Nikola Sekulić of Content Wizards:
Nikola is a seasoned brand developer, writer, and storyteller. Over the last decade, he's worked on various marketing, branding, and copywriting projects – crafting plans and strategies, writing creative online and offline content, and making ideas happen. When he is not working for clients around the world, he is exploring new topics and developing fresh ideas to turn into engaging stories for the online community.