Safety and the sense of belonging rank high on Maslow's hierarchy of needs. And for many people belonging means creating a sense of social connection with others at work.
Studies show that an average person spends 1/3 of their lifetime (around 90,000 hours) at work.
So to help your keep employees (and attract new ones), here are 6 ways to foster belonging at work. But first, why is belonging so important?
Why is Belonging Important in the Workplace?
Workplace attitudes and priorities have changed exponentially in the last 10+ years. While a decent salary and exclusive employee benefits lead the charge for employee loyalty and retention, a sense of belonging is right there with them.
According to Gartner, modern employees would rather sign on for personal value and purpose at work — that's why more than 4.5 million people voluntarily left their jobs (including high-paying ones).
Fostering a sense of belonging gives talent a solid reason to invest their time and effort at work, almost like a second home (and even primary for some).
Ideally, you want hires to feel it's "worth it" and not just about a paycheck. So how do you do this?
# 1 – Make DEI a Daily Activity
You can foster a sense of belonging at work by promoting daily DEI activities among your team. DEI should never be a one-and-done initiative at work but, rather, an ongoing process.
For example, you could create a group on a messaging program like Slack (or an anonymous survey) where every person has the chance to openly share suggestions, progress, and feedback on DEI activities. These accessible platforms set the tone for a more accepting workplace, where every voice gets heard. This leads to a more meaningful and productive environment.
Also, it's important to incorporate suggestions when managing organizational values or decisions and giving credit where it is due. As they say, action speaks louder than words, so there should be some proof of converting ideas into solutions.
One way to do this is by setting diversity goals and sharing progress yearly.
#2 – Optimize Your Job Descriptions
You can foster belonging at work from the recruitment and hiring stage, starting with job descriptions. Quality JDs give job seekers a good idea of what to expect from your company before applying.
So, it's critical to eliminate words and phrases that might offend or deter people from applying.
Software like Ongig automates this process for you. The software flags biased language in your JDs, and suggests more inclusive replacements to help you make the best positive impression.
It also helps you create templates that include key sections (like your diversity statement) that show job seekers your stance on diversity, equity, inclusion, and belonging.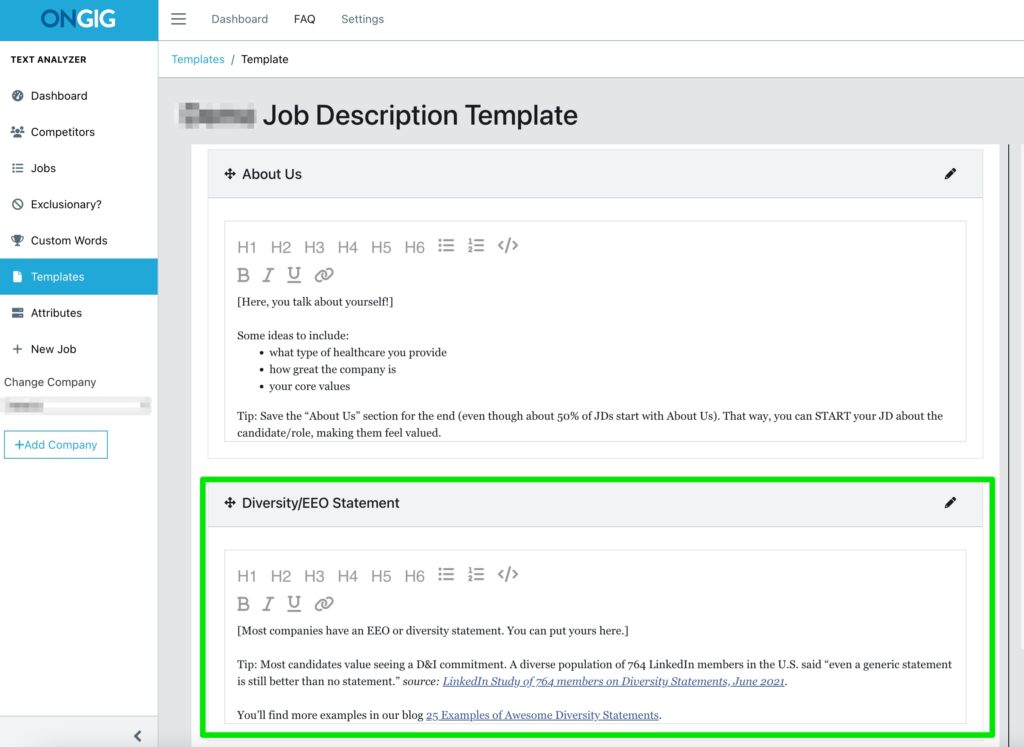 #3 – Hold Casual Gatherings and "AMAs"
Casual check-ins with team members creates a sense of empathy and genuine care for their well-being.
Informal meetings provide the opportunity to dissolve the awkward barriers in the organizational hierarchy. This drives effective conversations that build stronger workplace relationships.
Many successful companies have launched AMA ("Ask me Anything") sessions where their top leaders provide a platform for team members of all roles to ask questions openly.
Similarly, leaders have the chance to learn more about the concerns and challenges faced throughout the organization, widening their perspective. AMA sessions help create a unified workplace that promotes a sense of belonging through the power of transparent communication.
Another great space for this type of exchange is through Employee Resource Groups (ERGs). Try partnering top execs with your ERGs to build rapport, create allyship, and open communication channels.
#4 – Show Talent Recognition
Recognition goes a long way in creating a workplace where teammates feel they belong.
Industry research shows that employees who received recognition within the past week are 5X more likely to feel a sense of belonging than peers who did not.
You can show talent recognition in many ways, like:
casual compliments at a meeting
monetary rewards
workplace benefits such as time-off
Alternatively, you might consider implementing an employee recognition platform where individuals can receive praise, engage with leaders, and accrue merit points in exchange for organizational perks.
#5 – Create an Effective Onboarding Process
Effective onboarding creates the perfect opportunity to welcome team members, fostering a sense of belonging.
A thoughtful onboarding process should involve clear guidelines and friendly engagement that eases a person into a role (and work relationships). Essentially, the process involves a combination of accessibility and personalized support.
For instance, you might create a reliable one-stop hub where they get the information and tools to perform at their best (e.g., how to join ERGs, contact team members, ask benefits questions, etc.).
Having guided support from an assigned mentor or seasoned team member is another option. That way, new hires will never feel alone as they navigate the challenges of their new position.
Here are 3 ways mentoring helps inspire a sense of belonging:
People feel seen and heard: A great mentor is not some know-it-all who always has heaps of advice to give but rather a patient and empathetic listener. For most people, a good listener is pretty much all it takes to make them feel better or to inspire them to figure out their own answers and solutions.

It is easier to ask for help: In today's dynamic world, learning should be life-long. Everyone has knowledge and skills gaps, although admitting to this may not always be easy. In a company with a well-established mentoring culture, employees are encouraged to learn from each other and be open about what it is they don't know or do well yet.

Levels the playing field: In general, people from underrepresented groups tend to experience more career obstacles. Mentoring can support diversity and inclusion by giving employees from underrepresented groups the opportunity to have interactions with senior employees who could champion them and make useful introductions.

source: Mentessa
#6 – Avoid Micromanagement
Hippocrates, the father of modern medicine, once said, "first, do no harm." The saying applies to fostering a sense of belonging at work too.
Your company leaders should avoid micromanagement (i.e., harm) to provide employees with the space to grow and be comfortable as individuals.
Eymel Daniel, the co-founder of beauty solutions, brand ForChics, shares:
"Stop trying to micromanage your employees if you want them to feel accepted and build trust. Micromanaging has the power to destroy relationships and cause good employees to leave. You hired each of your employees because you felt that they were specifically qualified for their positions, so allow them the ability to work with some autonomy. "
Why I wrote this:
Ongig's mission is to create effective and inclusive job descriptions. Part of this mission is supporting co.s in their commitment to foster belonging at work (starting with the words they use in JDs).
Shout-outs: