In the short time since the COVID-19 pandemic sent workers home from the office, companies have adapted quickly to a new way of working — remote work.
Remote work became the norm, with reports of 70% of full-time employees working from home during the pandemic.
Companies acted fast, and employees embraced change just as quickly. Here are some surprising statistics from an Owl Labs study on remote work:
— After COVID-19, 92% of people surveyed expect to work from home at least 1 day per week and 80% expected to work at least 3 days from home per week.

— 23% of those surveyed would take a 10% pay cut to work from home permanently.

— 81% of those surveyed believe their employer will continue to support remote work after COVID-19.

— 59% of respondents said they would be more likely to choose an employer who offered remote work compared to those who didn't.
Along with added flexibility (for employees) and cost savings (for employers), I want to dig into how remote jobs increase diversity too.
How does remote work boost diversity?
"Remote work" means any role where employees are not expected to meet at an office to complete their work. So, when you remove the office environment, how does this impact diversity?
Airbnb co-founder and CEO, Brian Chesky, says the reason is geographical:
"If you limit yourself to hiring people only in San Francisco [for example] then you're limited to the diversity of people that can afford to live [there]. You can add offices and other locations, but true diversity [comes] from a diverse set of communities."

(source: The Washington Post)
Without the geographical constraint, he believes compensation will be directly related to roles instead of the role + location. This could be a big benefit to diversity in industries traditionally located in high-income areas — opening up the talent pool in a way that's been challenging before remote jobs.
But what if you don't recognize the importance of remote jobs for DE&I and hiring in general? You might struggle to attract diverse top talent and retain the talent you have.
Taskrabbit CEO, Ania Smith, is already seeing an increase in desire for "gig work" following the pandemic:
"We have seen unprecedented growth over the last two years, and we don't see that trend changing anytime soon. More people really want autonomy. Being with friends and being with family is more important to them than work. They're trying to fit [work around their lives] as opposed to the other way around."

(source: The Washington Post)
Cultures with remote work and flexible working options are likely to be a desirable middle ground between a traditional office 9 to 5 and the total autonomy of "gig work."
Remote jobs also create a more accessible working environment for women, who are 32% less likely to leave their job if they have "remote access." This is an advantage for companies with remote work policies.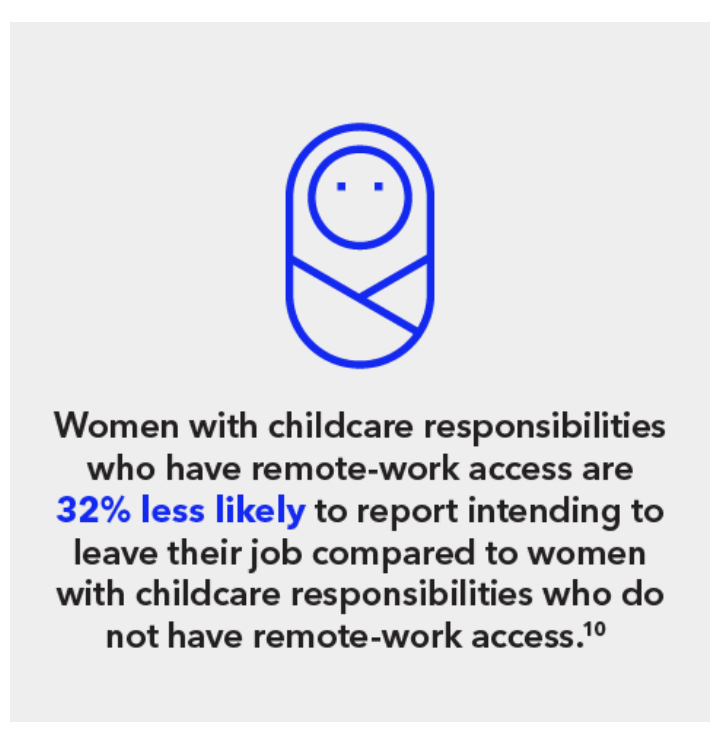 There are nearly 2 million fewer women in the workforce than there were at the start of the COVID-19 pandemic — with mothers and mothers of color leaving at higher rates.
And, with the ongoing labor shortage (more jobs available than workers), companies supporting mothers at work can better meet the demand for top talent.
How does remote work affect inclusion?
We now know that hiring for diversity isn't enough. You must also have a strong culture of inclusion to retain diverse employees…or they'll move on to companies where they feel more included.
Hiring and onboarding new employees is expensive, making retention a big concern. One study found that remote jobs increase the chances of employees feeling included by 93%, compared to in-office jobs.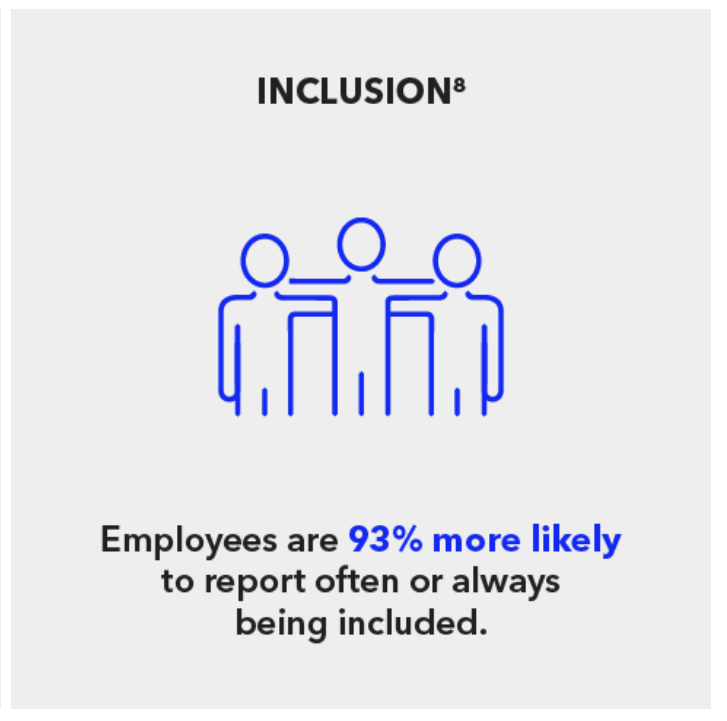 Which CEOs agree remote work is here to stay?
With stats showing a positive future for remote work, it's not surprising some CEOs are getting on board. Here's what a few are saying:
Airbnb CEO, Brian Chesky:
"As someone who has been leading remote-first companies for more than 15 years, I can confidently say that many people are far more productive working remotely. A flexible schedule means employees start earlier or work later. They're more energized because they have autonomy and better work-life balance. Sure, they may run to a parent-teacher conference or doctor's appointment in the middle of the day, but they're still getting their work done."
StudioX CEO, Jeff Allyn:
"The notion that everyone needs to come into the office Monday through Friday is outdated. Most workers will crave some sort of flexibility. I would go as far as to say that companies that are not providing flexibility may likely see more attrition and will have more challenges with hiring."
Gravity CEO, Dan Price: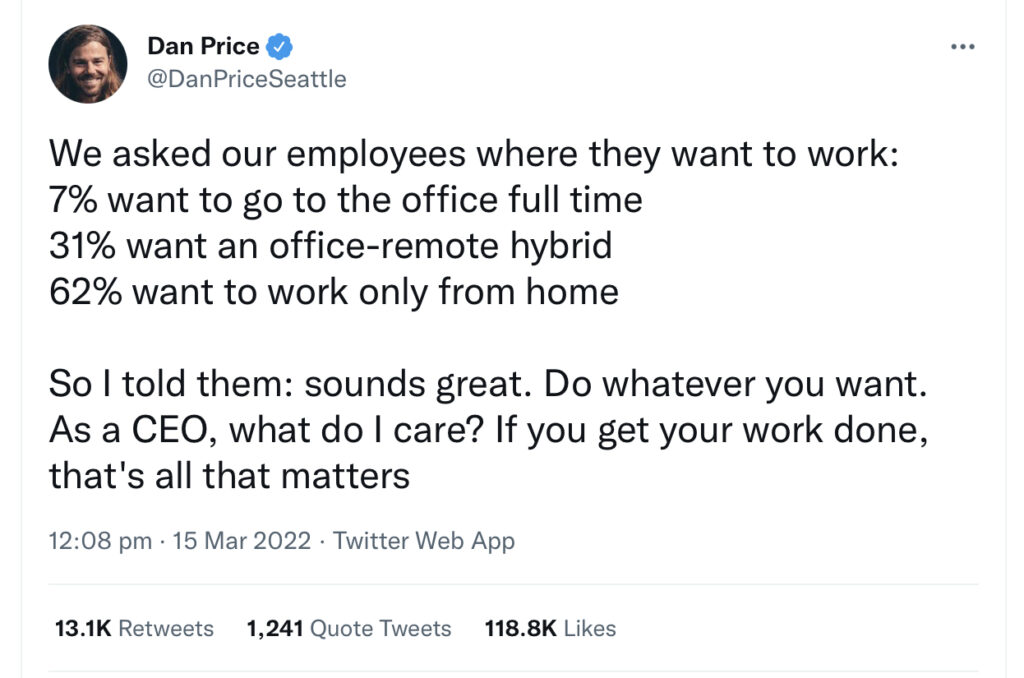 Even, CEOs who prefer an in-person office culture accept that demand will dictate supply in the job market. Like Credit Suisse Group AG CEO, Thomas Gottstein. He told Bloomberg:
"It is funny if you look at the weekly statistics, Mondays and Fridays are pretty low, and then Tuesday, Wednesday, Thursday they are in the office. And I think that's here to stay."
Why I wrote this:
Ongig is on a mission to create effective and inclusive job descriptions to help you attract top talent from diverse pools. And adding a "Remote" option to your JDs is one of the most effective ways to increase your chances of success.
Shout-out to my sources: